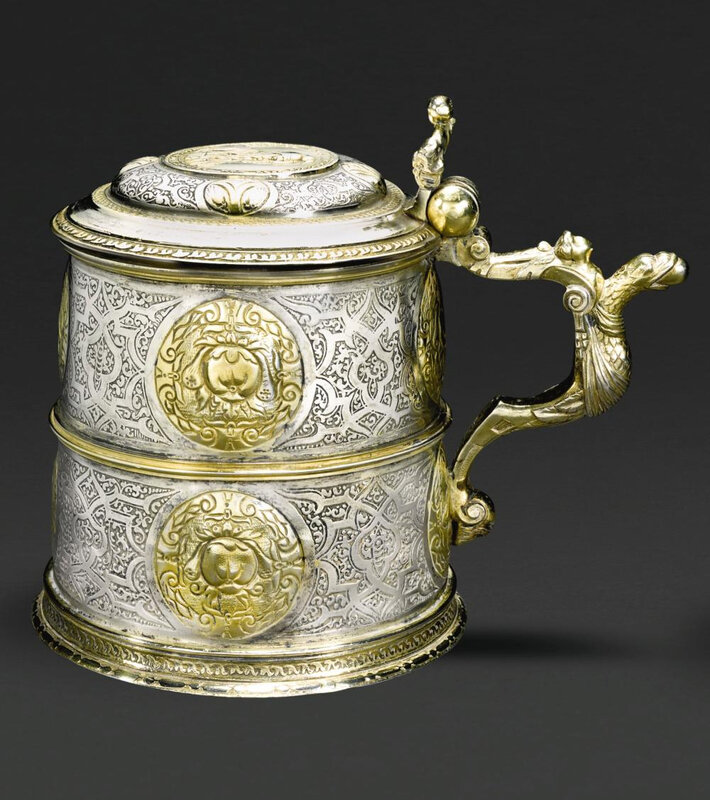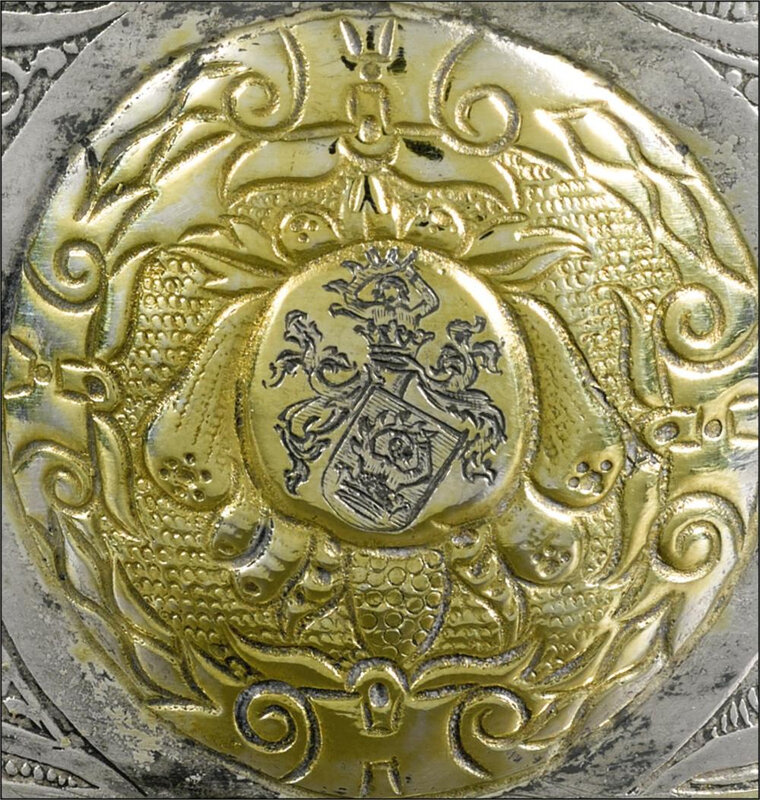 Lot 329. A German parcel-gilt silver tankard, makers mark double struck IM..H, Nuremberg, probably 1547-49; 15cm., 6in. high, 787gr., 25oz. 6dwt. Estimate 8,000 — 12,000 GBP. Lot sold 10,000 GBP. Courtesy Sotheby's.
armorial engraved and etched with Moresque strapwork around chased fruit clusters on matting, hinged cover centred by a rare medal dated 1544 from the Bohemian Milicz workshop, of Jacob and Rachel on one side, and Jacob's dream on the other, inscribed in Latin Servivit Sibi Dum Rachel Amica Est Genesis XXIX and Ad Duo Lustra Duos Bis Annos Sanctus Iacob MDXXXIIII, Bacchus finial and caryatid monster handle.
Note: The arms are probably those of HAGER of Livonia.
Moresque ornament came to Nuremberg around 1530. It was developed by the engraver Virgil Solis (1514-1562) citizen of that town and spread though his workshop's pattern books. Similar etched ornament can be found on Nuremberg made silver, such as Wenzel Jamnitzer's famous 'Merckel' table fountain of 1549, now in the Rijksmuseum and from other South German towns, such as a large basin dated 1561 by Abraham Lotter I, of Augsburg made for Margrave Karl II of Baden-Durlach. See: Alain Gruber, L'art décoratif en Europe, Renaissance et Manniérism, Paris, 1993, pp. 312-314; and Exhibition catalogue, Wenzel Jamnitzer und die Nürnberger Goldschmiedekunst 1500-1700, Germanisches Nationalmuseum, 28 June-15 September 1985 p. 368
Sotheby's. Style: European Silver, Ceramics, and Objects of Vertu, London, 22 May 2019