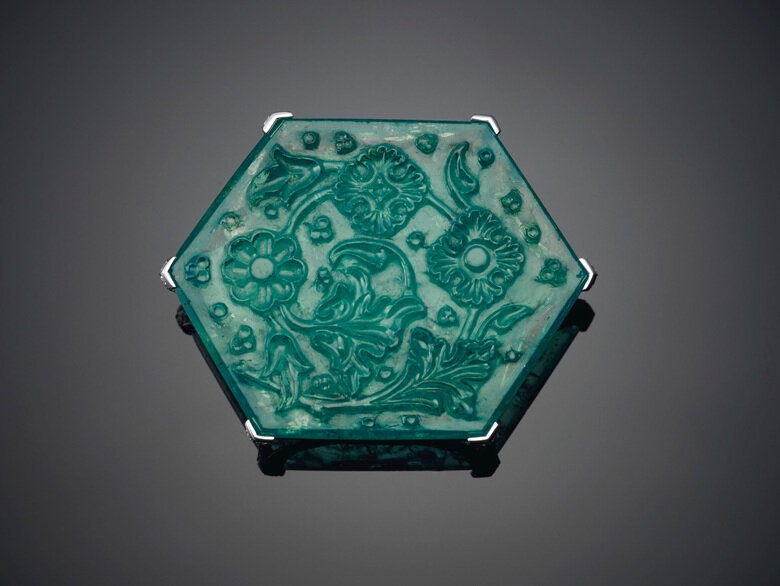 Lot 388. 'The Taj Mahal Emerald'. Carved Colombian emerald of 141.13 carats and diamond brooch, Cartier. Estimate USD 1,500,000 - USD 2,500,000. Price realised USD 1,815,000. © Christie's Image Ltd 2019.
Hexagonal-shaped carved tablet emerald of 141.13 carats, circular-cut diamonds, platinum and 18k white gold (French marks), 2 1/8 ins., 2012, signed Cartier, no. TI9645, red Cartier case inscribed 'Taj Mahal' emerald.
AGL, 2019, report no. 11003346: 141.13 carats, Colombia, no clarity enhancement.
Literature: Rudoe 1997, p. 316-319, no. 269
Untracht 1997, p. 330, no. 746
Bala Krishnan and Kumar 1999, p. 46, fig. 45
Jaffer 2013, p. 95, no. 14.
Exhibited: Los Angeles 1989, p. 141, no. 143
Metropolitan Museum of Art, New York 2014, pp. 106-107
Victoria and Albert Museum, London 2015, pp. 132-133, no. 77
The Miho Museum, Koka 2016, p. 34, no. 11
Grand Palais, Paris 2017, p. 322, no. 237
The Doge's Palace, Venice 2017, p. 318, no. 218
The Palace Museum, Beijing 2018, p. 332, no. 222
de Young Legion of Honor, San Francisco 2018, p. 54, no. 8.
Note: The International Exhibition of Modern Decorative and Industrial Arts took place in Paris in 1925. In a spirit of modernism and innovation, only works of art that were revolutionary in design were accepted. It was an exemplary moment in the Art Deco era.
Cartier presented more than 100 pieces, several especially created for this event, including the famous 'Collier Bérénice'. Created by the Renault workshop, one of Cartier's finest, this ornament was meant to be draped over one's shoulders, hanging at the back, without a clasp. Set with emeralds, onyx, pearls and diamonds, it centered upon an antique hexagonal-shaped carved emerald. This emerald was later named the 'Taj Mahal Emerald' for the carved floral engravings that were reminiscent of the colored stone inlay of the Taj Mahal. Immensely creative, this jewel was widely publicized and appeared in several publications.
The unsold pieces from the Exhibition were redesigned by Cartier and the gemstones were used to create new jewels. That was the case of the 'Collier Bérénice'. The whereabouts of this treasure of nature remained unknown for most of the 20th century, until its re-discovery in the 1990s.
Christie's. Maharajas & Mughal Magnificence, New York, 19 June 2019