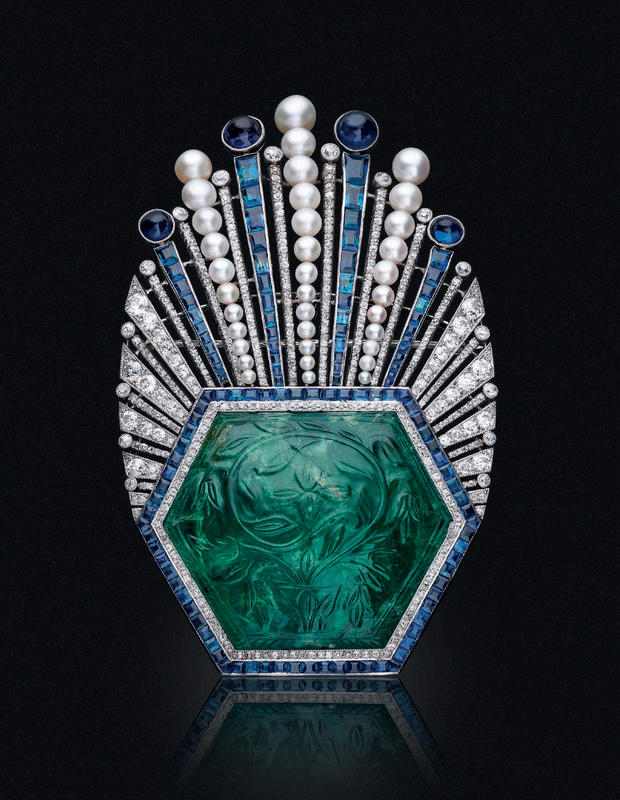 Lot 356. An Art Deco carved Colombian emerald, sapphire, diamond and pearl aigrette, Paul Iribe for Robert Linzeler. Estimate USD 500,000 - USD 700,000. Price realised USD 555,000. © Christie's Image Ltd 2019.
Hexagonal-shaped carved emerald, circular cabochon and calibré sapphires, old-cut diamonds, pearls, platinum and 18k white gold (French marks), 3 ½ ins., 1910, unsigned.
AGL, 2019, report no. 1100327: Colombia, insignificant to minor clarity enhancement, traditional type.

Provenance: Madame Jeanne Iribe
Cartier
Private Collection.
Literature: Carsix 1911, pp. 27-32
Comoedia illustré 1911-12
Bachollet et al. 1982, p. 229
Jaffer 2013, p. 318, no. 108.
Exhibited: Metropolitan Museum of Art, New York 2014, pp. 98-99
The Miho Museum, Koka 2016, p. 184, no. 145
Grand Palais, Paris 2017, p. 321, no. 236
The Doge's Palace, Venice 2017, p. 313, no. 214
The Palace Museum, Beijing 2018, p. 327, no. 218
de Young Legion of Honor, San Francisco 2018, p. 137, no. 68.
Note: The designs of Paul Iribe are not widely known, yet they are of utmost importance in the history of jewelry design. Iribe was a talented illustrator, cartoonist and interior designer in Paris by the end of the Belle Époque period, contributing to satirical or style papers, infusing a very modernist vision into the art of fashion illustrations.
Around 1908, his collaboration with Paul Poiret, one of the most important couturiers of the Belle Époque, would represent the new standards in fashion of the era, favoring liberal display of fluid forms and to this today, representing perfectly the transitional period between Belle Époque and Art Deco.
In 1910, he designed a series of eleven jewels, beautifully executed by Robert Linzeler, that would exhibit a taste of what would evolve into the Art Deco style in the years to come. The present aigrette, part of this series, was one of the first to present a combination of blue and green, through the use of emeralds and sapphires, directly influenced by the celebrated Diaghilev's 'Ballets Russes' exotic colors. It was also very clearly announcing the appeal for radical geometry that would invade all areas of design following World War II. The type of jewel itself, an aigrette, and the large carved emerald were a direct tribute to India's spectacular jewels and color combinations. A forerunner in each and every category, even the way Paul Iribe's jewels were exhibited was considered as 'never seen before', as written in 'Art et Decoration' in 1911.
The aigrette was most certainly a favorite of Paul Iribe himself as it was worn by his wife, actress Jeanne Dirys, both in her play 'Le Cadet de Coutras' and on the cover illustration of 'Comoedia Illustré' in March 1911.