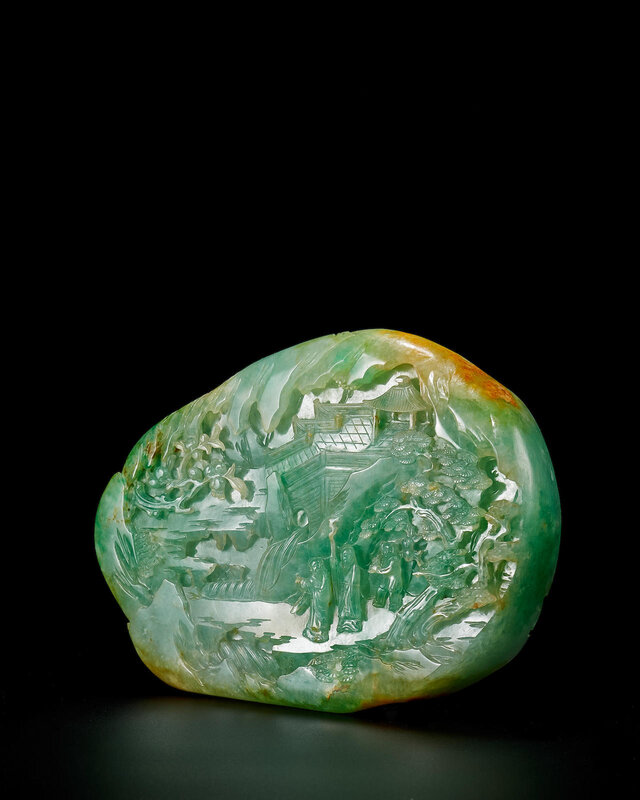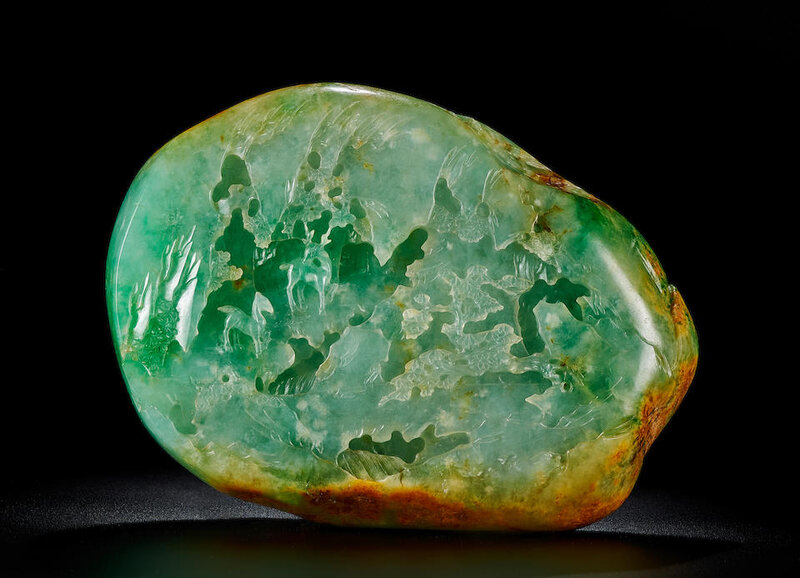 Lot 146. A magnificent and extremely rare jadeite 'longevity' boulder, Qianlong-Jiaqing period (1736-1820); 17.3cm (6 3/4in) wide. Estimate: HK$3,500,000 - HK$4,500,000. Sold for HK$ 4,855,625 (€ 552,786) inc. premium. © Bonhams 2001-2019
Masterfully carved in varying levels of relief with Shoulao holding a long lingzhi stem, accompanied by two attendants carrying a peach and a fruiting peach branch, crossing a bridge by a flowing waterfall, approaching an inclined path leading to a terraced pavilion, encircled by gnarled peach, pine and wutong trees issuing from rocky outcrops framing the scene, the reverse with a deer and doe standing on jagged rockwork within a similar landscape, the sumptuous translucent stone of a brilliant apple-green tone with icy inclusions and some russet splashes along the edge skilfully utilised to accentuate the composition, wood stand and fitted box.
Note: The lot is an extraordinary example of an imperial jadeite carving with the lapidary craftsman's ability to present a three-dimensional sense by using a multi-depth carving technique on a precious jadeite stone of lustrous apple-green tone with a remarkable degree of translucency. Although, according to the Imperial archive, jadeite was presented to the imperial court from the Yongzheng period, the precious jewel-like stones were not generally used as materials for carvings until the second half of the Qianlong reign, when they become popular as tribute to the emperor.

It is much rarer to find carved jadeite boulders comparing to jadeites vessels carved with archaistic themes. Compare with a similar jadeite boulder of similar size (16.1cm high), Qing dynasty, from the Qing Court Collection, illustrated in The Complete Collection of Treasures of Palace Museum: Treasures of Imperial Court, Hong Kong, 2004, p.25, no.20; for a larger example of a jadeite boulder (29.5cm high), also from the Qing Court Collection, carved with crane, deer, pine trees and waterfall, see ibid., p.24, no.20.

The present jadeite boulder is closely related to a group of imperial jade carvings featuring immortals or elderly sages in mountainous landscapes. This subject matter is based on paintings from the classical canon. As the Qianlong emperor in particular advocated that jade mountains and carved panels should carry the spirit of paintings by famous past masters, it became a popular norm for imperial jade carving during the 18th and 19th centuries.

Compare with a related white jade screen carved with a similar subject matter, Qing dynasty, in the National Palace Museum, Taipei, illustrated in The Refined Taste of the Emperor: Special Exhibition of Archaic and Pictorial Jades of the Qing Court, Taipei, 1997, pp.204-205, no.71; see another related spinach-green jade 'Three Immortals' boulder, Qing dynasty, in the Palace Museum, Beijing, illustrated in Jasper Wares of Qing Dynasty Collected by the Palace Museum and Manasi, Beijing, 2014, pp.266-267, no.109; see also a green jade boulder, Qing dynasty, carved with a deer and a doe in a rocky landscape, illustrated in the Compendium of Collections in the Palace Museum: Jade 8 Qing Dynasty, Beijing, 2011, no.105.

A related spinach-green jade boulder, Qianlong, carved on both sides with a similar subject matter, was sold at Bonhams Hong Kong, 27 November 2018, lot 69.
Bonhams. Fine Chinese Ceramics and Works of Art, 28 May 2019, 15:30 HKT, Hong Kong, Admiralty