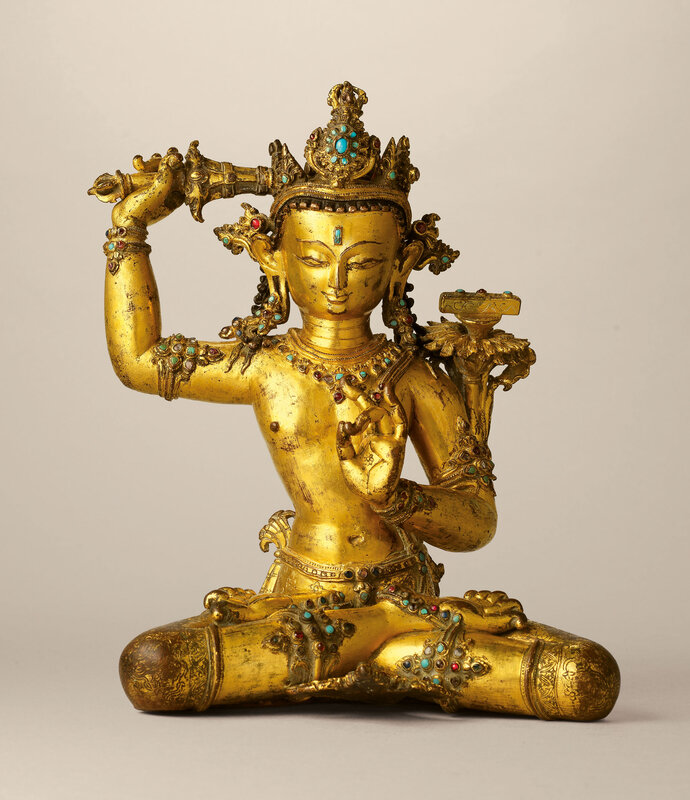 Lot 2708. A superbly cast gilt-copper stone-inlaid seated figure of Manjusri, Nepal, 14th century; 9 in. (22.8 cm.) high. Estimate HKD 3,500,000 - HKD 4,500,000. Price realised HKD 3,965,000. © Christie's Image Ltd 2019.
The bodhisattva is finely cast seated in vajraparyankasana, his right hand holding up a sword, the khadja, behind his head, his left hand in the vitarka mudra, with a lotus stem supporting a book of the 'Perfection of Wisdom', Prajnaparamita Sutra, on his left shoulder. He wears elaborate bejewelled necklaces, armlets and rosette earrings inlaid with semi-precious stones. His dhoti is finely chased with floral motifs, his upper torso left bare. The face has a serene expression with downcast eyes and urna inlaid with turquoise, the head wearing a high crown secured with a five-leaf diadem, the hair piled in a chignon with locks falling over his shoulders. The bottom has a small consecration plate incised with a visvavajra, box.
Provenance: A Swiss Collection, 1980s
Property from the Estate of M Van Ouwerkerk
Sold at Sotheby's New York, 19 September 2008, lot 302.
Note: Manjusri, otherwise known as Wenshushili Pusa, is the Bodhisattva of Wisdom. He is often seen in a group of three comprising Sakyamuni and Samantabhadra; the latter commonly portrayed seated on an elephant. Like the current figure, Manjusri is often depicted holding the sword of knowledge and a lotus stem supporting the book of wisdom.
A gilt-bronze figure of Manjusri of similar posture and slightly larger size (28 cm.), attributing to Tibet, 14th century, is illustrated in On the Path to Enlightenment: The Berti Aschmann Foundation of Tibetan Art at the Museum Rietberg Zurich, Zurich, 1995, no. 64. Compare also to a Nepalese gilt-bronze figure of Manjusri dating to 15th century, in a seated position similarly clad in bejewelled ornaments, but with both hands in the dharmacakra mudra, illustrated in Meinrad Maria Grewenig and Eberhard Rist ed., Buddha: 2000 Years of Buddhist Art. 232 Masterpieces, Völklingen, 2016, no. 140.
Christie's. Glories of Buddhist Art, Hong Kong, 29 May 2019