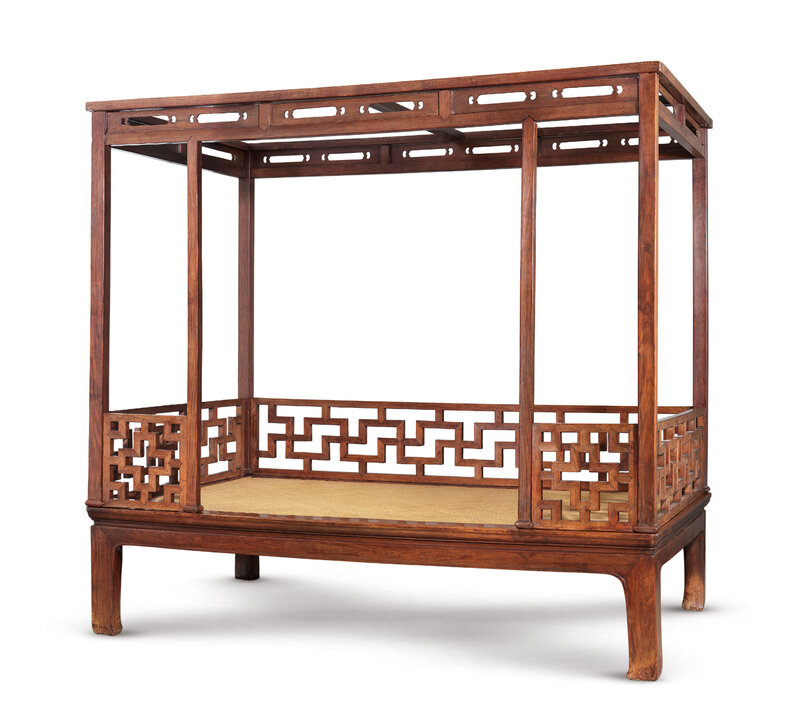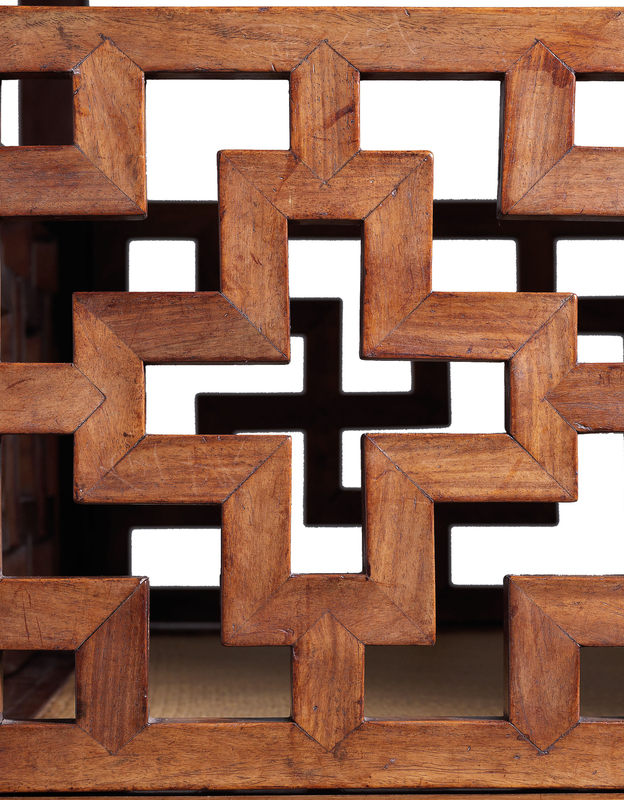 Lot 3119. A fine and rare huanghuali six-poster canopy bed, jiazichuang, Ming dynasty, 16th-17th century; 87 in. (221 cm.) high, 89 in. (226 cm.) wide, 62 in. (157.5 cm.) deep. Estimate HKD 6,000,000 - HKD 8,000,000. Price realised HKD 6,125,000. © Christie's Image Ltd 2019.
The rectangular mitred bed frame with soft mat seat is set with beaded, 'ice-plate' edge, above a narrow waist and plain beaded apron continuing to the square legs with incurving hoof feet. The four corner posts and two front posts of square section are supported on slightly flared tabs, joined with delicately constructed openwork panels composed of continuous wan emblems forming a lattice-work gallery. All below a top rail and canopy reticulated with finely beaded, rectangular reserves flanked by small ruyi-heads. The wood of attractive, rich yellowish-brown tone.
Literature: R. H. Ellsworth, Chinese Furniture: One Hundred and Three Examples from the Mimi and Raymond Hung Collection, vol. 1, New York, 1996, pp. 106-107, no. 33.
Exhibited: Asian Art Museum of San Francisco, Essence of Style: Chinese Furniture of the Late Ming and Early Qing Dynasties, San Francisco, 1998, Catalogue, pl. 14
Hong Kong Museum of History, The Radiant Ming 1368-1644: through the Min Chiu Society Collection, Hong Kong, 2015, Catalogue, pl. 221.
Note: Canopy beds have either six or four posts. As noted by Sarah Handler in her discussion of the form in Austere Luminosity of Chinese Classical Furniture, Hong Kong, 2001, pp.139-58, canopy beds occupied a central and dominant position in the Ming dynasty household. It was common for drapery to be used to create a private world within closed curtains, and examples can be seen in Ming and Qing woodblock prints (fig. 1).

A miniature model of an alcove bed made in jumu (southern elm) of almost the same design as the present bed was found in the tomb of a Wanli period (1573-1619) official Pan Yunzheng, discovered in Shanghai in 1960 (fig. 2). The excavated model is constructed with the original antechamber and stand, and is currently on display in the Shanghai Museum. The model demonstrates how the bed was originally displayed in a Ming dynasty bedroom together in a setting surrounded by other miniature furniture. See also the drawing of another miniature model of an alcove bed discovered in Suzhou from the tomb of Wang Xijue (1534-1614), the head of the Ministry of Personnel, also from the Wanli period (fig. 3). Both models suggest that the design of the present bed was popular among high ranking officials in the 16th century.

The geometric decoration on the railings resembles the wan character in Chinese. The wan emblem arranged repeatedly symbolises the wish for infinite longevity, wan shou wu jiang. A huanghuali bed of nearly the same size and ornamentation is in the Philadelphia Museum of Art, accession number 1961-89-1, and is illustrated by Michael Beurdeley in Chinese Furniture, New York, 1979, p. 83, no. 112 (fig. 4). Both the present bed and Philadelphia bed share the same carved panels beneath the top frame, similarly grooved posts, beaded aprons and thick, rectangular legs. The outer surfaces of the lustrous wood on the railings and posts are all slightly concave to create a beautiful play of light.

A similarly designed luohan bed was sold at Sotheby's Hong Kong, 6 April 2016, lot 109. Also see another luohan bed from the Tseng Riddell collection, exhibited in Splendor of Style: Classical Furniture from the Ming and Qing Dynasties, National Museum of History, Taipei, 1999, pp. 108–109. A canopy bed with a related design of wan emblems on the surrounding panels is in the Palace Museum, Beijing, illustrated in The Complete Collection of Treasures of the Palace Museum - 53 -Furniture of the Ming and Qing Dynasties (I), Hong Kong, 2002, pp. 6-9, no. 2.