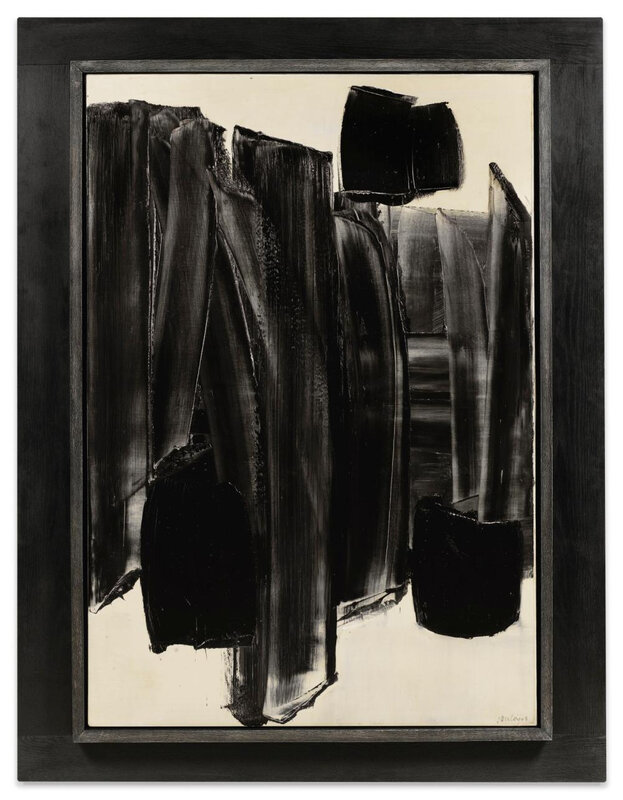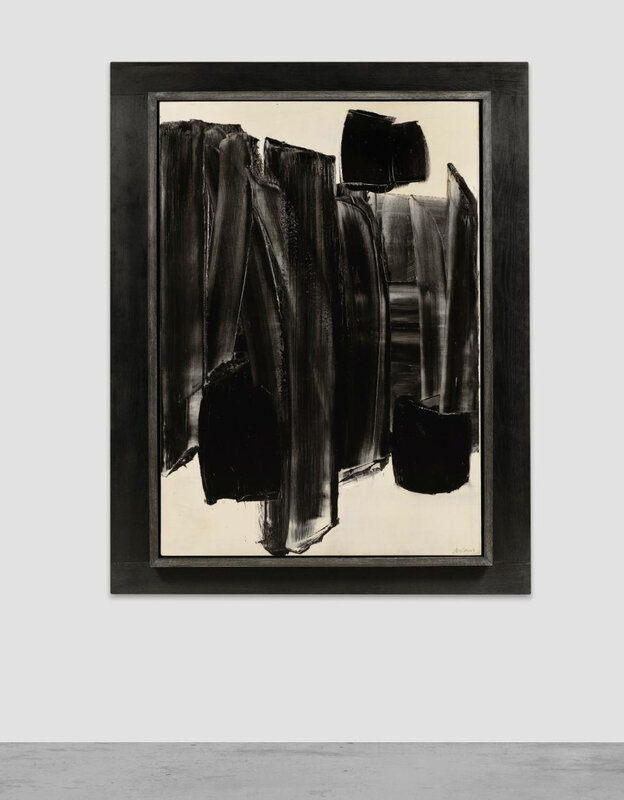 Lot 5. Pierre Soulages (b. 1919), Peinture 130 x 89 cm, 2 mars 1961, oil on canvas, 130 x 89 cm ; 51 3/16 x 35 in. Executed in 1961. Estimate €1,800,000 - €2,500,000. Courtesy Sotheby's.
Provenance: Kootz Gallery, New York (acquired in 1961)
Private Collection
Christie's, New York, Manson & Woods, 1 November 1984
Private Collection
Gimpel and Weitzenhoffer Gallery, New York
Sotheby's, London, Contemporary Art, 2 July 1987, lot 666
Galerie Boulakia, Paris
Collection Pierre Larock (acquired in 1989)
Private Collection, Europe
Exhibited: New York, Kootz Gallery, Soulages, 24 octobre – 11 novembre 1961; catalogue
Manhattan, Kansas State University, Fine Arts Festival, 3 - 14 May 1962
Literature: Pierre Encrevé, Pierre Soulages, L'oeuvre complet, Peintures Volume II, 1959-1978, Paris, 1994, p. 74, no. 445, illustrated in colour.
The more limited the means, the stronger the expression.
Pierre Soulages
Masterful piece by Pierre Soulages, Peinture 130 x 89cm, 2 mars 1961 was created at the beginning of the 60s. It is indicative of the major shift taken by the artist at the time of his recognition as one of the most important artists of his generation in both Europe and the United States -as the famous American Kootz Gallery dedicated him several important exhibitions next to other protégés like Mark Rothko, Willem de Kooning and Robert Motherwell.
In this outstanding work kept in a prestigious French collection, the virtuosity of Soulages to sculpt the space with his fine dark impastos is absolutely astounding. But she should recall that during this year punctuated by several major retrospective exhibitions held at the Folkwang Museum of Essen, the Kunsthaus of Zurich and the Gemeente Museum of the Hague, the work Soulages developed around transparencies was both inspired and avant-gardist. The hieratic and formalist signs that characterized his works from the 40s and 50s disappeared at the benefit of free and loose forms that allow the motif to vividly stand out from the background. In other words, as Jean Leymarie wrote in an article published in Art International at the time: "his former vertical compositions with outstretch patterns" made way to "transversal, more complex and aerial designs". As a consequence, "the black [which] was before the main counterweight to color became an active and dynamic tint, expanding through irradiation, emanation and phosphorescence."
On a biographical level, it is interested to recall that March 1961 coincided with Soulages recent move in the inspiring studio-house he had designed in Sete. Perched on the south side of the Mont Saint-Clair, this luminous property overlooking the sea surrounded by a lush Mediterranean vegetation probably had something to do with the unprecedented tension between light, volume, space and time we see in Peinture 130 x 89cm, 2 mars 1961. When browsing the catalogue raisonné of Soulages work, the magic clearly happens at the beginning of the 60s, as form, material and color unified to reveal the incredible creative energy that ran through Soulages's veins.
Sotheby's. Art Contemporain - Evening Sale, Paris, 05 Jun 2019, 07:00 PM