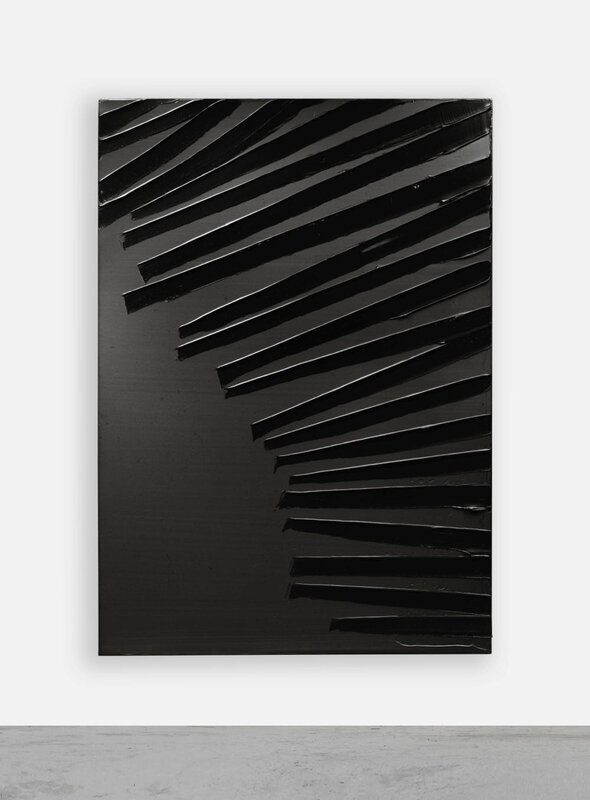 Lot 16. Pierre Soulages (b. 1919), Peinture 202x143 cm, 17 juin 2008, signed, titled and dated on the reverse, acrylic on canvas, 202 x 143 cm; 79 1/2 x 56 5/16 in. Executed in 2008. Estimate €900,000 — €1,200,000. Courtesy Sotheby's.
Provenance: Galerie Karsten Greve, Saint-Moritz
Acquired from the above by the present owner in 2008.
Literature: Pierre Encrevé, Soulages, l'oeuvre complet Peintures IV. 1997-2013, Paris, 2015, p. 271, illustrated in colour.
Darkness precedes light. Before there was light, the world and everything in it were in total darkness. With light came colour. But black came first.
Pierre Soulages
Forty years have past since Pierre Soulages decided to entirely dedicate himself to the reflections and transparencies of the black matter, which he has been sculpting tirelessly at the surface of works entitled Outrenoirs and recognizable among all. Now considered one of the most important fine artists of the second half of the 20th century worldwide, Soulages has spent nearly half a century working on this series started in 1979. Quintessence of his work, it has taken as sole focus the exploration of one single hue, thus establishing a fascinating relationship with light and opening a pictorial space, which, in spite of its monochromatic aspect, is part of modern art trajectory, yet going against the stream.
By removing the whites, reds, blues and ochers that were present in his painting since the 1940s, Soulages has tried to make a conceptual statement all along. As he himself likes to point out, his approach cannot and should not be assimilated to that of the main artistic movements of the past century. A much deeper view is needed to understand the reasons that led him to abandon the color palette he had used up until 1979. A look back in time and history allows us to realize that, with the Outrenoir series, Soulages relates in fact more to the first men's cave painting than to any western take on modernity.
Shaping the pictorial matter through repetitive gestures that give life to captivating light effects, with Peinture 202 x 143 cm, 17 juin 2008, Soulages follows in the footsteps of a powerful and vibrant ancient art. Because of its impressive dimensions and troubling verticality, Peinture 202 x 143 cm, 17 juin 2008 also reveals the great melodic nature of Soulages's work, in spite of its cave art reminiscences. Here, the stunning transversal interstices that punctuate the right part of the composition allude to a music score.
Sotheby's. Art Contemporain - Evening Sale, Paris, 05 Jun 2019, 07:00 PM