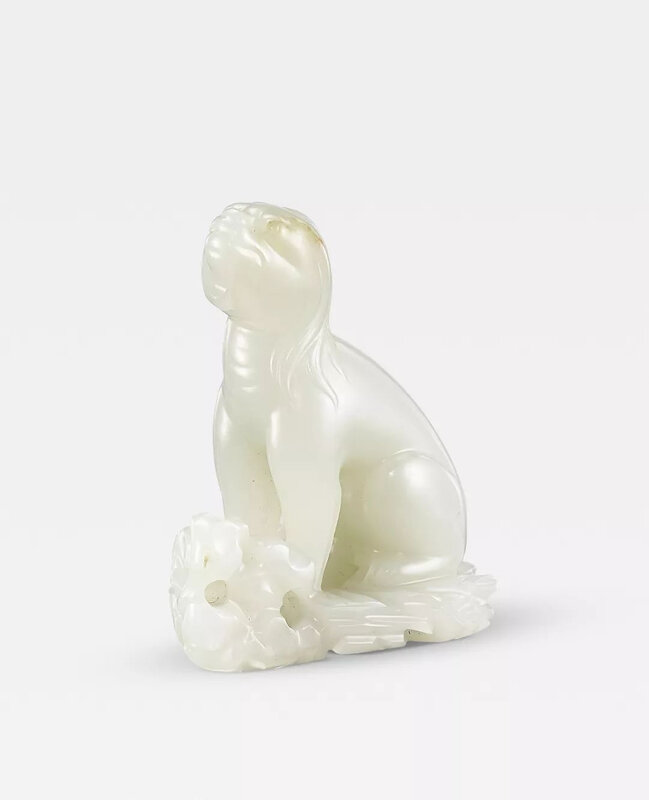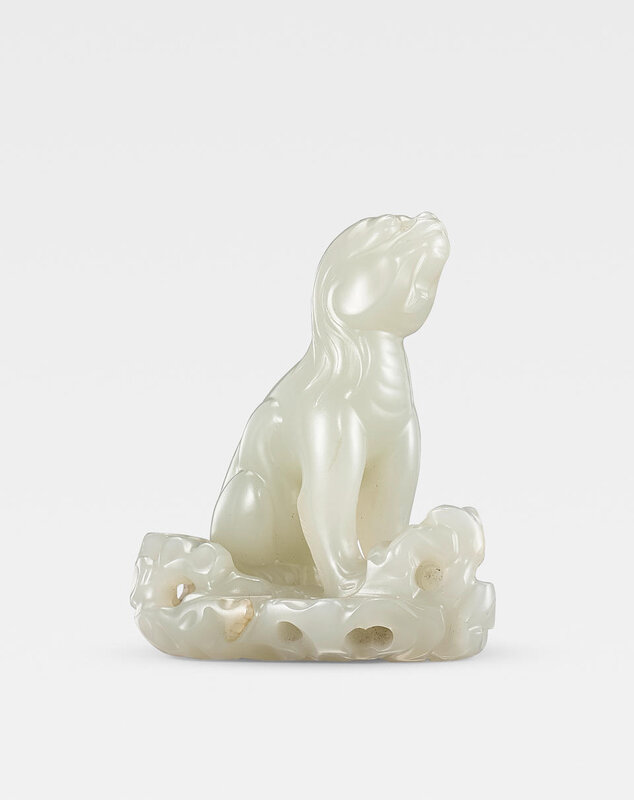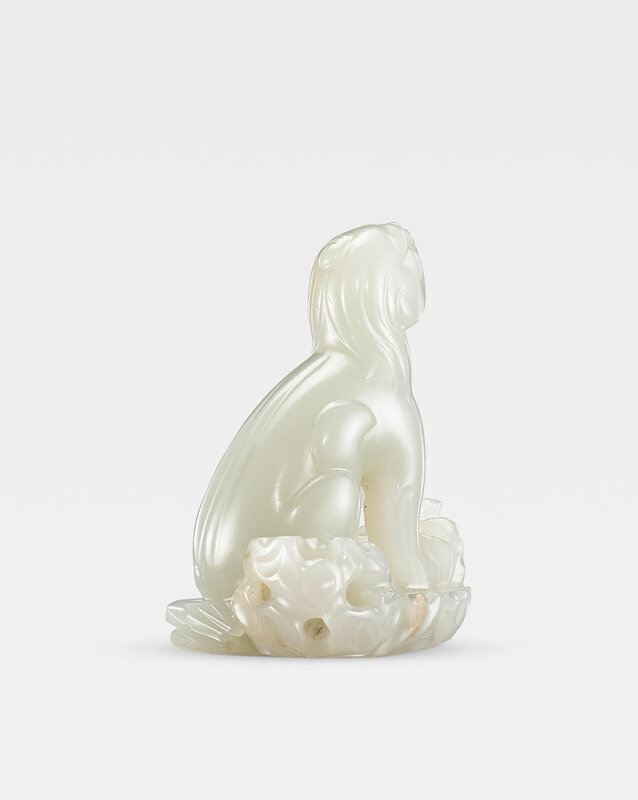 Lot 12. An exceptional white jade carving of a seated mythical beast, Song-Ming Dynasty; 6.1cm (2 1/2in) high. Estimate HK$500,000 - 800,000 (US$64,000 - 100,000). Sold for HK$ 688,125 (€ 78,681) inc. premium. © Bonhams 2001-2019
Exquisitely carved in the round as a seated mythical beast, probably xiezhi, resting on its rear haunches on an elaborately pierced rockwork, its single-horned head raised and portrayed with bulging eyes, a ridged nose and a curled beard above its ribbed neck, the horn flanked by delicately flowing manes in relief, the body skilfully picked out with a well-pronounced spine, the well-polished even white stone highlighted with minor russet inclusions.
Provenance: A French private collection
Marchant, London
Exhibited, Published and Illustrated: Marchant, 90th Anniversary Exhibition: Ninety Jades for 90 Years, London, 2015, no.47.
Note: The finely carved and polished single-horn mythical beast, which could be identified as xiezhi, is a superb example of the jade carver's ability to take advantage of the pebble shape to create imaginary creatures of arresting sculptural quality at the time when fine quality white jade stone such as the present lot was precious to access.

The xiezhi is a legendary mythical beast considered as a symbol of justice and law. The earliest record of xiezhi in literature dates back to the Han dynasty, where it is described as a strong mythical beast with one horn who settled disputes by directly ramming the party at fault.

Compare with a related example of a Song dynasty yellow jade single-horned mythical beast from the Hangzhou History Museum, with similar execution of facial features such as the pointed nose and the finely incised beard, illustrated by Gu Fang, in The Pictorial Handbook of Ancient Chinese Jades, Beijing, 2007, p.328. See also white jade squatting single-horned animal of similar form, Song dynasty, illustrated in The Complete Collection of Treasures of the Palace Museum, Jadeware (II), Hong Kong, p.67, no.57. Compare also with an excavated example of a white jade single-horned animal, Song dynasty, in the Zhejiang Museum, illustrated in The Complete Collection of Jades Unearthed in China, Vol.8, Zhejiang, Beijing, 2005, p.218.

A related example of qilin mythical beast in similar pose, Tang/Song dynasty, was included by Marchant in their 85th anniversary exhibition of Chinese Jades from Tang to Qing, 2010, pp.100-1, no.74; another mythical beast, probably also a qilin, in similar pose is illustrated by B.Morgan in Spink Ltd., Naturalism & Archaism: Chinese Jades from the Kirknorton Collection, London, 1995, no.57. See also a closely related white jade camel, Song dynasty or later, in the British Museum, London, illustrated by J.Rawson, Chinese Jades from the Neolithic to the Qing, London, 1995, p.369, no.26:12.
Bonhams. Marchant, est. 1925: Fine Chinese Jade Carvings, Hong Kong, 28 May 2019