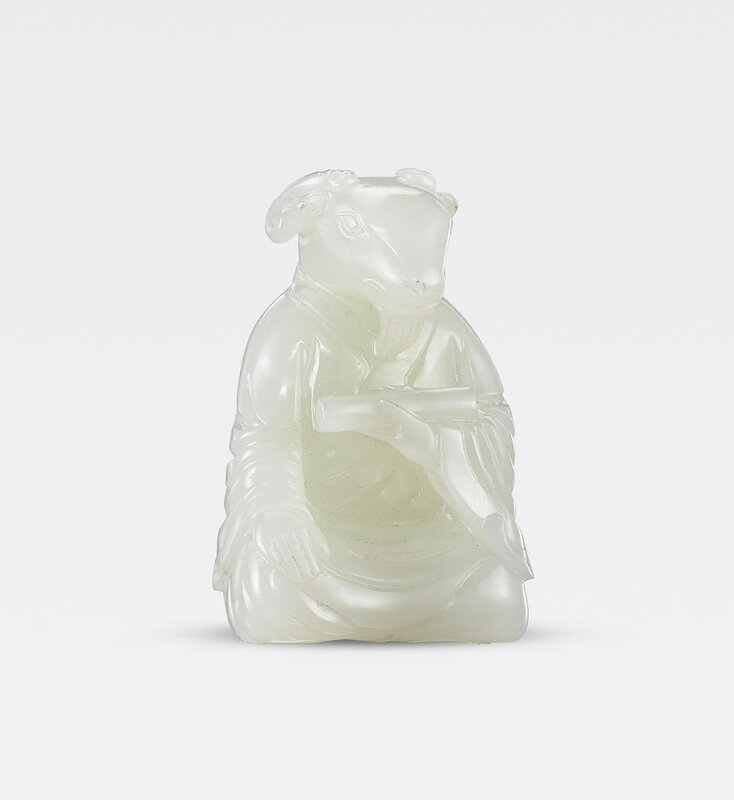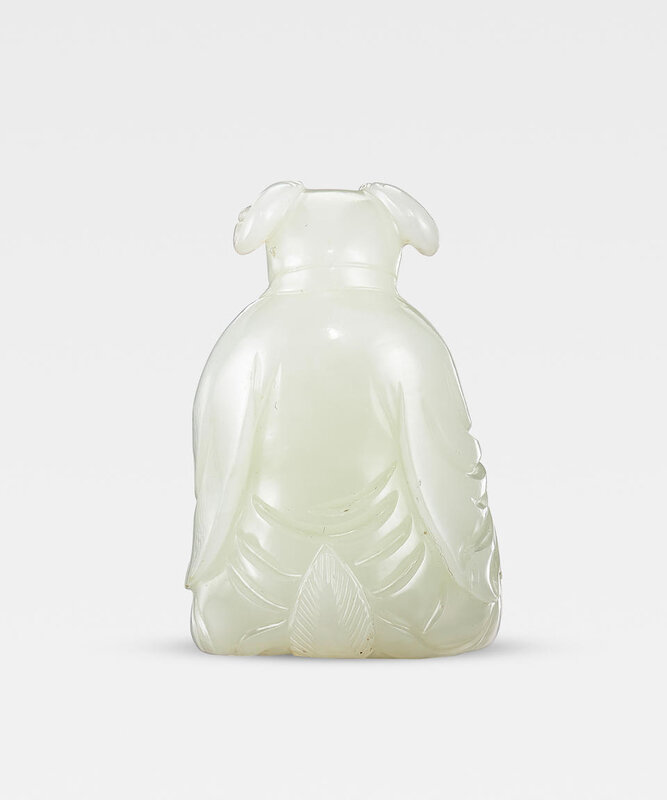 Lot 40. A rare white jade zodiac figure of a goat, Qianlong period (1736-1795); 5.3cm (2 1/11in) high. Estimate HK$180,000 - 240,000 (US$23,000 - 31,000). Sold for HK$ 425,625 (€ 48,666) inc. premium. © Bonhams 2001-2019
The finely polished even white stone delicately carved as a zodiac figure of a goat seated cross-legged wearing a long flowing pleated robe, holding a scroll in his left hand, the facial features realistically rendered below a pair of curled horns, his upright tail detailed with incised lines.
Provenance: A New Jersey collection, purchased in 1977
Marchant, London.
Exhibited, Published and Illustrated: Marchant, 90th Anniversary Exhibition: Ninety Jades for 90 Years, London, 2015, no.65.
Note: The present jade figure belongs to a set of twelve zodiac figures, examples of which are known to have been commissioned for the Qianlong emperor. The complete set would have been stored inside a zitan box known as wannian jiazi he, placed around a central rectangular jade box carved with the Daoist qian trigram, a symbol of the Qianlong emperor. See a complete set from the Qing Court Collection, illustrated in The Complete Collection of Treasures of the Palace Museum, Jadeware (III), Hong Kong, 1995, pp.132-133, no.111; another complete is illustrated by R.Kleiner in Chinese Jades from the Collection of Alan and Simone Hartman, Hong Kong, 1996, p.232, no.182; a third complete set from the Metropolitan Museum of Art, is illustrated by D.P.Leidly, W.A.Siu and J.C.Y.Watt, Chinese Decorative Arts, New York, 1997, p.33; and a fourth set is illustrated by Y.Boda in A Romance with Jade from De An Tang Collection, Hong Kong, 2004, pp.134-135, no.76.
According to Qian Jiuru in 'Wannian Jiazi he', Forbidden City, vol.5, 1992, p.5, the creation of this group of objects was to commemorate the milestone victory of the Jinchuan suppression, one of the most difficult of the Ten Great Campaigns of the Qianlong reign. It further embodies the Qianlong emperor's inner literati spirit, as the zodiac theme was inspired by the works of Chou Yuan (circa 1247-1326), whose literary work known as Jin Yuan Ji comprised of phrases which deliberately incorporated names of the twelve zodiac animals into individual registers, and was later recorded in the Yongle Encyclopaedia.

A related white jade zodiac figure of a rat, 18th/19th century, was sold at Christie's Paris, 12 December 2018, lot 133.
Bonhams. Marchant, est. 1925: Fine Chinese Jade Carvings, Hong Kong, 28 May 2019