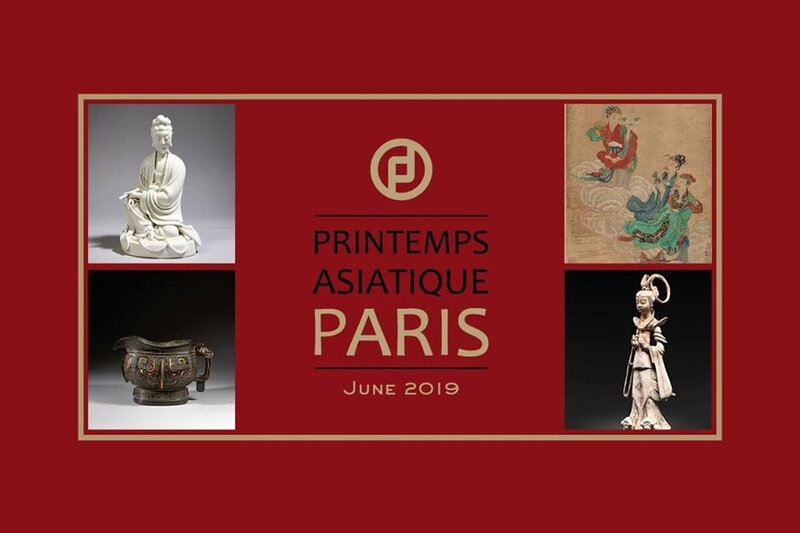 La 2nde édition du PRINTEMPS ASIATIQUE Paris, dédié aux Arts d'Asie, se déroulera du 6 au 17 juin 2019 à Paris. Durant une semaine, les meilleures galeries d'antiquités spécialisées, les grandes maisons de ventes aux enchères, le musée National des Arts Asiatiques Guimet, le musée Cernuschi, le musée des Arts Décoratifs de Paris, le musée des Arts Asiatiques de Nice ainsi que le Cabinet de Curiosités de l'Hôtel Salomon de Rothschild s'associent pour créer une synergie entre les programmations institutionnelles et privées.
De la Chine au Japon en passant par l'Inde, les participants rendent compte de toute la richesse et de la diversité de ces territoires de création, à travers une sélection d'objets d'exception et des expositions thématiques. Ce parcours réunira 24 grandes galeries d'Art Asiatique, 16 maisons de ventes et 5 institutions muséales autour d'un calendrier commun d'expositions et de ventes aux enchères.
Cette initiative fédératrice lancée par l'association PRINTEMPS ASIATIQUE Paris a pour ambition de renforcer les liens privilégiés entre conservateurs, maisons de ventes, marchands et collectionneurs ainsi que de conforter le dynamisme du marché français dans cette spécialité.
In June 2019, the galleries specialized in Asian Art, the major auction houses as well as the Guimet, Cernuschi and Arts Décoratifs Museums are gathering for the second edition of « Printemps Asiatique Paris ». Based on the model of Asia Week New York and Asian Art in London, this new event will be articulated around a common calendar of exhibitions and auctions. This annual week will allow collectors and amateurs to discover some of the most exciting pieces available on the market. The ambition of the Printemps Asiatique Paris is to assert the importance of the Asian art market in France, especially in the capital.
GALERIES.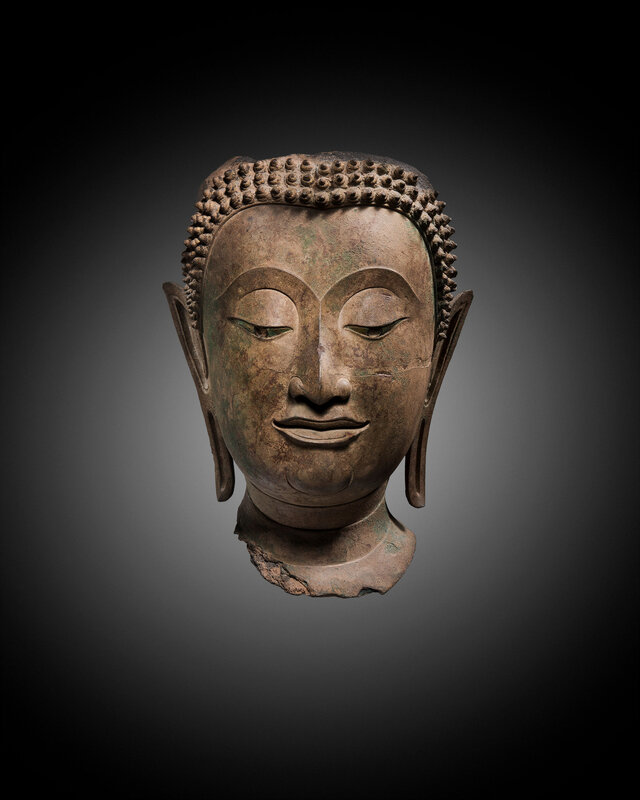 Head of Bouddha, Copper alloy, Thailand, Chiang Mai school / 15th century. Dimensions: 35 x 21 x 18 cm. © Vincent Girier Dufournier
Provenance: Private French Collection assembled between 1968 and 1972.
Acquired at Moreau-Gobard Gallery, Paris, 9th of November, 1968.
Galerie Jacques Barrère, 36 rue Mazarine 75006 01.43.26.57.61 - http://www.artasie.com/fr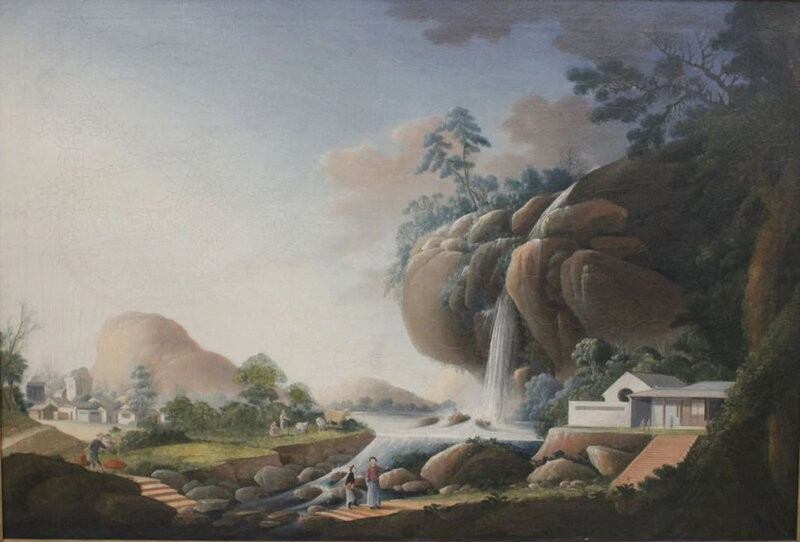 Waterfall scene, Tingqua studio, First half of the 19th century. Oil on canvas. Original Chinese Chippendale frame, formerly in a private French collection, Old Christie's New York label.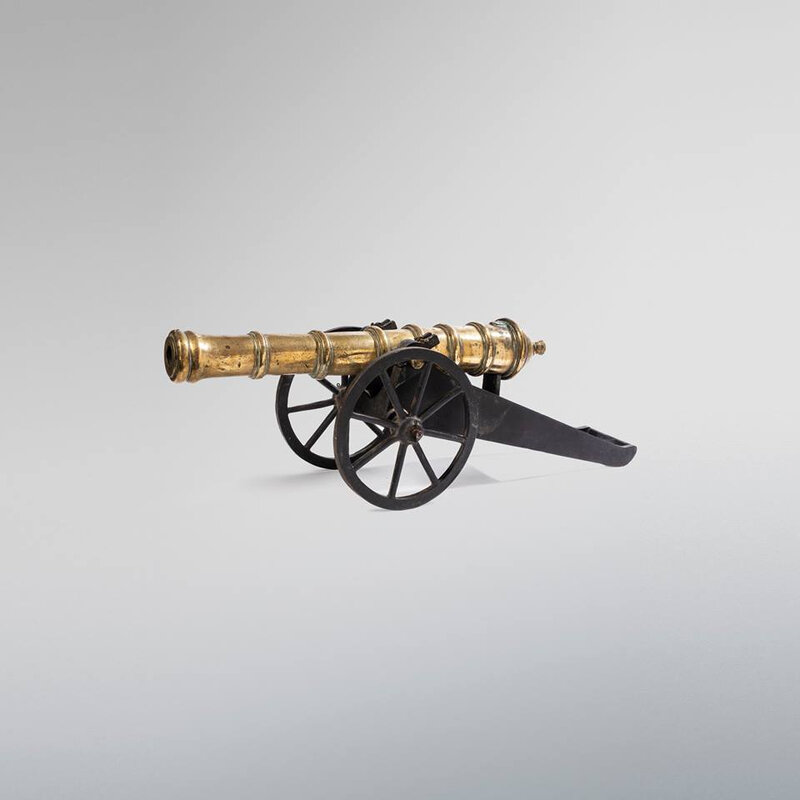 Model of a cannon made in bronze, China, 19th century. L 64 cm. Private Collection, France. Brought to France in the 30's © Yann Girault
The heavy cast model of typical tapering form with inscription and dated to the twenty-third year of Daoguang, corresponding to 1844. Presented on a later iron fitted base with wheels.
Gauchet Art Asiatique, 5 rue Jacques Callot 75006 06.12.43.84.29 - http://www.gauchet-expert.com/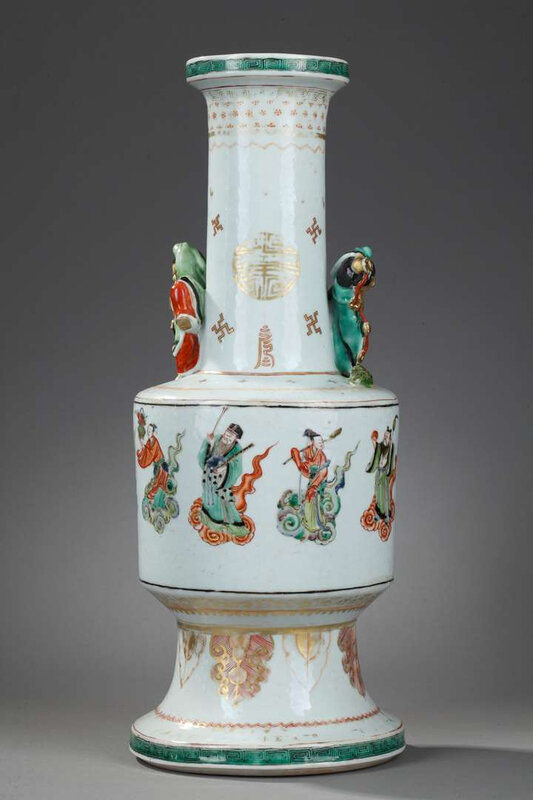 "Famille Verte" porcelain 'Immortals' vase, China, Kangxi Period (1662-1722). Height: 27.5 cm. Diameter: 23.5 cm. © Yves Breton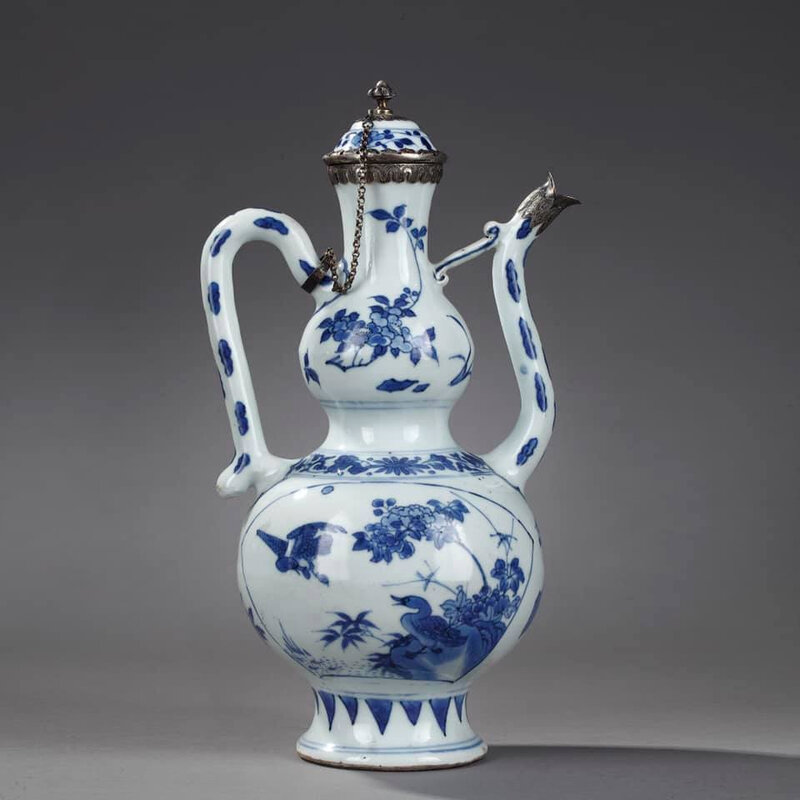 Chinese « blue and white » porcelain double gourd ewer, China, circa 1640 © Yves Breton
Galerie Bertrand de Lavergne, 17 rue des Saints-Pères 75006 01.42.60.21.63 - https://www.bertranddelavergne.com/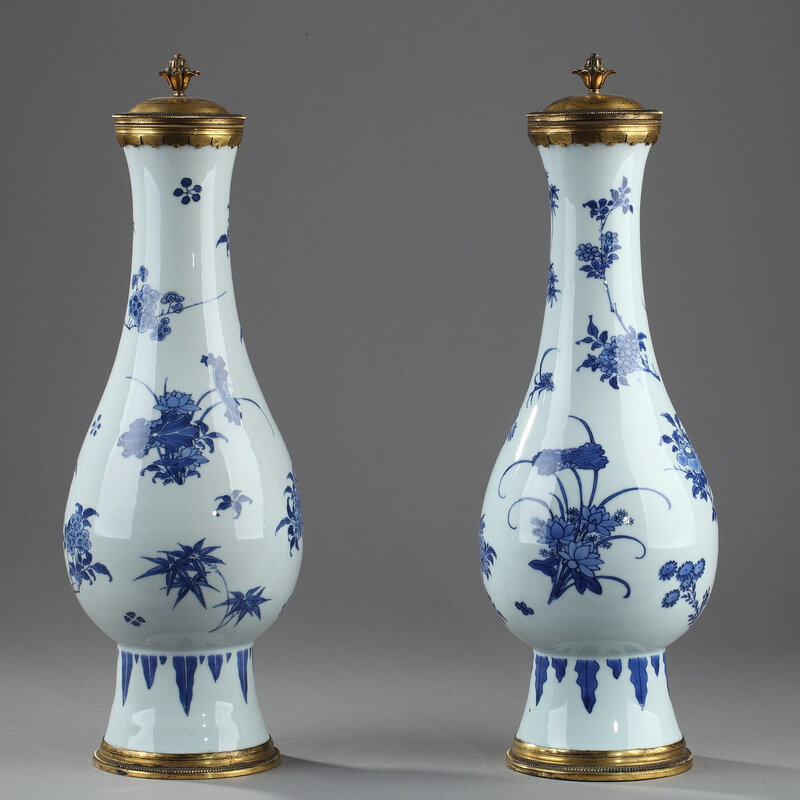 Pair of vases, blue and white porcelain, China, Chongzheng period, 1640.
Galerie Théorème, 15 rue de Lille 75007 01.40.15.93.23 - http://galerie-theoreme.com/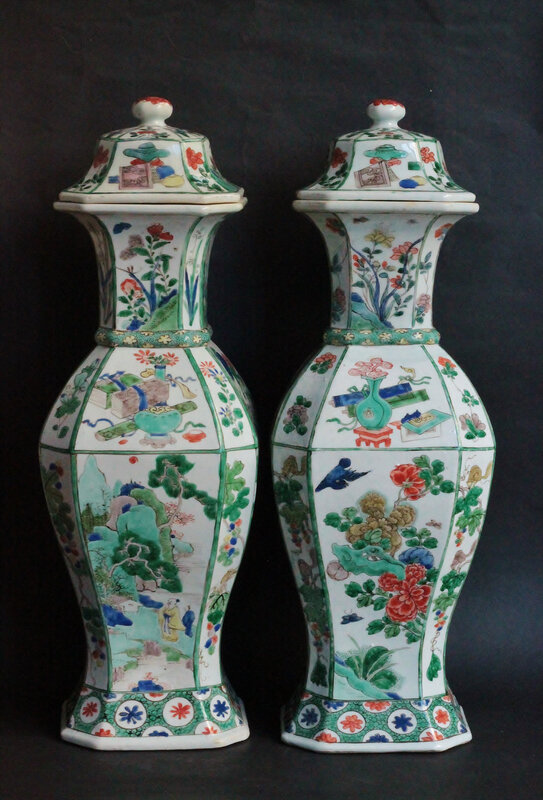 Pair of Chinese porcelain "Famille Verte" jars and covers, China, Kangxi Period (1662-1722). Height: 48,5 cm. © jB
Galerie JM Béalu & Fils, 3 rue du Bac 75007 01.45.48.46.53 - http://bealu.net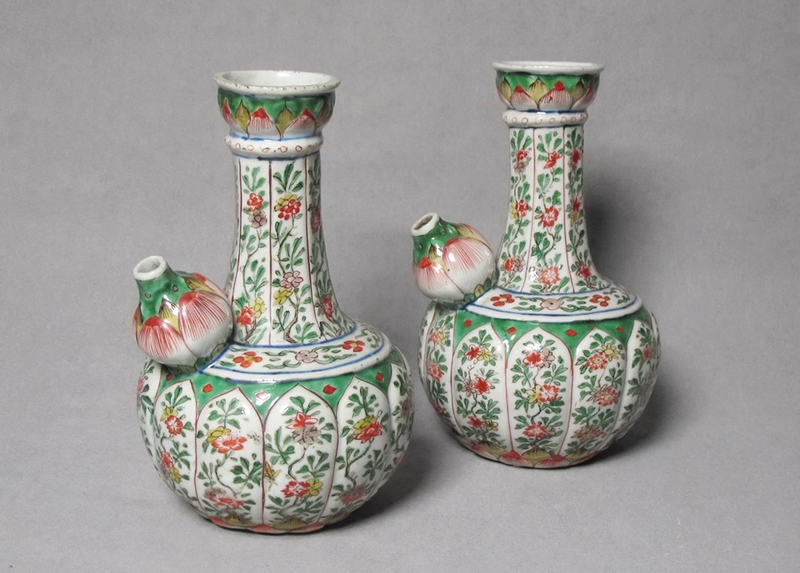 Pair of Kendi, Famille Verte porcelain, China Kangxi Period (1662 – 1722). Height: 20 cm. © Galerie Compagnie de la Chine et des Indes
Compagnie de la Chine et des Indes, 39 avenue de Friedland 75008 01.42.89.05.45 - http://www.compagnie-chine-indes.fr/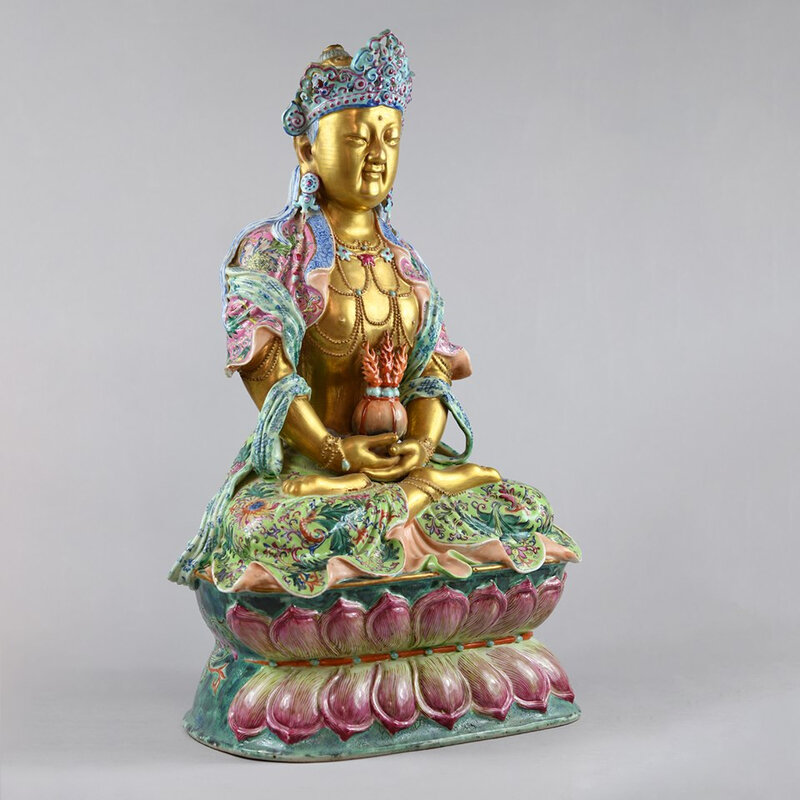 Buddha, Famille Rose chinese porcelain with enamels, China, Qing dynasty, Guanxu period (1875-1908) © Nicolas Marszalek
Juliette Moreau-Gobard, 8 rue du Pré-aux-Clercs 75007 - 06.60.34.43.21 - https://www.moreau-gobard.com/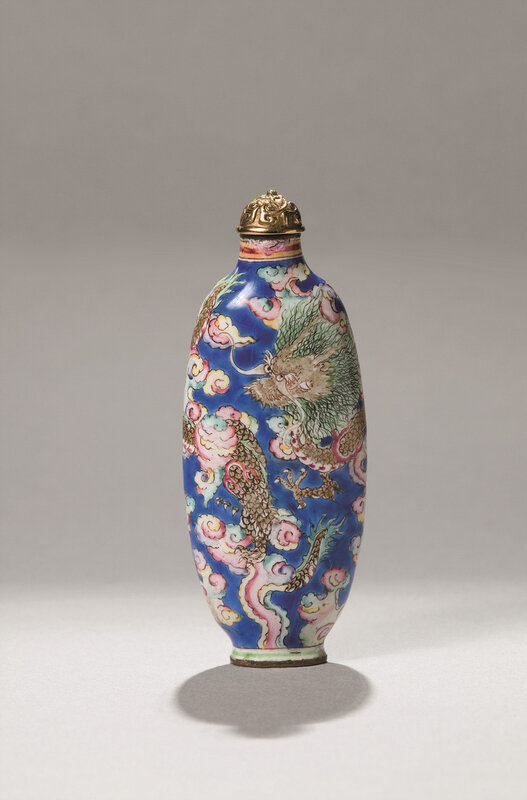 A Canton enamel snuff bottle of slender form, the blue ground painted with two scaly dragons, writhing among clouds. A blue stylized flower painted on the base. Canton, 1723-1750 H : 7,5 cm. Provenance: Giorgo Irneri Collection.
Galerie Espace 4, 9 rue Mazarine 75006 01.75.00.54.62 - https://www.espace4.com/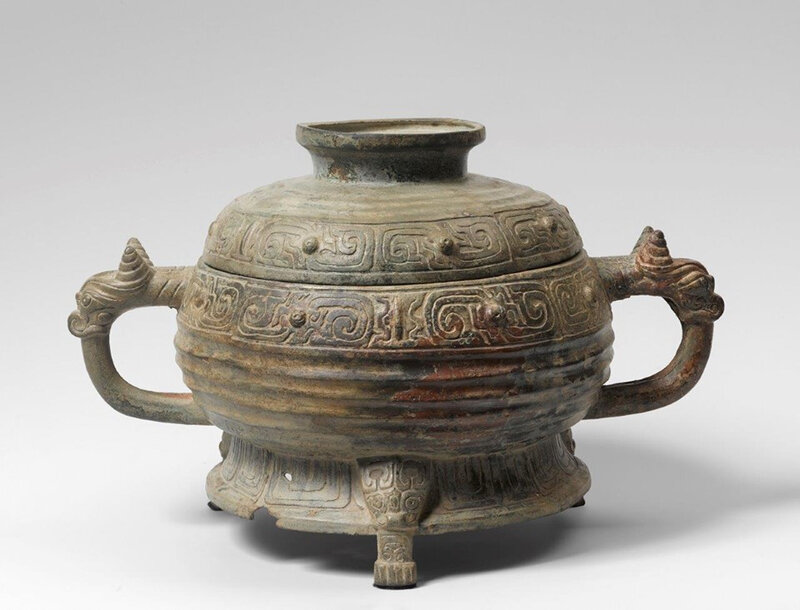 Chinese Gui bronze container, Western Zhou Dynasty (1100 - 771 BC), 24 cm tall, 35 cm diameter. © Patrice Schmidt
A similar model is a part of collections of the Musée Cernuschi - musée des arts de l'Asie de la Ville de Paris.
Mongolian-type horse, China. Northern Wei Dynasty (386 – 534 AD). Grey terracotta with polychrome pigments. H: 29.5 cm - L: 34 cm. © Patrice Schmidt
A bell adorns the animal's neck. The removable saddle rests on a saddle blanket. The horse is doing the "Spanish Walk"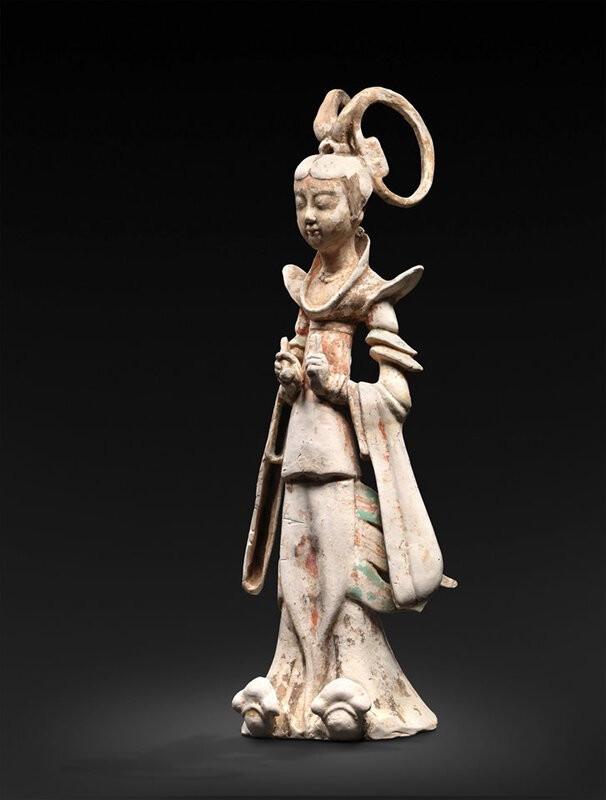 Chinese Princess in terracotta with traces of polychromy, Tang Dynasty, 8th century.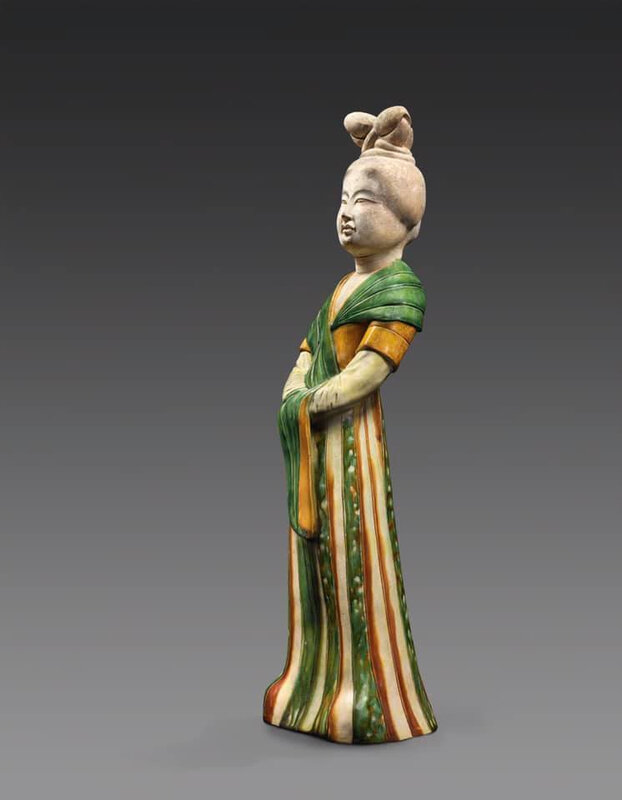 Court Lady, sancai glazed earthenware, China, Tang dynasty (618 - 907).
Galerie Christian Deydier, 30 rue de Seine 75006 01.40.20.97.34 - https://www.deydier.com/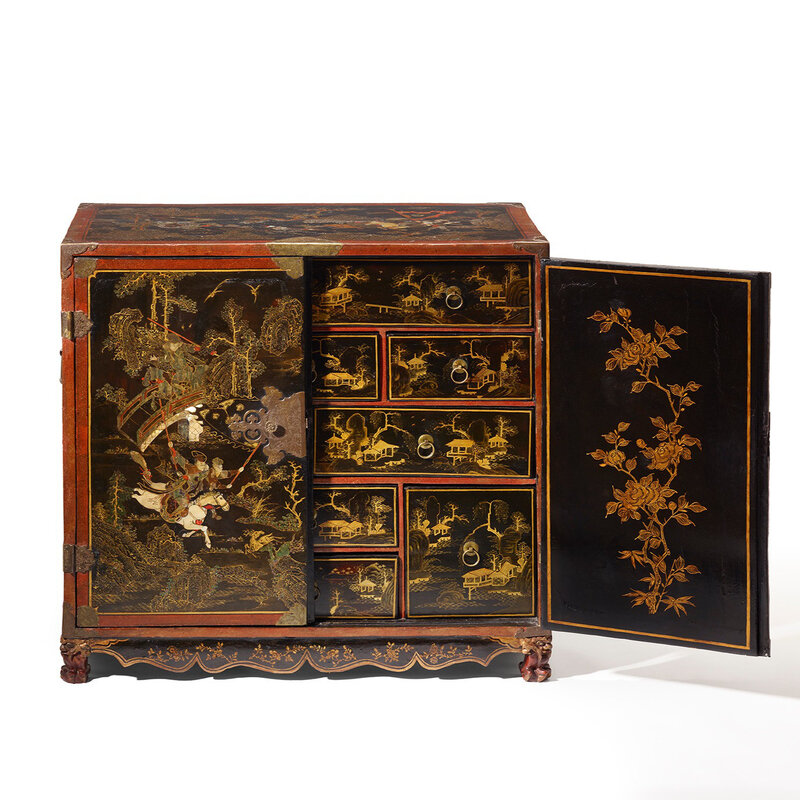 Cabinet, Southern China, probably Guangzhou, Late 17th century. Lacquered exotic wood adorned with mother-of-pearl. Gilt copper fittings. © Pedro Lobo
AR-PAB / Alvaro Roquette / Pedro Aguiar-Branco, 19 rue de Beaune 75007 - 06.73.31.91.65 - http://www.pab.pt/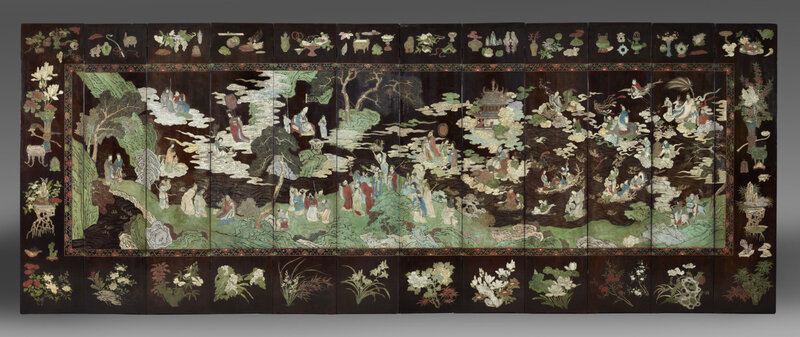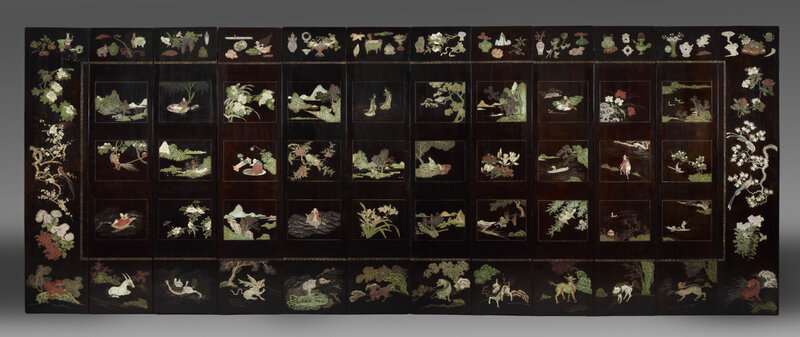 Twelve-fold Coromandel lacquer screen, wood panels decorated in engraved lacquer and tinted in the engravings, China, 17th century (243 x 52 cm per panel) © Thomas Hennocque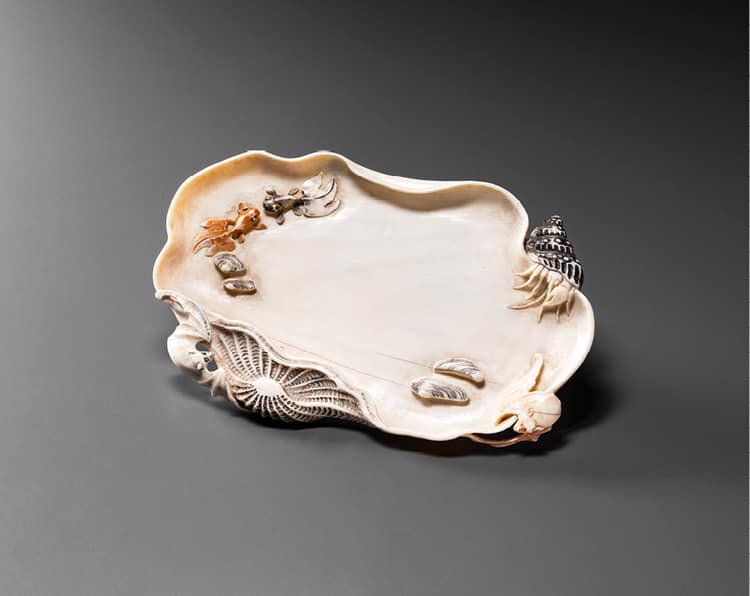 Ivory washer, China, Qing dynasty, 19th century © Vincent Girier Dufounier
Fanny Jacquemaire - CHINARTS, 23 rue de Miromesnil 75008 - 06.13.69.15.28 - https://www.chinarts.info/fr/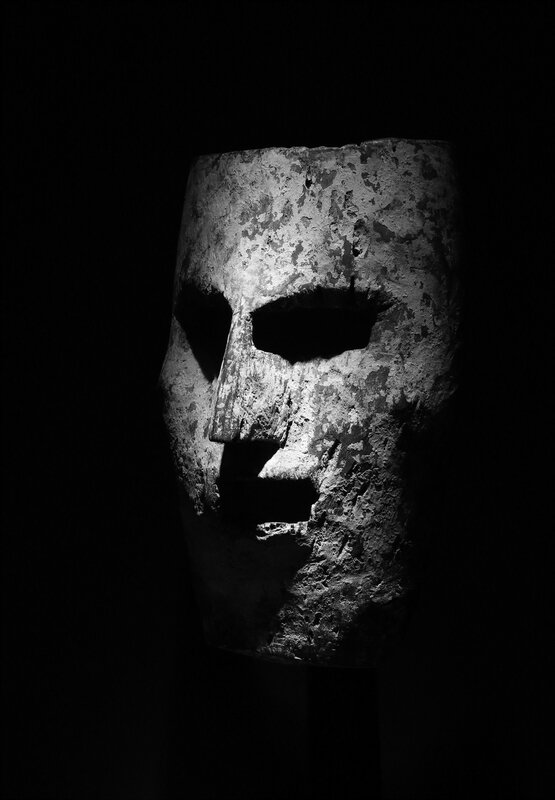 Primitive mask from the western part of Nepal. Crafted in wood, clay and polychrome. Height: 29 cm. © Frédéric Rond
Indian Heritage, 21 rue Guénégaud 75006 01.42.77.58.48 - http://indianheritage.biz/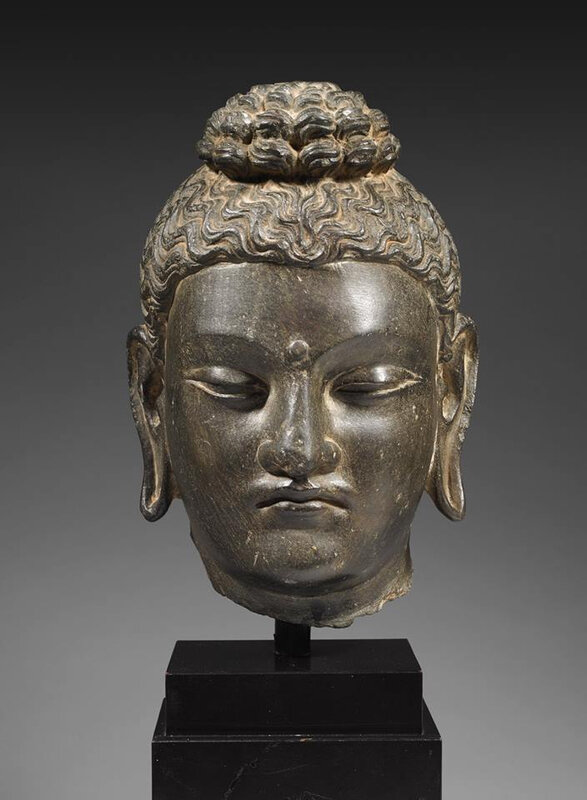 Buddha head, ancient region of Gandhāra, 3rd – 4th century. © Studio Sébert
Galerie Christophe Hioco, 7 rue de Phalsbourg 75017 - 01.53.30.09.65 - http://www.galeriehioco.com/
Monumental Vajrakila head, Tibet, 17th-18th century. Polychrome pigments on fire-gilded copper, stones, turquoises, coral. Height: 35 cm. © François Mallet
Provenance: Formerly in a private collection in Paris, 1980's.
Alexis Renard, 5 rue des Deux-Ponts 75004 - 01.44.07.33.02 - http://alexisrenard.com/
Buddha Maravijaya, Laos, Circa 16th century. Bronze. Height: 69 cm. © Studio Sébert
Provenance: 1980's-2017 French collection, Paris
Art Loss Register Certificate: S00131530
Renaud Montméat, 36 rue Etienne Marcel 75002 06.17.61.21.60 - http://www.montmeat-asianart.com/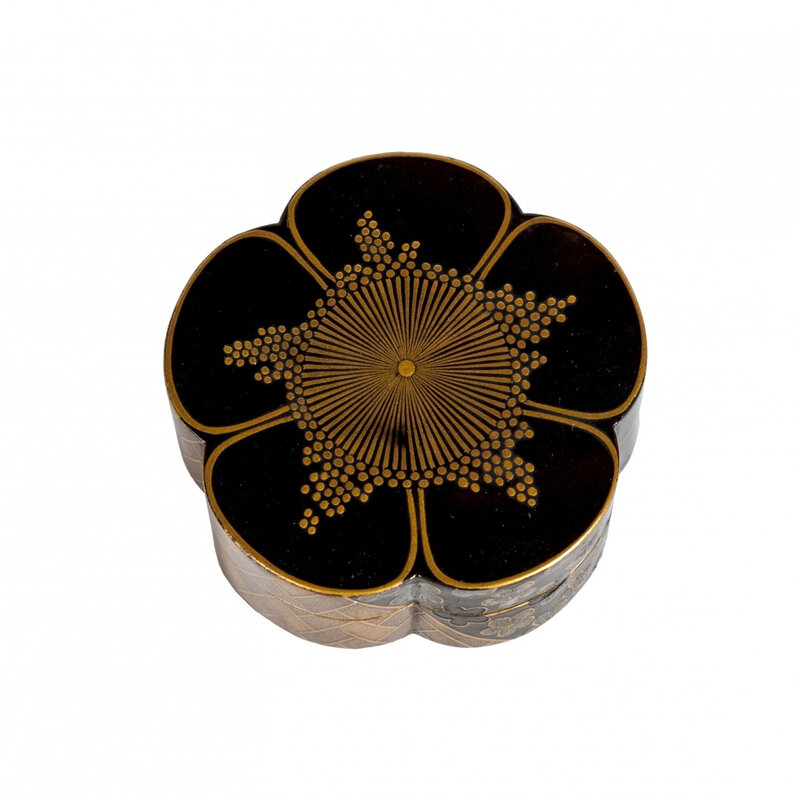 Kobako in the shape of a plum tree blossom in gold lacquer on a black background, sprinkled with silver flowers on a black background and geometric motifs on nashi-ji lacquer on the sides. The inside is in nashi-ji lacquer. Diameter: 2.2" (5.5 cm) – Height: 0,8" (2.1 cm), Japan, Meiji (1868-1912). © Caroline Perrier
Galerie Tiago, 36 rue de l'Université 75007 - 01.42.92.09.12 - http://www.galerietiago.com/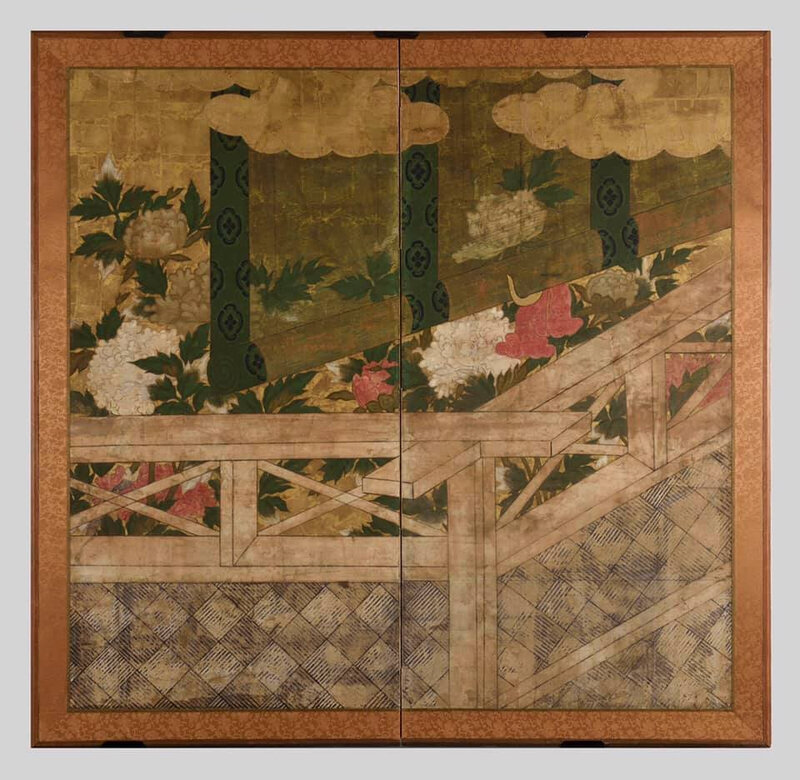 Two-fold screen on paper with peonies and Japanese window shades, Japan, Edo period (1615 - 1868)
Galerie Captier, 33 rue de Beaune 75007 - 01.42.61.00.57 - https://www.galeriecaptier.com/
Galerie Jean-Christophe Charbonnier, 11 rue Le Regrattier 75004 - 01.42.60.42.63 - http://www.artdujapon.com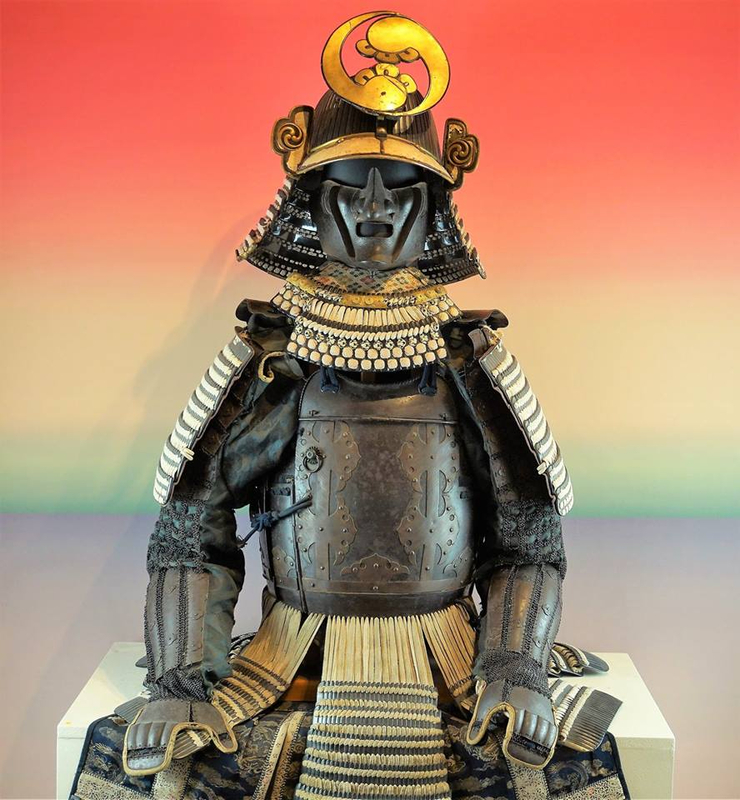 17th century samurai armour, including a 62-plate helmet signed Saotome Iyeshika
Galerie Arts du Japon, 52 rue de Verneuil 75007 - 07.82.23.05.58 - https://www.delormemarc.com/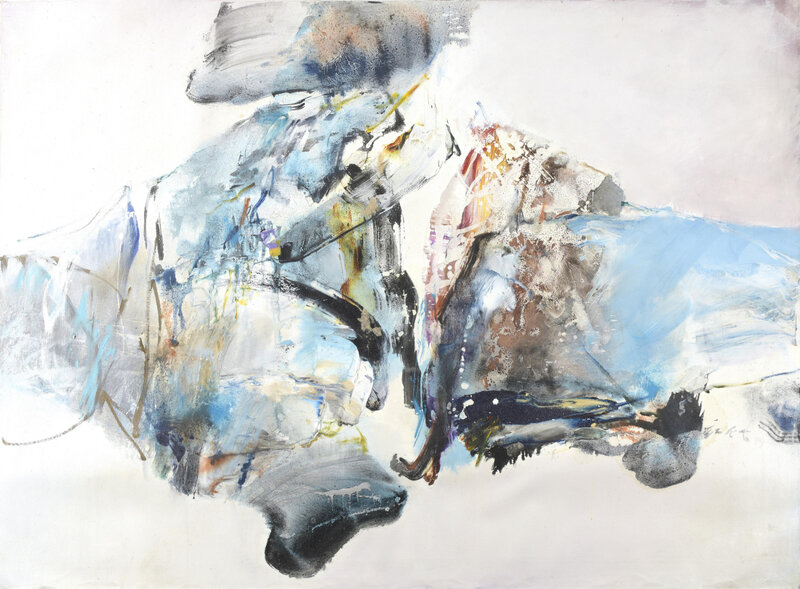 Chuang Che, The great Rule, 1989.Oil and acrylic on canvas, signed and dated, 133 x 175cm.
Galerie Sabine Vazieux, 5 bis rue du Louvre 75001 - 01.48.00.91.00 - http://www.vazieux.com/fr/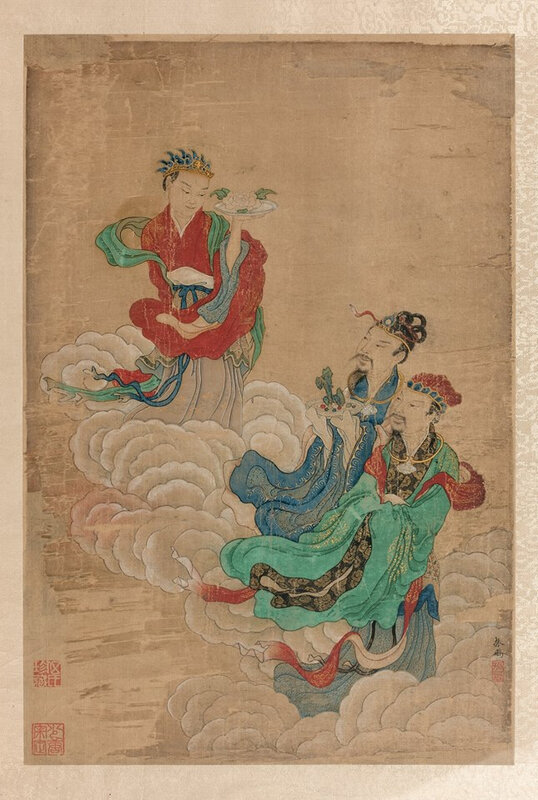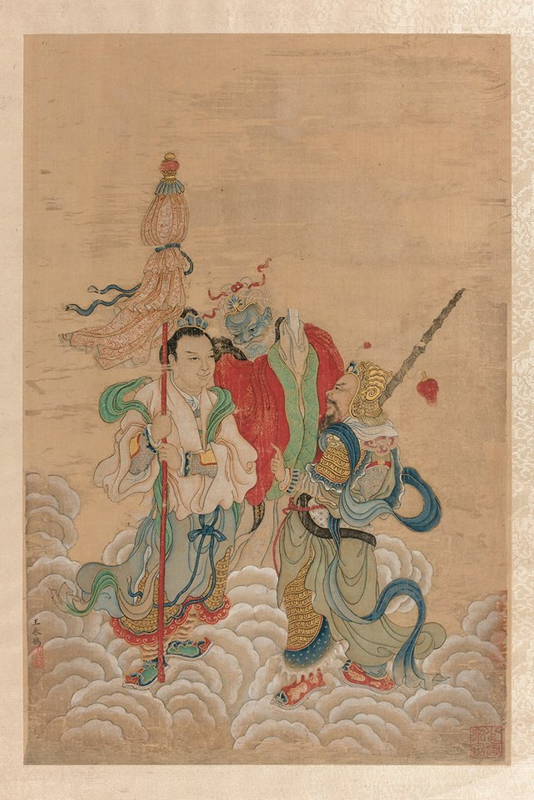 Valérie Levesque, 3 rue des Saints-Pères 75006 06.07.49.62.87 - http://www.chine-japon.com/
MAISONS DE VENTES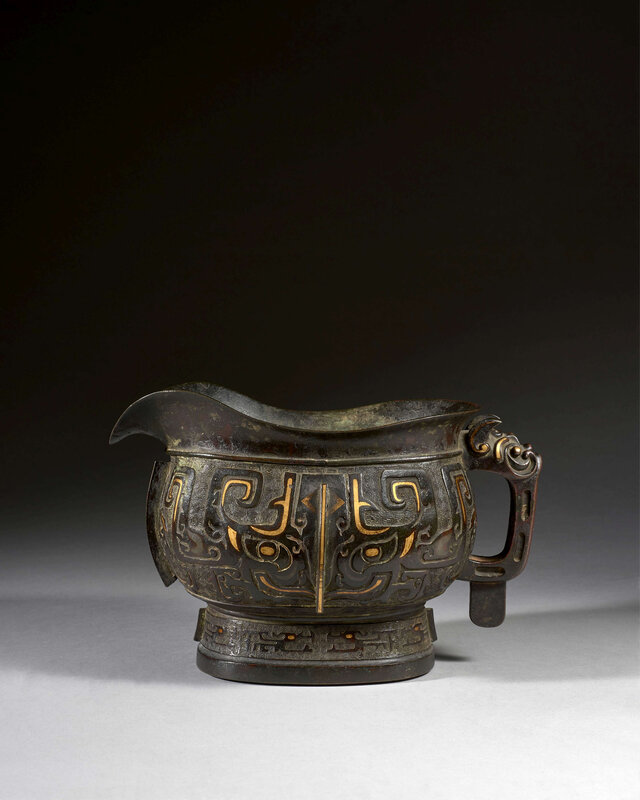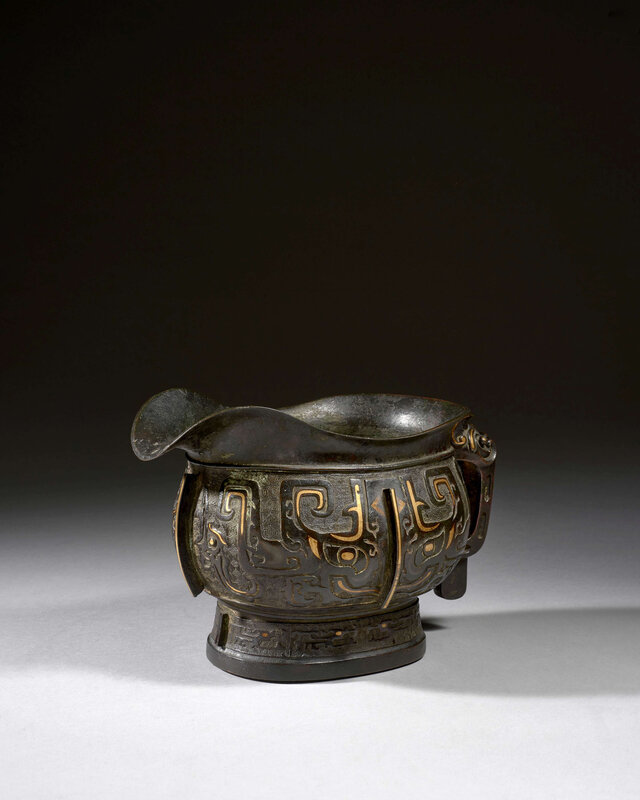 Lot 42. A gold and silver inlaid bronze ewer, Gong, China, Song-Ming dynasty, 13th-15th century. H. : 21,1 cm (8 ¼ in.) L. : 32 cm (12 ½ in.). Estimate 25 000 € / 35 000 €. © Artcurial
Reposant sur un haut pied ciselé de dragons gui stylisés sur fond de grecques, la panse bombée, ornée de grands masques de taotie archaïsants, les arrêtes et traits principaux soulignés d'or, une anse à l'opposé du bec verseur surmontée d'une tête d'animal fantastique
Note: La forme en verseuse Gong pour un récipient en bronze archaïsant incrusté d'or et d'argent est rare. Ces productions réalisées entre les Song et les Ming, reprennent les formes des bronzes archaïques comme les Gui, les Hu, les verseuses en forme de canard ou tapirs. Pour une discussion sur ces bronzes incrustés, voir l'ouvrage de Rose Kerr, Later Chinese Bronzes, Victoria and Albert Museum, pages 50 à 55, et ill 4, p.16 et ill. 13, p. 22.Voir aussi les lots vendus à Christie's Londres le 15 mai 2018, Lot 77, Christie's Hong Kong, le 4 octobre 2016, Lot 35 ou Sotheby's Hong Kong, le 8 octobre 2014, Lot 3350.

The Gong form for silver and gold inlaid bronze archaistic ewer is rare. These vessels were made during Song to Ming periods in the revival of archaic bronzes Gui, Hu, duck-shape or tapir ewers. For a discussion on inlaid bronzes, see Rose Kerr, Later Chinese Bronzes, Victoria and Albert Museum, pages 50 à 55, et ill 4, p.16 et ill. 13, p. 22. See also the bronzes sold at Christie's London, 15 May 2018, Lot 77, Christie's Hong Kong, 4 October 2016, Lot 35 or Sotheby's Hong Kong, 8 October 2014, Lot 3350.
Artcurial, 7 Rond-Point des Champs-Elysées 75008 - 01.42.99.20.20 - www.artcurial.com. Vente : 10 juin à 14h / Sale : 10 June at 2 pm. Expo : 7 - 9 juin / Viewing : 7 - 9 June.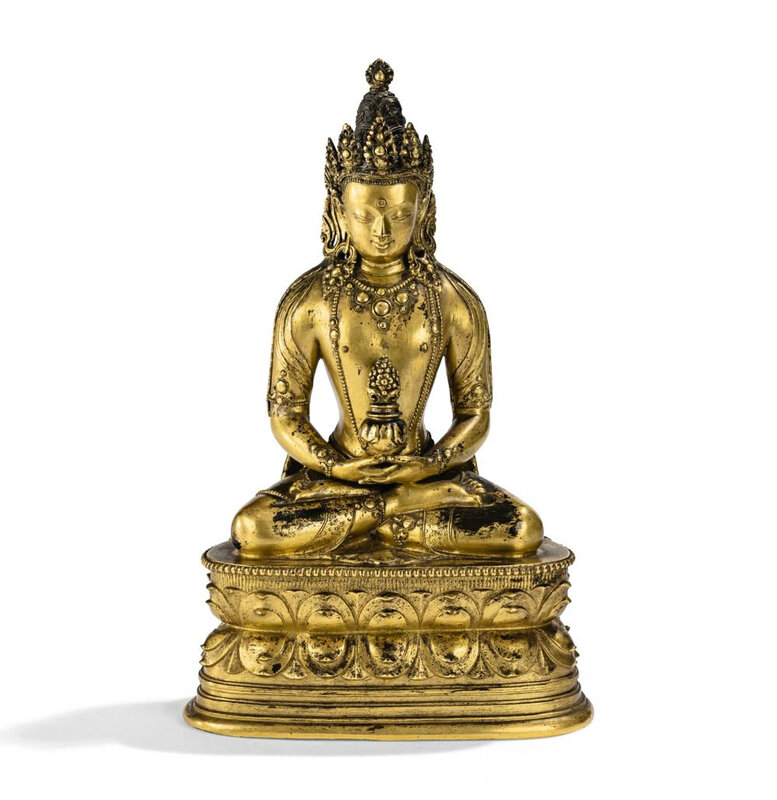 Lot 69. Rare statuette d'Amitayus en bronze doré, Mongolie, XVIIIE siècle; 26 cm, 10 1/4 in. Estimate 100,000 — 150,000 €. © Sotheby's
assis en dhyanasana sur un double socle lotiforme, les mains en dhyanamudra soutenant le kalasa, vêtu d'écharpes flottantes et d'un fin dhoti orné d'une bordure fleurie et formant un éventail entre ses jambes, paré de riches bijoux, le visage serein aux paupières baissées encadré d'imposantes boucles d'oreille pendues à ses longs lobes, le large front agrémenté de l'urna et ceint d'une riche couronne ouvragée à cinq fleurons surmontée par un haut chignon, la base scellée avec une plaque incisée et dorée partiellement d'un double vajra au centre.
Sotheby's, 76 rue du Faubourg Saint-Honoré 75008 - 01.53.05.53.05 - https://www.sothebys.com. Vente : 11 juin à 10h30 / Sale : 11 June at 10:30 am - Expo : 8 - 10 juin / Viewing : 8 - 10 June.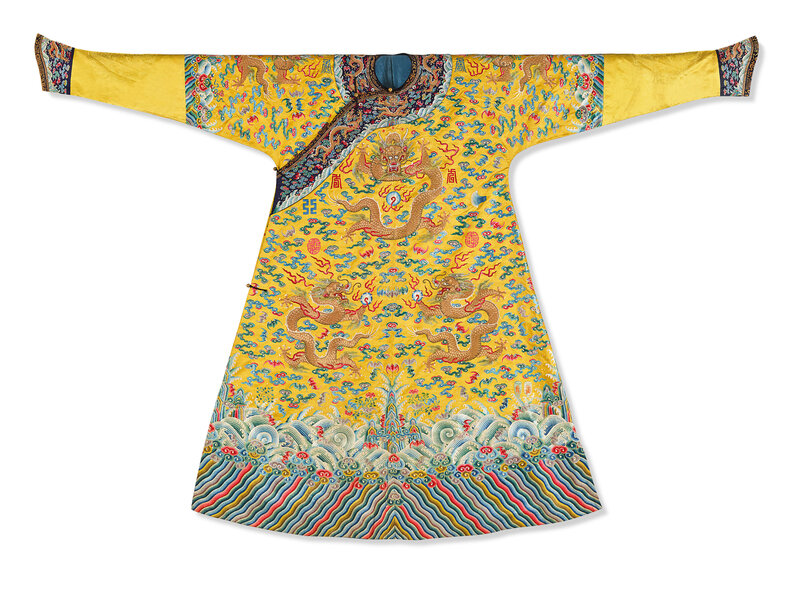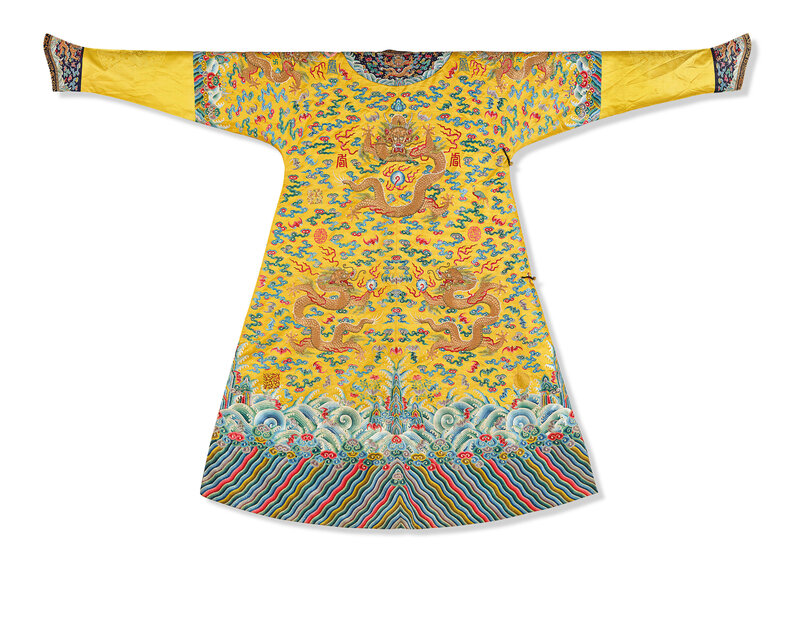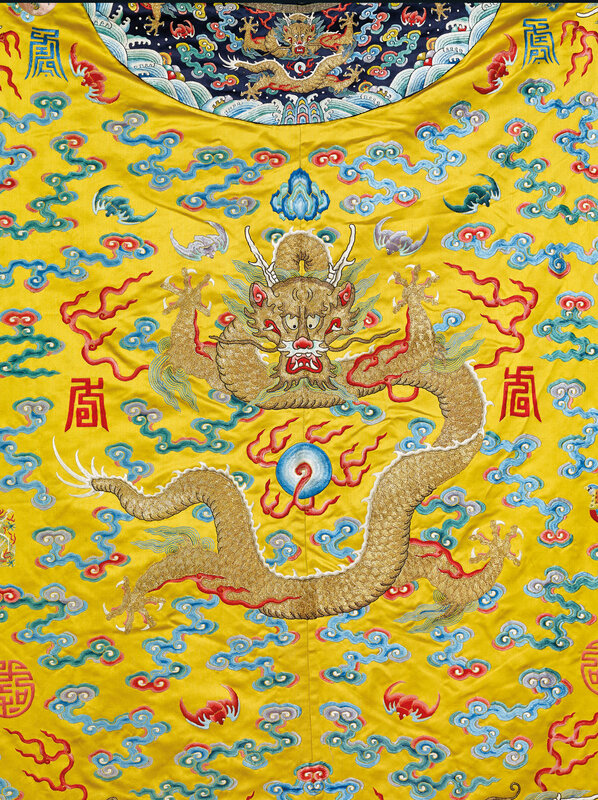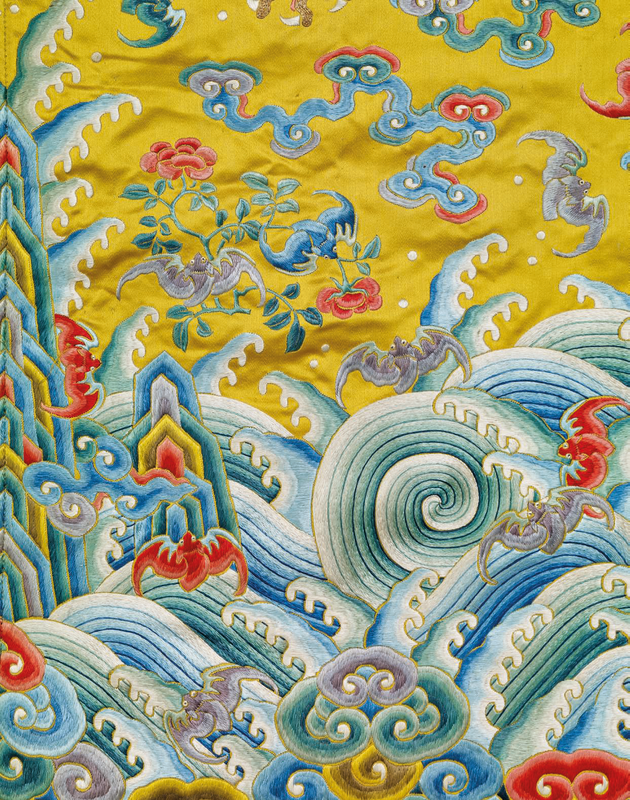 Lot 100. Exceptionnelle robe impériale en soie brodée des douze symboles à fond jaune, longpao, Chine, dynastie Qing, fin de l'époque Qianlong (1736-1795) - début de l'époque Jiaqing (1796-1820). Hauteur: 137 cm. (53 7/8 in.), Largeur: 210 cm. (82 5/8 in.). Estimate EUR 80,000 - EUR 120,000 (USD 89,620 - USD 134,430). © Christie's Image Ltd 2019
La robe est extrêmement délicatement brodée en fils d'or et d'argent de neuf dragons à cinq griffes à la poursuite de la perle enflammée. Elle est également brodée de fils multicolores présentant de subtiles nuances dans les bleus, les verts, les ocres et les roses des douze symboles impériaux parmi des nuages stylisés évoquant des têtes deruyi. Le tout est brodé sur un fond jaune éclatant au-dessus du diagramme terrestre émergeant des flots tumultueux et d'une large bande de lishui se répétant aux manches. Le col souligné d'une bordure brodée de dragons sur fond noir. La doublure est en soie bleu ciel et les manches en soie jaune brochée sont possiblement remplacées.
Provenance: Acquired in the early 1900s on the French art market, thence by descent in the family.
Christie's, 9 avenue Matignon 75008 - 01.40.76.85.85 - https://www.christies.com/. Vente : 12 juin à 10h30 / Sale : 12 June at 10:30 am - Expo : 8 - 11 juin / Viewing : 8 - 11 June.
Lot 88. Tara verte ( çymatr, sGrol-ljang), Tibet, c. 13° siècle. Alliage cuivreux incrusté de cuivre, d'argent et turquoises. H 20 cm. Estimation €25,000 - €35,000. © Cornette de Saint-Cyr.
Cf. my post: Tara verte ( çymatr, sGrol-ljang), Tibet, c. 13° siècle
Cornette de Saint Cyr, 6 avenue Hoche 75008 - 01.47.27.11.24 - cornettedesaintcyr.fr. Vente : 11 juin à 14h / Sale : 11 June at 2 pm - Expo : 7 - 10 juin / Viewing : 7 - 10 June 拍卖 : 6月11号 展览 : 7号 到 10号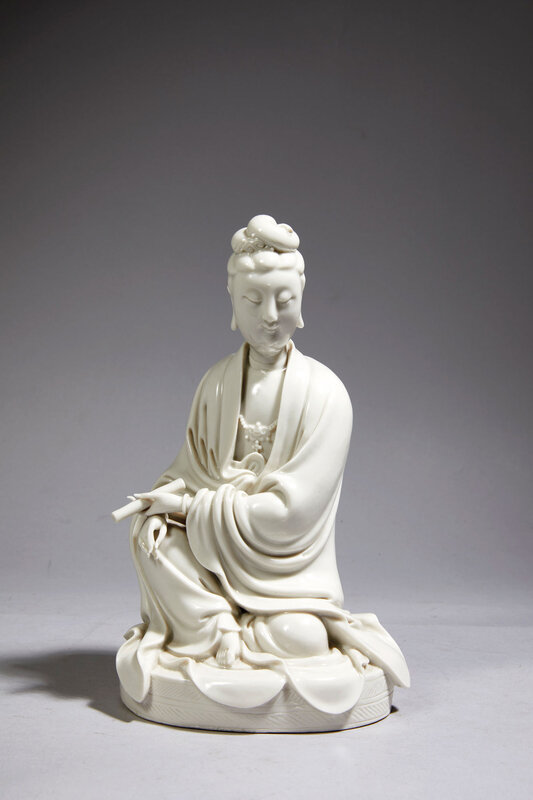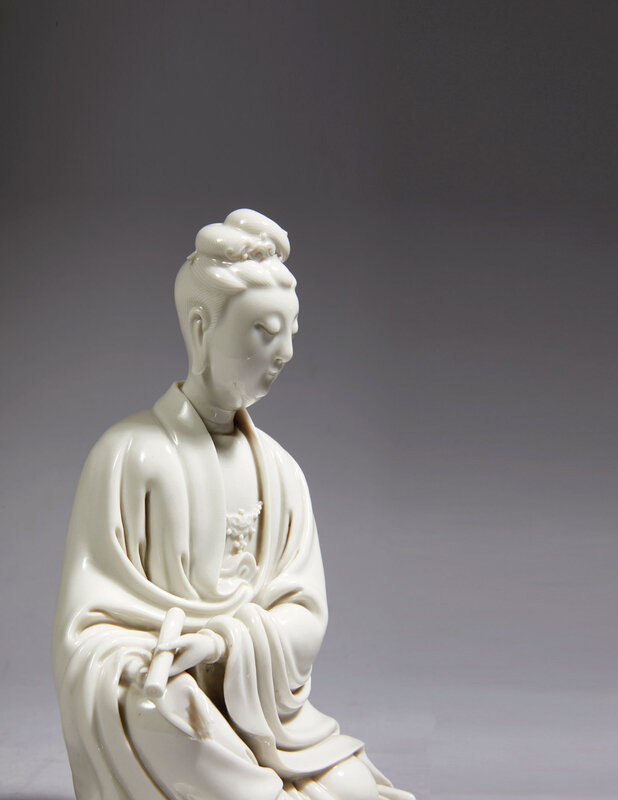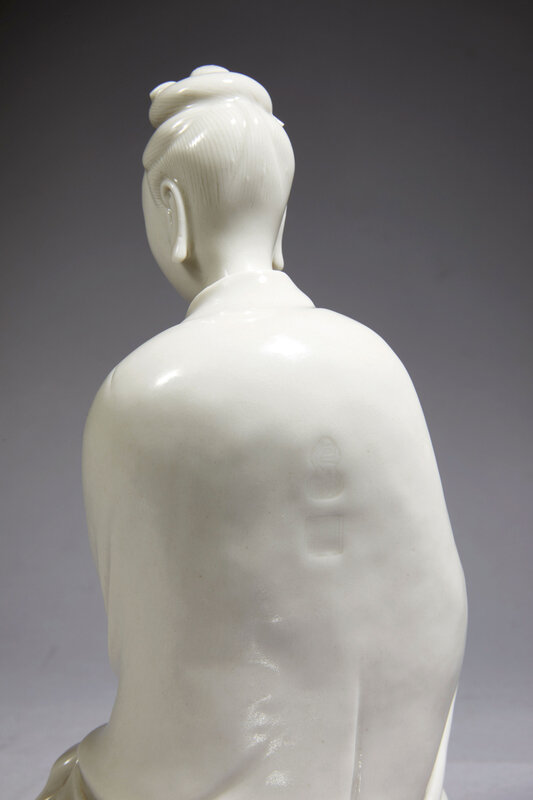 Lot 105. Statuette de Guanyin, Chine, Dehua- XVIIe siècle. H. 23 cm. Estimate 15 000 € / 20 000 €. © AuctionArt Rémy Le Fur
Statuette de Guanyin en porcelaine émaillée blanc de Chine, assise en rajalilasana, posture du délassement royal, sa robe finement drapée harmonieusement autour d'elle, tenant délicatement un rouleau de sa main gauche posée sur son genou droit sur lequel repose sa main droite, ses cheveux relevés en chignon à l'aide d'une épingle formant lingzhi stylisé, les yeux entrouverts, esquissant un léger un sourire. Au dos, la marque de He Chaozong. (Petits manques à deux doigts, petits manques aux épingles de la coiffe).

Provenance: Ancienne collection néerlandaise.
Références : - Rijksmuseum, Amsterdam, object n° AK-MAK-658
- Compendium of Collections in the Palace Museum, vol. 8, sculpture, The Forbidden City Publishing House, Taipei, p.96
- R. H Blumenfield, Blanc de Chine, The great porcelain of Dehua,Ten Speed Press, Berkeley, p. 132

AuctionArt Rémy Le Fur
, 9 rue Duras 75008 - 01.40.06.06.08 -
www.auctionartparis.com.
Vente : 12 juin à 14h / Sale : 12 June at 2 pm - Expo : 11 - 12 juin, salle 2 / Viewing : 11 - 12 June, room 2 拍卖 : 6月12号 展览 : 11 - 12号 Room 2 Adresse / Address : Drouot-Richelieu 9 rue Drouot 75009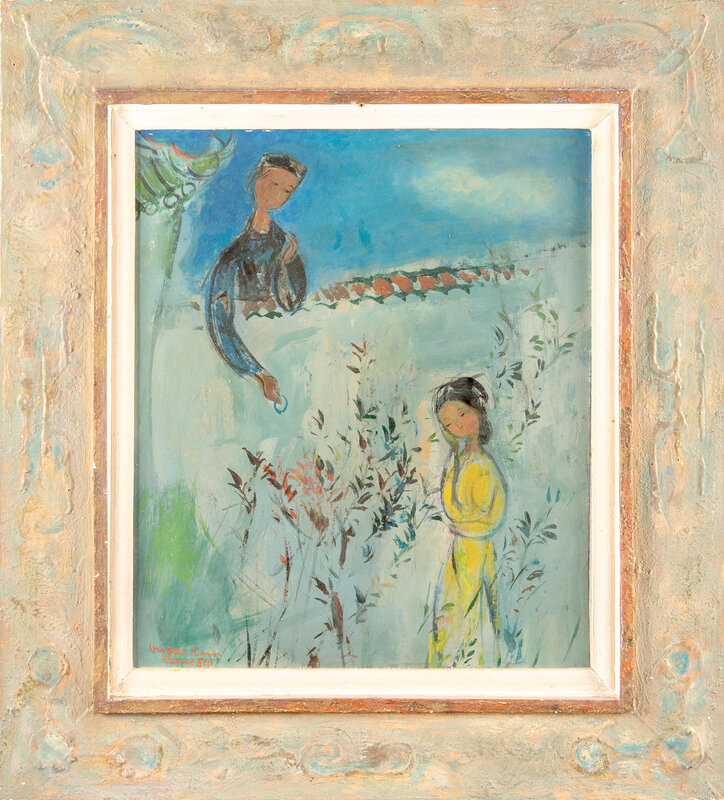 Lot 292. Vu Cao Dam (1908-2000), Scène galante. Huile sur panneau, cadre d'origine peint par l'artiste Signée en bas à gauche, datée '54, située à Vence Dim. : 47 x 37 cm. Cadre (66 x 58 cm.). Estimate 8 000 € / 10 000 €. © Leclere - Maison de ventes.
Provenance : Collection particulière du sud de la France, acheté directement auprès de l'artiste.
Note : pendant dix huit ans, l'artiste vietnamien Vu Cao Dam vécut et travailla à Paris. Cette expérience eu une influence inévitable sur son travail mais il ne se détourna jamais de son héritage oriental. Il réussit à emprunter des éléments tant à l'art occidental qu'oriental et il s'en dégagea un style propre et novateur. Vu Cao Dam est né en 1908 à Hanoï, dans le nord du Vietnam. A dix huit ans il commença ses études à l'École des Beaux Arts d'Hanoï. En 1931, il reçut une bourse pour étudier à Paris où il vécut jusqu'en 1949 avant de partir pour le sud de la France et notamment à Vence, où il réalise ce tableau en 1954. Dans un premier temps, il s'intéressa à la sculpture puis, après son arrivée à Paris, il se tourna vers la peinture. Il passa son temps dans les musées parisiens à admirer les oeuvres qu'il avait connues à Hanoï par le biais de reproductions. Le style, la couleur et la simplicité des oeuvres primitives eurent sur lui un fort impact. Mais, autant qu'il les admirait, il n'acceptait pas leur technique. Il rêvait de régénérer la peinture indochinoise et croyait en une synthèse possible entre les qualités du passé et certaines caractéristiques de la peinture occidentale.
Ses propres peintures témoignent de cette balance entre ces deux types d'art dont le résultat semble tout à fait naturel. Mis à part quelques paysages, Vu Cao Dam a concentré son talent sur la peinture figurative. Les femmes et jeunes filles de son pays natal ainsi que son folklore et ses poèmes sont ses sujets de prédilection. Et, plus particulièrement, les femmes peintes par Vu Cao Dam semblent être les symboles de la beauté durable de la féminité et de la maternité.
Leclere - Maison de ventes, 21 rue Drouot 75009 - 04.91.50.00.00 - http://www.leclere-mdv.com/. Vente : 14 juin à 14h30 / Sale : 14 June at 2:30 pm Expo : 13 - 14 juin, salle 7 / Viewing : 13 - 14 June, room 7 拍卖 : 6月14号 展览 : 13 - 14号 Room 7 Adresse / Address : Drouot-Richelieu 9 rue Drouot 75009.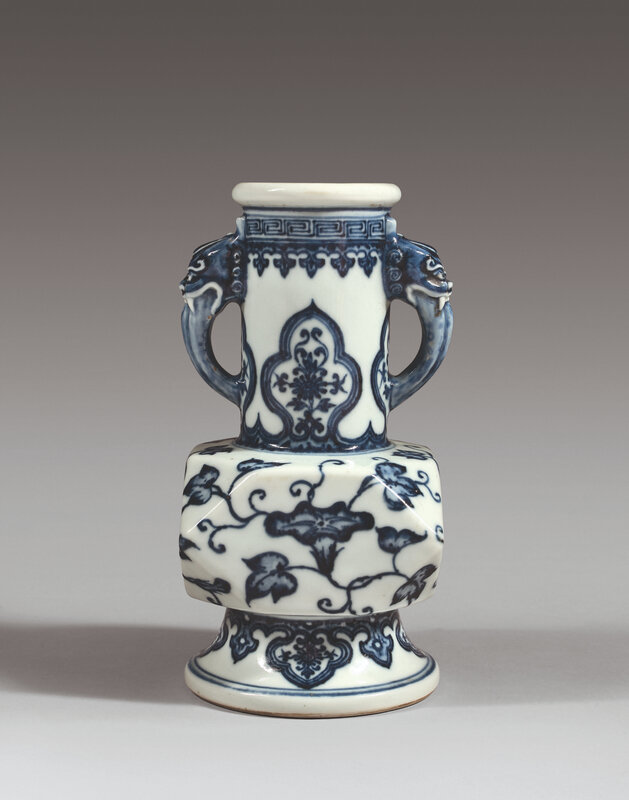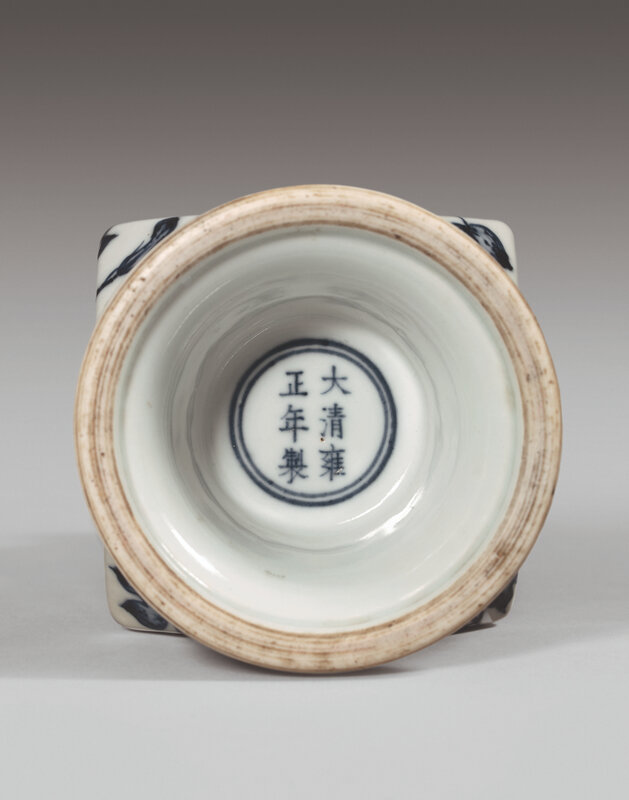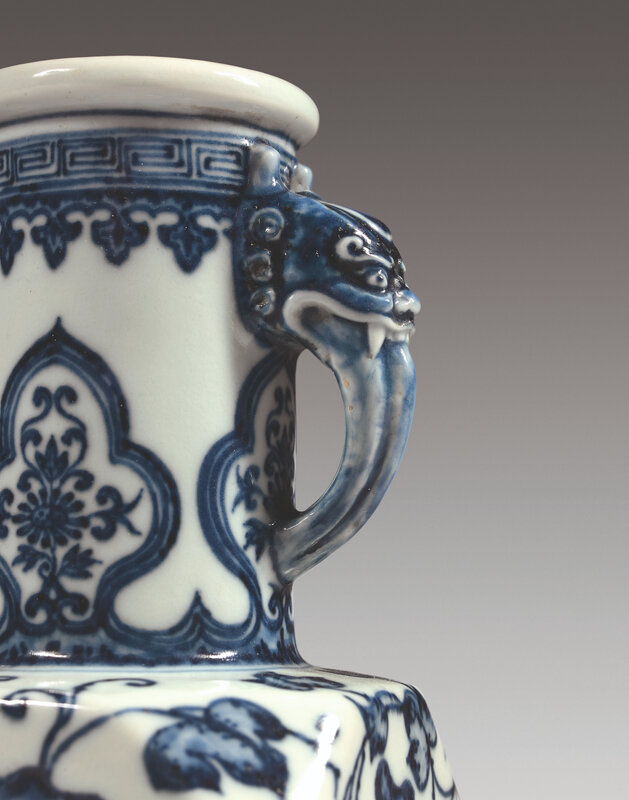 Lot 164. Vase en porcelaine de forme balustre, marque à six caractères dans un double cercle en bleu sous couverte et période Yongzheng (1723-1735). H : 17,5 cm. Estimate 20 000 € / 30 000 €. © Thierry de Maigret
à large piédouche, la panse carrée à pans coupés, les anses figurant des têtes de lions bouddhiques terminés par des anneaux ; il est décoré en bleu sous couverte de fleurs de volubilis (morning glories) traitées en enroulements encadrés de larges palmes cernant des fleurs. Frises à la grecque au col (un minuscule éclat au nez d'un lion et une très légère saute d'émail sur une face de la panse).
Note: Cette forme rare est inspirée de prototypes en métal provenant de l'Empire Ottoman ou de l'Iran. Forme similaire à fond jaune d'époque MING au musée national des arts asiatiques – Guimet à Paris. Deux autres modèles similaires d'époque Ming, sont conservés à l'Asian Art Museum de San Francisco et au Tianji Art Museum (République populaire de Chine).
Thierry de Maigret, 5 Rue de Montholon 75009 - 01.44.83.95.20 - https://www.thierrydemaigret.com/. Vente : 14 juin à 14h / Sale : 14 June at 2 pm Expo : 13 - 14 juin, salle 1 / Viewing : 13 - 14 June, room 1 拍卖 : 6月14号 展览 : 13 - 14号 Room 1 Adresse / Address : Drouot-Richelieu 9 rue Drouot 75009
Bonhams,
4 rue de la Paix 75002 - 01.42.61.10.10 -
http://bonhams.com.
Expo : 7 - 14 juin / Viewing : 7 - 14 June 展览 : 7号 到 14号