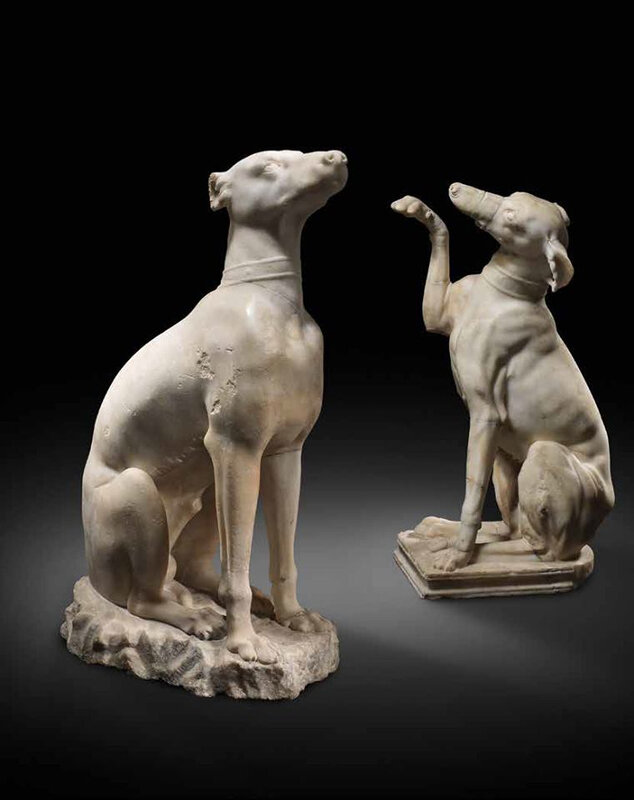 Lot 151. Two Roman marble figures of Celtic hounds, Circa 2nd Century A.D.; 74.5 and 68cm high respectively. Estimate £ 200,000 - 300,000€ 230,000 - 340,000. Sold for £ 807,062 (€ 895,542). Photo: Bonhams.
LONDON.- Two Roman marble figures of Celtic hounds found in the ruins of the villa of Emperor Antoninus Pius (ruled AD 138-161), which later formed part of the outstanding collection of the renowned and influential English aesthete Thomas Hope, lead Bonhams Antiquities sale in London on Wednesday 3 July. Offered at auction for the first time since 1911, they are estimated at £200,000-300,000.

Thomas Hope (1769-1831), artist, novelist, and historian was one of the most renowned art collectors of his day. At the age of 18 he embarked on an extensive Grand Tour, and drawing on his family's vast wealth, indulged his passion for classical art. He acquired most of his astounding collection of ancient Roman marble sculptures in Italy between 1795-1803. It is regarded as one of the finest collections of Roman sculpture ever formed in Britain.

The Celtic hounds would have been one of Hope's earliest purchases, and had pride of his place in the Statue Gallery in his London town-house in Duchess Street Marylebone from 1804-1849. He decorated each room in the house in the style of the countries that he had visited, and opened it up to serve as a semi-public museum.

Bonhams head of Antiquities, Francesca Hickin said, "The hounds were found in 1795, in the ruins of Antoninus Pius's villa in Laurentum, the coastal city where Antoninus – like many Emperors before and after him – went to escape the pressures of Imperial Rome. They were probably acquired by Thomas Hope very soon after their discovery, and were certainly highly prized by this most discerning of collectors. They are remarkable, rare, and very fine, survivors from the 2nd century AD with impeccable provenance, and I expect a lot of interest from collectors."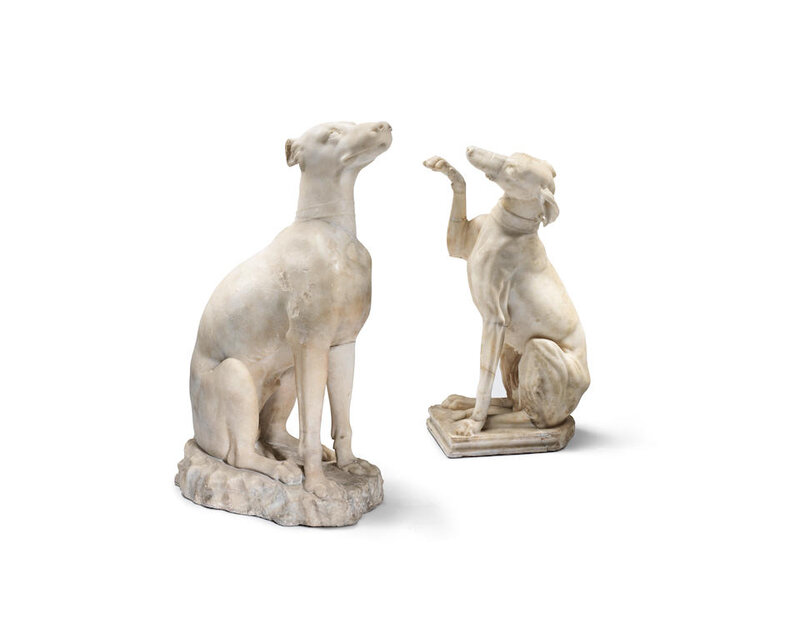 Lot 151. Two Roman marble figures of Celtic hounds, Circa 2nd Century A.D.; 74.5 and 68cm high respectively. Estimate £ 200,000 - 300,000 (€ 230,000 - 340,000). Sold for £ 807,062 (€ 895,542). Photo: Bonhams.
The male Celtic hound seated upright with his head tilted upwards, wearing a studded collar, the slender powerful body with visibly defined rib-cage, shown resting with his tail between his legs on a rock-like base, the head, neck, and part of the left foreleg restored in the 18th Century; together with a seated Celtic greyhound bitch wearing a wide studded collar, the slender body naturalistically carved, with her right foreleg raised, her haunches and left paw resting on an integral arch-shaped base, her muzzle, ears, part of the neck and the lower half of the raised right foreleg restored in the 18th Century.
Provenance: Found among the ruins of Antoninus Pius' Laurentine Villa, by Prince Chigi, at Torre Paterno, circa 1795-6, as recorded by C. M. Westmacott, British galleries of Painting and sculpture, London, 1824.
Thomas Hope (1769-1831) collection, acquired in Italy circa 1795-1803; and thence by descent to Lord Henry Francis Hope Pelham-Clinton-Hope (1866-1941).
Originally displayed as a pair in the statue gallery, Duchess Street, London, 1804-1849. The hounds were subsequently moved to Deepdene House, Dorking, Surrey, where Adolf Michaelis recorded them in the Gallery of the Entrance Hall.
Catalogue of the Celebrated Collection of Greek, Roman & Egyptian Sculpture and Ancient Greek Vases, Being a Portion of The Hope Heirlooms; Christie's, London, 23-24 July 1917, lots 226 and 227.
Purchased from the above sale by a UK collector, for 720 gns and 280 gns each; and thence by descent to the present owner.
Arachne no. 50036.

Published: T. D. Fosbrooke, The Outlines of Statues in the Possession of Mr Hope, (never published), for which illustrations were furnished by T. D. Fosbrooke, London, 1813, pl. 4.
C. M. Westmacott, British galleries of Painting and Sculpture, London, 1824, 'Mr Hope's Collection', p. 223.
A. Michaelis, Ancient Marbles in Great Britain, Cambridge, 1882, p. 287, nos. 21 and 23.
G. Lippold in P. Arndt and W. Amelung, Photographische Einzelaufnahmen antiker Sculpturen, 1893-1943, EA 4866 and 4867.
G. Rodenwaldt, Jahrbuch des deutschen archäologischen Instituts, 48, 1933, p. 204-5.
C. C. Vermeule, 'Notes on a New Edition of Michaelis: Ancient Marbles in Great Britain', AJA 59, 1955, p. 134.
G. Waywell, The Lever and Hope Sculptures, Berlin, 1986, p. 90, nos 36 & 37, pl. 54.
Other highlights include: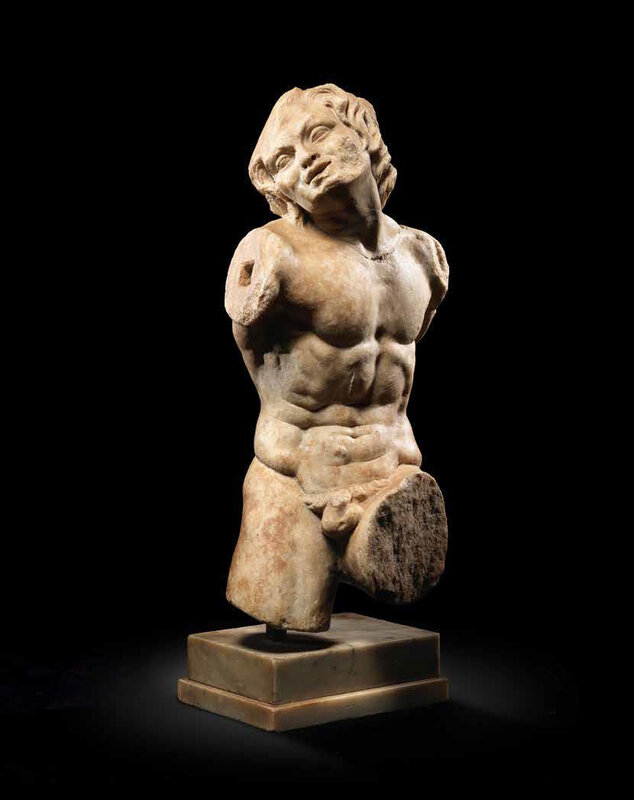 Lot 139. A Roman marble satyr, circa 1st century A.D.; 49cm high. Estimate: £50,000-70,000 (€ 56,000 - 79,000). Sold for £ 62,562 (€ 69,421). Photo: Bonhams.
His muscular torso contorted, with pronounced iliac crest and defined abdominal muscles, with his left thigh raised and left arm drawn behind his back, the head upward-gazing and twisted to the right, with thick wavy locks swept away from the forehead and falling loosely onto the neck, his face with angular features and high cheekbones, his heavily-lidded eyes creased at the outer corners, the lips slightly parted.
Provenance: Gerard Moerdyk (1890-1958) collection, South Africa, acquired late 1940s; and thence by descent to the present owner.
Note: Statues of satyrs were often depicted in motion, whether dancing, brawling or pursuing nymphs. The contortions of the present lot suggest the satyr was part of a group depicted in the midst of a fight. For another example of a fighting satyr in a dramatic pose, with his head and left thigh similarly raised, see M. Moltesen, Imperial Rome II. Ny Carlsberg Glyptotek, Copenhagen, 2002, no. 96.

Gerard Moerdyk remains one of the most prominent Afrikaans architects, particularly known for his design of the famous Voortrekker Monument in Pretoria. Alongside his passion for architecture, Moerdyk developed a keen interest in the ancient world. His admiration for Egyptian temple architecture, which he considered to symbolise African greatness, is thought to have influenced the Voortrekker Monument, with his 1932 sketches bearing resemblance to the Temple of Horus at Edfu. His interest in archaeology was further cultivated by his numerous trips to Italy between 1946-1949. According to family tradition, on one such trip his longstanding artistic collaborator, Romano Romanelli, Professor of Sculpture at the Italian Academy of Fine Arts in Florence, advised Moerdyk to purchase the satyr, believed to have been discovered in the Roman Forum.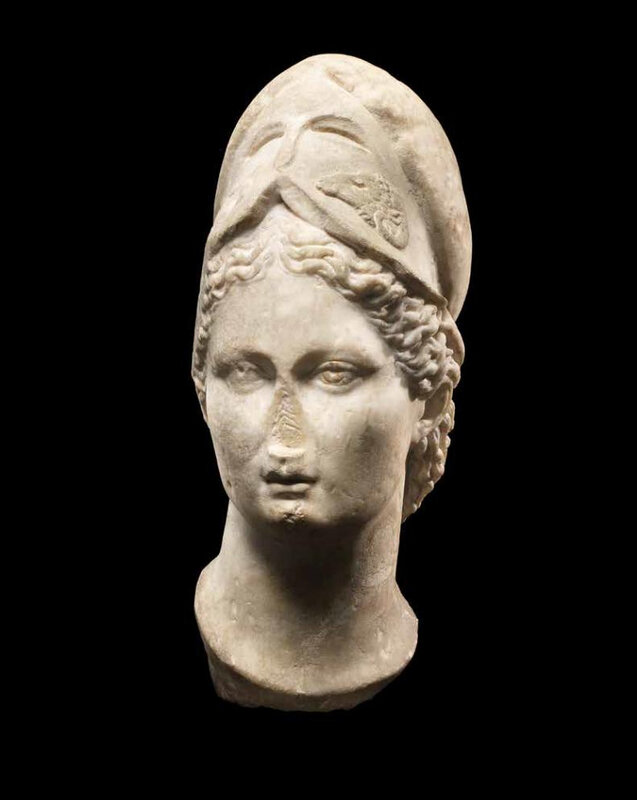 Lot 146. A Roman marble head of Minerva, circa 2nd century A.D.; 42.5cm high. Estimate: £40,000-60,000 (€ 45,000 - 68,000). Sold for £ 65,062 (€ 72,195). Photo: Bonhams.
Wearing a Corinthian helmet decorated with rams' heads on the cheek pieces pushed back from her face, exposing her waved hair, centrally-parted and drawn towards the nape of her neck, her head turned slightly to the right, her articulated almond-shaped eyes with defined lids and her lips slightly parted.
Provenance: with Charles Ede Limited, London.
Private collection, UK, acquired from the above in June 1993.
Note: This head of the goddess of war is derived from a Greek original dating to the late 5th-early 4th Century B.C, the so-called Giustiniani type, after a full-length statue in the Vatican Museums, acc. no. 2223. For another head of Athena, found in the Stoa of Attalos, see National Museum, Athens, acc. no. 3004.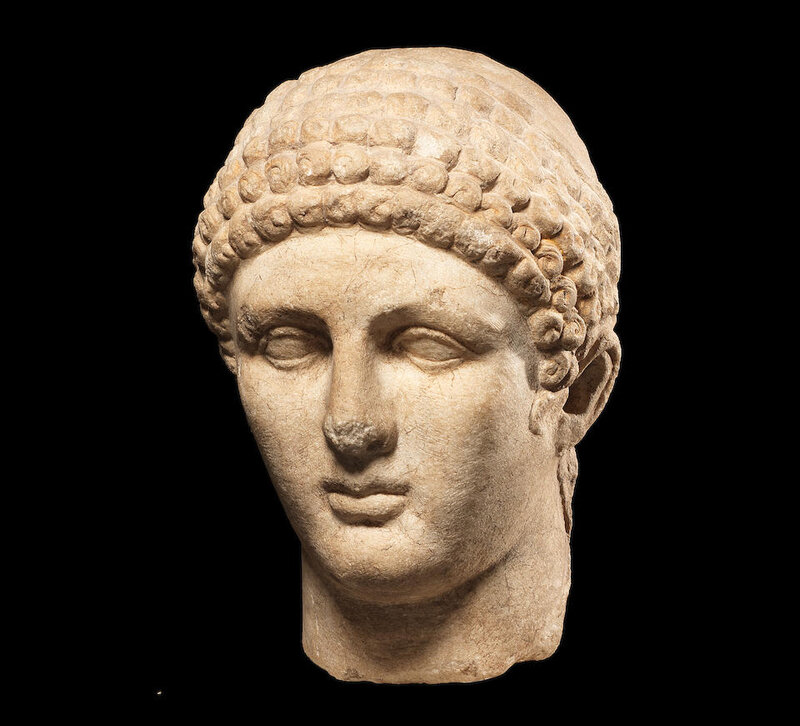 Lot 315. A Roman marble Archaistic head of a youthful male, circa 1st century B.C.-1st century A.D.; 28.6cm high. Estimate: £ 30,000 - 50,000 (€ 34,000 - 56,000). Sold for £ 23,812 (€ 26,423). Photo: Bonhams.
Possibly a god, his short hair arranged in six symmetrical rows of tight snail curls, the face frontal and symmetrical, with deeply-set almond-shaped eyes, prominent nose and pert lips.
Provenance: Anonymous sale; Sotheby's, London, 14 May 1973, lot 186.
Gottfried and Helga Hertel collection, Cologne, acquired at the above sale.
Note: From the 2nd Century B.C. onwards, sculptors harked back to styles of the Archaic period to add a sense of prestige and venerability to their work. The adoption of archaising styles grew in popularity during the 1st Century B.C., reflecting the increasing political and cultural dominance of the Roman Empire and, with it, the prominence of Romans as the primary patrons of Greek art (C. Hemingway, 'Retrospective Styles in Greek and Roman Sculpture', Heilbrunn Timeline of Art History, New York, 2000).

In this work, the sculptor references Archaic sculpture of the 5th to early 4th Centuries B.C. in the rendering of the curled coiffure, heavy-lidded eyes and high cheekbones. For a similarly archaising male head dating to c. 75 A.D., see C. Vermeule, Greek and Roman Sculpture in America, California, 1981, no. 157
Thomas Hope (1769-1831)
Thomas Hope was one of the great tastemakers of Regency England. Born into a family of merchant bankers in Amsterdam, he inherited immense wealth on the death of his father with which he built astonishing collections of paintings, sculpture, antique objects and books. His extravagent residence in Duchess Street, Marylebone, London became a magnet for selected visitors keen to learn from his decorative flair. He juxtaposed Classical and modern styles in an entirely new way, and drew extensively on the Egyptian, Greek and Roman influences he had imbibed on his Grand Tour as a young man. He also designed furniture specifically for the house. His books on decoration and furniture were the first of their kind, and he became famous in aristocratic circles as a master of interior design. At his magnificent country seat at Deepdene in Surrey, the beau monde mingled with scholars and men of letters. In 2008 The Victoria and Albert Museum in London dedicated an exhibition, Thomas Hope & the Regency style, to his life, work and influence.