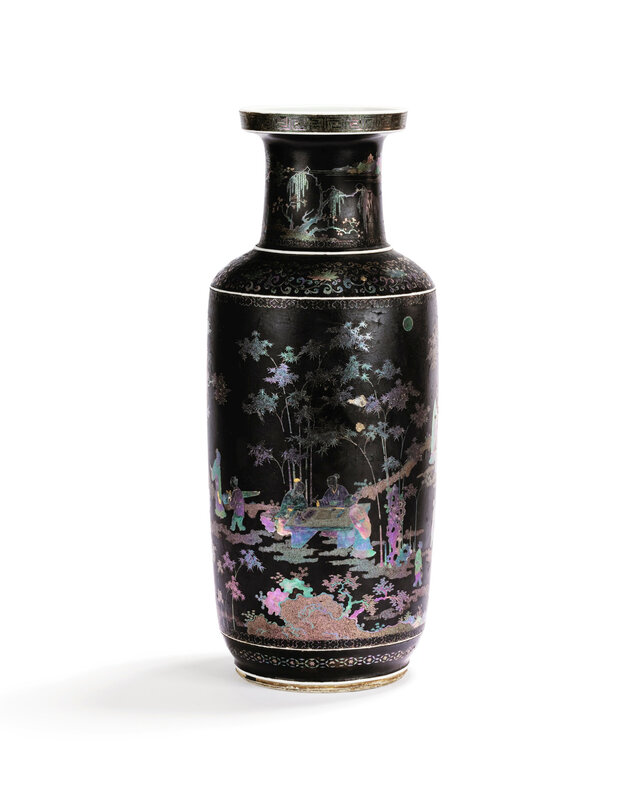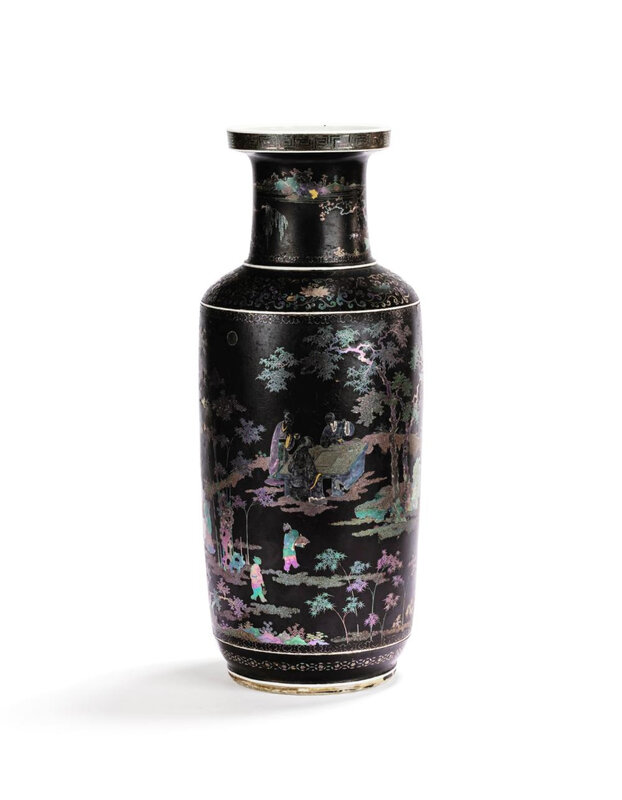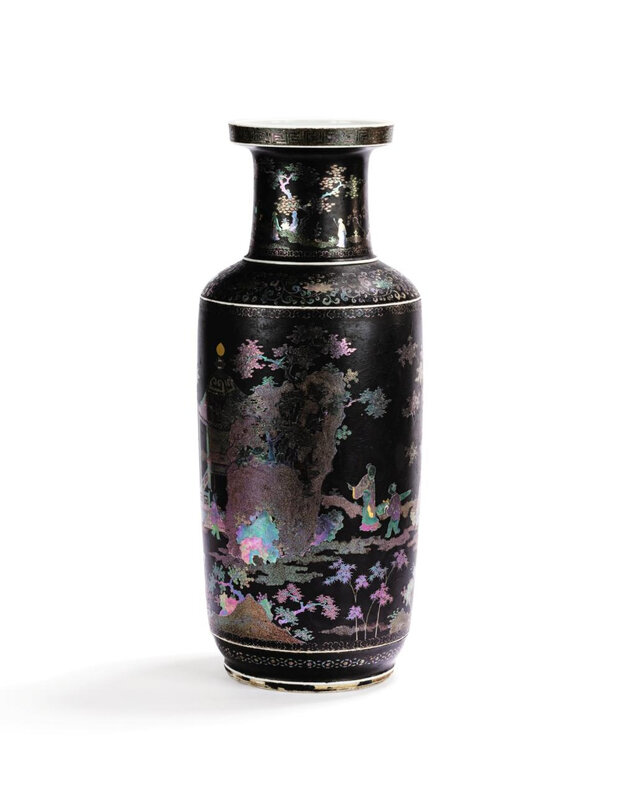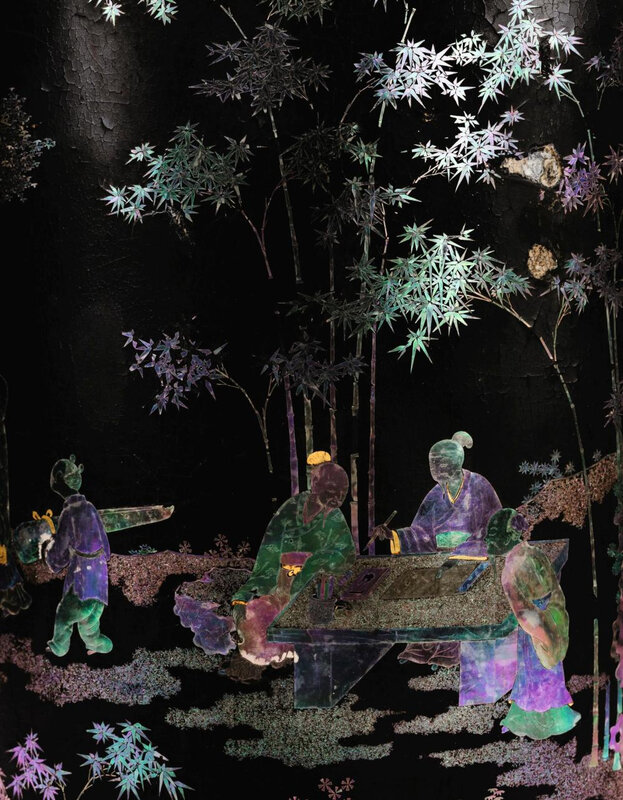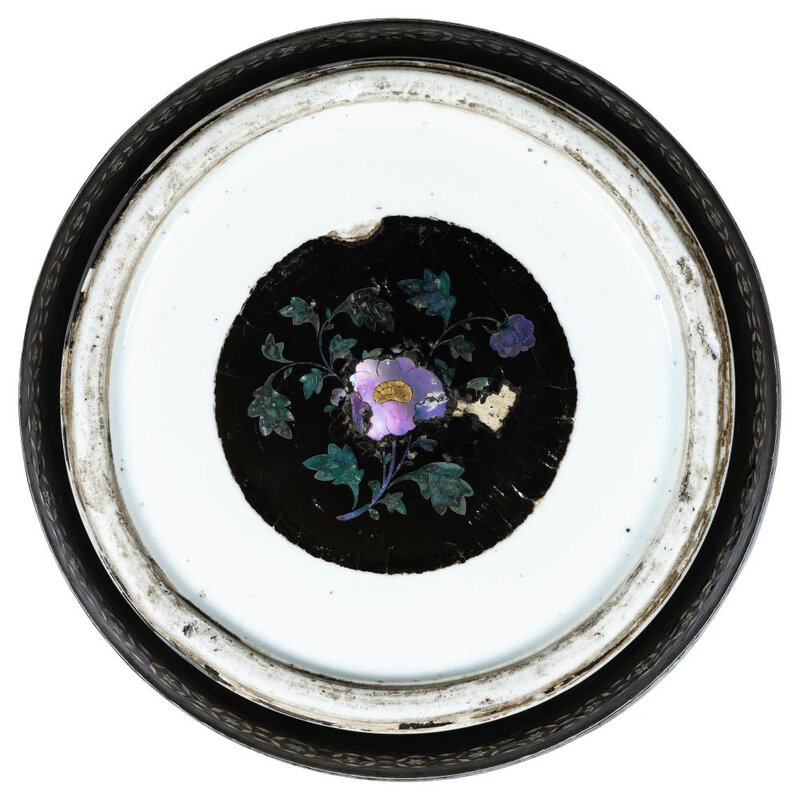 Lot 8. Très rare vase rouleau en porcelaine laquée noire incrustée de nacre, d'or et d'argent, Dynastie Qing, époque Kangxi; 49,3 cm, 19 1/2 in. Estimate: €40,000 - €60,000. Lot Sold 87,500 EUR. Courtesy Sotheby's.
la panse à très fin décor de nacre représentant un extraordinaire paysage dans un jardin animé de lettrés se divertissant tandis que les serviteurs vaquent à leurs occupations, non loin d'une imposante pagode et d'une forêt peuplée de bambous, de pawolonias et de pins sinueux, l'épaulement à décor d'une frise de lotus feuillagée, le col à décor d'une scène de lettrés dans un paysage, le bord supérieur à décor d'une frise de leiwen en incrustations de nacre, le dessous à décor d'un médaillon décoré d'une pivoine en fleur.
Note:
This vase is decorated using a complex inlay technique, which was invented in the seventeenth century by Chinese craftsmen working in one of the twenty-seven workshops under the directorship of Viceroy Lang Tingzuo (1656-1668) in the newly established Zaobanchu (Imperial Manufacture Department) in the Forbidden City. The porcelain body was covered with layers of black lacquer which were then decorated with inlaid mother-of-pearl, before being engraved, tinted, enhanced and applied with gold and silver leaf and dust, according to Andrée Lorac-Gerbaud in
l'Art du Laque
, Paris, 1973, p. 35. The use of dust enabled craftsmen to step away from filling space with diaper patterns, thus endowing the design with a more painterly effect. The close proximity of the various workshops specialising in different materials in the Forbidden City led to the sharing of personnel and ideas between workshops.
This vase depicts an enchanting palace scene with two groups of scholars seated at tables. On one scene, two of the scholars observe their companion, seated in the centre of the composition, engaged in undertaking calligraphy and pointing, with the tip of his brush, at a cartouche bearing a two-character inscription 紫霜 meaning "purple frost", perhaps as a tribute to the purple variations of mother-of-pearl inlay on the vase. The details are rendered so intricately that all are discernible, such as the calligraphy work undertaken by the central scholar.
This rare vase is one of the few known examples of porcelain embellished with black lacquer inlaid with tiny pieces of thin multi-coloured abalone (haliotis) shell to build up detailed designs. Technically challenging, this technique was more commonly applied to wood and other organic materials. According to Sir Harry Garner in Chinese Lacquer, London, 1979, p. 211, ,this shell had ideal qualities for pictorial decoration, but the small size and fragility of the pieces made it difficult to use the incised technique. ... small pieces of shell are massed together and some advantage taken of the variety of colour to give a realistic effect that could never be achieved by incised designs. The colour scheme was further extended by the addition of gold and silver foil inlays'.
The delicacy and beauty of its details, and the remarkable variety of colours created by the presence of mother-of-pearl and precious metal inlays, emphasize the exceptional nature of this piece of porcelain. The few surviving examples of porcelains decorated with mother-of-pearl-inlays on a lacquered ground all date to the Kangxi period such as this vase.
Among these, is a small jar decorated with mother-of-pearl applied to lacquer in the collection of the Gemeentemuseum in The Hague, illustrated in M. Beurdeley and G. Raindre, Qing Porcelain: Famille Verte, Famille Rose, London, 1987, p. 65, no. 67. Compare also with a brushpot decorated in the same technique, formerly in the Robert H. Blumenfield Collection, sold Christie's New York, 25th March 2010, lot 954. Compare a smaller rouleau vase decorated with mother-of-pearl inlays of rockwork, flowers and butterflies on a black lacquer ground illustrated in Denise Patry Leidy, Mother-of-Pearl. A Tradition in Asian Lacquer, New York, 2006, p. 43, fig. 32.
Sotheby's. Arts d'Asie, Paris,11 Juin 2019
NDB: A comparer au vase de la collection Eurmophopoulos du musée Benaki à Athènes que j'ai eu l'occasion de tenir en mains.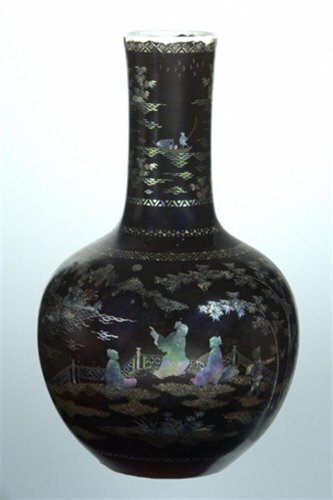 Vase. Porcelain with white glaze and dark brown lacquer coating inlaid with incised pieces of mother-of-pearl forming lakes, islands, boat, bamboo, geometric designs, lakeside landscapes, men, attendants and pavillion (laque burgautée technique). China, Jiangxi province, Jingdezhen. Qing dynasty, AD first half of 18th c. Height 35.6 cm. Donated by George Eumorfopoulos (GE 2897). © The Benaki Museum.