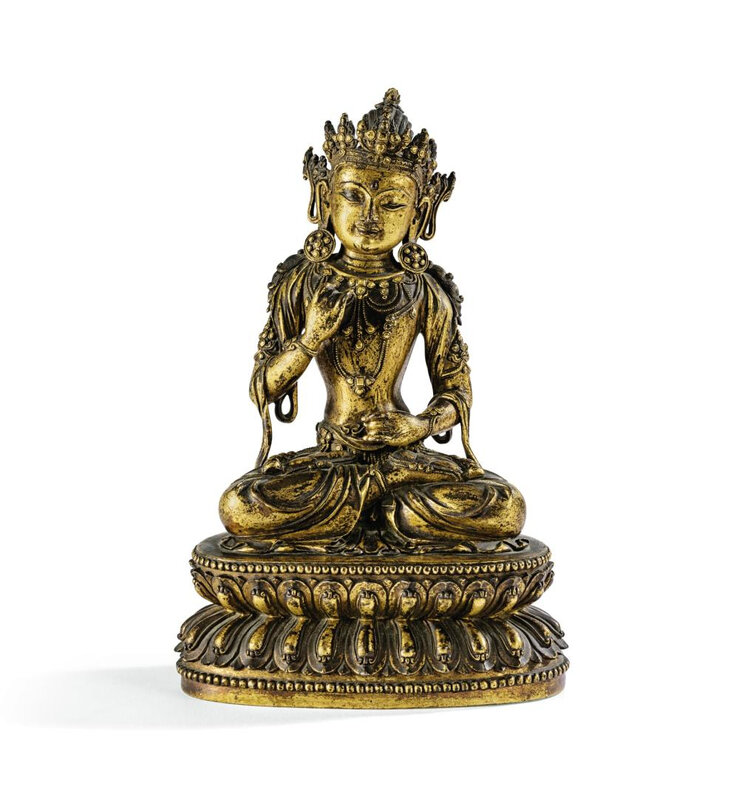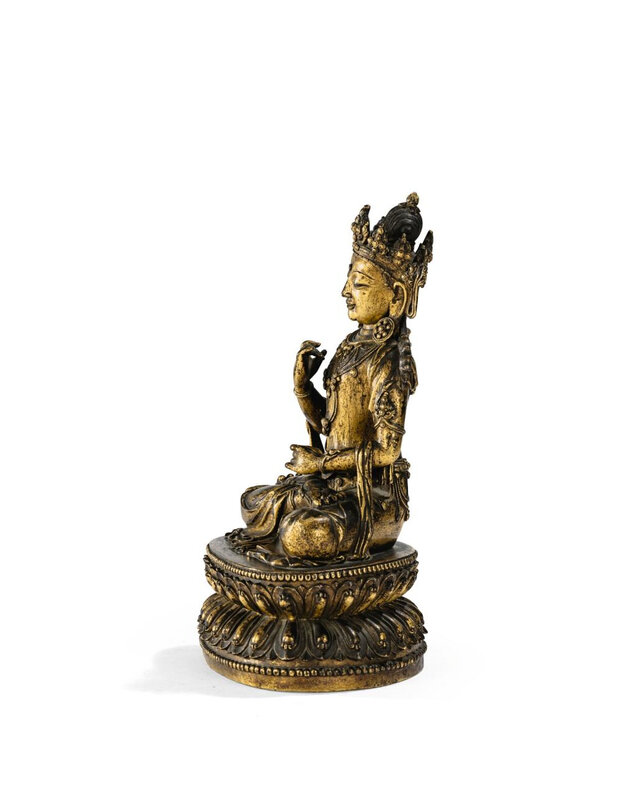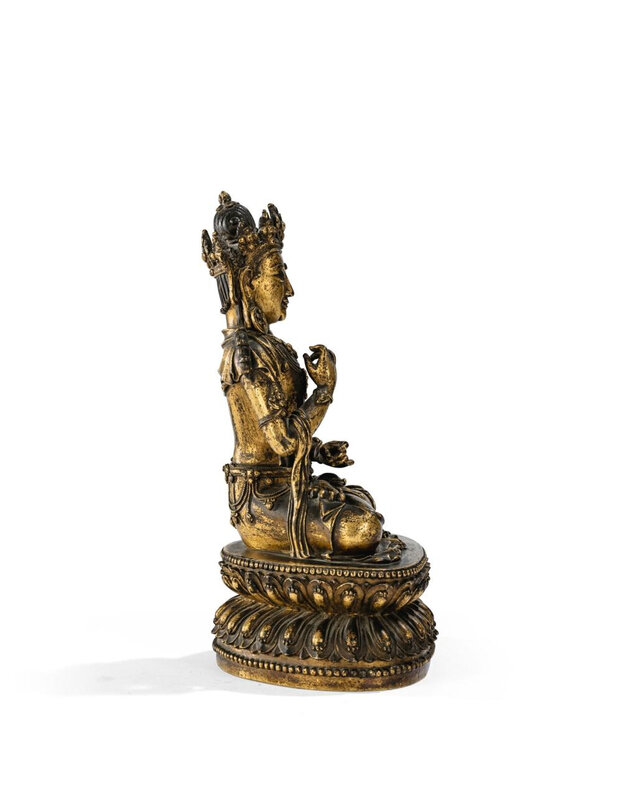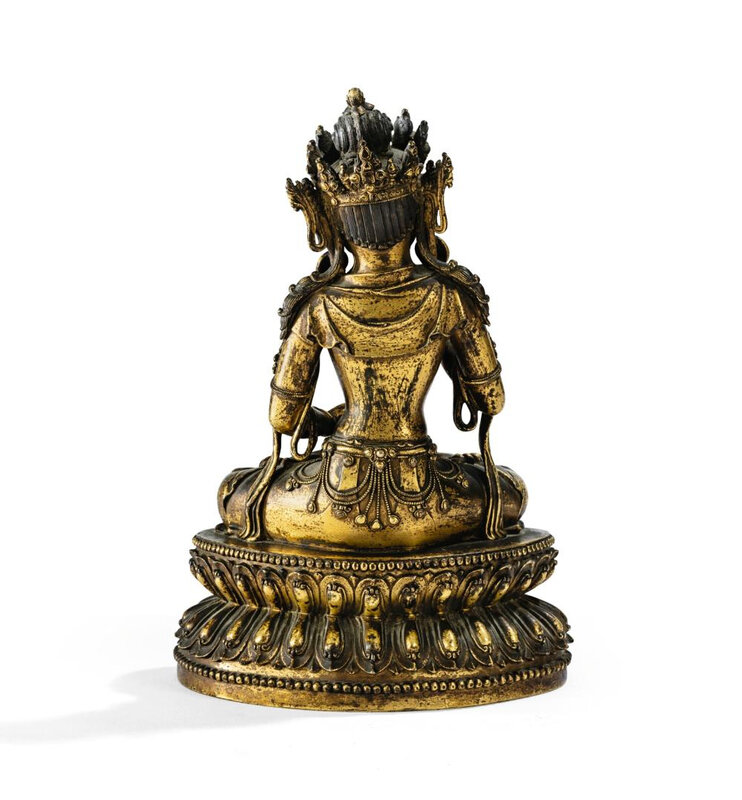 Lot 22. Importante statuette de Bodhisattva en bronze doré, Marque et époque Yongle (1403-1425); 21 cm, 8 1/4 in. Estimate 100,000 — 200,000 EUR. Lot Sold 492,500 EUR. Courtesy Sotheby's.
sereinement assis en vajrasana sur un double socle lotiforme, les mains tenant initiallement des attributs, le visage en méditation orné sur le front de l'urna, les paupières baissées, les lèvres finement dessinées esquissant un sourire, les cheveux retenus en un haut chignon surmonté par un bijou derrière une tiare à cinq fleurons, vêtu d'un fin dhoti finement plissé attaché par une ceinture de perles et paré de précieux bijoux, marque Da Ming Yongle nianshi incisée sur le socle, scellée.

Himalayan Art Resources item no. 13671
Provenance: Collection André Schoeller (1877-1956), Paris.
Ader, Paris, 14th, 15th and 16th May 1956, lot 124.
Thence in the family by descent.
Note: The artists working in the imperial workshops during the Yongle period remain anonymous, but their sculptures have now become recognised as being among the most important works of art from the Buddhist world. Some fifty-four gilt bronzes bearing the inscription Da Ming Yongle nian shi (bestowed in the Yongle era of the great Ming) have been documented in Tibetan monastery collections, see Ulrich von Schroeder, Buddhist Sculptures in Tibet, Hong Kong, 2001, vol. II, pp. 1237-1291. These works have survived in Tibet largely due to imperial patronage lavished on Tibetan hierarchs and monasteries during the reign of Zhu Di, who pursued a bountiful relationship with Tibetan religious leaders during his reign as Yongle (Perpetual Happiness) Emperor.
The stylistic origin of Yongle gilt bronzes can be traced to the Yuan dynasty, when the court espoused Tibetan Buddhism. Early fourteenth century woodblocks made for the monastery of Yangshen Yuan, Hangzhou, are evidence of a new style appearing in Chinese Buddhist art, see Heather Karmay, Early Sino-Tibetan Art, Warminster, 1975, pp. 47-50, pls. 26, 29 and 30. The gently smiling faces, full rounded figures and tiered thrones in these woodblock prints reflect the Newar styles favoured in Tibet, and introduced into China by Nepalese artists.
This elegant bronze figure of a Bodhisattva was originally acquired in 1956 from the sale of the collection of André Schoeller at Hôtel Drouot, Paris, together with the four Japanese tea bowls chawan offered in this sale, lots 103 to 106. While the identity of the figure is not entirely clear, the positioning of the hands indicates that it may represent Manjushri. The figure's right hand may have held a sword while the other hand in the lowered position may have held a book, compare a very similar figure of Manjushri in the collection of the British Museum, London, illustrated in Ulrich von Schroeder, Indo-Tibetan Bronzes, Hong Kong, 1981, pp. 516-517, fig. 144G.
Sotheby's. Arts d'Asie, Paris, 11 Juin 2019