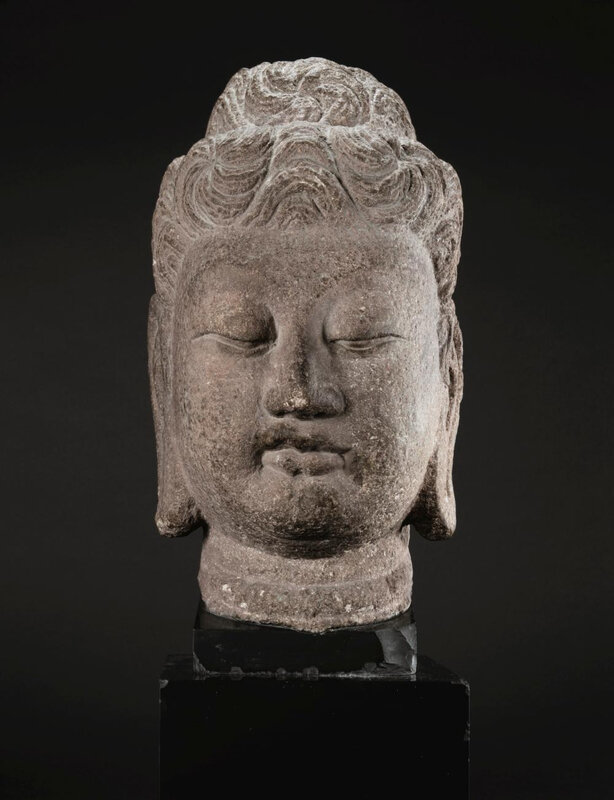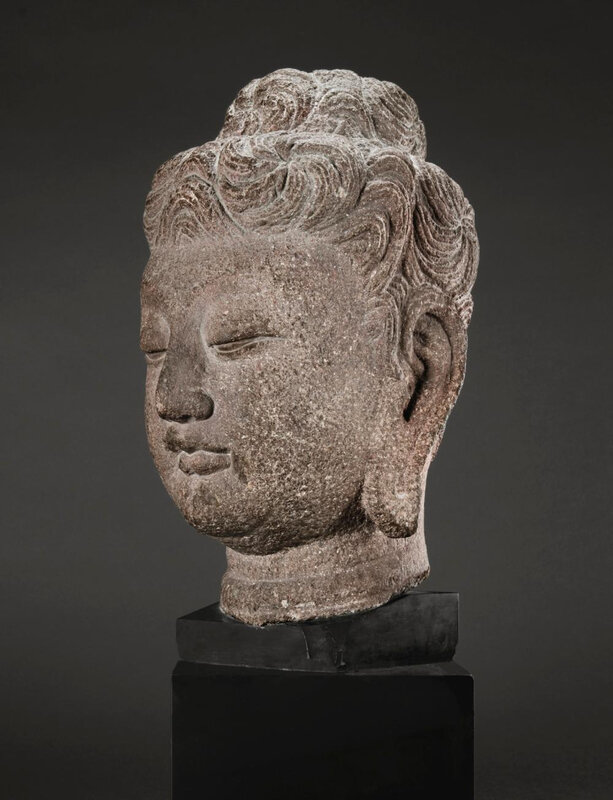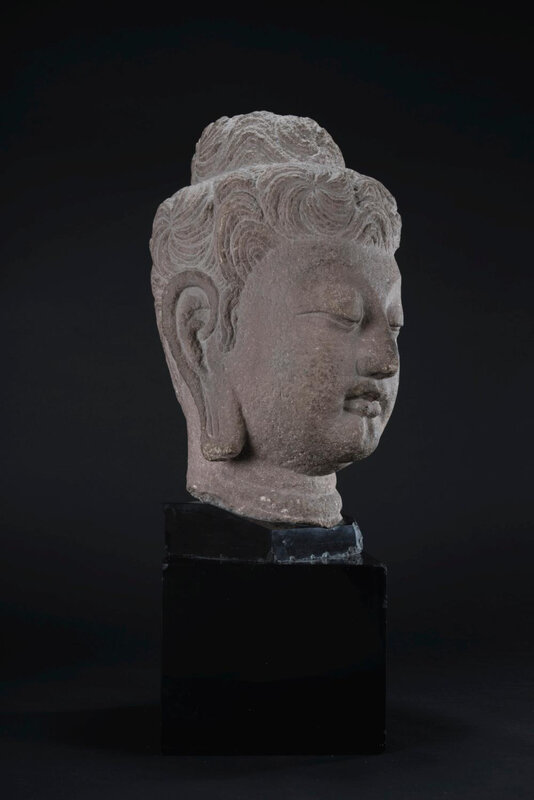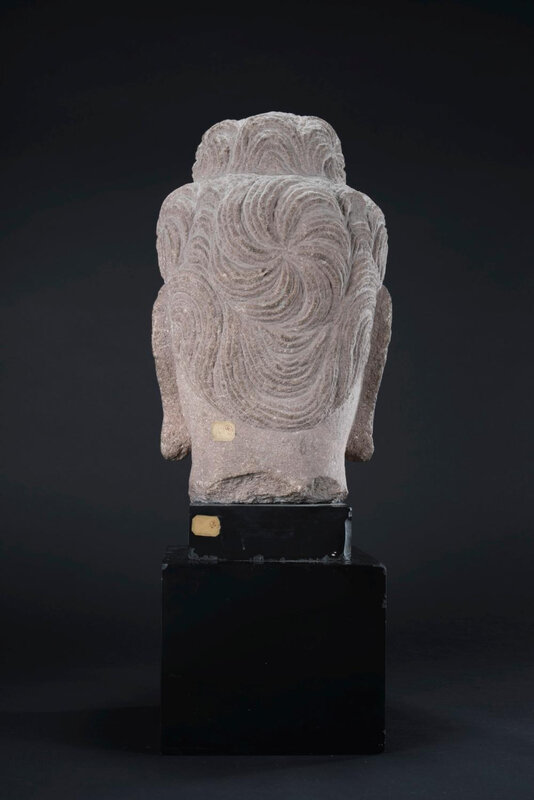 Lot 51. Importante grande tête de Bouddha en grès, Dynastie Tang, fin du VIIe-début du VIIIe siècle; 42,8 cm, 16 7/8 in. Estimate 150,000 — 250,000 EUR. Lot Sold 187,500 EUR. Courtesy Sotheby's.
a l'expression sérène et souriante, les larges sourcils disposés sur le front en d'élégantes courbes lisses évoluant jusqu'au bas des narines, les grands yeux sereins sous de lourdes paupières mi-closes, la bouche esquissant un délicat sourire au-dessus d'un double menton arrondi, les oreilles à longs lobes, coiffé de mèches de cheveux tournoyantes se resserrant autour d'un chignon hémisphérique aplati, socle (2).
Provenance: Collection M. Raufast, Paris (according to the invoice by Samy Chalom).
Acquired from Galerie Samy Chalom, Paris, 28th April 1967 by the current owner.
With certificate by Jean-Claude Moreau-Gobard, Paris, 27th April 1967.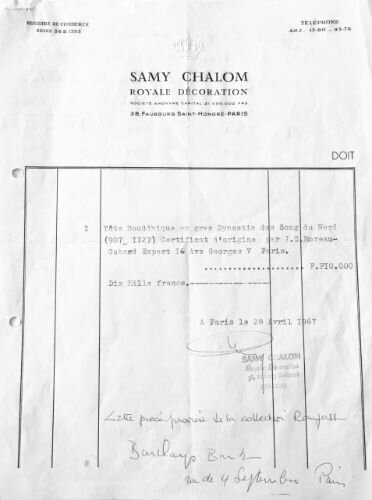 Invoice from Galerie Samy Chalom, Paris, 28th April 1967.
Certificate by Jean-Claude Moreau-Gobard, Paris, 27th April 1967.
Note
: This impressive stone head was acquired in 1967 from the gallery of Samy Chalom, located 38 Faubourg Saint-Honoré, Paris. Chalom had purchased the head from the family of a certain M. Raufast, a French collector of Chinese paintings, works of art and sculpture active in the early decades of the 20th century.
The name Raufast was known among Chinese art specialists in France at the time. Parts of the Raufast Collection of Chinese art had been sold at auction in Paris in 1961. Years before, Chinese paintings from the Raufast Collection had been exhibited in the Musée Cernuschi in Paris in 1912 and were published in 1914 by Edouard Chavannes and R. Petrucci, in La Peinture Chinoise. In 1928 M. Raufast had donated several pieces from his collection to the Musée Cernuschi. More recently in 2017, a rare large Song dynasty wood figure of a Water Moon Guanyin from the Raufast collection was sold at auction in Paris.
Jean-Claude Moreau-Gobard, a well-known French specialist on Chinese art, whose opinion the current owner sought before the acquisition of the head, was impressed by the head and its provenance considering it an important discovery. Moreau-Gobard dated it to the Northern Song dynasty and linked it to stone sculpture from Sichuan. However, stylistically this head is more representative of Chinese Buddhist stone sculpture from the period that saw the greatest flowering of China's sculptural arts, the High Tang period under Emperor Xuanzong (r. 713-755). Under Xuanzong's patronage Buddhism and especially Esoteric Buddhism, flourished, the number of newly founded monasteries and temples exploded as did Imperial and private commissions of Buddhist imagery.
Buddhist sculpture of this period is characterised by the very sensuous physical appearance of the deities represented. The present head with his plump face, the elegantly curved almond-shaped eyes beneath sharply defined and arched brows, its well-formed nose and full lips recessed into fleshy cheeks is a prime example of the fully matured style of High Tang Buddhist sculpture. The modelling of the facial features is articulated with vivid realism, the serene expression of the Buddha endowed with the uttermost spirituality.

Stylistically, the head closely follows the style set by the monumental figure of Buddha Vairocana on the north wall of cave 19 in the Fengxian Temple at Longmen, Henan, built under the emperor Gaozong (r. 628-683) in 676, see Zhongguo meishu quanji: Diaosu bian, 11: Longmen shiku diaoke, Shanghai, 1988, pl. 55. The distinctive hairstyle rendered in thick swirls and waves is prevalent in most of the surviving Buddha heads from Longmen that are dated to the High Tang period, as demonstrated by several examples published in Chinese Buddhist Stone Sculpture. Veneration of the Sublime, Osaka, 1995, cat. nos. 55, 56, 60-62. Throughout the Tang period, monks and pilgrims travelled to different Buddhist cave temples across China, thereby contributing to the dissemination of Buddhist practices and imagery, transmitting variations in iconography and style from one region to another, as noted in Denise Patry Leidy and Donna Strahan, Wisdom Embodied. Chinese Buddhist and Daoist Sculpture in the Metropolitan Museum of Art, New York, 2010, pp. 50-52.

In this way, the artistic style that is visible in Longmen provided a rich source of inspiration to Tang stone carvers in other parts of the empire, the influence of the High Tang Longmen style clearly visible in the present head. This type of coarse, slightly pinkish stone, likely to be from Shanxi province, is particularly conducive for high quality carving in the round, enabling intricate and naturalistic detailing of the facial features as displayed in this head. The head is fully worked in the round and leaning slightly forward suggesting that the head may have been part of a large freestanding figure or a figure with the head detached from the wall.