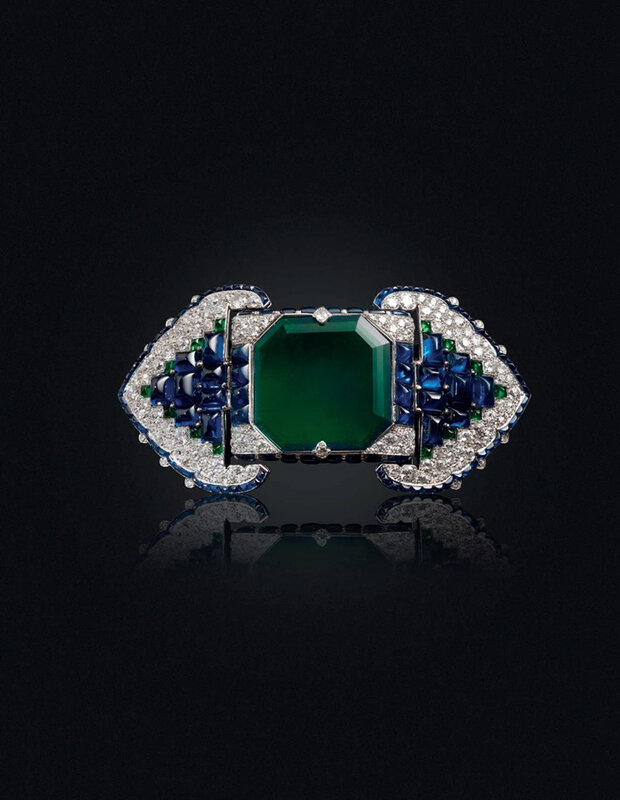 Lot 228. An Art Deco Colombian emerald of 38.71 carats, sapphire and diamond belt buckle-brooch, Cartier, 1922. Estimate USD 500,000 - USD 700,000. Price realised USD 1,545,000. © Christie's Image Ltd 2019
Octagonal step-cut emerald of 38.71 carats, buff-top calibré-cut sapphires and emeralds, old and single-cut diamonds, platinum and 18k white gold (French marks), 3 ½ ins., 1922, unsigned, partial maker's mark (Atelier Renault), no. 0346, red Cartier case.
Cartier, 2004: Certificate of Authenticity
AGL, 2019, report no. 1100313: 38.71 carats, Classic Colombia, insignificant to minor clarity enhancement, traditional type
Gübelin, 2008, report no. 0801570: 38.71 carats, Colombia, indications of minor clarity enhancement.
Provenance: Sybil Sassoon, Marchioness of Cholmondeley (1894-1989)
Literature: Jaffer 2013, p. 319, no. 110
Exhibited: Fine Arts Museum of San Francisco, San Francisco 2009, p. 72, no. 62
Paris 2013, p. 153, no. 192
Metropolitan Museum of Art, New York 2014, p. 103
Victoria and Albert Museum, London 2015, pp. 36-37, no. 79
The Miho Museum, Koka 2016, p. 186, no. 147
Grand Palais, Paris 2017, p. 329, no. 244
The Doge's Palace, Venice 2017, p. 322, no. 220
The Palace Museum, Beijing 2018, p. 334, no. 224
de Young Legion of Honor, San Francisco 2018, p. 183, no. 135.
Note: Featured in Cartier's booth during the International Exhibition of Modern Decorative and Industrial Arts held in Paris in 1925, this magnificent emerald, sapphire and diamond belt buckle boasts an impeccable provenance. Especially created by Cartier for the 1925 exhibition, its design, gemstones and colors are striking. This belt buckle is a perfect example of Cartier's wonderful ability to reinterpret inspiration from the East, mixing Indian themes with Western Art Deco style.
The belt was designed to complement the chic low-waisted dresses that were in vogue, specifically for Sybil Sassoon, Marchioness of Cholmondeley. Sybil Sassoon, Marchioness of Cholmondeley, was the daughter of Sir Edward Sassoon and Baroness Aline de Rothschild. The importance of Lot 228 is demonstrated by the fact that she chose to wear it, alongside her most important jewels, for both the coronation of King George VI in 1937 and the coronation of Queen Elizabeth II in 1953. On both these occasions, she also famously wore the sapphire and diamond tiara and necklace that were originally part of the French Crown jewels.