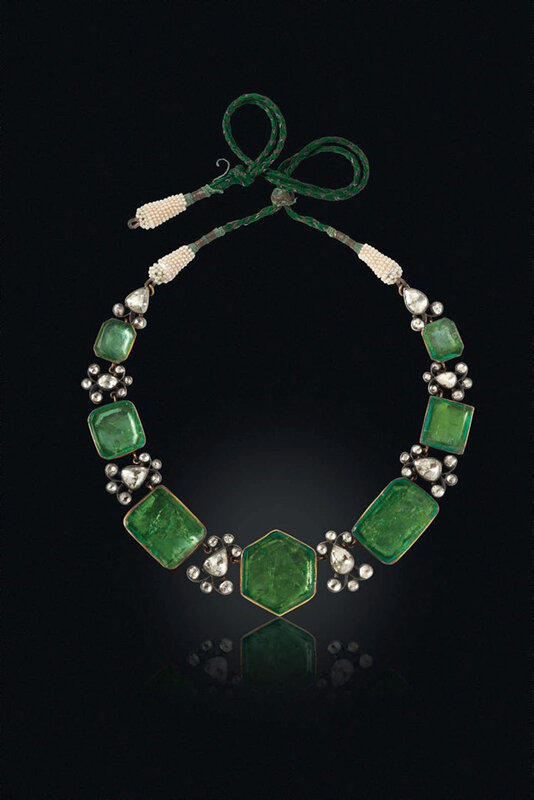 Lot 174. An antique Colombian emerald, diamond and pearl necklace, mid to late 19th century. Estimate USD 200,000 - USD 300,000. © Christie's Image Ltd 2019.
Octagonal, cushion, hexagonal and rectangular-shaped emeralds, table and rose-cut diamonds, seed pearls, foil, gold and silver, restrung at a later date, shortest length 31 ins. (adjustable), mid to late 19th century.
AGL, 2019, report no. 1100320: Colombia, insignificant to minor clarity enhancement, traditional type

Literature: Jaffer 2013, p. 209, ill. p. 271, no. 88.
Exhibited: Metropolitan Museum of Art, New York 2014, pp. 88-89
Victoria and Albert Museum, London 2015, pp. 108-9, no. 59
The Miho Museum, Koka 2016, p. 136, no. 102
Grand Palais, Paris 2017, p. 255, no. 188
The Doge's Palace, Venice 2017, p. 268, no. 184
The Palace Museum, Beijing 2018, pp. 288-89, no. 188
de Young Legion of Honor, San Francisco 2018, p. 129, no. 62.
Note: This necklace features foil-backed emeralds and diamonds. The foil enhances the brilliance of the stones, despite their closed mounts. The arrangement of the gems and the lack of engraving or enamel on the reverse reveals Western influence, however, the adjustable cord is a quintessential feature of traditional Indian jewelry.