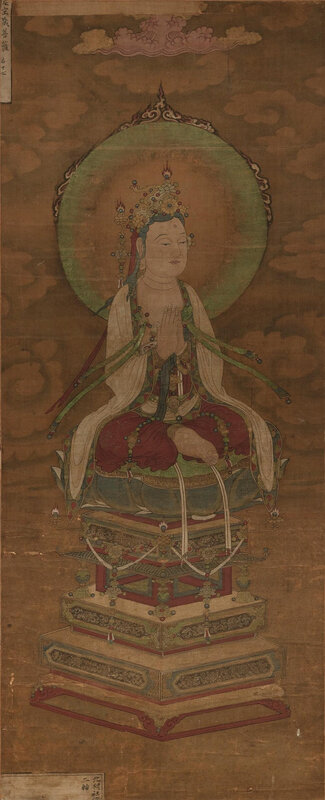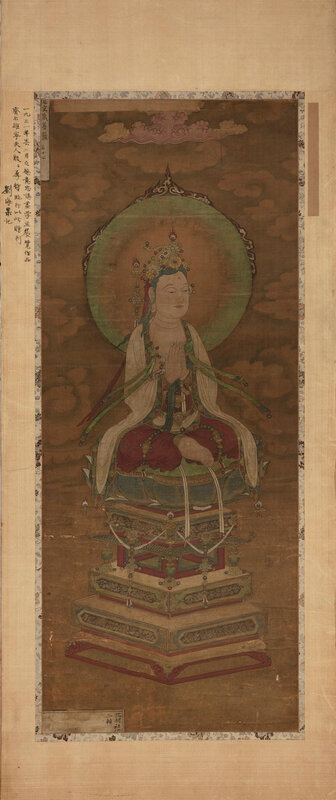 Lot 23. Akasagarbha bodhisattva, Dynastie Ming (1368-1644), encre et couleurs sur soie, contrecollée sur paneau en bois, avec une inscription dédicatoire de Liu Haisu (1896-1994), 123,5 x 50,3 cm, 48 5/8 by 19 3/4 in. Estimate 10,000-15,000 EUR. Lot sold 71,250 EUR. Courtesy Sotheby's.
élégamment assis en rajalilasana, la main droite posée sur le genou droit plié, vêtue d'un fin dhoti, une écharpe posée sur ses épaules laissant son torse dénudé paré d'un précieux collier, le visage aux yeux mi-clos empreint de sérénité et surmonté d'un haut chignon portant une effigie de bouddha, socles (3).
Provenance: Ancienne collection Carl von Weinberg (1861-1943). In the family by descent.
Note: The inscription on the side of the painting mentions that it was dedicated to the wife of the German owner by Liu Haisu (1896-1994) in 1931. Liu Haisu is considered among the pioneers of Chinese modern art, and he was among the four men who earned the title of "The Four Great Academy Presidents": Lin Fengmian, Xu Beihong, Liu Haisu, and Yan Wenliang. These artists were revered in the early Republican Era due to their effective stewardship of the Hangzhou National School of Fine Art, the Art Department of Central University, the Shanghai Academy of Arts, and the Soochow College of Art respectively.
Sotheby's. Arts d'Asie, Paris, 11 Juin 2019