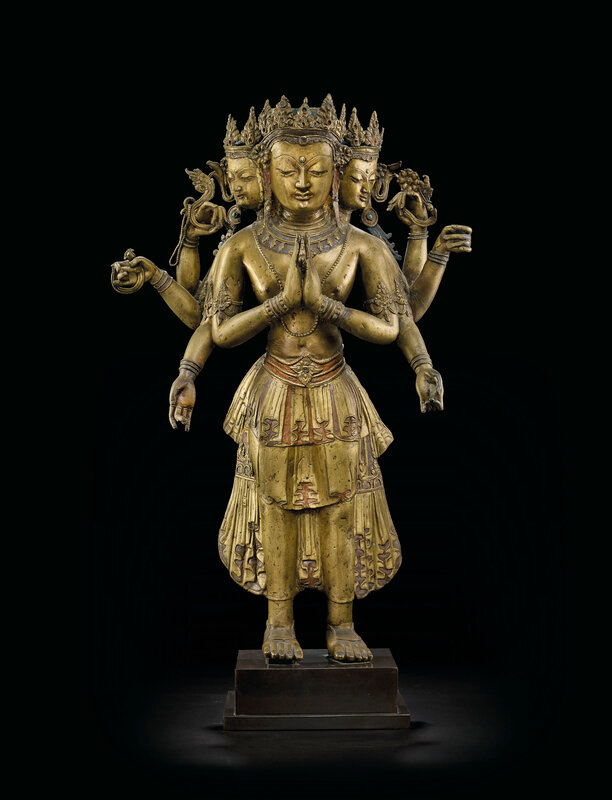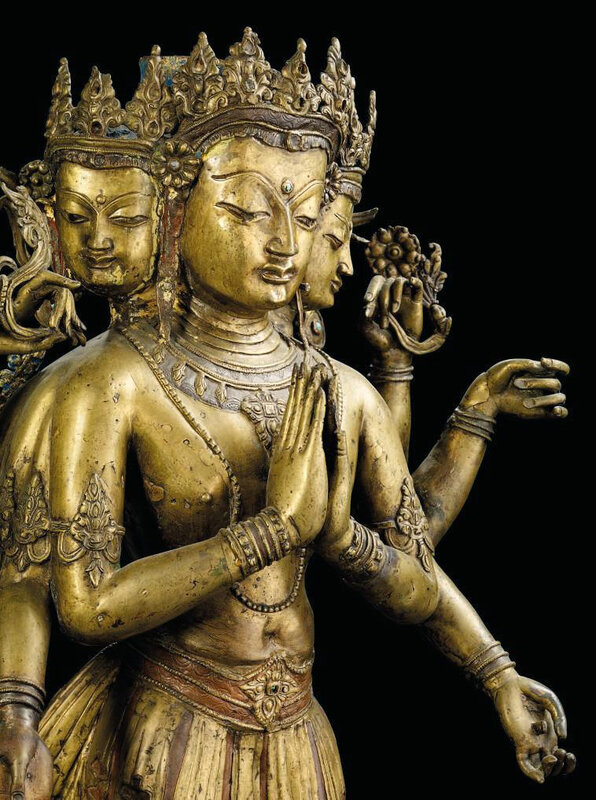 Lot 233. Importante statue de Ekadashalokeshvara en bronze incrusté de cuivre, Tibet, circa XIVème siècle. Hauteur: 80,8 cm. (31 ¾ in.). Estimate: EUR 80,000 - EUR 120,000. Price realised EUR 125,000. © Christie's Images Ltd 2019
Il est représenté debout, ses mains principales sont en anjalimudra. Ses six autres bras rayonnent autour de lui tenant des attributs divers. Il est vêtu d'un dhoti incrusté de cuivre maintenu par une ceinture élaborée. Il est richement paré de bijoux. Ses trois visages sont empreints de sérénité. Ses cheveux sont rehaussés de couronnes incrustées de cuivre ; manques.
Provenance: The Dharma collection, acquired from Spink & Son, Ltd., London, 20 November 1997, and thence by descent to the present owner.
Literature: Spink & Son, Light of Compassion, Buddhist Art from Nepal and Tibet, 1997, p. 22, cat. no. 10.
Himalayan Art Resources (himalayanart.org), item no. 30552.
Exhibited: Light of Compassion, Buddhist Art from Nepal and Tibet, 18 September - 16 October 1997, Spink & Son, Ltd., London, cat. no. 10.
Note: The bodhisattva of compassion, Avalokiteshvara, is shown here with multiple faces and arms so that he may see and alleviate the sufferings throughout the world simultaneously. The artist has very sensitively modelled the figure so that the powerful scale does not sacrifice delicacy in the details, such as the careful attention given to the jewellery and the idealized naturalism of the hands. The copper inlay enhances the three-dimensional quality of the triple-layer dhoti and belt, and the undulating planes of the body reach greatest expression in the three distinctly rendered faces. The broad shoulders and slender waist along with the fish-shaped eyes and proportions of the face reveal a site of production in western Tibet.
The Dharma Collection was formed over the last fifty years by the father of the current owner. His focus was on early representations in Buddhism and he was particularly intrigued by the cross-cultural diffusion of Buddhist styles, symbols and iconography throughout Asia as can be gleaned from the offered lots. He strived to acquire objects which combine spirituality with a distinct sense of individuality.
AN IMPORTANT COPPER-INLAID BRONZE FIGURE OF EKADASHALOKESHVARA, TIBET, CIRCA 14TH CENTURY
Christie's. Art d'Asie, Paris, 12 Juin 2019