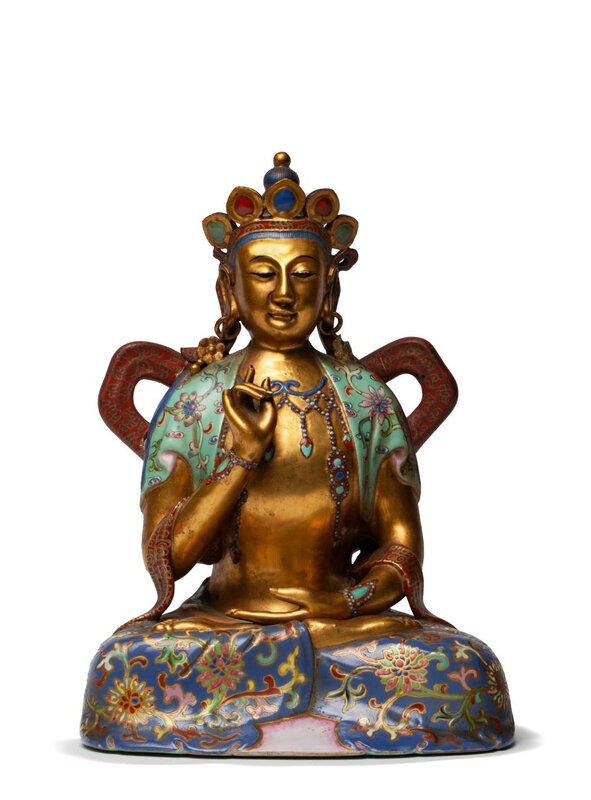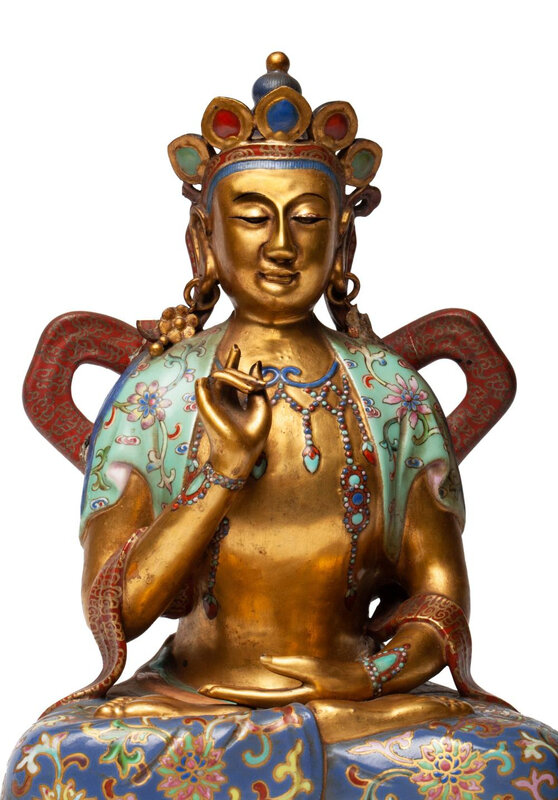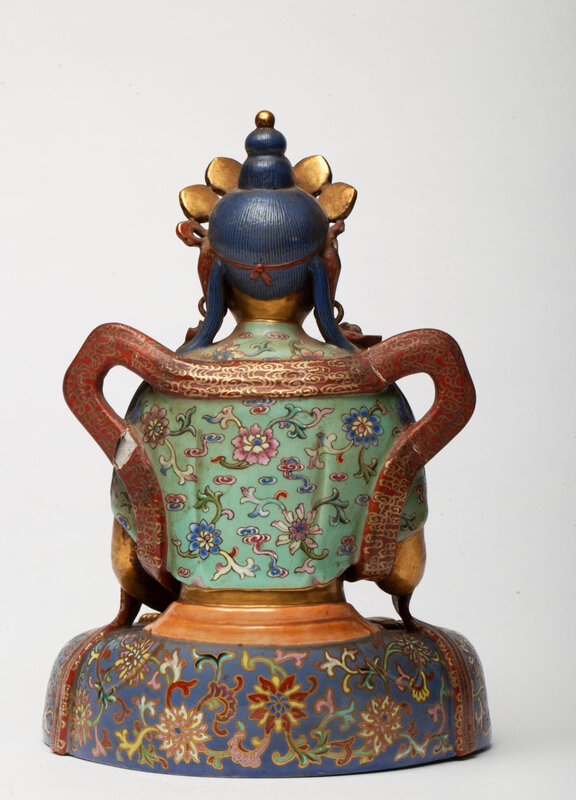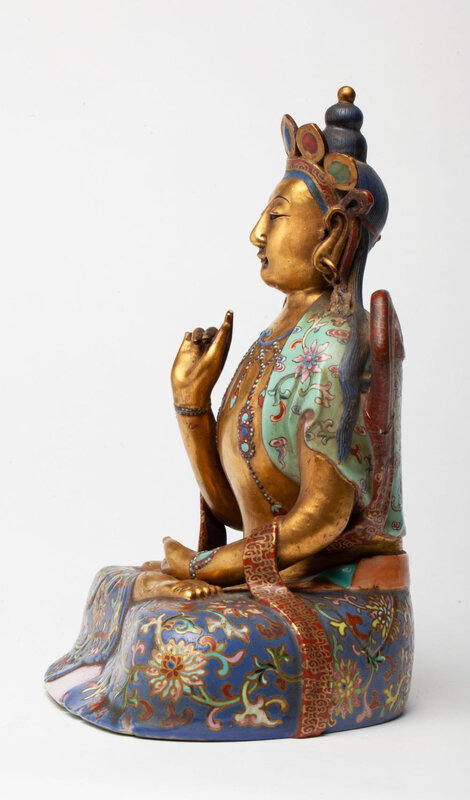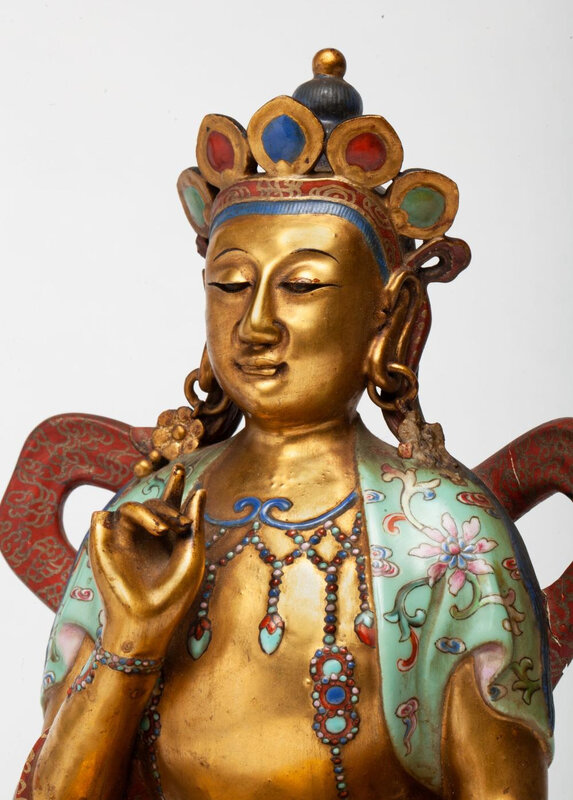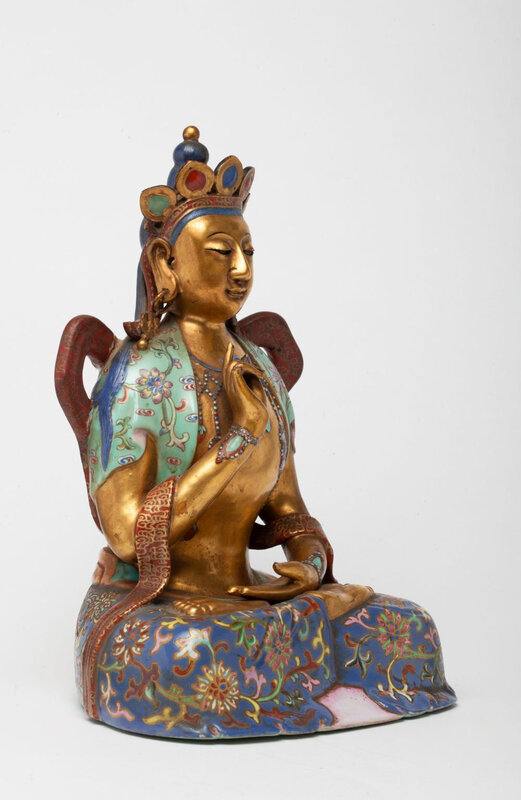 Lot 140. A famille rose model of Amitayus, Qing dynasty, 18th century. H: 32.0 x L: 21.0 cm. Estimate 10 000 € - 15 000 €. Lot sold 80 000 €. Courtesy Asium-Millon.
modelled seated in dhyanasana, The facial features finely rendered in gilt with eyes slightly downcast to provide a serene expression, the hair picked out in blue enamel, swept into a double-topknot and secured by an ornamental jewel, worn behind the five-leaf diadem fastened with ribbons at the back of the head, dressed in a shawl enamelled to depict floral sprays amidst ruyi clouds against a lime-green ground, revealing the broad torso adorned with a fine network of beaded jewellery chains, the dhoti enamelled with lotus sprays against a blue-ground.
Chine, XVIIIème siècle. Rare Amitayus en porcelaine. Hauteur : 32 cm Largeur : 21 cm.
Représenté assis en dhyanasana, vêtu d'un fin dhoti brodé formant d'harmonieux plis devant lui et orné d'élégantes volutes de lotus sur fond turquoise et bleu, la poitrine découverte agrémentée de la croix svastika, sa main droite levée, la gauche en avakashamudra, paré de bijoux précieux et d'une couronne à cinq pointes. Sa peau or est soulignée de bijoux aux couleurs chatoyantes. Ses épaules sont recouvertes d'un châle rouge rehaussé de fleurs et nuages en forme de ruyi. Deux pans flottent de part et d'autre de ses coudes pour retomber sur ses cuisses. Son visage est serein, son front ceint d'une tiare ouvragée. Ses cheveux sont maintenus en un haut chignon, deux mèches retombant de part et d'autre

Pour un amitayus semblable mais dans un mudra différent et possiblement provenant de la même série, voir vente Christie's, 11 decembre 2013, lot 176.

Provenance: -collection privée française de Monsieur TOURNET assemblée dans les Années 20 puis par descendance.
Arts de la Chine - Arts du Japon chez Asium-Millon, 75009 Paris (France), le 13 Juin 2019. Monsieur Jean Gauchet, Expert.