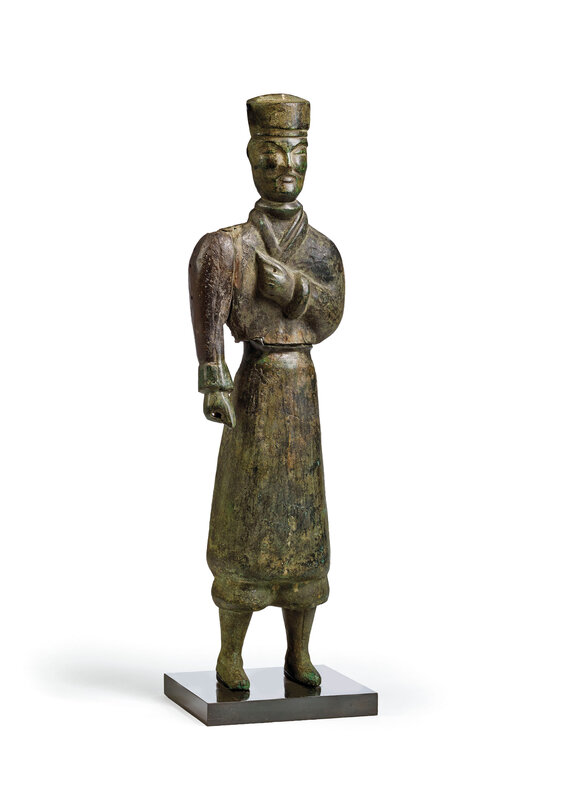 Lot 176. Rare statue de soldat ou de serviteur en bronze, Chine, dynastie Han de l'Est (av.JC. 25-220). Hauteur: 69 cm. (24 in.). Estimate: EUR 40,000 - EUR 60,000. Price realised EUR 81,250. © Christie's Images Ltd 2019
Il est représenté debout, sa main droite est placée le long de son corps, le poing serré. Sa main gauche est levée au niveau de sa poitrine. Ses mains sont percées d'un trou qui accueillait à l'origine un objet. Il porte un chapeau, une longue tunique retenue par une ceinture, un pantalon et des bottes hautes. Il possède une petite bouche, un nez fin et de hautes pommettes. Le bronze est recouvert d'une belle patine gris sombre rehaussée d'oxydations.
A VERY RARE BRONZE FIGURE OF AN ATTENDANT OR SOLDIER, CHINA, EASTERN HAN DYNASTY (AD 25-220)
Provenance: Christie's London, 16 December 1996, lot 54.
Note: Stylistically, this very rare large, and impressive bronze figure is related to the red pottery figures, and the far more rare bronze and stone figures of Eastern Han dynasty date (AD 25-220) from Sichuan province. The simple style of the heavy robe, that crosses in front to reveal the circular neck of an undergarment, can be seen on red pottery figures, such as the large (100 cm.) figure of a farmer wearing a three-quarter-length tunic that exposes his calves and feet, depicted holding a shovel and spade, illustrated by J. Rawson (ed.) in Mysteries of Ancient China, London, 1996, pp. 210-11, no. 113. Another large red pottery figure, described as a peasant-soldier (100 cm.), in the Musée Guimet, is illustrated by J.-P. Desroches in Compagnons d'eternité, Paris, 1996, pp. 88-9. The entry notes that the piece was made in two parts, with a lateral join that is still noticeable, a feature seen in the present bronze figure.
The same kind of robe, also belted at the waist, can be seen on stone figures of labourers of Eastern Han date illustrated in Wenwu, 1993:1, pl. 6, fig. 5. The present figure, may, however, best be compared to another bronze figure of comparable height (67 cm.) illustrated in Gems of China's Cultural Relics, Beijing, 1997, pl. 83. This figure is shown with right hand raised, as if to hold the reins of the prancing horse, and holding a shield on his left arm. He, therefore, must represent a soldier or attendant. He wears a hat similar to that of the present figure, and similar, but shorter robes that expose more of his simply-defined legs. The shape of his face and the facial features are also very similar to those of the present figure. It can be seen that the raised right arm was made separately and attached at the side, which is most likely true of the present figure.
Other Eastern Han dynasty bronze figures that are stylistically similar, but of much smaller size, which are part of a retinue of horses, horse carriages, drivers and attendants, are illustrated in the catalogue for An exhibition of Archaeological finds of the People's Republic of China, London, 1973, pp. 118-19, nos. 211-212. The same stiff stance, and style of hat and robe of the present figure can be seen on three standing attendants with raised arms that are shown with horse-drawn carriages and a cart, illustrated p. 119. Their raised hands were probably meant to hold reins attached to the horse's harness. An inscription engraved on one of the retinue figures has been translated as: "The governor of Zhang Ye-chang and His Lordship's son Ana: one saddle horse and one horse-leading slave."
See a comparable and related example of a bronze groom and a horse, excavated in 1990 from tomb No.2 of Hejiashan, Mianyang, in the collection of the Mianyang City Museum, Sichuan province, and exhibited in the Metropolitan Museum of Art, New York, April 3 - July 16, 2017, illustrated in 'Age of Empires, Chinese Art of the Qin and Han Dynasties 221BC-AD22', New York, 2017, pl. 40a,b, .p. 119.