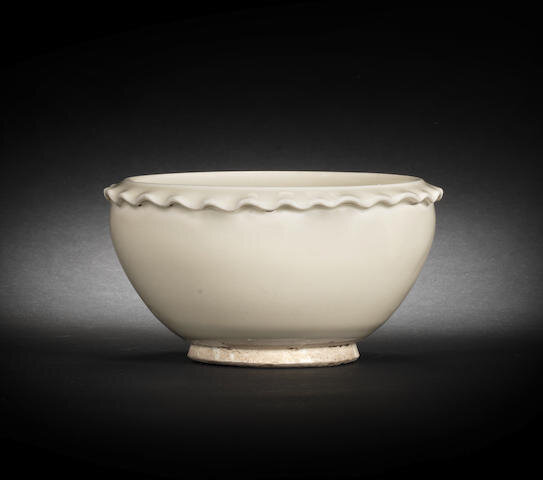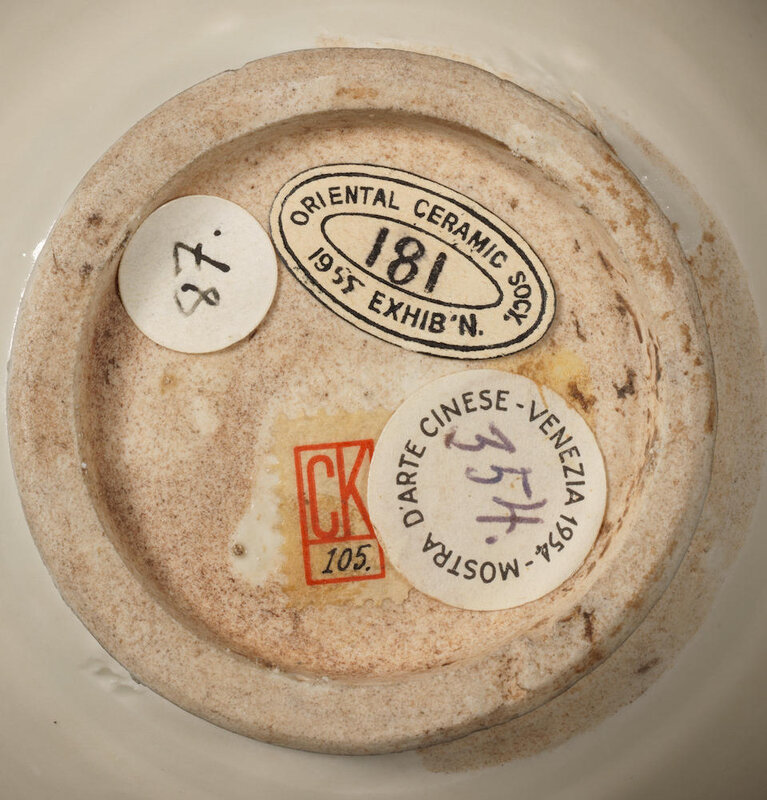 Lot 5. A white-glazed lobed bowl, 10th century; 12.4cm (4 7/8in) diam. Sold for £ 15,000 (€ 16,836). © Bonhams
Rising from a low slightly spreading foot, the deeply rounded sides surmounted by a lobed pie-crust rim, all covered with rich creamy white glaze thinning at the extremities and pooling in the recesses.
Provenance: Carl Kempe Collection, no.105 (label)
Sotheby's London, 14 May 2008, lot 234.
Exhibited and published: Mostra d'Arte Cinese, Venice, 1954, Catalogue, no.354
Oriental Ceramic Society, The Arts of the Tang Dynasty, London, 1955, Catalogue, no.181
Asia House Gallery, Chinese Gold, Silver and Porcelain, New York, 1971, Catalogue, no.87.
Illustrated: 'Hsing-yao and Ting-yao', The Bulletin of Far Eastern Antiquities, no.25, Stockholm, 1953, pl.18, 19, fig.16
B.Gyllensvärd, Chinese Ceramics in the Carl Kempe Collection, Stockholm, 1964, pl.334
T.Duxel, Fruhe Keramik in China, Braunschweig, 1973, pl.58b
The World's Great Collections: Oriental Ceramics, Vol.8, Tokyo, 1982, pl.66
Chinese Ceramics in the Carl Kempe Collection, The Museum of Art and Far Eastern Antiquities in Ulricehamn, Ulricehamn, 2002, pl.539.
Note: Compare a very similar bowl, also with Swedish provenance from Gustav Lindberg, illustrated by R.Krahl, Chinese Ceramics from the Meiyintang Collection, Vol.I, London, 1994, no.340, where it is dated as Tang, Five Dynasties or Song, 10th century.
Bonhams. FINE CHINESE ART. London, New Bond Street, 15 May 2014