DRESDEN.- 2019 marks 350 years since Rembrandt's death. The Staatliche Kunstsammlungen Dresden, which hold one of the most significant collections of his paintings, drawings and prints, are celebrating the artist at this occasion with a large exhibition of his works. "Rembrandt's Mark" centres around the graphic artist and draughtsman and takes a look at an artist who has been studied by artists more than any other.
The one-of-a-kind collection at the Kupferstich-Kabinett in Dresden underpins the exhibition, which focusses on Rembrandt's narrative compositions, his etched self-portraits and studies of his wife Saskia van Uylenburgh. The presentation comprises approximately 100 works from all of the artist's creative periods and around 50 etchings and drawings by students of his workshop as well as works by subsequent artists who considered Rembrandt an authority and a source of creative inspiration. The show, complemented by loans from national and international museums, including the Musée du Louvre in Paris, the Rijksmuseum in Amsterdam, the Courtauld Gallery in London, the Kupferstichkabinett der Staatlichen Museen zu Berlin, the Graphische Sammlung in Munich, the Städelmuseum in Frankfurt as well as from the Schenkung Sammlung Hoffmann and further private collections, sheds light on one of the most innovative and unconventional artists of all time. The range of those who have explored Rembrandt in defining their own self-portrait extends from immediate successors and masters of the eighteenth century to contemporary artists. Among them we find artists such as Benedetto Castiglione (1609–1664), Jonathan Richardson (1667–1745), Christian W. E. Dietrich (1712–1774), Francisco de Goya (1746–1828), Lovis Corinth (1858–1925), Käthe Kollwitz (1867–1945), Max Beckmann (1884–1950), Pablo Picasso (1881–1973), A.R. Penck (1929–2017), Gerhard Altenbourg (1926–1989), Marlene Dumas (b. 1953) and William Kentridge (b. 1955).
Rembrandt remains timelessly captivating due to his radicality in selecting Christian and secular pictorial subjects, and in his unconventional interpretation of them. No less captivating is his pronounced love of experimentation – especially in the use of drawing and printing techniques – as well as his intellect, which is marked by reflection and humour. With a light touch, he throws off all conventions, almost playful yet wildly energetic. His dynamic, unmistakable mark creates pictorial worlds in which an altogether boundless interest in nature reveals itself. The mark he makes is also the utterly unique signature that he leaves behind. At the same time this mark is synonymous with his distinct creativity and thus with his personality. Finally, Rembrandt's mark is also the mark he left on art history, the footprint of his artistic work that can be followed. These aspects are presented in five sections:
The first section is Rembrandt's Self. The artist as a person becomes as tangible through his signature as through his numerous self-portraits. Gathered together, the works in this section show the artist with different facial expressions and taking on different roles – from beggar to Oriental nobleman. They tell of both his self-inquiry and how he liked to present himself. Choosing the etching, Rembrandt used a reproductive medium that would serve his self-fashioning, as it did later artists.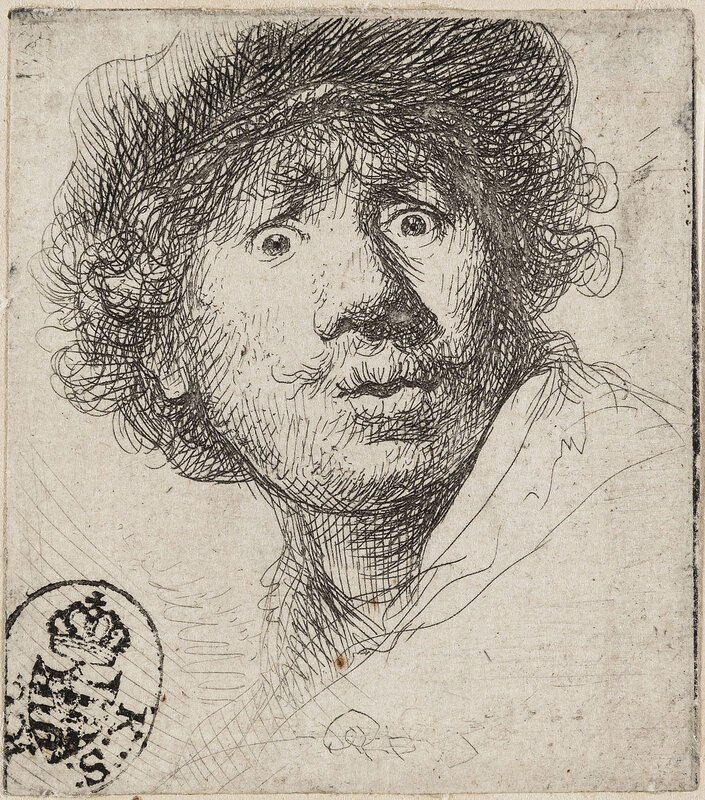 Rembrandt van Rijn, Selbstbildnis mit aufgerissenen Augen, 1630. Kupferstich-Kabinett © SKD, Photo: Andreas Diesend.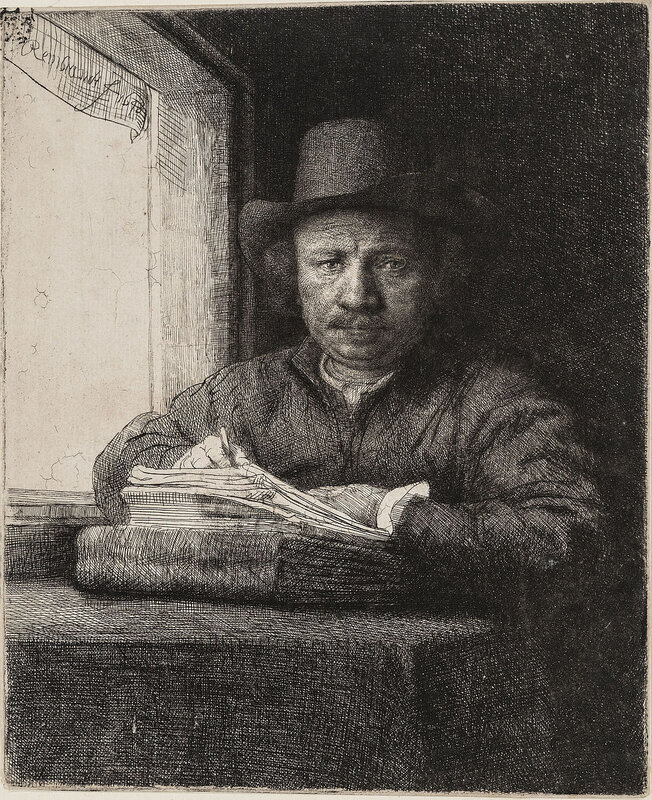 Rembrandt van Rijn, Selbstbildnis am Fenster zeichnend, 1648, Kupferstich-Kabinett © SKD.
The second section, Rembrandt and Saskia, is dedicated to Rembrandt's wife who died in 1642 at the young age of 29 years. Around twelve drawings and etchings will be presented as a group for the first time. Included here are not only the Dresden brush study of Saskia in bed but also the famous Berlin engagement portrait done in silverpoint, as well as the outstanding oil painting – created around the same time – of a laughing Saskia, which is held today in the collection of the Gemäldegalerie Alte Meister.
Rembrandt van Rijn, Bildnis Sakias als Braut, 1633 © bpk / Kupferstichkabinett, SMB / Foto: Jörg P. Anders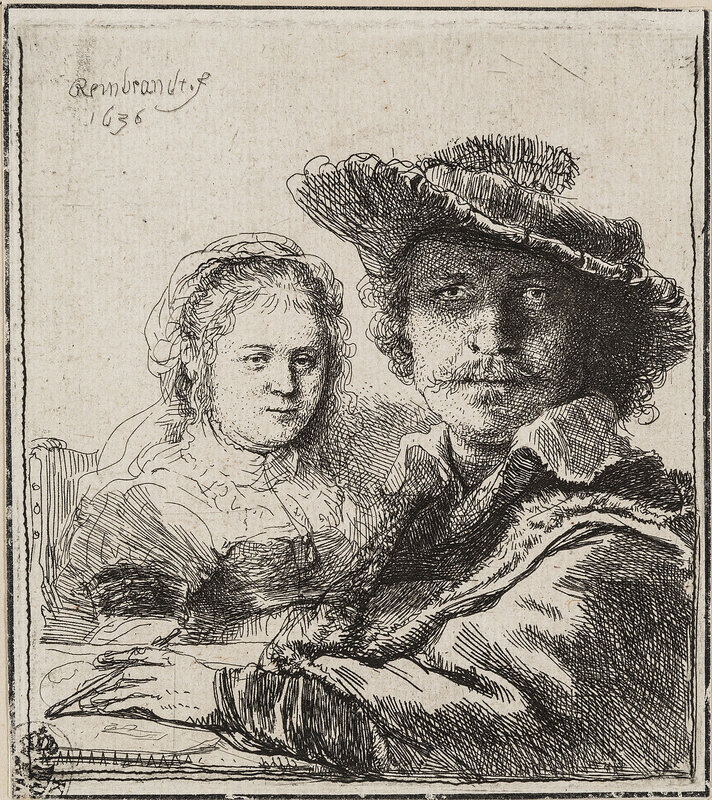 Rembrandt van Rijn, Selbstbildnis mit Saskia, 1636, Kupferstich-Kabinett © SKD, Photo: Andreas Diesend.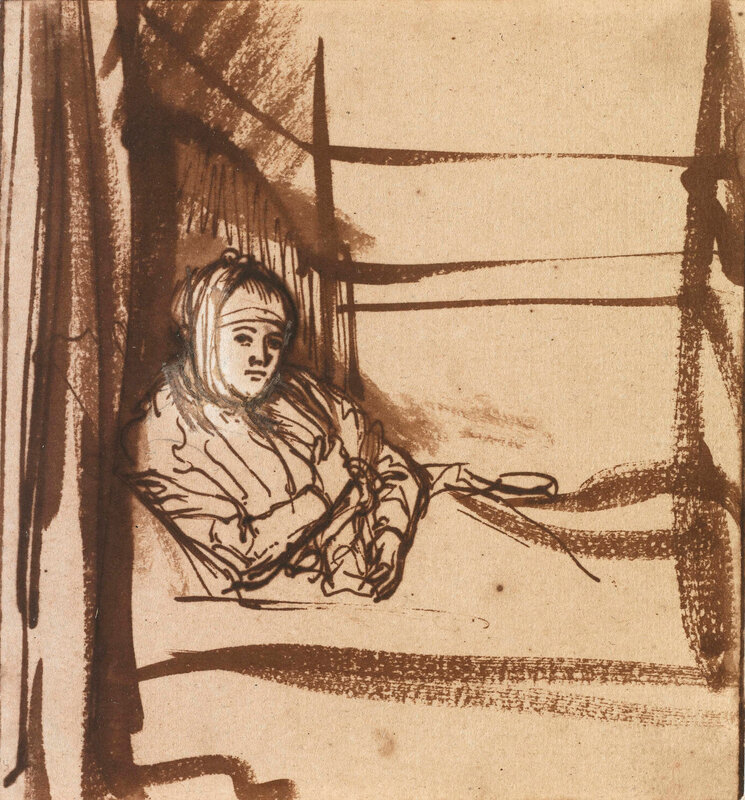 Rembrandt van Rijn, Saskia im Bett, um 1638, Kupferstich-Kabinett © SKD, Foto: Herbert Boswank
In Rembrandt Learning, Rembrandt Teaching the perspective opens up to include artists with whom Rembrandt worked closely, be it as a student or later as a teacher. The artist comes into view in the forceful strokes he used to correct his students' drawings or, for instance, when he sits with them before life models.
The central section, Work Process, probes pictorial invention in drawings and prints. Relatively rare in Rembrandt's work, drawings used only in preparation for further works are included in the exhibition. The subject culminates in the famous Hundred Guilder Print of 1648; its preparatory drawings are shown together for the first time. Also on show are three states of the great dry point work Ecce Homo, whose dramatic composition evolved in several steps.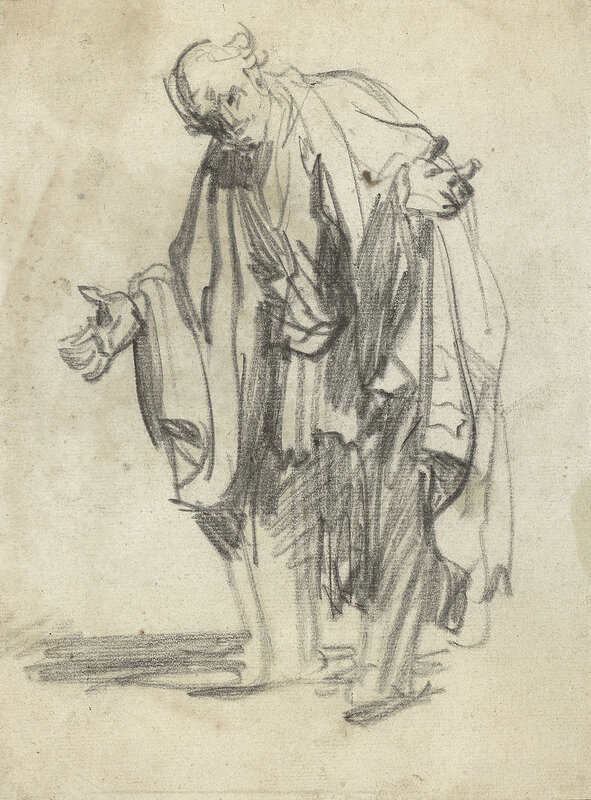 Rembrandt van Rijn, Alter Mann mit ausgebreiteten Armen, 1628/29, Kupferstich-Kabinett © SKD, Foto: Herbert Boswank.
The final section bears the title Light and Shadow, an important artistic means found in the oeuvre of the Netherlandish artist. Using this pair of opposites, Rembrandt succeeded not only in depicting the physical world but also in visualizing the dimension of cognizance. Above and beyond this, his frank observations about the range of human physical needs, including sexuality, created new pictorial subjects that left traditional motifs behind.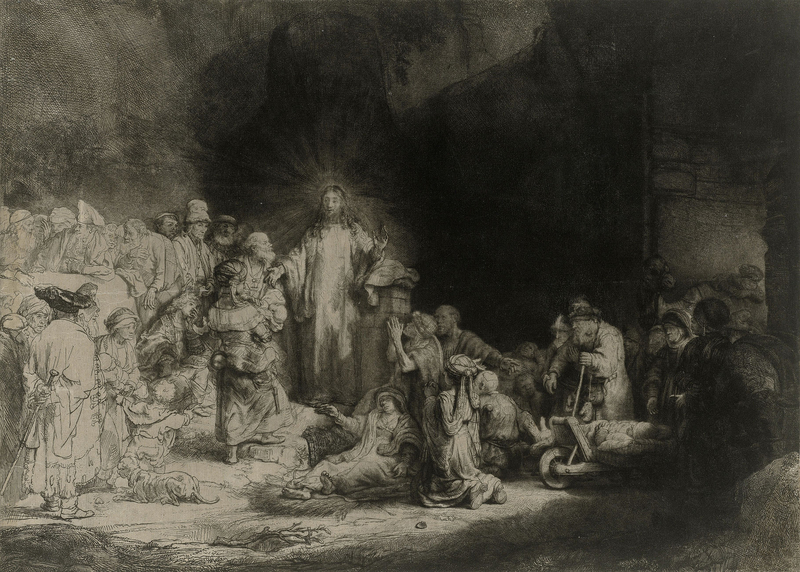 Rembrandt van Rijn, Hundertguldenblatt, um 1647/49, Kupferstich-Kabinett © SKD, Photo: Andreas Diesend.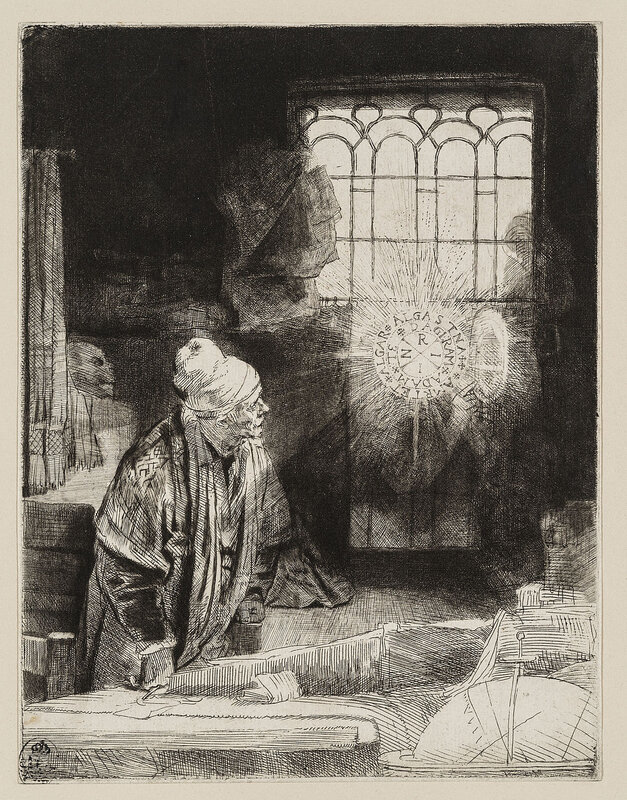 Rembrandt van Rijn, Faust, um 1652, Kupferstich-Kabinett © SKD.
In its inclusion of artists who still today openly consider Rembrandt a dynamic authority and source of inspiration, the exhibition is not so much seeking to illustrate Rembrandt's reception as such but rather to make apparent through these crown witnesses the artist's enormous appeal, which has continued for centuries.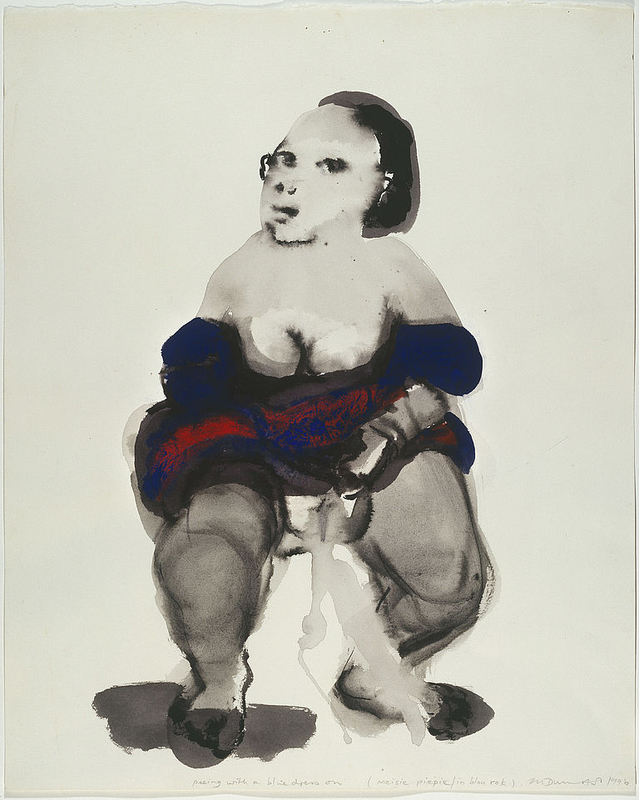 Marlene Dumas, Peeing with a blue dress on, 1996. © bpk/ CNAC-MNAM / Estate Brassaï, Foto: Philippe Migeat.
Working very closely with "Rembrandt's Mark", the Prague-based artist Adéla Součková (b. 1985) has explored the central subject of "Self", creating an expansive installation in the foyer of the Kupferstich-Kabinett: an inquiry into the significance of Rembrandt for the present.
In the Studiolo, located in the Renaissance wing of the Residenzschloss, the presentation of a video work entitled Junks, by the Dutch artists Jeroen de Rijke (1970–2006) and Willem de Rooij (b. 1969), leads our gaze toward the present. Through the work's juxtaposition with painters who belonged to Rembrandt's circle, it becomes evident how even in today's paintings questions about habitus and individuality continue to be asked.
The exhibition "Rembrandt's Mark" is curated by Stephanie Buck with Mailena Mallach.