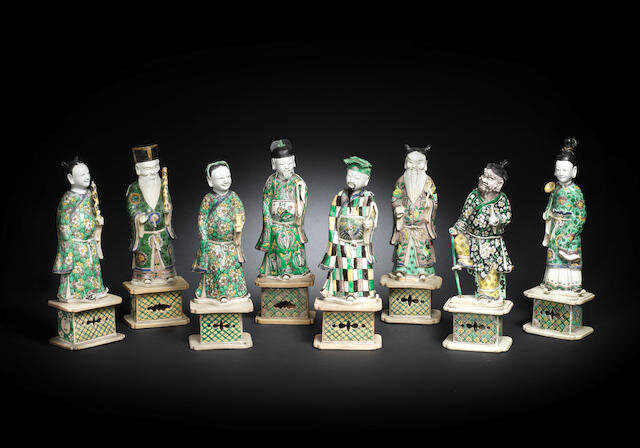 Lot 82. A set of famille verte and biscuit figures of the Eight Immortals, 19th century. The largest 30cm high. Sold for £ 31,250 (€ 35,030). © Bonhams
Depicting the eight Daoist Immortals, Li Tie Guai, Zhongli Quan, Lan Cai He, Zhang Guo Lao, He Xian Gu, Lü Dong Bin, Han Xiang Zi and Cao Guojiu, each holding their attribute, standing on rectangular pierced bases with diaper pattern, wearing robes with floral ornament.
Provenance: Dr Leonard Gow and thence by descent.
Exhibited: Glasgow Art Galleries and Museums, four figures with labels reading: Reg.No.E6-'36ej, Reg.No.E6-'36em, Reg.No.E6-'36en and Reg.No.E6-'36eo.
Note: Sets of the individually identifiable Eight Daoist Immortals were extremely popular decorative items in the 18th and 19th century, for the Chinese market as well as for the export market to the West. More frequently made in the famille rose palette, the present set is very unusual in its design in famille verte and in fine quality of the modelling. Two famille verte figures of Immortals dated to the early 18th century are illustrated by C.J.A.Jörg, Chinese Ceramics in the Collection of the Rijksmuseum, Amsterdam, London, 1997, p.191, no.215. See also a set of four famille verte Immortals dated to the Kangxi period and illustrated by E.J.Sullivan (ed.), The Taft Museum: Its History and Collections, Vol.II, New York, 1995, p.683, museum nos.1931.35, 37, 40, and 42.
Bonhams. FINE CHINESE ART. London, New Bond Street, 15 May 2014