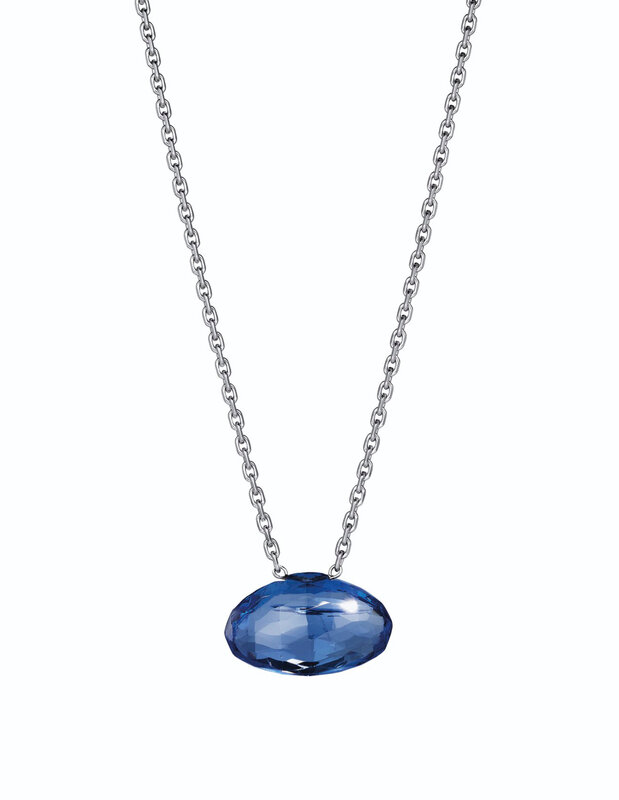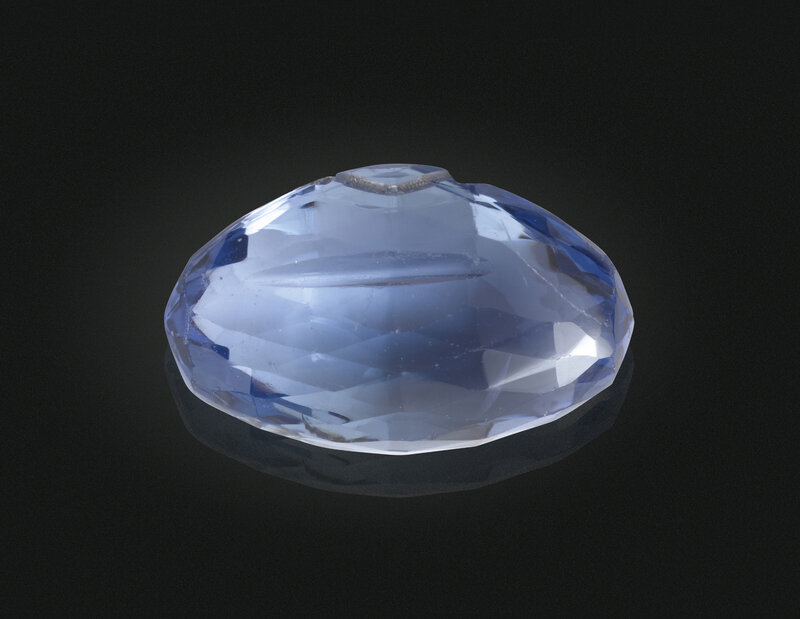 Lot 10. The 'Indore Sapphire' taveez bead pendant necklace of 23.20 carats, 18th century, mounted by Cartier. Estimate USD 40,000 - USD 60,000. Price realised USD 206,250. © Christie's Images Ltd 2019
Oval-shaped sapphire taveez bead of 23.20 carats, 18th century, later added 18k white gold finelink chain, 24 1/8 ins., chain signed MT Cartier, no. SB7885.

Provenance: Maharaja Yeshwant Rao Holkar II of Indore.
Literature: Jaffer 2013, p. 382, no. 130.
Exhibited: Victoria and Albert Museum, London 2015, p. 56, no. 21
The Miho Museum, Koka 2016, p. 29, no. 6
Grand Palais, Paris 2017, p. 65, no. 43
The Doge's Palace, Venice 2017, p. 85, no. 42
The Palace Museum, Beijing 2018, p. 98, no. 43
de Young Legion of Honor, San Francisco 2018, p. 172, no. 29.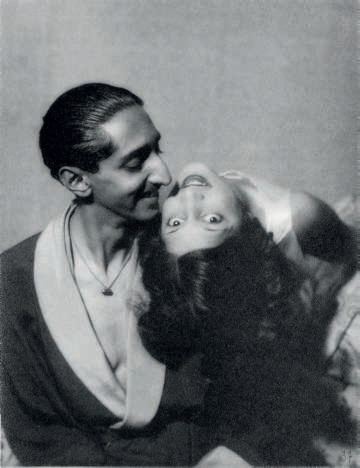 Portrait du Maharaja of Indore, Rao Holkar, avec sa femme, Sanyogita Devi of Indore, 1937. © Man Ray 2015 Trust / ADAGP – ARS - 2019, image : Telimage, Paris.
No ruler represents the comingling of European and Indian culture in the 1930s as the Maharaja of Indore, Yeshwant Rao Holkar II. Born in India in 1908, he was educated in England, as was his future wife. With a great passion for Western culture, they spent most of their time in Europe, returning to India with great treasures they purchased, such as art and jewelry, as well as new design ideas.
They were famously photographed by Man Ray in Paris and Cannes. Recalling the event in his autobiography, he states: 'The Maharaja of Indore came to the studio to be photographed, also in Western clothes – sack suits and formal evening dress. He was young, tall and very elegant. I got a substantial order from this sitting.… Next year, the Maharaja was in the South of France with his young bride. He had taken an entire floor of a hotel in Cannes for himself and his retinue. I arrived in Cannes before noon, was assigned to my room in the suite…The Maharanee was an exquisite girl in her teens. She wore French clothes, and a huge emerald ring. The Maharaja had bought it for her that morning while taking a walk.…'
Christie's. Maharajas & Mughal Magnificence, New York, 19 June 2019