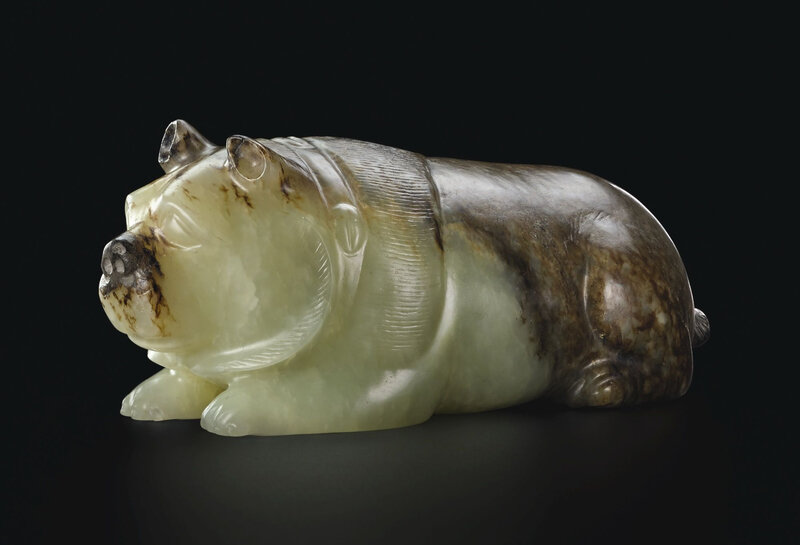 Lot 3333. A finely carved and extremely rare celadon and mottled jade figure of a bear, Western Han dynasty (206 BC-26 AD); 9.3 cm, 3 5/8 in. Estimate HK$2,000,000– 3,000,000. Lot sold 2,500,000 HKD. Photo: Sotheby's.
skilfully depicted recumbent with facial features realistically rendered below a pair of small funnel-form pricked ears, the head framed by a pair of curved ridges detailed with fine incisions repeated along its upper back, interrupted by a collar decorated with three raised studs, the body rendered with curved contours, the substantial pale celadon stone with variegated greyish-russet skin extending along the back and hind of the figure.
Provenance: The Hei-Chi Collection.
Literature: Jiang Tao and Liu Yunhui, Jades from the Hei-Chi Collection, Beijing, 2006, p. 72.
Note: This bear is carved in the round from celadon jade and is partially covered with light brown mottles. Recumbent on its four limbs and staring directly ahead, the bear is finely articulated, with a short nose and short upward-pointing ears. Its delicate collar indicates that it is a domesticated pet.
In form, decoration, and mood, this present work recalls another jade bear excavated from one of the tombs of the Princes of Chu in Beidongshan, Xuzhou. Similarly depicted robust and recumbent, the jade bear is also portrayed with a collar and hair detailed with short incised lines. See Da Han Chuwang: Xuzhou Xihan Chuwang lingmu wenwu jicui [Selected cultural relics excavated at the Western Han dynasty mausoleum of the King of Chu], National Museum of China, Beijing, 2005, pp. 268-275. However, the present piece is carved from jade of a different quality and is half the size of the Beidongshan example. It differs from the latter also in its triangular renditions of the bear's eyes, nostrils, mouth and ears
.
Sotheby's. Beasts of Antiquity – Important Jade Animals from the Chang Shou Studio, Hong Kong, 05 Apr 2017