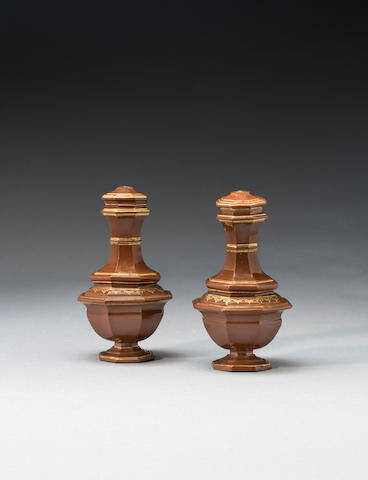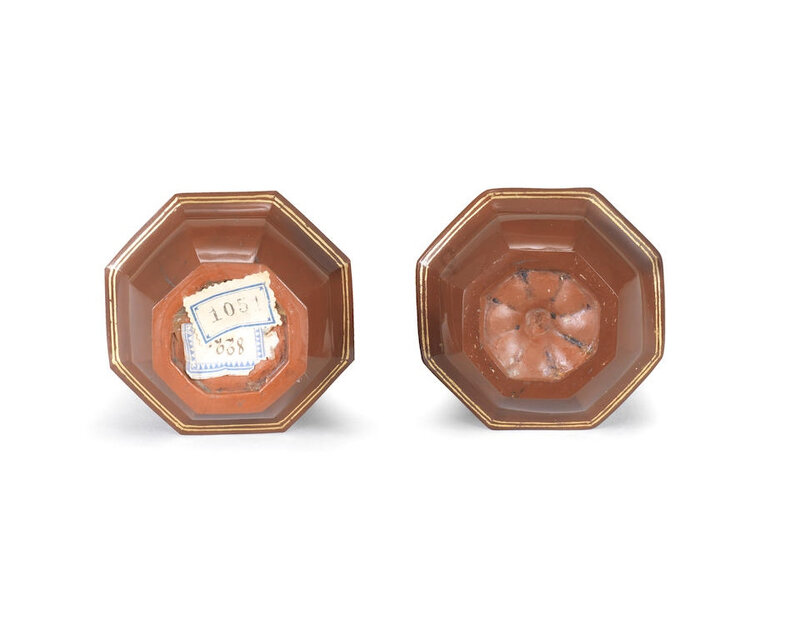 Lot 2. A rare pair of Meissen Böttger stoneware octagonal vases and covers, circa 1710-13; 13cm high. Estimate: £40,000 - £60,000. Sold for £ 46,312 (€ 51,628). © Bonhams.
Each decorated in gilding with a central lambrequin border and double-line borders on the various edges, the slightly differing covers centering a gilt flowerhead, and one lacquered on the interior.
Provenance: Margravine Karoline Luise of Baden-Durlach (1723-83);
Hereditary Prince Karl Ludwig of Baden (1755-1801);
Grand Duke Friedrich I of Baden (1826-1907);
Sold from the Collections of the Margraves and Grand Dukes of Baden by Sotheby's Baden-Baden, 18 October 1995, lot 1259, where acquired by the present owner.
Literature: Karl Koelitz, Beschriebendes Inventar der Allerhöchsten Privatsammlung kunstgewerblicher Gegenstände (unpublished ms, Karlsruhe, 1883), inv. nos. 822 and 823;
Richter, Inventar des Zähringer Museums (unpublished ms, Baden-Baden, 1919), inv. nos. 1051 and 1052;
Claus Boltz, Steinzeug und Porzellan der Böttgerperiode, in Keramos 167/168 (2000), ill. 3.
Exhibited: Karlsruhe, Zähringer Museum, Grand Ducal Residence, from 1879; Baden-Baden, Zähringer Museum, Neues Schloss, ca. 1960-93.
Note: These flasks belonged to an extensive group of polished Böttger stoneware embellished in gilding that was inherited by the Margravine Karoline Luise of Baden-Durlach (1723-83) in the second half of the 18th century. She displayed most of the historic porcelain that she inherited from various members of her and her husband's families as part of a scientific display in the Naturalia Cabinet in the Karlsruhe Residence.
The Böttger stoneware, along with much of the porcelain collection, is listed in her posthumous inventory, which is repeated in that of her son, Karl Ludwig von Baden-Durlach (1755-1801). In the inventory, and probably also in the display of the Naturalia Cabinet, these vases were grouped together with other similar, but apparently unrelated, polished Böttger stoneware with gilt rims, including three teapots, five tea bowls and six saucers, three octagonal teapots and two oval flasks (Verlassenschaft des Erbprinzen Karl Ludwig von Baden-Durlach, 1805-09, Generallandesarchiv Karlsruhe (GLA) FA 6 Person 12 II: 'das Naturalien Cabinett: Fein irdenes Geschirr [p. 102, no. 597] Eine Garnitur von feiner brauner Erde, glasirt mit Vergoldung, bestehend in: [...] 2 achteckichten Caraffen mit Deckeln [...]' [the Naturalia Cabinet: fine earthenware: a garniture of fine brown earth, glazed with gilding, consisting of (...) 2 octagonal carafes and covers (...)].
The Böttger stoneware may originally have been in the collection of the Margravine Sibylla Augusta of Baden-Baden (1675-1733), who assembled an important collection of Chinese and European ceramics, including early Meissen stoneware and porcelain, in Schloss Favorite, that was inherited by Karoline Luise in 1771. However, Karoline Luise also inherited early Meissen stoneware and porcelain from other members of her husband's family, as well as from her own grandparents.
These flasks, together with the rest of the 'garniture', were exhibited from 1879 in the same rooms in the Grand Ducal Residence in Karlsruhe that had contained the Naturalia Cabinet and they are listed in the inventory of 1883 by Karl Koelitz. When the last Grand Duke of Baden abdicated in 1918, this collection was considered the family's private property and, in 1919, it was moved to the Neues Schloss, Baden-Baden, where - from around 1960 it was on public display as part of the Zähringer Museum.
Other parts of the same group, now in the collection of the Staatliche Schlösser und Gärten Baden-Württemberg, Schloss Favorite (inv. nos. G7573, 7577, 7580-81) are published by U. Grimm / U. Wiese, Was Bleibt (1996), pp. 52ff.
A teabowl and saucer is in the Arnhold Collection, New York, published by M. Cassidy-Geiger, The Arnhold Collection of Meissen Porcelain 1710-50 (2008), no. 63.
Bonhams. Important Meissen Porcelain from a Private Collection, Part II, London, 2 July 2019