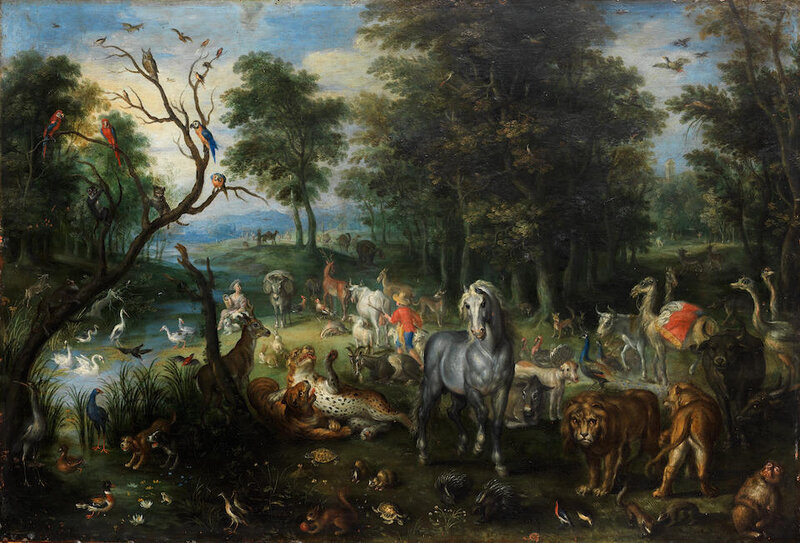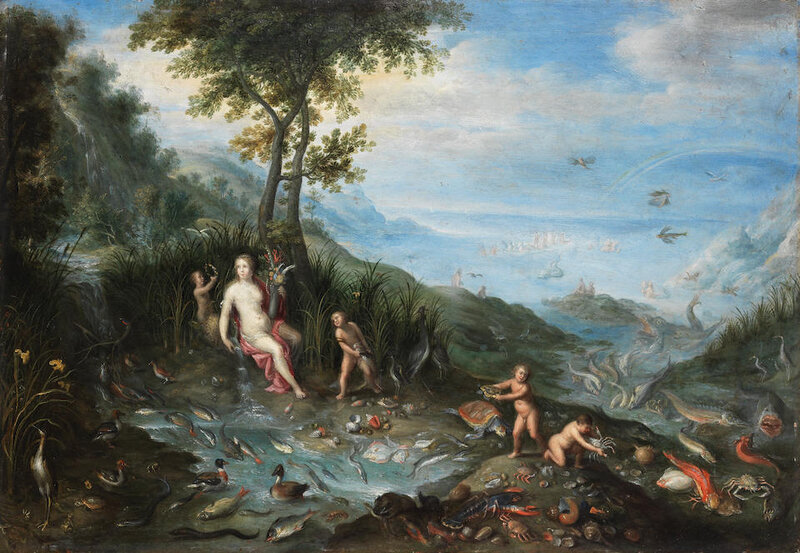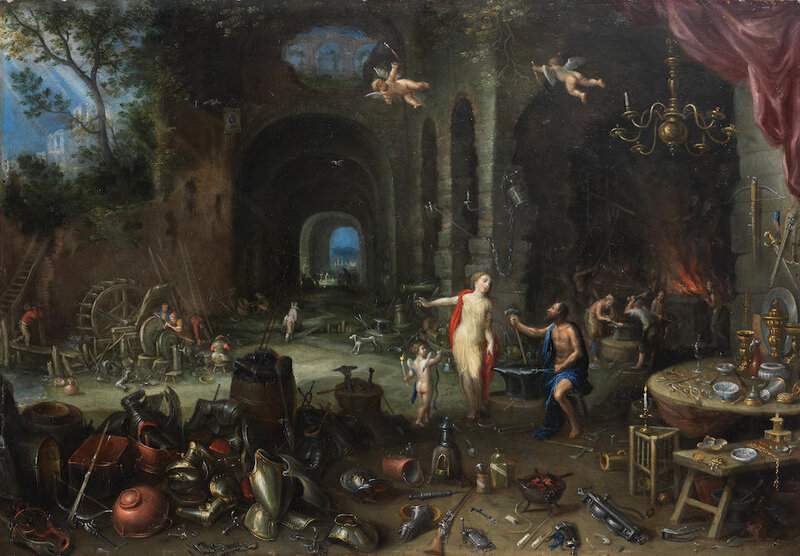 Lot 58. Jan Brueghel the Younger (Antwerp 1601-1678), The Four Elements: An Allegory of Earth; An Allegory of Water; An Allegory of Air; and An Allegory of Fire, a set of four, oil on copper 33.6 x 50cm (13 1/4 x 19 11/16in).; 32.9 x 48cm (12 15/16 x 18 7/8in).; 32.9 x 48cm (12 15/16 x 18 7/8in).; and 32.9 x 48.1cm (12 15/16 x 18 15/16in). Estimate £ 800,000 - 1,200,000 (€ 890,000 - 1,300,000). © Bonhams
LONDON.- An astonishing set of four oil on copper panels by Jan Brueghel the Younger (1601-1678) leads the Old Master Paintings sale at Bonhams New Bond Street on Wednesday 3 July. The Four Elements: An Allegory of Earth; An Allegory of Water; An Allegory of Air; and An Allegory of Fire have been miraculously well preserved as a quartet for almost 400 years, and the set has an estimate of £800,000-1,200,000.

The series is remarkable, primarily because its main subjects - the landscapes, figures, flowers and animals - have all been confirmed by art historian and Brueghel specialist, Dr. Klaus Ertz, to be by Brueghel's own hand. This is a rarity, as it was common practice for him to collaborate with many of his fellow artists, including Rubens and Hendrick van Balen.

Allegories of the Four Elements had become a well-established theme of Renaissance painting by the time Brueghel began this series, around 1625, yet he approached these with a youthful flair.

Writing in Bonhams Magazine, art historian and critic Susan Moore describes his innovative composition of An Allegory of Earth: "Dispensing with the usual Ceres, goddess of agriculture and fertility, he has produced instead a paradise landscape. Such gatherings of beasts had become a hugely popular genre, whether ostensibly representing mythological subjects such as Orpheus charming the animals, or biblical scenes. Here, a closer inspection suggests the latter, a sense of a procession of creatures making their way two by two towards a tiny ark visible in the background."

The vogue for 'paradise landscapes' were symptomatic of the era of the Scientific Revolution when connoisseurs began to assemble collections of natural history. Brueghel drew upon these collections for research so that he could depict flora and fauna with technical accuracy. The subject matter also gave him free rein to explore his love for exotic nature as well as to imbue his landscapes with religious and classical symbolism.

Andrew McKenzie, Department Director of Old Master Paintings, said, "It is extremely rare to find fresh examples of this importance coming to market. We are also very grateful to Dr Klaus Ertz for confirming the attribution, and that, in his view, the landscapes, animals, flowers and figures are all by the hand of Jan Brueghel the Younger."
Provenance: Acquired by the current owner's father approximately 60 years ago in Spain.
Note: This set of allegories is remarkable, not only for all four subjects having survived together in an outstanding state of preservation, but is exceptional within the artist's oeuvre for the landscapes, the animals, the flowers and the figures (including the larger, principal figures) having been entirely painted by Jan Brueghel the Younger without collaboration with other artists. The copper supports which allow both refined and delicate detail and for a luminosity of surface enabled the artist to exhibit his skills at their utmost.

Allegories of the Four Elements were of particular appeal to artists of the 16th and 17th centuries who could take advantage of the endless possibilities for imaginative symbolism while allowing them to display extraordinary technical mastery in depicting the flora and fauna of the natural world. Earlier examples included Giorgio Vasari's frescoes in the Sala degli Elementi in the Palazzo Vecchio in Florence executed between 1555 and 1557; Giuseppe Arcimboldo's fantastical heads which he painted for the Emperor Maximilian II in 1566; while among Cardinal Federico Borromeo's commissions from Jan Brueghel the Elder were allegories of the Four Elements, executed like the present group on a small scale on copper. For the future Archbishop of Milan 'Paintings capture heaven and earth in the smallest of spaces, and we wander around inside them, undertaking long spiritual journeys, while standing still in our room.'

The palette of the present set of Four Elements is characteristic of Jan Brueghel the Younger's early output and can be dated to his return from Italy to Antwerp at the end of the 1620s. While the inspiration behind all four of these compositions was his father, Jan Brueghel the Elder (in collaboration with the figure painter, Hendrick van Balen), the younger Jan Brueghel was here able to connect old ideas with new ones, creating something original. Thus, the present set of copper panels is also exceptional in that for his Allegory of Earth, rather than employing the usual device of Ceres, the goddess of agriculture and fertility, he chose a Paradise landscape, which would otherwise have either represented the Old Testament theme of the Entry of the animals into Noah's Arkor the Garden of Eden. The former is suggested by the procession of creatures making their way, largely two by two towards a tiny ark visible in the background. With its symbolism of Original Sin, the latter subject had been popular amongst artists from the days of Albrecht Dürer and Lucas Cranach the Elder in the sixteenth century, but in this instance it appears to have interested Brueghel more for allowing him to display his fascination with the exotic beauty of the natural world. Precedents for animal paintings were found in fable illustrations, emblem books, bestiaries, hunting texts and tapestries. But the 'animal parks' that proved popular for seventeenth century artists, such as the Jan Brueghels, Roelandt Savery and Aelbert Cuyp, even when presented under the guise of traditional subjects, such as The Fall, Noah's Ark and Orpheus among the Beasts, displayed a whole new genre for easel painting. This genre may be placed in the context of the beginnings of the Scientific Revolution, which saw man's desire to record and categorise nature and coincided with the keeping of princely menageries, the first extensive collections of rare and unusual plants and the cult of the kunstkammer, a repository of such naturalia as antlers, shells, fossils and skeletons.

A member of a large and successful family of artists, Jan Brueghel the Younger very probably began his training at the age of ten in the studio of his father, Jan Brueghel the Elder, whose works had a heavy influence on the younger painter. After travelling to Milan to meet Jan Brueghel the Elder's patron, Cardinal Federico Borromeo, in the spring of 1624, Jan the Younger decided to prolong his Italian journey and went to Palermo with his childhood friend, Anthony van Dyck. However, this expedition was cut short: his father and three of his siblings were struck down suddenly by cholera in 1625 and Jan returned to Antwerp where he took over his father's studio. Once back in Antwerp, Jan the Younger sold the remaining paintings by his father and completed those not yet finished. His work continued in much the same vein. Like his father, he collaborated frequently with Rubens and Hendrick van Balen, as well as working on occasion with other artists, such as Abraham Janssen (his father-in-law), David Teniers the Younger (his brother-in-law) and Hendrick de Clerck. The importance he attained in the artistic community in Antwerp is reflected in his being head of the Guild of Saint Luke, 1630-31. That importance continued into the 18th century since it is Jan Brueghel the Younger in particular who can be seen as the true father of an inherited family tradition that remains to be treasured by collectors even today.
Other highlights of the sale include: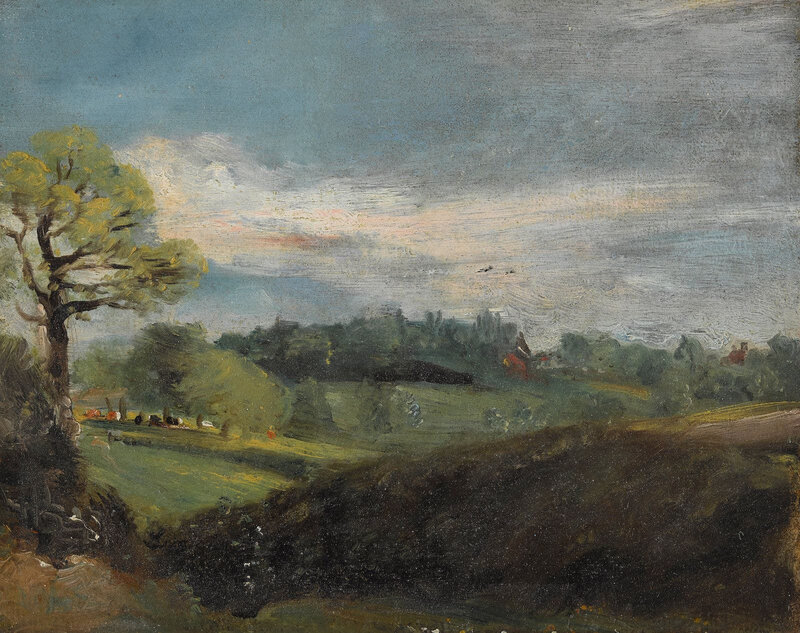 Lot 41. John Constable R.A. (Suffolk 1776-1837 Hampstead), East Bergholt Common, oil on paper laid down on canvas 19.8 x 25.2cm (7 13/16 x 9 15/16in). Estimate £200,000-300,000 (€ 220,000 - 340,000). © Bonhams
Provenance: By descent to the artist's daughter, Isabel Constable (1822-1888) and thence by descent until offered
Sale, Christie's, London, 28 May 1891, lot 132 (bt. Colquhoun)
The Collection of E. A. Colquhoun, and thence by descent until
Sale, Sotheby's, London, 6 July 1983, lot 273
With Newhouse Galleries, New York
With Salander O'Reilly Gallery, New York, 1988, where purchased by the present owner.
Literature: Second Series of a Century of British Art, London, Grosvenor Gallery, 1889, probably no. 303
R. Hoozee, L'opera completa di Constable, Milan, 1979, p. 99, cat. no. 133, ill.
G. Reynolds and C. Rhyne, John Constable, R.A (1776-1837): An Exhibition: Paintings, Drawings, Watercolors, Mezzotints, New York, 1988, exh. cat., pp. 16-17, ill. front cover
G. Reynolds, The Early Paintings and Drawings of John Constable, London, 1996, cat. no. 10.49, ill. Pl. 875.
Note: Depicting a view close to East Bergholt House, the Constable family home, the present little plein air sketch is dated to circa 1810 by both Charles Rhyne and Graham Reynolds. The work is of particular personal significance to Constable not only because it was made close to his childhood home but also because it was painted during his long courtship with Maria Bicknell.

The first in the group of Constable's views towards the rectory, as seen from East Bergholt House, is now in the Fitzwilliam, Cambridge, dated 1808 (inv. no. PD 15 – 1968). A later oil sketch, inscribed '30 Sep/ 1810/ E. Bergholt Common', now in the John G. Johnson Collection, Philadelphia Museum of Art (inv. 856, fig. 1), also shows a similar view but is taken from an upper window at the Constable family home. Based on these and other similar works which show the rectory in fine detail, Charles Rhyne has established exactly where Constable sat to sketch the present view. Unlike the other images of East Bergholt Common looking towards the rectory, the current sketch was not made from Golding Constable's property but rather from beyond the grounds of the house where the ground slopes down towards the Ryber, a stream that runs through East Bergholt Common. In his entry for the work, Rhyne also cites a sketchbook drawing dated by the artist to 'Augst 2. 1812', formerly in the Collection of Harold Day1, in which the painter looks back towards Golding Constable's house. In this latter drawing it is possible to see precisely the valley from which the present sketch was made.

East Bergholt house, the childhood home of John Constable, was built by his father Golding Constable in about 1773 at the centre of East Bergholt village. From the rear of the house, it was possible to see the rectory, home of the Rev. Dr. Durand Rhudde, grandfather of Maria Bicknell who went on to become Constable's wife. The couple first met when Maria was only twelve and Constable in his early twenties, they met once again in 1809 when Maria visited her grandfather at the rectory. However, the Rev. Dr. Rhudde was so opposed to their match that they conducted their courtship in secret and only married seven years later, upon the death of Constable's father who had left the artist well provided for. Painted at some point early on in their long courtship, the present work therefore takes on an added poignancy, given that it looks directly at the fields between Constable's family home and the rectory where many of their meetings took place. In a letter to Maria of June 1812 Constable wrote 'From the window where I am writing, I see all those sweet fields where we have passed so many happy hours together. It is with melancholy pleasure that I revisit those scenes that once saw us so happy – yet it is gratifying to me to think that the scenes of my boyish days should have witnessed by far the most affecting event of my life'. 2

1810 marks a turning point in Constable's small oil sketches of this type; they become more vigorous in their handling with much bolder brushwork and a markedly stronger palette, all of which combine to lend a greater sense of atmosphere to the landscapes depicted as compared to the more faithful representations of his earlier sketches. Two oil sketches in the Philadelphia Museum of Art, both from the John G. Johnson collection, are some of the first examples of this new departure - the aforementioned sketch, dated 30 September 1810 (inv. no. 856) and a study of a A View on the Stour: sunset (inv. no. 857), which is dated to three days earlier. As Rhyne notes of the present study 'As with others of this astonishingly original group, this sketch would not have been possible previous to Constable's dramatic 1810 innovations'3.
1 See G. Reynolds The Early Paintings and Drawings of John Constable, London, 1996, Text vol., p. 172, cat. no. 12.37, Plates vol., pl. 966
2 See R. B. Beckett ed/, Constable's Correspondence, London, 1964, Vol. II, p. 78
3 See G. Reynolds and C. Rhyne, exh. cat. John Constable, R.A (1776-1837): An Exhibition: Paintings, Drawings, Watercolors, Mezzotints, Salander O'Reilly, New York, 1988, p.17
Lot 46. Jusepe de Ribera (Jativa 1588-1656 Naples), Saint Jerome in prayer, oil on canvas, 45.1 x 34.6cm (17 3/4 x 13 5/8in). Estimate, £150,000-200,000 (€ 170,000 - 220,000). © Bonhams
Provenance: Acquired from a distinguished collection in Madrid approximately ten years ago by the current private Spanish collector.
Note: The present painting has been recently identified in a letter dated 1 October 2013, by Professor Nicola Spinosa as an authentic work by Jusepe de Ribera, relating to the artist's larger Saint Jerome which can be dated to around 1650 and was in the Crivelli Messmer Collection in Milan and is now in the Civico Museo d'Arte Antica del Castello Sforzesco, also in Milan (178 x 125 cm; see: N. Spinosa, Jusepe de Ribera. La obra completa, Madrid 2008, n. A .356, p. 477), albeit with some variations, such as the presence of the books, lower left.

After having been active at a very young age in Rome in the ambit of Caravaggio between 1609 and 1611, Ribera moved to Naples at the end of 1616, where he was one of the greatest exponents of the local trend towards naturalism in the early 17th century. In its anatomical detail and expressive qualities, Professor Spinosa writes that the present Saint Jerome presents all the qualities of the canvas in the Castello Sforzesco, as well as other works from the artist's later period.

Professor Spinosa questions if it can be established whether the present canvas can be identified as a preparatory modello for the larger composition in Milan, but suggests that it is more likely that it is an autograph replica of the composition in the Castello Sforzesco. To date, no preparatory sketches for works by this Spanish master are known conclusively, whereas it was the case that, for those most prestigious artists working in Naples between the 17th and 18th centuries (from Giovan Battista Caracciolo to Massimo Stanzione and from Luca Giordano to Francesco Solimena), replicas of some of their most successful masterpieces were often requested by patrons. Such small replicas would have been destined for more modest domestic settings for the purposes of family and private devotion.

Having examined the present work along with the Milan version Professor Spinosa locates both stylistically in the vicinity of the Saint Paul Hermit in the Musée du Louvre, which is signed and dated 1648 (?), but he also refers to two further autograph versions by Ribera which are known - a Saint Jerome Reading in the Lombard collection of Cumia in Naples, and a Penitent Saint Jerome, which differs in size (77 x 71 cm.) and composition, signed and dated 1652, which is in the Museo Nacional de Prado in Madrid (for these paintings see Spinosa, op. cit., nos. A355, A359 and A363, pp. 476-481).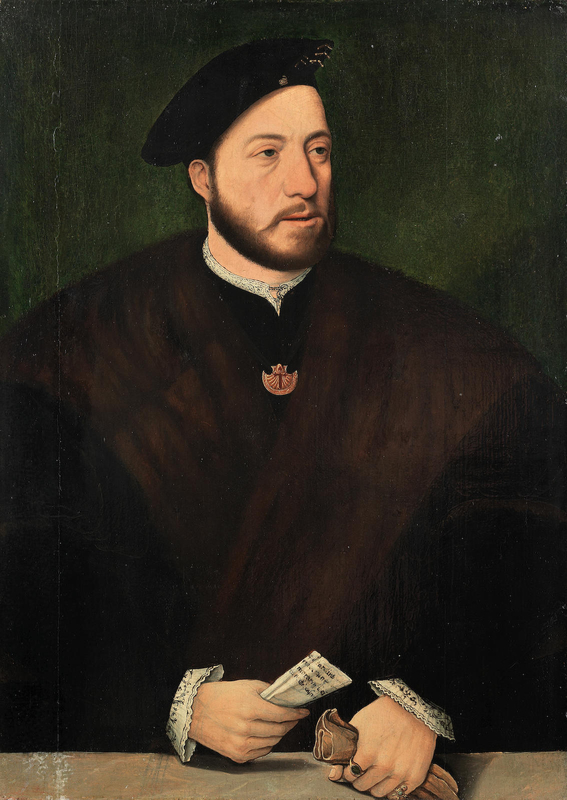 Lot 23. Ambrosius Benson (circa 1495-1550) Portrait of a gentleman, half-length, in fur-trimmed robes, holding a letter, oil on panel 42.6 x 29.9cm (16 3/4 x 11 3/4in). Estimate £100,000-150,000 (€ 110,000 - 170,000). © Bonhams
Provenance: Private Collection, Poland
With van Diemen
With Eduard Plietzsch, Germany, before 1933
Sale, Lange, Berlin, 7-9 April 1938, lot 2
Private Collection, UK, for at least 50 years.
Literature: M. J. Friedländer, Die Altniederlandische Malerei, Die Antwerpener Manieristen Adriaen Ysenbrandt, vol. XI, Leiden, 1934, p.146, no. 281
G. Marlier, Ambrosius Benson et la peinture à Bruges au temps de Charles-Quint, Damme, 1957, p. 257, 319, n. 140, ill.
Note: The format of the present panel is similar to a Portrait of a Man, 43 x 30 cm., which is in the Bayerisches Staatsgalerie, Rothenburg ob der Tauber (see: G. Marlier, ibid., p. 319, n. 142, Pl. LXXIV). Marlier suggested that it is not entirely typical of Benson and prefigured the work of Nicolas de Neufchâtel. Benson painted relatively few portraits, although they are widely considered to be his best works, in which he enlivened his sitters with individuality, bestowing on them free and varied postures. Although a chronology for much of Benson's oeuvre has proved difficult to establish, Marlier suggested a date here of circa 1540-45 on the basis of the costume.

According to Marlier, the present portrait was traditionally purported to depict a Spaniard, probably because of the gold pendant with a scallop shell which is commonly associated with Santiago. In fact, Bruges, where Benson was working at this time, had established a flourishing mutual trading relationship with the Spanish city of Segovia, which was a centre for the cloth and wool trades and the house Benson bought, partly in exchange for paintings, belonged to a Spaniard, Lucas de Castro. Moreover, Benson's closest friend and patron, Sancho de Santander, was also of Spanish extraction. The likelihood that Spanish merchants ordered and purchased paintings in Benson's workshop and sent them back to their homeland is supported by the fact that most of the artist's works ended up in Spain.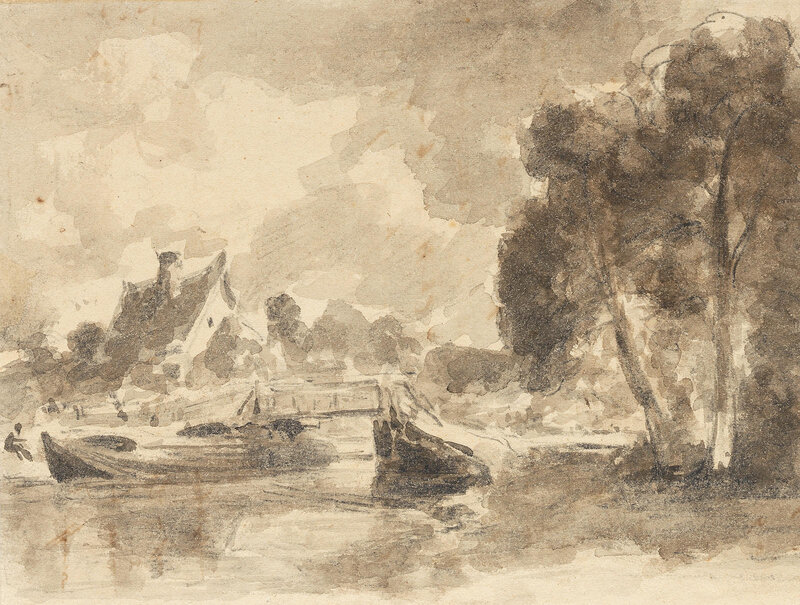 Lot 34. John Constable R.A. (1776-1837), Flatford Old Bridge and Bridge Cottage, pencil and grey wash on paper, 15 x 19.7cm (5 7/8 x 7 3/4in). Estimate, £20,000-30,000 (€ 22,000 - 34,000). © Bonhams
Provenance: With P & D Colnaghi & Co. Ltd, London (according to a label on the reverse)
The late Dr. and Mrs W. Katz, and thence by descent to the present owners

Literature: G. Reynolds, The Later Paintings and Drawings of John Constable, New Haven and London, 1996, p. 187, cat. no.27.42, ill., pl. 670

Note: Constable and his family were living in Hampstead in 1827 but in October he took the two eldest children, John Charles and Minna, to Flatford for a 12 day holiday. It appears to have been a productive few days and he completed 27 drawings during this sojourn including many studies around the Stour. Ian Fleming Williams suggests this might reflect the fact that the children wanted to play near the water or fish and he would have needed to be close by to watch them. He may indeed have been intending to paint another major work based on the Stour given the volume of detailed drawings and watercolours that he made. The present work is very closely related to a slightly larger study of the same title that Isabel Constable gave to the Victoria & Albert Museum in 1888 (see: G. Reynolds, op.cit. p.187, no. 27.41, pl.669).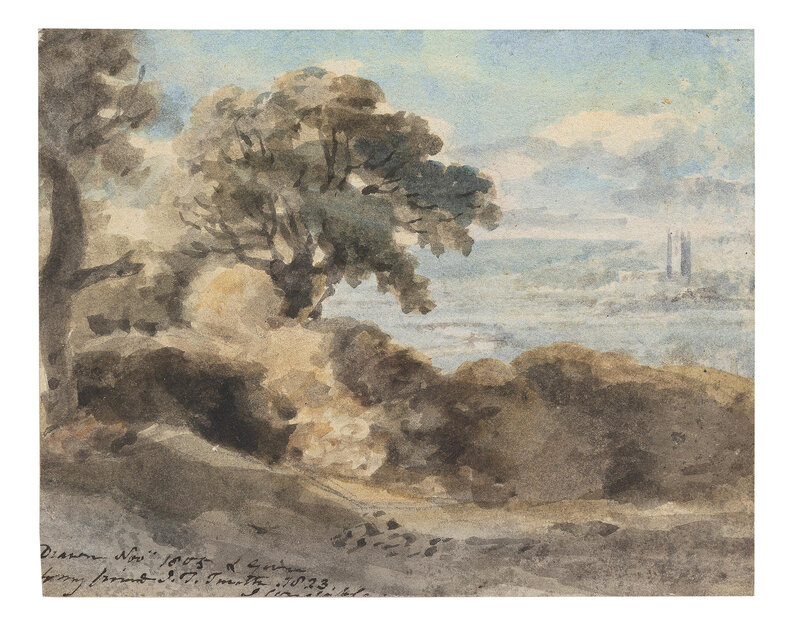 Lot 40. John Constable R.A. (1776-1837) The Vale of Dedham, signed, inscribed and dated 'Drawn Novr 1805 & given/to my friend J.T.Smith.1823/J Constable' (lower left), pencil and watercolour on wove paper with ink inscription, further inscribed 'A very fine Morning' on a separate fragment of laid paper, 13.5 x 16.9cm (5 5/16 x 6 5/8in). Estimate: £15,000-20,000 (€ 17,000 - 22,000). © Bonhams
Provenance: J.T. Smith
Sale, Sotheby's, London, 15 July 1959, lot 57, where purchased by the late Dr. and Mrs W. Katz for £280, and thence by descent to the present owners.
Exhibited: New York, Salander-O'Reilly Galleries, John Constable, R.A. (1776-1837): an exhibition: paintings, drawings, watercolors, mezzotints, 9 May- 25 June 1988, cat. no. 55

Literature: C.S. Rhyne, 'Constable Drawings and Watercolors in the Collections of Mr and Mrs Paul Mellon and the Yale Centre for British Art: Part I. Authentic Works', in Master Drawings, no. 2, Summer 1981, pp. 127-8, 140, under cat. no. 7 and p. 140, note 4, ill. fig. 1
G. Reynolds, John Constable, R.A. (1776-1837): an exhibition: paintings, drawings, watercolors, mezzotints exh. cat., New York, 1988, p. 116, cat. no. 55, ill
I. Fleming-Williams, Constable and his Drawings, London, 1990, pp. 50-1, ill., fig. 40
G. Reynolds, The Early Paintings and Drawings of John Constable, New Haven and London, 1996, p. 61, cat. no. 05.12, ill., pl. 252.
Note: The present work is one of the few sketches that Constable dated in 1805 and it is in fact the earliest dated study for his 1815 Royal Academy exhibit, The Stour Valley and Dedham Village, now in the Museum of Fine Arts, Boston (G. Reynolds, op. cit. 1996, no 15.1, pl 1221). The early months of 1805 were taken up with his first major religious commission, an altarpiece for Brantham Church, but by the autumn he was spending his time painting landscape watercolours around East Bergholt, Langham Church and Dedham Vale.

Vale of Dedham is one of 3 drawings inscribed in very similar manner that Constable gave to his friend J.T. Smith in 1823, the others being Stoke Windmill near Ipswich and a Study of East Bergholt Church (G. Reynolds, op. cit. 1996, nos 05.18 and 06.08). Smith had been a major influence on Constable in his formative years after they met at Edmonton in 1796 when Constable was working for his father, a merchant, and was staying with relatives while visiting London on business. John Thomas 'Antiquity' Smith (1766-1833) was a print maker, topographer, portraitist and drawing master, a larger-than-life figure who knew all the main players in the London art world and whose friendship must have opened a window onto a new world for Constable. Smith encouraged the younger man by sending him drawings and casts to copy as well as books, among which his own 1797 publication illustrated with etchings, Remarks on Rural Scenery, the basic tenet of which – and one shared by Constable - was that artists should find beauty in all forms of nature, no matter how humble. Smith went to stay with the Constable family in the autumn of 1798 and it is probably no coincidence that within months John left the family business and was enrolled as a student at the Royal Academy Schools.