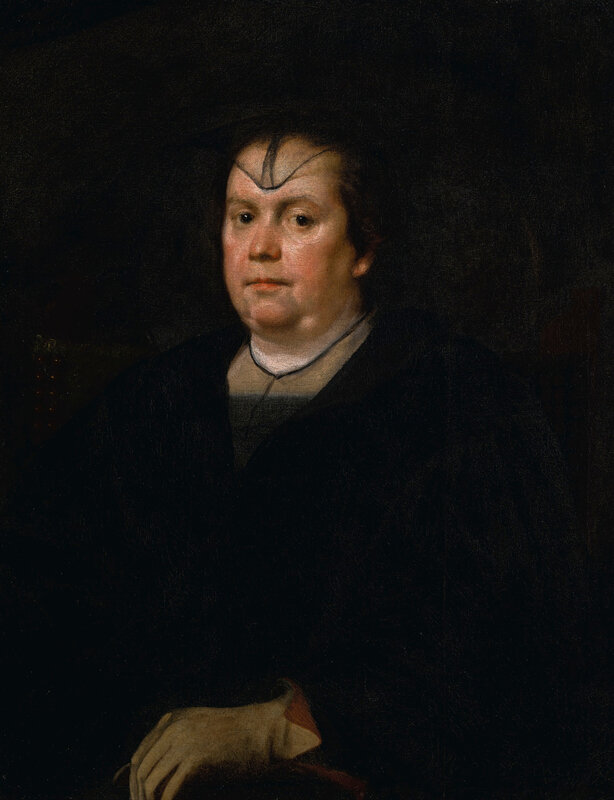 Lot 28.
Diego Rodríguez de Silva y Velázquez (Seville 1599 - 1660 Madrid), Portrait of Olimpia Maidalchini Pamphilj (1591–1657), half lenght, wearing black, the reverse bears the cipher of the Marqués del Carpio and inventory number: DGH/429, oil on original canvas (strip-lined), in a rare Spanish reverse cassetta, gilded and faux-marble frame, 77.4 x 61 cm.; 30 ½ x 24 in. Estimate

2,000,000

—
3,000,000 GBP. Courtesy Sotheby's.
LONDON.- She was the most powerful woman in 17th-century Rome. Ambitious, domineering and deeply corrupt, Olimpia Maidalchini Pamphilj – sister-in-law, reputed lover and puppet master of Pope Innocent X – controlled all aspects of Vatican life. Arguably one of the earliest feminists, Olimpia was adored by women from across the Catholic world who would crowd around her Palace and cheer her arrival, but despised by the men of the papal court who condemned the enormous influence and control she exerted over the pontiff. Ruling in all but name as the de facto Pope, this formidable woman, centuries ahead of her time, took control of one of the most powerful and male dominated institutions in European history.

On 3 July, Sotheby's will bring to auction a newly-discovered painting of Olimpia Pamphilj by Spanish master, Diego Velázquez. Lost for almost three centuries, this captivating portrait once formed part of the illustrious collection of Don Gaspar Mendez de Haro y Guzman, 7th Marques del Carpio - one of the greatest patrons and collectors of arts in 17th-century Italy. Last recorded in 1724, it subsequently disappeared without trace. The whereabouts of the painting remained completely unknown until one day, an unattributed work, sold in the 1980s as 'anonymous Dutch school', was brought into Sotheby's Amsterdam office. An intriguing old cypher hidden on the back of the painting prompted Sotheby's specialists to begin a process of research and discovery – all of which ultimately lead to the realisation that this striking portrait was the long-lost original by Velázquez: a painting much revered in its day and executed during the artist's 'golden period'.

James Macdonald, Sotheby's Senior Specialist of Old Master Paintings, said: 'The search for Velázquez's portrait of Donna Olimpia is finally over. Painted in Rome in 1650 by perhaps the greatest portrait painter of all time, this depiction of one of the most powerful and domineering woman of her time has long been recorded through early documents and engravings but was lost for nearly 300 years. Its recent rediscovery represents a highly significant addition to the great Spanish master's oeuvre and the painting can be counted amongst only a handful of works by the artist remaining in private hands today.'

Painted in 1649-50 during Velázquez's second trip to Rome, the Portrait of Olimpia Maidalchini Pamphilj (est. £2 - 3 million) will be offered at Sotheby's London on July 3rd in the context of one of the strongest Old Master sales ever staged. On view to the public from 28th June till 3rd July, it will hang alongside major works by the titans of British Art – Thomas Gainsborough, John Constable, J.M.W. Turner – as well as leading Renaissance and Baroque painters Botticelli, Pieter Brueghel the Younger and Sir Peter Paul Rubens. A newly discovered drawing by 16th century Mannerist artist Rosso Fiorentino will also be unveiled to the public for the first time.

The portrait of Olimpia belongs to a moment during which Velázquez produced some of his most celebrated masterpieces, including the Portrait of Pope Innocent X – a work that was to have a profound influence on subsequent generations of artists, culminating most famously in Francis Bacon's seminal Pope series. One of a few, and the only lady, to be selected to be painted by Velázquez during his visit, the painting depicts a stout, strong-jowled woman, and exudes the artist's unique ability to capture and convey the personalities of his sitters.
Commissioned either by, or for Olimpia herself, the painting is documented as having been in the collections of numerous notable figures of 17th and 18th century Rome, including the sitter's grandson Cardinal Camillo Massimi, a famous connoisseur and art patron, and Don Gaspar Mendez de Haro y Guzman, 7th Marques del Carpio, who by his death had amassed over 1,800 paintings for his collection, including no fewer than six paintings by Velázquez. Well documented in a number of collections thereafter, the painting was last recorded as being in the collection of Cardinal Pompeo Aldrovandi of Bologna and Rome in 1724, after which traces of the work are lost.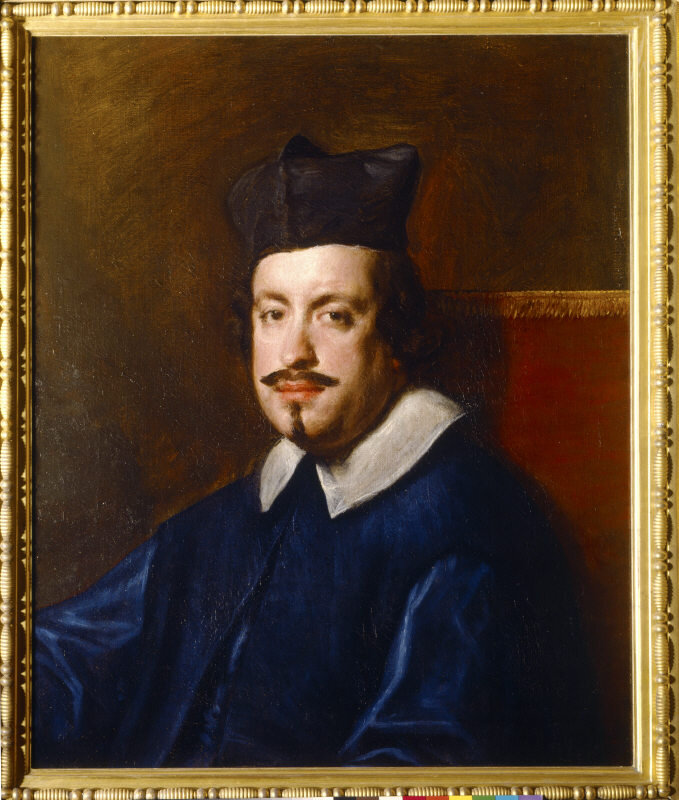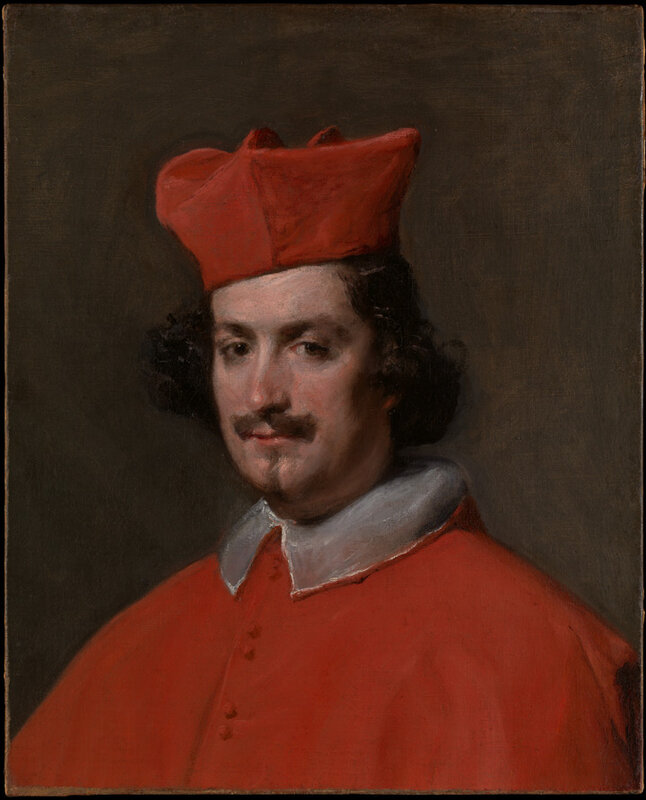 Velázquez (Diego Rodríguez de Silva y Velázquez) (Spanish, 1599–1660), Portrait of Camillo Astalli, later known as Cardinal Pamphili, ca. 1650–51. Oil on canvas, 24 x 19 1/8 in. (61 x 48.5 cm). The Hispanic Society of America, New York, NY.
Olimpia Maidalchini Pamphilj
Born into a noble family in Viterbo in 1591, Olimpia married and was widowed twice, latterly by Pamphilio Pamphilj, the elder brother of Cardinal Giambattista Pamphilj, later elected Pope Innocent X in 1644. The Pope's sister-in-law and his reputed lover, Olimpia Pamphilj was one of the most influential figures at the papal court during her brother-in-law's tenure. Her influence over the pontiff was well-known with one Cardinal, Alessandro Bichi, on the election of Innocent in October 1644, supposedly angrily declaring, "Gentlemen, we have just elected a female pope."

Eleanor Herman, New York Times best-selling author and writer of a captivating biography of Olimpia Pamphilj, 'Mistress of the Vatican' comments: 'The most powerful and notorious woman of her time, Olimpia Maidalchini was a baroque rock star. Women from all over the Catholic world came to Rome to station themselves outside her palace to cheer as her carriage rolled out. They could not believe that a female from modest beginnings had risen to such heights – running the nation of the Papal States and the Catholic Church, an institution where women were not allowed any power.'

Nicknamed 'Papessa' – the 'lady Pope', Olimpia effectively controlled appointments at Papal Court with candidates for vacant episcopal roles applying directly to her, and the office typically going to the highest bidder. In 1645 she received the title Princess of San Martino, a position she used in court to bring considerable wealth to the house of Pamphilj. Her influence subsided somewhat following the recalling by Innocent X of Fabio Chigi from Germany, who subsequently became Pope Alexander VII, however, in the last years of Innocent's life, she guarded access to him and used her position for her own financial gain.

Having constantly feared being condemned to a convent as a young woman – the fate of many a dowerless young lady of the time – Olimpia was empathetic to the plight of her own sex. Contemporary accounts describe how she gave money to women to save them from this fate, delivering provisions to convents and building hundreds of homes as dowries for girls who would otherwise not be able to marry and would be forced into a convent or prostitution. She was also said to have allowed prostitutes in Rome to ride in carriages bearing her coat of arms to indicate that they were under her protection.

Olimpia was also a patron of Roman culture sponsoring numerous artists, musicians, playwrights and sculptors and was responsible for Gian Lorenzo Bernini's Fontana dei Quattro Fiumi in the Piazza Navona in Rome designed and created for Pope Innocent X in 1651.
Alessandro Algardi (b. 1598, Bologna, d. 1654, Roma), Bust of Donna Olimpia Maidalchini, 1646-47.,Marble, height 70 cm, Galleria Doria Pamphilj, Rome.
The Discovery
The Portrait of Olimpia Maidalchini Pamphilj was last documented alongside Velázquez's celebrated portrait of her grandson, Cardinal Camillo Massimi, in the collection of Cardinal Pompeo Aldrovandi (1668 – 1752) of Bologna and Rome, in 1724. While the subsequent ownership of Camillo's portrait is well-documented through to its current location in Kingston Lacy, Dorset, records of the portrait of Olimpia end with Aldrovandi. The only clue to its whereabouts for almost 300 years before it re-appearance at a Dutch auction house in 1986, is an old custom stamp on the reverse of the former stretcher, indicating that the painting had left Italy in 1911.

Brought to the attention of Sotheby's specialists in Amsterdam who immediately recognised the mysterious cypher on the back of the painting as that of Don Gaspar Mendez de Haro y Guzman, 7th Marques del Carpio, the process of establishing the true creator of the work began in earnest. Viewing the painting and tracking down various inventories from the 17th and 18th centuries, Sotheby's Senior Specialist, James Macdonald, soon suspected that this striking portrait could be the hitherto missing original by Velázquez. Showing the painting to key experts in the field, the attribution of the work was confirmed, making the portrait one of only a handful of paintings by the great Spanish artist left in private hands.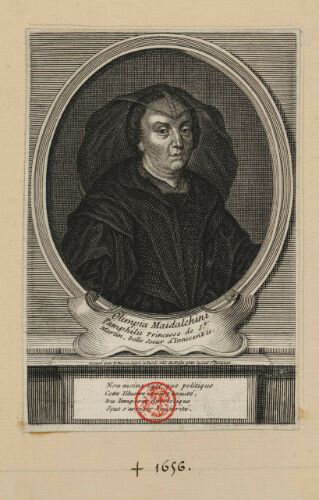 Guillaume Vallet, Portrait of Olimpia Pamphilj, 1657. Engraving.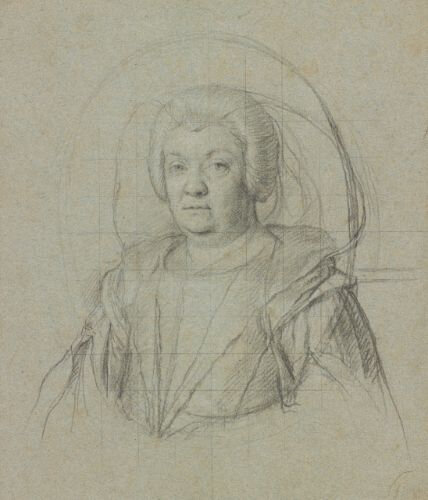 Giovanni Battista Salvi, called Il Sassoferrato, Portrait of Olimpia Pamphilj. Drawing. Pierpont Morgan
Another great discovery: a rare, long-lost drawing by Rosso Fiorentino
Scrolling through a batch of images sent through from around the world via Sotheby's online valuation tool Cristiana Romalli, Senior Director and Italian specialist in Sotheby's Old Master Drawings Department, paused at an intriguingly accomplished sketch. It looked to her like an accomplished work by major Mannerist artist, Rosso Fiorentino, whose drawings are extremely rare. Cristiana retired home to read Giorgio Vasari's 'Lives of the Artists', chronicling the lives of the leading Italian artists of the early 16th-century. And there she found a reference to this work, since then unrecorded – lost from the canon of art history.
Vasari describes how, in 1524, Rosso set out from Florence to Rome, in search of work. He stopped en route in his home town of Arezzo, where he caught up with his old friend Antonio Lappoli (1492-1552). Lappoli – a less successful artist than Rosso – had just been asked to complete a major commission in Arrezzo: a rendering of the Visitation, for the family chapel of a wealthy Aretine citizen. Lappoli turned to his friend Rosso for help and inspiration, and Rosso, forever generous, worked up this beautifully accomplished composition, which Lappoli then used as the basis for his painting.

The beautiful drawing by Rosso – described by Vasari as molto bello – was believed by scholars to be lost. Its re-emergence now adds significantly to our understanding of the working methods of an artist known for his eccentricity, and expressive, unconventional style. Only the second drawing by Rosso to have appeared on the market in over half a century, its survival and fine state of preservation is nothing short of miraculous. That it has clearly been handled with care over the last 500 years is perhaps largely thanks to an old attribution to Michelangelo, penned on the back of the drawing in a 17th-century hand; partly too because it has enjoyed the lucky fate of having, since the 18th century, just one careful family of owners.

Watch Cristiana Romalli talk about the process of discovery here. The drawing will be offered as a highlight of Sotheby's Old Master and British Works on Paper sale on 3 July.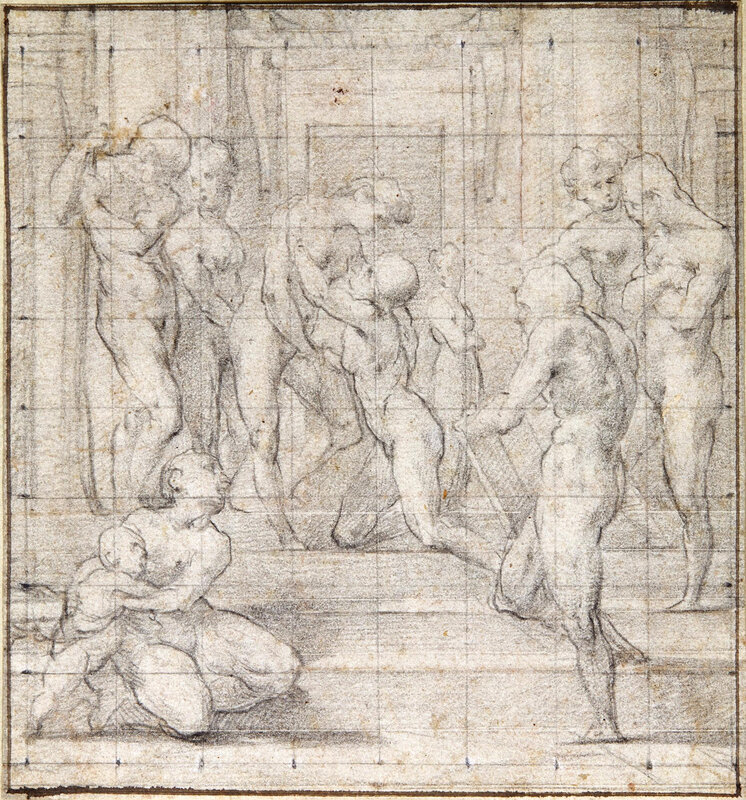 Lot 307.
Giovanni Battista di Jacopo Rosso, called Rosso Fiorentino (Florence 1494 - 1540 Fontainebleau), The Visitation. Black chalk and stylus over the architectural setting, squared for transfer in black chalk and stylus, within grey pen and ink framing lines; bears an old attribution, probably 17th-century, in pen and brown ink, verso: Michellangelo, 126 by 119 mm. Estimate

500,000

—

700,000
GBP. Courtesy Sotheby's.
Provenance: August Christian Hauck, Rotterdam (1742-1801),
thence by descent to the present owner.
Literature: G. Vasari, Le Vite de' più eccellenti Pittori scultori ed architettori…., 2nd. ed., Florence 1568, vol. III, p. 383;
D. Franklin, 'Documents for Giovanni Antonio Lappoli's Visitation in Sante Flora e Lucilla in Arezzo, Mitteilungen des Kunsthistorischen Institutes in Florenz, 41, 1/2 (1997), pp. 199-201 (as 'not survived').
Note: Works on paper by Rosso Fiorentino are extremely rare and in the last fifty years no other compositional study by the artist has appeared on the art market. In the history of sixteenth century Italian art, Rosso holds a very special and unique place, mostly due to his eccentricity combined with an expressive and unconventional pictorial manner. Anti-classicist and surprisingly daring, his innovative paintings are very close to our modern aesthetic.
This previously anonymous study is an important and vital addition to his corpus of drawings, and one which can be definitively linked to an existing and documented commission. Moreover, it is extraordinary that this preparatory drawing is fully described as the work of Rosso Fiorentino by the painter and biographer Giorgio Vasari (1511-1574) in his life of a lesser known Aretine painter, Giovanni Antonio Lappoli (1492-1552).1 According to Vasari, Lappoli seems to have benefited during his artistic career from the help of several distinguished and talented friends, among them not only Rosso, but also Pontormo, Perino del Vaga, Giulio Romano and Parmigianino.2 Vasari and Lappoli were both natives of Arezzo, so it is perhaps not surprising that the famous biographer wanted to promote the cultural and artistic life of his city by dedicating a significant amount of text to a detailed account of the life of a relatively minor artist. Vasari would also use his account of Lappoli as an excuse to record some of his own works in their hometown.
The first altarpiece by Lappoli mentioned by Vasari in the Vite is a Visitation, a panel commissioned by a wealthy Aretine citizen, Cipriano d'Anghiari, for his family chapel in the Badia of Sante Flora e Lucilla, in Arezzo (fig. 1).3 The panel was completed by Lappoli with a lunette representing God the Father, now lost. The altarpiece remains to this day in the same church, though it is likely to have been moved from its original chapel.
Shortly after the election of the new Medici Pope, Clement VII (1523-1534), Rosso went to Rome in the hope of receiving some significant commissions, now that a Florentine pontiff was in power. On his way he stopped in Arezzo and stayed with his friend Giovanni Antonio Lappoli. Vasari writes: 'Passando intanto per Arezzo il Rosso che se n'andava a Roma, ed alloggiando con Giovanni Antonio suo amicissimo, intesa l'opera che aveva tolta a fare, gli fece come volle il Lappoli, uno schizzetto tutto d'ignudi molto bello: perchè messo Giovann'Antonio mano all' opera, imitando il disegno del Rosso, fece della detta tavola la Visitazione di Santa Elisabetta, e nel mezzo tondo di sopra Dio Padre……. ' ('On his way to Rome he stopped in Arezzo and stayed with his very close friend Giovanni Antonio, and having understood the requirements of the commission, Rosso did as requested by Lappoli a small sketch of naked figures, very beautiful: starting the work and following the drawing Giovann'Antonio executed the panel with the Visitation of St. Elizabeth, and in the lunette God the Father with some putti….').4
The beautiful study with 'ignudi molto bello', described in the passage above, was believed by scholars to be lost, but can now unquestionably be identified as the present drawing. It is extraordinary that it has survived and is preserved in such good condition, despite its importance being unrecognized for so long. Two factors may have contributed to its preservation: it bears on the verso an old attribution to Michelangelo (probably 17th century), and it has stayed in the same family since the 18th century (see Provenance, and below).

The drawing is delicately executed in black chalk and handled with great sensitivity. It conveys a sense of energy in the posed naked figures illuminated by a raking light, falling from the right, enhanced by the skilful use of chiaroscuro. The black chalk contours are in places sharper and more incisive, while a soft shadowing suggests subtle variations in the bodies and in the space around them. The ten-figure composition, almost square in format, is completed by an elegant architectural setting. The scene evolves mostly on the steps outside a classical building, and the focus is on the two main central figures: The Virgin Mary and the kneeling St. Elisabeth meeting in front of the doorway decorated by a marble architrave. Two openings – possibly windows – are suggested both sides of the central entrance. The architectural setting has been partly indented with a stylus and the sheet is squared with black chalk and stylus for transfer.
Although Lappoli largely followed Rosso's design very accurately, his painted altarpiece does show certain interesting and important changes. These must have been at the behest of the patron Cipriano d'Anghiari, who also surely requested some of the striking compositional elements that are present in both drawing and painting, such as the prominent presence of the figure of King David in the immediate right foreground. The woman and child seated in the left foreground in the drawing are, however, substituted, in the painting, by the figure of Mary Magdalene holding her ointment jar. The two pairs of figures to the left and right of the central scene (St. Joseph with a maidservant carrying a bundle on her head, and on the opposite side two unidentifiable female figures) remain almost unchanged in the painted version. Moreover, while in the background of the drawing we see emerging from the doorway another unidentifiable female figure, in the painting there is a Saint who accompanies a man in contemporary dress, bearing a sword, possibly, as David Franklin has suggested, the donor with his namesake saint, the Bishop St. Ciprian.5
This work must have been commissioned just before Rosso's presence in Arezzo in 1524 and it was completed two years later in 1526. In 1997, David Franklin published new documents relating to this commission (see Literature) which provided us with more specific dates for the construction of the chapel and for the completion of Lappoli's altarpiece and lunette. On 10 October 1521, a site for the chapel dedicated to the Visitation was conceded to Cipriano d'Anghiari by the Benedictine monks of Sante Flora e Lucilla. Vasari informs us that the architectural setting for Lappoli's panel and lunette was executed in stone, and was designed by Guglielmo Marcillat, a French artist better known as a stained-glass painter.6 Moreover, the biographer quotes the price of 'cento scudi' (one hundred florins) to be paid to Lappoli for his altarpiece, though this information seems to be contradicted by other documents published by Franklin. In fact, one of these, dated 19 March 1526, elects two experts to establish a final price for Lappoli's completion of the painted work in the chapel: Guglielmo Marcillat and Domenico Pecori. From this document and another, written a few days later, which records the assessment of the two artists, we are aware that the altarpiece and its lunette were completed by March 1526.7
Rosso would return to Arezzo in 1528, on that occasion staying in the house of another young painter, Benedetto Spadari. According to Vasari, with the help of Spadari and his old friend Lappoli, Rosso received, on the 24th of November, the commission for a series of frescoes for the atrium of the Aretine church of Santa Maria delle Lagrime. In relation to the preparation of these frescoes – never executed – Vasari mentions another preparatory drawing with nudes, 'studio d'ignudi', now lost.8 It is possible that Rosso was already in Arezzo in March of that year, in connection with his attempt to win this commission, and met the young Vasari for the first time. In September 1529 he left Arezzo during a rebellion against the Florentines, who ruled the city, and fled to Borgo San Sepolcro.
Not long afterwards, Rosso was called to the service of the French King François 1er, moving to Fontainebleau by November 1530. He would never return to Italy and his style would shape the artistic future of France. An accomplished and innovative master, he was well placed to satisfy the taste and ambitions of such a Royal patron, and his ten years in France, before his death in 1540, were to be the most productive of his career.
The reappearance of this rare preparatory study is extremely instructive, and adds significantly to our understanding of Rosso's working method. It is also a testament to Rosso's reverence and admiration for the work of Pontormo, in particular the artist's fresco of the same subject in the atrium of the church of the Santissima Annunziata in Florence, executed around a decade earlier, in 1514-1516. The drawing is also a striking record of the standard Renaissance practice of studying figures initially in the nude, and only clothing them at a later stage. The extreme delicacy of the execution, and the subtle use of light to modulate the forms of the naked bodies, in contrast to the sharper and more angular lines with which they are accented, demonstrate Rosso's incredible skill as a draughtsman, and anticipate his extraordinary instinct for colours, which are so very sharp and vivid in his paintings.
What is perhaps most extraordinary about his drawings, so clearly visible in the present sheet, is Rosso's analytical eye and his exposure of human truth through close observation, expressed with clarity and combined with the most sophisticated and elegant use of the medium. Vasari, in Rosso's life, records that there was hardly a day that passed without Rosso drawing from the nude model, but unfortunately almost all of his graphic work has been lost over the intervening centuries.9
This sheet was acquired by the artist A.C. Hauck (1742-1801) and formed part of his collection of old master drawings. At his death the drawings were inherited by the painter's family with the contents of his studio, thereafter passing by descent through the generations to the present owner. Hauck was born in Mannheim, where he received art lessons from his father J.J. Hauck (c.1694-c.1769). He worked after 1756 mainly as a portrait painter in several cities, including Krefeld and 's-Hertogenbosch, before establishing himself in Rotterdam. In 1778 he was nominated as instructor to the art society and drawing academy "Hierdoor tot Hooger", and it is likely that Hauck used his own collection of drawings to teach his students.
1. See Literature; for a more readily available edition, see G. Vasari, Le Vite de' più eccellenti Pittori scultori ed architettori…., ed. G. Milanesi, Florence 1881, vol. VI, p. 9
2. Ibid., p. 10
3. Ibid., p. 9
4. See note 1
5. Franklin, op. cit., p. 199
6. G. Vasari, op. cit., vol. IV, Florence, 1879, p. 429; Marcillat is first documented in Arezzo on 31 October 1516, designing the stained-glass windows for the Cathedral.
7. Franklin, op. cit., pp. 197-9
8. Vasari, op. cit., vol. V, p. 164
9. Ibid., vol. V, p. 166