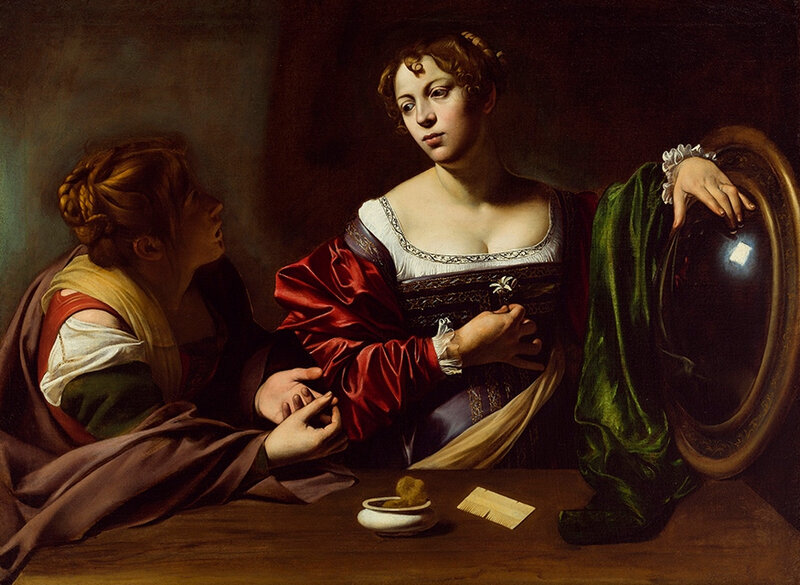 Michelangelo Merisi da Caravaggio, Martha and Mary Magdalene, c. 1598, oil and tempera on canvas, Detroit Institute of Arts, Gift of the Kresge Foundation and Mrs. Edsel B. Ford, 73.268.
DALLAS, TX.- This summer, visitors to the Dallas Museum of Art have the rare opportunity to see an extraordinary work by the Old Master painter Caravaggio. One of the most influential figures in the history of European art, he is renowned as one of the greatest Baroque painters of the 17th century along with Rubens, Velázquez, Rembrandt, and Poussin. Fewer than 10 paintings by Caravaggio are housed in the US, on view in the collections of only six museums.
Martha and Mary Magdalene (c. 1598), on loan to the DMA from the Detroit Institute of Arts, is a masterpiece from Caravaggio's early career in Rome. The painting depicts Mary Magdalene, considered by the Catholic Church at the time to be a prostitute, experiencing a spiritual awakening as her sister Martha counts on her fingers the reasons she should convert. Caravaggio conveys the moment of Mary's conversion—a challenging subject—through his treatment of light, which casts a divine glow on the reformed sinner.
On view June 23–September 22, 2019, Caravaggio: Martha and Mary Magdalene is curated by Julien Domercq, the DMA's new Lillian and James H. Clark Assistant Curator of European Art, who joined the Museum last month after serving as the Vivmar Curatorial Fellow at the National Gallery in London from 2016 to 2018. Domercq's appointment includes a focus on the DMA's Old Master collection, rethinking its presentation and interpretation in the galleries and strategizing on collection growth in this area. This is his first exhibition project at the DMA and it is included in free general admission.
Michelangelo Merisi da Caravaggio (1571–1610) was active in Italy between 1592 and 1610. He revolutionized painting and laid the foundation for 17th-century Baroque art through his theatrical compositions and gritty realism observed from life. At the heart of Caravaggio's groundbreaking style are his reduced color schemes, somber backgrounds, and dramatic lighting effects produced by sharp light and dark contrasts (chiaroscuro). The artist's creation of a shallow, stage-like setting pushes the figures up close to the viewer, as though the event is unfolding in our own space and time.
Visitors can learn more about the life, career, and importance of Caravaggio in a series of public programs from July through September. Confirmed events, with more to come, can be found at DMA.org.