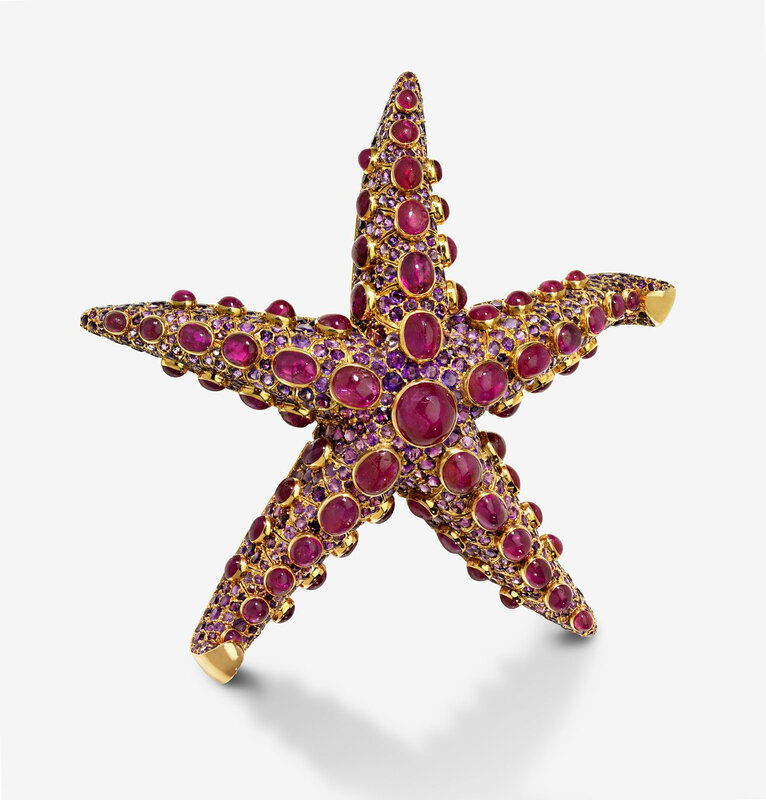 Starfish brooch. Designed by: Juliette Moutard (French). For: René Boivin (French, founded in 1890). Fabricated by: Charles Profilet (French). Worn by: Claudette Colbert (American (born in France), 1903 – 1996), French, 1937. 18‑karat gold, ruby, amethyst. Photograph © Museum of Fine Arts, Boston.
BOSTON, MASS.- The Museum of Fine Arts, Boston, has acquired an iconic piece of jewelry: a gold, ruby and amethyst starfish brooch made in 1937 by the Parisian house René Boivin and once owned by the Hollywood star Claudette Colbert. Designed in 1935 by Juliette Moutard, the ornament is lifelike in both scale and movement, with each of its five arms fully articulated to mimic the crawling movement of a real starfish. The brooch's extraordinary design, craftsmanship and history make it a significant addition to the MFA's growing collection of 20th-century jewelry.

The brooch was produced at René Boivin under Jeanne Boivin, who took over her husband's namesake company following his death in 1917, making her the first woman to ever direct a French jewelry house. Madame René Boivin—as she insisted on being known professionally—worked with Moutard and her predecessor Suzanne Belperron to codify a bold, avant-garde look in jewelry. The starfish brooch has been described as the firm's most famous jewel, and the piece acquired by the MFA was the first of four known ruby-and-amethyst versions produced under Boivin and Moutard's direction. Today, the object remains stored in its original brown suede box.

Claudette Colbert purchased the brooch from Boivin in 1937, two years after winning the Academy Award for Best Actress for her role in It Happened One Night. She was Hollywood's highest-paid actress at the time, and her sartorial choices—including pinning the distinctive starfish brooch to the shoulder of a coat or the collar of a dress—were closely followed in both film and fashion publications.