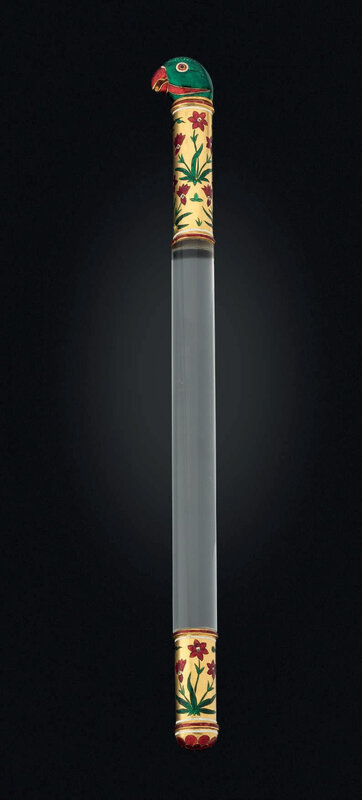 Lot 266. Enamelled gold fittings from a staff or rod, North India, circa 1650. Upper section 3 ¼ ins. (8.3 cm.) long; lower section 1 ¾ ins. (4.5 cm.) long. Estimate USD 300,000 - USD 500,000. Price realised USD 350,000. © Christie's Images Ltd 2019.
Tip in the shape of a parrot head, decorated in green, red, white, yellow and black enamels, with modern rock-crystal mount.
Exhibited: The Miho Museum, Koka 2016, p.84, no.54
Grand Palais, Paris 2017, p.151, no.113
The Doge's Palace, Venice 2017, p.181, no.119
The Palace Museum, Beijing 2018, p.207, no.123
de Young Legion of Honor, San Francisco 2018, p. 101, no. 41.
Note: Staffs of this kind were often carried by senior officials at the Mughal court. Royal paintings such as folio 43b in the Windsor Padshahnamadated to circa 1635 includes a similar example (Beach, Koch and Thackston, 1997, no. 5, pp. 28-29). The delicate floral motifs in basse-taille enamelling are representative of both the architectural decorations and illustrated borders with similar patterns dating from the first half of the seventeenth century.
Parrots hold a strong symbolic presence in both Persian and Mughal arts. By the 16th century, they were already, from centuries earlier, associated with Indo-Persian storytelling and literary eloquence. They were a symbol that would have been recognised by any cultured person in Mughal India, the Deccan Sultanates and Safavid Iran. The Tutinama (Tales of the Parrot) which is a 14th century Persian series of stories was an extremely popular text in the Mughal court. A lavish illustrated copy including 250 illustrations was commissioned by the Mughal Emperor Akbar at the end of the 16th century.
The central section is set with a modern rock crystal mount.
Christie's. Maharajas & Mughal Magnificence, New York, 19 June 2019