LONDON.- This summer, Sotheby's will present a roll-call of the greatest names in Western art history at its flagship Old Masters Evening Sale on 3 July. With an overall estimate of £4665.9m/ $59.5-83.7m, the sale next week is one of the strongest sales ever staged in this category, both in value as well as in the quality of works on offer. From some of the finest works by the three key British landscape painters remaining in private hands, to masterpieces and newly discovered works by Renaissance and Baroque masters, the sale features works by the biggest household names spanning six centuries.
Lot 22. Thomas Gainsborough, R.A. (Sudbury 1727 - 1788 London), Going to Market, Early Morning, oil on canvas, 121.8 x 147.2 cm.; 48 x 58 in. Estimate: £7,000,000 — 9,000,000. Courtesy Sotheby's.
Going to Market, Early Morning is unquestionably one of Gainsborough's finest masterpieces remaining in private hands, and one of the finest eighteenth century British landscapes by any artist ever to likely come to market.

Painted in 1773 it is one of an important group of three major landscapes Gainsborough painted at this period that deals with the subject of travellers going to or returning from market. The subject and composition of the picture demonstrates Gainsborough's natural affinity with, and sympathy for the rural poor and includes one of his favourite themes – rustic lovers in an idealised rural setting.

Beautifully evoking the early morning journey to market of rural folk as they rise out of the still misty valley into the watery sunlight, this painting acclaimed by scholars and widely praised is one of the artist's most ravishing landscapes.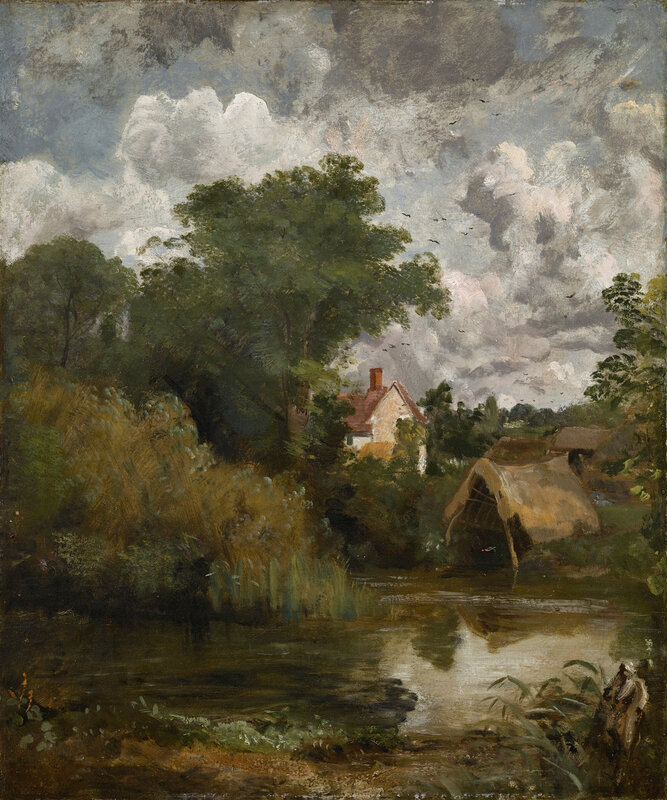 Lot 23. John Constable, R.A. (East Bergholt, 1776 - 1837 Hampstead), Study for 'The White Horse', oil on canvas, 61 x 50 cm.; 24 x 19 3/4 in. Estimate: £2,000,000 — 3,000,000. Courtesy Sotheby's.
A rare and important compositional study for one of the most celebrated paintings of the English Romantic Movement - The White Horse, which now resides at The Frick, New York.

The painting that launched John Constable's career, The White Horse was the first of Constable's great 'Six-Footers' which cemented the artist's contemporary fame and which defined his art for generations. Created in 1819, the painting was immediately a critical success and led to the artist being voted an Associate of the Royal Academy the same year. Unlike most of Constable's major landscapes, for which he produced numerous sketches and went through several drafts before settling upon the final composition, only a small number of preparatory works relating to The White Horse are known.

Possibly painted en plein air the oil sketch shows Constable responding directly to the landscape, capturing the atmosphere of the River Stour, as well as the topographical detail.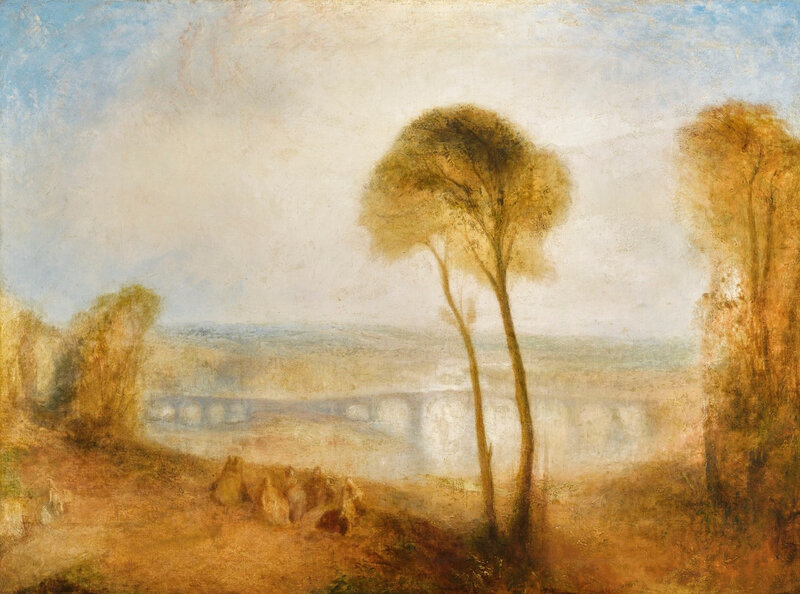 Lot 11. J.M.W. Turner, R.A. (London 1775 - 1851), Landscape with Walton Bridges, oil on canvas, 87.5 x 118 cm; 34 ½ x 46 ½ . Estimate: £4,000,000 — 6,000,000. Courtesy Sotheby's.
One of a small group of ten or so proto-impressionist late pictures by the artist left in private hands, Landscape with Walton Bridges comes to the market for the first time in over 35 years. The central motif - Walton Bridges - is one that the artist had treated twice before in oils, in 1806 and 1807. Clearly a subject with significant meaning to him, in this work he sets the bridge in an idealised, Italianate landscape of his own imagining.

Essentially explorations of the effects of light, Turner created the late works for himself, rather than for exhibition or for sale, retaining them for the development of his art. With their bold application of colour, their treatment of light and their deconstruction of form, these late works revolutionised the way the painted image was perceived and are considered to be the artist's supreme achievement, and the pictures upon which his artistic significance ultimately rest.
**Old Master & British Works on Paper Sale**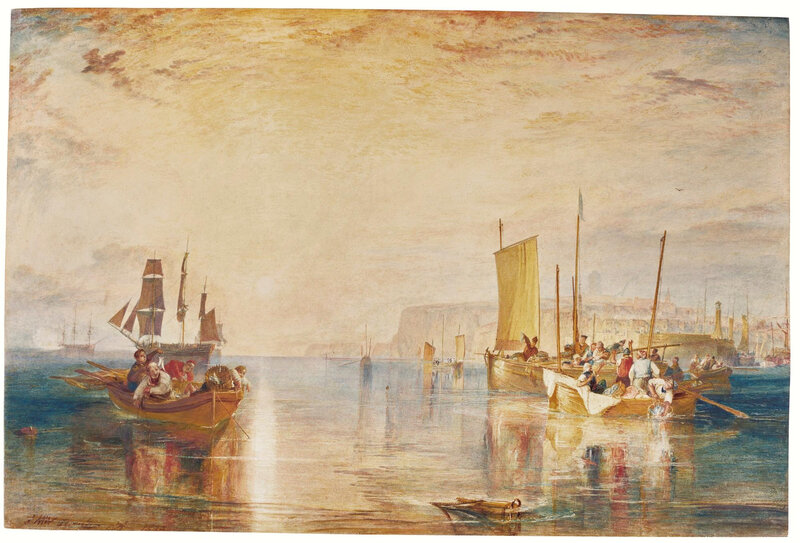 Lot 417. J.M.W. Turner, R.A. (London 1775 - 1851), Sun-rise. Whiting Fishing at Margate, 1822. Watercolour over pencil, heightened with bodycolour, scratching out and stopping out; signed and dated lower left: J.M.W. Turner 1822, 426 by 648 mm. Estimate: £800,000 – 1.200,000. Courtesy Sotheby's.

A celebrated picture which sees the artist working at the height of his powers and on a grand scale, Sun-rise. Whiting Fishing at Margate is one the greatest and most beautiful Turner watercolours to remain in private hands.

Positioning himself off the Kentish coast at Margate, a town he had first visited as a small boy and which he regularly returned to throughout his life, Turner looks east in this painting, directly into a mesmeric sunrise, whose magical light gives warmth to everything it touches, before exploding into a myriad of colours on the glass-like surface of the sea. On the left, far in the distance, a guardship announces the dawn by firing its morning gun, while in the foreground, fishermen have already struck lucky and are excitedly hauling in a plentiful catch. Through the cluster of small vessels, the town itself can be made out.
Great Baroque Pictures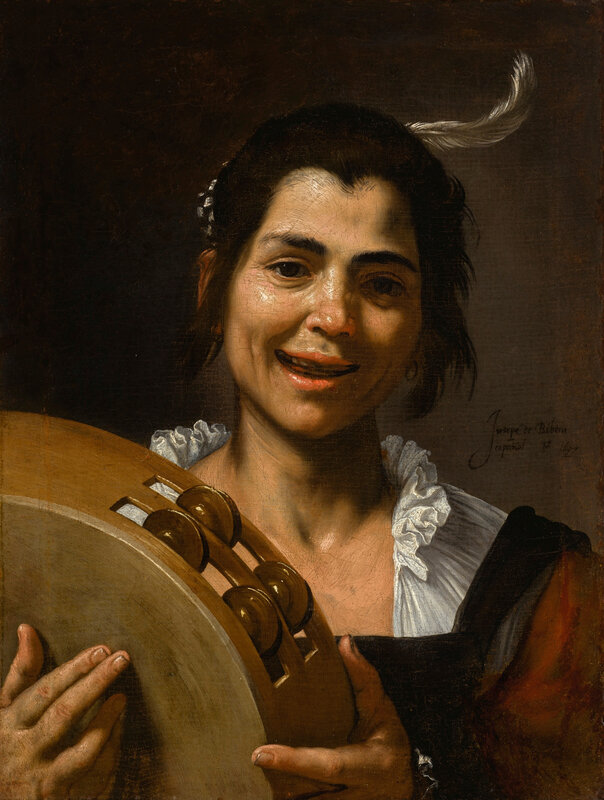 Jusepe de Ribera, called lo Spagnoletto (Játiva, Valencia 1591 - 1652 Naples), Girl with a Tambourine, signed and dated centre right: Jusepe de Ribera/ español F. 1637, oil on canvas, in a Spanish 18th-century frame, 59.5 x 45.5 cm.; 23 3/8 x 17 1/2 in Estimate: £5,000,000 — 7,000,000. Courtesy Sotheby's
One of Ribera's most celebrated paintings, this arresting depiction of a girl singing a tune while tapping a tambourine embodies his extraordinary powers of expressive characterisation. Probably one of five works originally depicting the five senses, Girl with a tambourine encapsulates Ribera's inimitable contribution to the imagery of music-making by merging allegory and genre, as well as portraiture, into one remarkable image. Dated to 1637, this painting also features the artist's characteristic loyalty to his Spanish roots, signed 'Ribera español'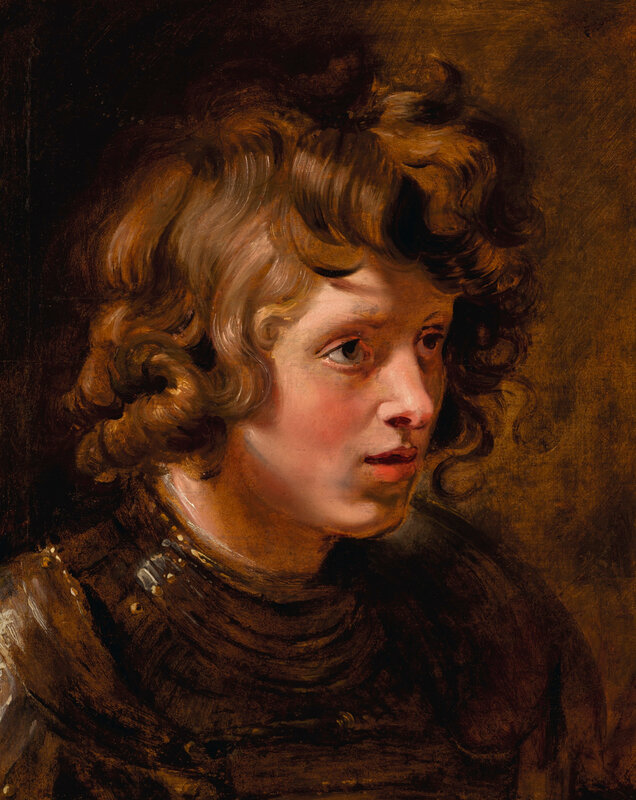 Lot 17. Sir Peter Paul Rubens (Siegen 1577 - 1640 Antwerpt), Head of a Young Warrior, oil on oak panel, 50.8 x 41.5 cm.; 20 x 16 3/8 in. Estimate: £2,500,000 — 3,500,000. Courtesy Sotheby's.
Painted in the early 1610s, Head of a Young Warrior shows Rubens in complete control of his medium, his brush, and his subject. The characteristically vivacious and energetic study was most likely kept in the artist's studio as a prop throughout his life for use in larger compositions, including his painting of Saint Ambrosius of Milan barring Emperor Theodosius from entering the Cathedral in Milan, painted circa 1615-1617, now in the Kunsthistorisches Museum in Vienna.
Lot 8. Johann Liss (Oldenburg circa 1595/1600 - 1631 Verona), The Temptation of Saint Mary Magdalene, oil on canvas, 98.8 x 125.8 cm.; 38 7/8 x 49 1/2 in. Estimate: £4,000,000 — 6,000,000. Courtesy Sotheby's.
One of the finest examples of the artist's work to remain in private hands, this captivating depiction of the Magdalene choosing Salvation over Temptation marks Liss as one of the most fascinating painters of the entire 17th century. The painting sees the artist add a personal twist to the traditional iconography of the penitent Magdalene, portraying her turning away from worldly temptation towards an angel in a design that recalls traditional Netherlandish renderings of the Choice between Vice and Virtue.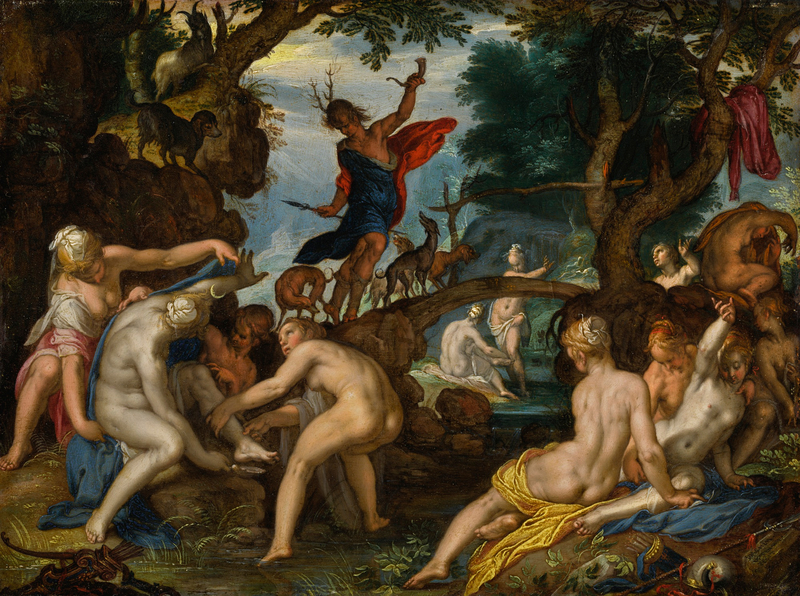 Lot 14. Joachim Antonisz Wtewael (Utrecht 1566 - 1638), Diana and Actaeon, signed and dated lower right: Joachim./ wten.wael fecit/ 1608, oil on copper, 15.9 x 21.3 cm.; 6 1/4 x 8 3/8 in. Estimate: £4,000,000 — 6,000,000. Courtesy Sotheby's
Joachim Antonisz Wtewael was the supreme exponent of the last great phase of mannerist painting in northern Europe and the most important in the Netherlands of mythological cabinet pieces painted on copper.

The intimate scale of this panel, combined with the meticulous detail and smooth finish afforded by the copper's surface, mark it as a work intended for personal enjoyment by the spectator, who can appreciate the excitement of the extraordinary myth in tandem with the erotic elegance of its forms.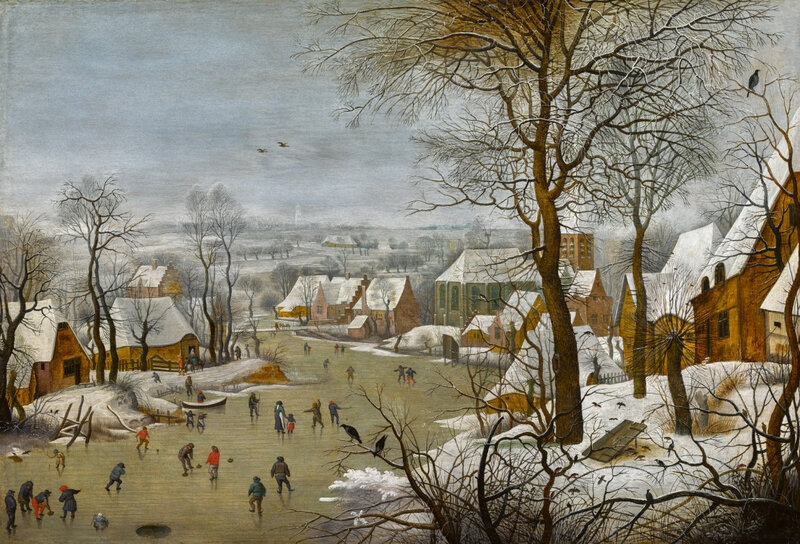 Lot 15. Pieter Brueghel the Younger (Brussels 1564 - 1637/8 Antwerpt), Winter Landscape with a bird trap, signed and indistinctly dated lower right: P.BREVGHEL 1622, oil on oak panel, the reverse incised with the panel maker's mark of a clover leaf for Michiel Claessens, the year stamp A for 1621–22, and branded with the coat-of-arms of the city of Antwerp, 38.6 x 56 cm.; 15 1/4 x 22 in. Estimate: £1.500,000 – 2,000,000. Courtesy Sotheby's.
One of the best loved of all the Brueghel compositions and, in its beautiful evocation of a winter's day, one of the most enduring images in Western Art. This particular version of the Bird Trap is one of only a small handful that is both signed and dated by Pieter Brueghel the Younger himself, as well as being one of a few to include the figures of the holy family on the far bank.
18th Century Masterpieces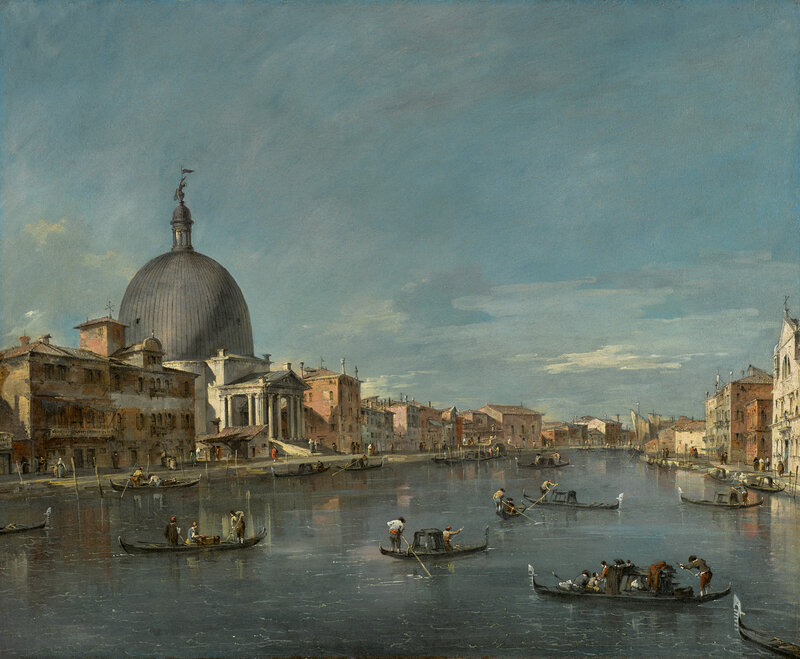 Lot 10. Francesco Guardi (Venice 1712 - 1793), The Grand Canal, Venice, with San Simeon Piccolo, signed centre left: Franco./ Guardi, oil on canvas, 65.3 x 79.5 cm.; 25 3/4 by 31 3/8 in. Estimate: £1,000,000 – 1.500,000. Courtesy Sotheby's.

Only very recently brought to light for the first time, this beautiful depiction of the Grand Canal is a mature work by Francesco Guardi, most probably painted in the 1770s. The far north-western stretch of the Grand Canal, dominated by the neoclassical church of San Simeone Piccolo and its great dome, though not the most famous of Venetian views, was often chosen by Guardi as a subject for his paintings. This canvas is one of a small group of closely related vedute, probably also painted in the same decade and taken from the same viewpoint; it is moreover the only signed example known, and certainly the finest to remain in private hands.

Its subtle colour harmonies of creams, pinks, blues and greys, and its wonderful capture of the atmospheric qualities of Venetian light attest to Guardi's mastery of his subject, but equally noteworthy are his closely observed details of everyday life upon the canal.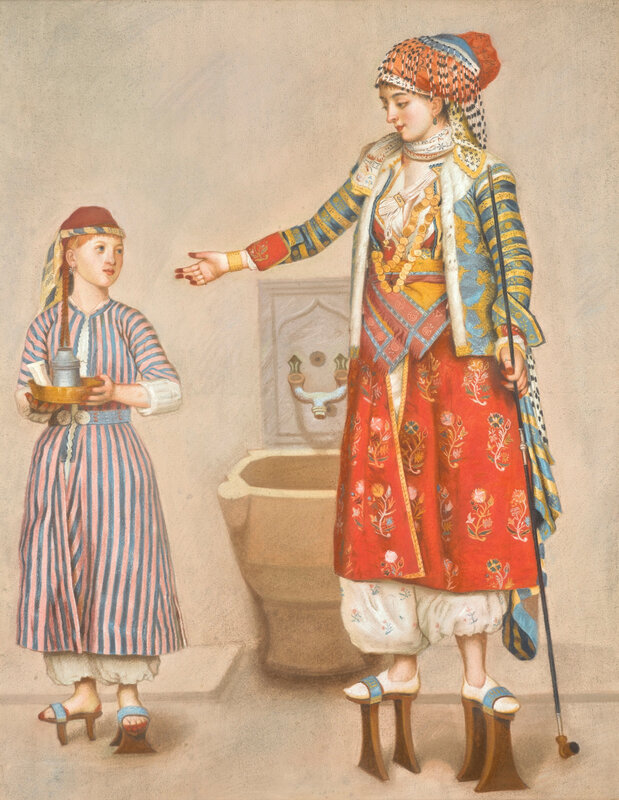 Lot 33. Jean-Etienne Liotard (Geneva 1702 - 1789), A Woman in Turkish costume in a Hamam instructing a servant, pastel on paper, laid down on canvas, 703 x 563 mm. Estimate: £2,000,000 – 3,000,000. Courtesy Sotheby's.
This exceptional pastel is one of the most famous images created by Liotard, whose endeavours in exotic subjects such as this would have excited the senses of the 18th century viewer, providing a window into a different world. Though his ties with his native Switzerland never wavered, there was perhaps no other 18th-century artist who was more truly cosmopolitan, with Liotard working in almost all the main cultural centres of Europe over a career that spanned six decades.

His works in his preferred medium of pastel are often of startling technical and compositional originality. This portrait encapsulates all of the technical brilliance and timeless mystery that underpin Liotard's genius and enduring appeal
Medieval and Renaissance

Lot 4. Sandro Botticelli and Studio (Florence 1445 - 1510), Madonna and Child, seated before a classical window, oil on panel, 76.9 x 49.1 cm.; 30 1/4 x 19 3/8 in. Estimate: £1,500,000 – 2,000,000. Courtesy Sotheby's
Painted in the c. 1485, or soon after, this well preserved Madonna and child follows the design of the central section of Botticelli's famous altarpiece for the Bardi chapel in the church of Santo Spirito, Florence and since 1829 in the Gemaldegalerie, Berlin. Whether by Botticelli in its entirety, as believed by Prof. Laurence Kanter, or by Botticelli with some assistance from his workshop, the head and hand of the Madonna are of particular note and it seems very likely that the same cartoon, to map out the composition, was used for both this and the Bardi altarpiece.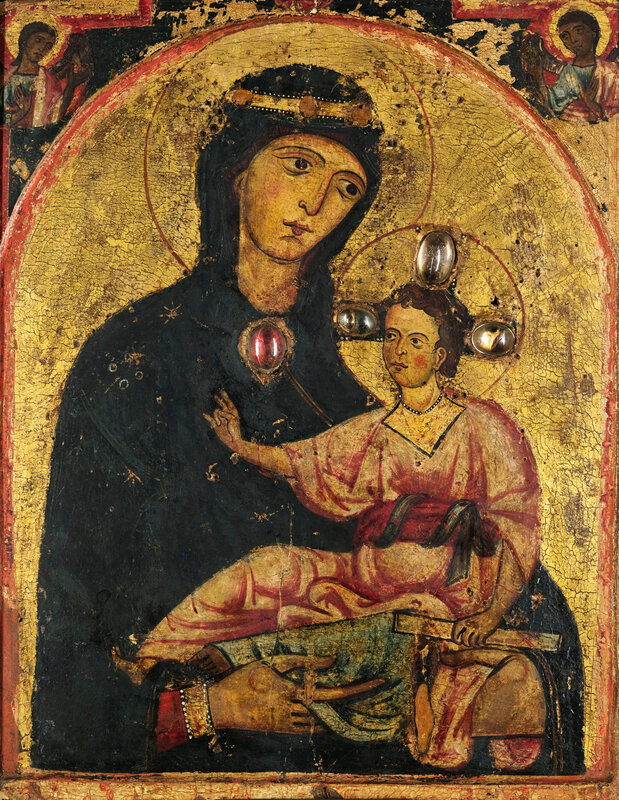 Lot 1. Third Master of Anagni, mid-1230s (Active second quater 31th century), The Madonna and Child, two angels in the spandrels above, tempera on panel, gold ground, with four inset cabochon rock crystals, 58 x 46.5 cm; 22 7/8 x 18 1/4 in. Estimate: £200,000 – 300,000. Courtesy Sotheby's.
Probably created in the mid-1230s, this is one the earliest paintings to be offered in an Old Masters sale at Sotheby's. Executed in a deft graphic style, this remarkable early work depicts the Virgin with the Christ Child with an inset arch. Acquired for the illustrious Stoclet collection in Brussels in the early 20th century, this work has not been offered for sale for nearly a century.