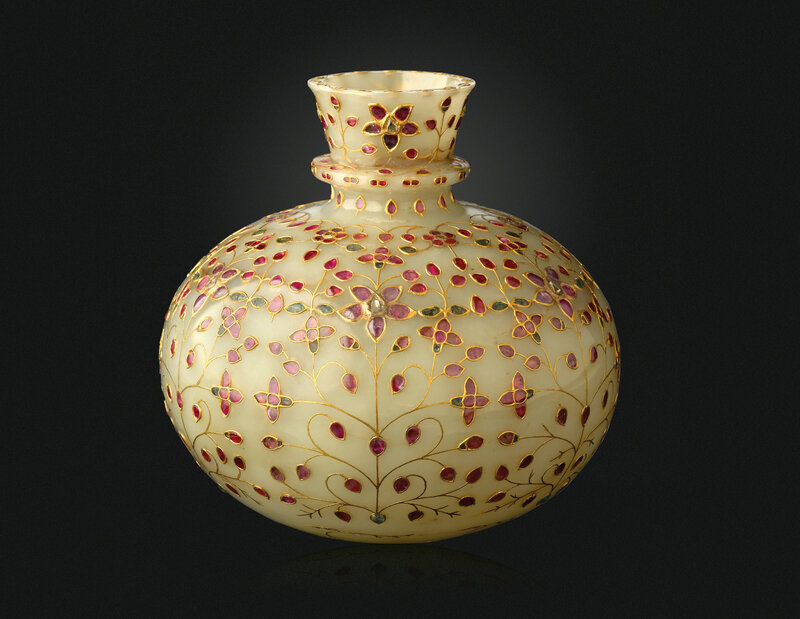 Lot 196. A gem set jade huqqa base, North India, 1740-1780; 6 3/8 ins. (16.2 cm.) high; 6 ¼ in. (16 cm.) diam. Estimate USD 200,000 - USD 300,000. Price realised USD 325,000. © Christie's Images Ltd 2019.
Set with diamonds, rubies and emeralds, the underside with a rosette formed of six leafy tendrils.
Provenance: Maharana Fateh Singh of Udaipur.
Literature: Jaffer 2013, p.114, no.43
Exhibited: Delhi Exhibition, Delhi 1903, pl.75
Metropolitan Museum of Art, New York 2014, p.38
Victoria and Albert Museum, London 2015, pp.78-79, no.34
The Miho Museum, Koka 2016, p.87, no.57
Grand Palais, Paris 2017, p.97, no.67
The Doge's Palace, Venice 2017, p.122, no.71
The Palace Museum, Beijing 2018, pp.144-45, no.74
de Young Legion of Honor, San Francisco 2018, p. 73, no. 19
Note: This huqqa base was put on display at the Delhi Durbar in 1903 as part of the loan exhibition of Indian Arts drawn both from museum collections and from those of the 'Indian chiefs and nobles'. At that time it was owned by Maharana Sir Fateh Singh of Udaipur, GCSI GCIE GCVO who ruled this, one of the most prominent and powerful of Indian states, for 46 years, from 1884 until his death in 1930. The exhibit of the huqqa, as it sits somewhat askew on its stand, is recorded in a photograph published in the official record of the exhibition by George Watt (London, 2015, p.78).
There are very few jade huqqas that have survived. This is not surprising; the task of grinding out the entire interior of such a vessel through the mouth must have taken weeks if not months. In the present vessel this process has been speeded up by making it in two parts. The join is very cleverly concealed by the band of linked leaves around the shoulder. This is another indication of the subtlety of the Indian designers. The lines of inlaid stones in jade is frequently chosen to efface a flaw or discoloration in the original stone, to make the result more perfect.
This is the only huqqa base of this form. There is a related bottle which was sold in our London saleroom 17 April 2007, lot 107, whose provenance could be traced back almost certainly to William Pitt Amherst, first Earl Amherst of Arracan (1773-1857), who had served as Governor General of Bengal. The surviving jade huqqa bases are almost all from a group, one of which was exhibited alongside this one in Delhi in 1903. Each spherical body is covered with an inlaid lattice of dark jade leaves forming lozenge-shaped compartments each of which contains a lapis iris flower. One of this group reached the Chinese court where the Emperor Qianlong inscribed it as it entered the Imperial Treasury; it is now in the Museum of Islamic Art in Doha (Tan, 2002, no.4).
Christie's. Maharajas & Mughal Magnificence, New York, 19 June 2019