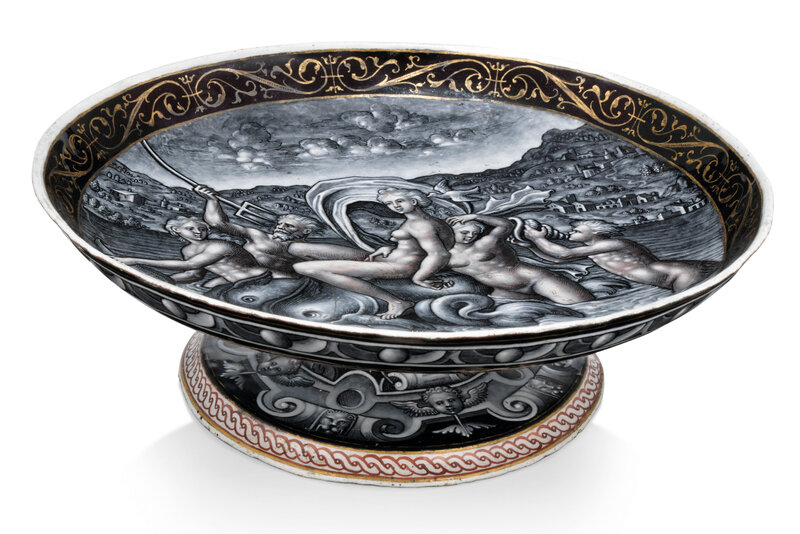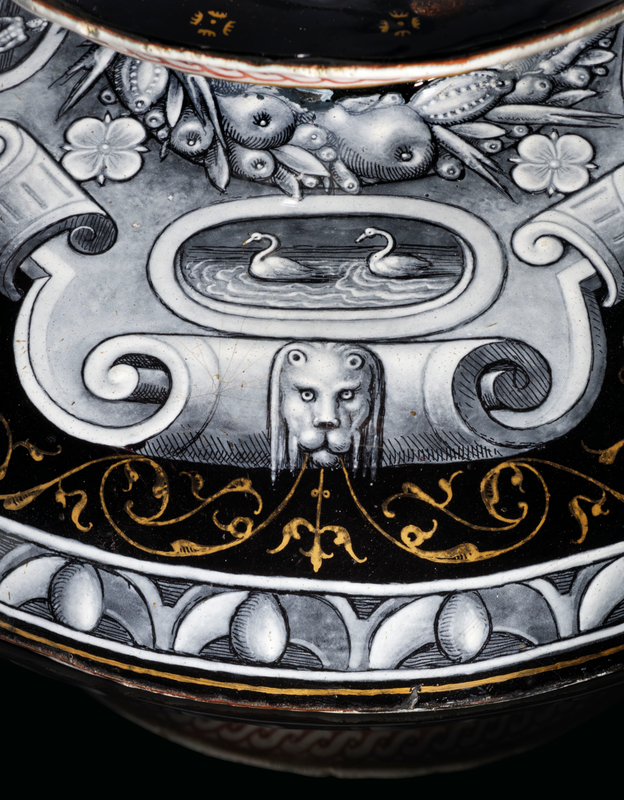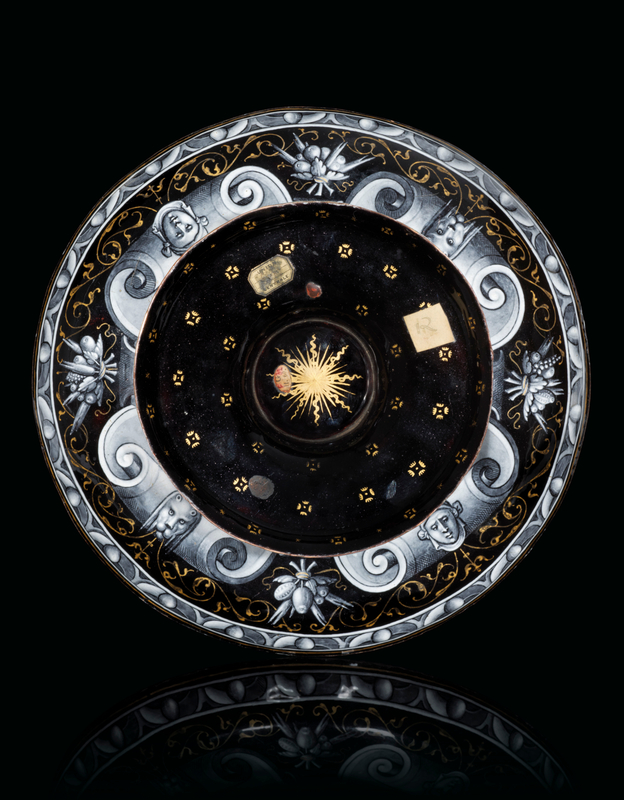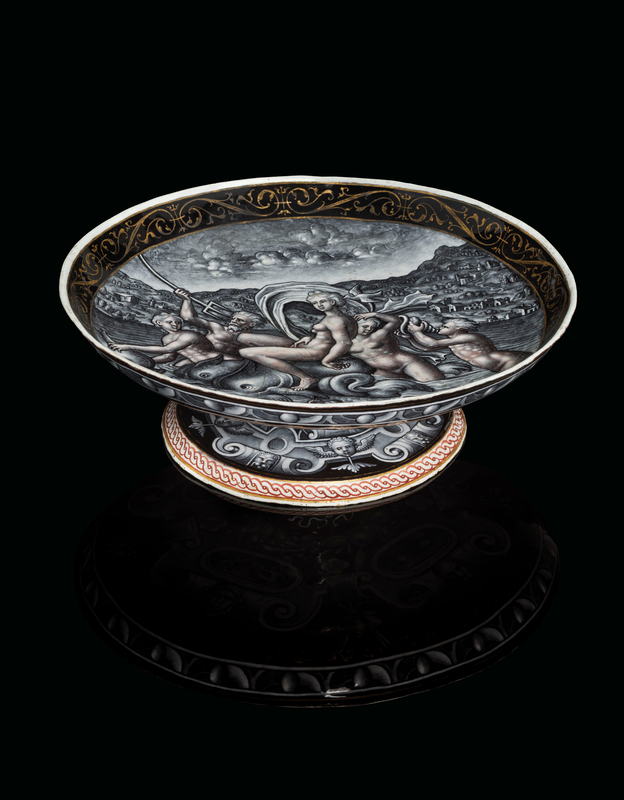 Lot 3. Pierre Reymond (1513-1584), Limoges, circa 1560-1570, Tazza depicting Venus learning of Cupid's plight; 9. 3/8 in. (23.9 cm.) diam.; 3. 1/8 in. (7.9 cm.) high. Estimate GBP 70,000 - GBP 100,000 (USD 88,620 - USD 126,600). Price realised GBP 87,500. © Christie's Images Ltd 2019.
Parcel-gilt grisaille enamel; the underside of the foot with a red seal and paper labels inscribed 'UNION/ …/ CENTRALE', 'R', one label inscribed 'G/ H.60.' and 'F 32'.
Provenance: Baron Gustave de Rothschild (1829-1911), and by descent to
Sir Philip Sassoon, Bt. (1888-1939); sold Christie's, London, The Property of Sir Philip Sassoon, Bt., M.P., C.M.G., and the Countess of Rocksavage, of 25 Park Lane, 26 November 1919, lot 70, acquired through J. Seligmann & Cie, 12 December 1919 (£199.10).
Rothschild collection, and by descent.
Literature: The Rothschild Archive, London - Inventaire après le Décès de Monsieur le Baron Gustave de Rothschild, A. Cottin Notaire, 26 April-10 June 1912, no. 429, 2000 francs (Hôtel de Marigny, Galerie, 'Vitrine a gauche de la porte').
P. Verdier, The Walters Art Gallery - Catalogue of the Painted Enamels of the Renaissance, Baltimore, 1967, no. 136, pp. 217-259.
S. Baratte, Les Emaux Peints de Limoges, Paris, 2000, pp. 186-273.
Exhibited: Paris, Palais de l'Industrie, Exposition de 1865, Musée Rétrospectif, no. 2535.
Note: Pierre Reymond ran one of the most successful enamel workshops in Limoges in the sixteenth century. Reymond must have begun to create polychrome enamel plaques in his teenage years as his first dated work, of 1533, made when he was around 20 years old, was already highly accomplished. By 1540 he had moved onto grisaille enamels and became perhaps the greatest exponent of this technique in which shades of grey were created by adding varying numbers of layers of white.

The interior scene of the present tazza depicts a scene from the story of Cupid and Psyche, from the book known as The Golden Ass by the second-century AD writer Apuleius. In this story Psyche is looking for Cupid, who lies wounded in his mother's chamber. A tern (a white seabird) finds Venus bathing in the sea and tells her of the suffering of Cupid, now in love with Psyche. The book is a tale of the many travails endured by ill-matched lovers - in this case one mortal and one divine - before their final happy marriage. It was interpreted in the Renaissance as a Neoplatonic allegory of the progress of the soul (Psyche means 'soul' in Greek) towards salvation through Divine Love. The outcome of their union is Pleasure.

Reymond's compositions were often indebted to a wide spectrum of German, Dutch, and Italian engravings and this scene is taken from a series of engravings by the anonymous Italian engraver and printmaker The Master of the Die (fl.1525-1560), based on a design previously thought to be by Raphael. However Vasari correctly stated that it was actually after designs by the Flemish artist Michiel Coxie (1499-1592; see British Museum, inv. no. M,44.32). The subject of the tazza has, since at least 1865, been incorrectly identified as 'The Triumph of Amphitrite' and was described as such in the Sir Philip Sassoon and Countess of Rocksavage sale in 1919.

The quality of the enamelling is comparable to some of Reymond's finest signed work. The black outline of the figures and the style of the clouds and rippling water are very similar to that seen in other enamels by Reymond from the period between 1560 and 1570. For example, see the series of plates of the Months of the Year and the single plate of Phrixus and Helle by Reymond in the Louvre, Paris (Barratte, op. cit., pp. 210-217). In particular, Reymond's hand can be identified by the inclusion of the very fine oval medallions to the underside of the cup, that here show scenes such as two swans and a leaping stag. Such medallions were also included in a pair of covered tazze in The Walters Art Gallery, Baltimore (Verdier, op. cit., p. 239), including one showing a winged genius riding a dolphin that is almost identical to the dolphin on the proper right side of the interior scene in the present tazza.
Christie's. Masterpieces from a Rothschild Collection, London, 4 July 2019