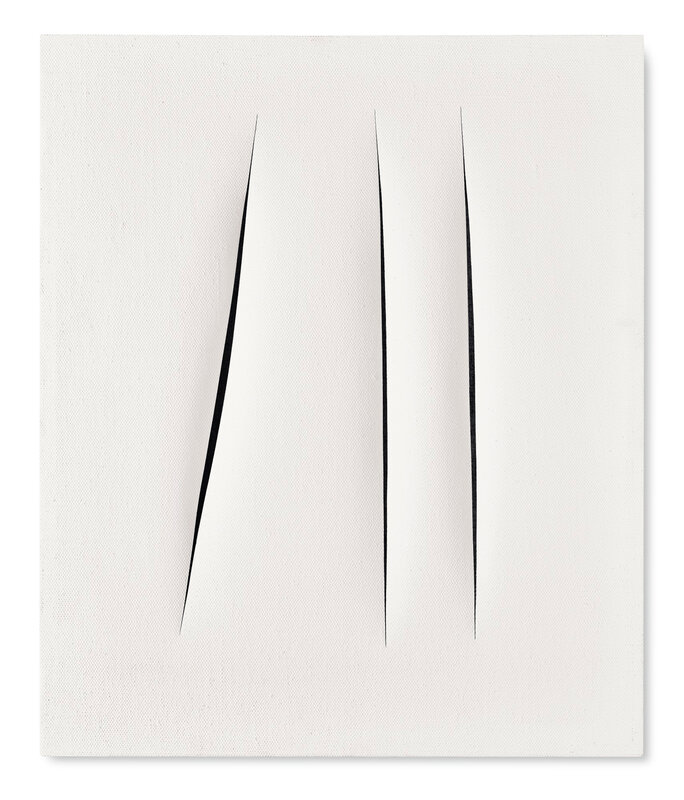 Lot 40. Lucio Fontana (1899 - 1968), Concetto Spaziale, Attese, signed, titled and inscribed oggi è Giovedì domani è Venerdì on the reverse, waterpaint on canvas, 55.3 by 46.2 cm. 21 3/4 by 18 1/4 in. Executed in 1966. Estimate 600,000 — 800,000 GBP. Lot sold 795,000 GBP. Courtesy Sotheby's.
Provenance: Stampatore Sergio Tosi, Milan
Thomas Newman, Opio
Sotheby's, New York, 21 May 1983, Lot 522A (consigned by the above)
Fujii Gallery, Tokyo (acquired from the above sale)
Private Collection, Japan (acquired from the above)
Thence by descent to the present owner.
Exhibited: Milan, Galleria Seno, Lucio Fontana, 1970, p. 30, no. 15, illustrated in colour (incorrectly titled and dated).
Literature: Enrico Crispolti, Lucio Fontana: Catalogue Raisonné des Peintures, Sculptures et Environnements Spatiaux, Vol. II, Brussels 1974, p. 187, no. 66 T 94, illustrated
Enrico Crispolti, Fontana: Catalogo Generale, Vol. II, Milan 1986, p. 647, no. 66 T 94, illustrated
Enrico Crispolti, Lucio Fontana: Catalogo Ragionato di Sculture, Dipinti, Ambientazioni, Vol. II, Milan 2006, p. 842, no. 66 T 94, illustrated.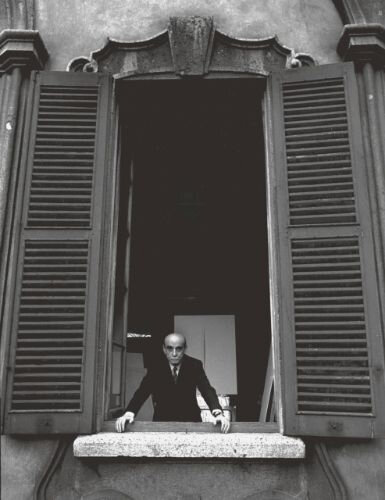 Lucio Fontana photographed by Ugo Mulas in Milan, 1966. Image: © Ugo Mulas Heirs. All rights reserved. Artwork: © Lucio Fontana/ SIAE/ DACS, London 2019
Note
: Three bold incisions slice through the pure white canvas of Lucio Fontana's
Concetto Spaziale, Attese
. Executed in 1966, the painting offers a resplendent example of the Italian artist's iconic series of
tagli,
or cuts, in which dramatically rendered slashes unfurl to evoke an abyss of darkness beyond the picture plane. Created at the height of Fontana's influential career, the
tagli
exemplify the artist's radical notion of
Spazialismo
, or Spatialism. First penned in his
Manifesto Blanco
(White Manifesto) of 1946, and subsequently developed over five formative
Spatialist Manifestos
written between 1946 and 1952, Fontana's concept of Spatialism called for an art that would embrace the scientific and technological advancements of the Twentieth Century. Produced during an epoch defined by the so-called 'Space Race', the
tagli
hence came to represent the mysterious and infinite dimensions of the universe. "The discovery of the Cosmos is that of a new dimension," the artist declared; "it is the Infinite: thus I pierce this canvas, which is the basis of all arts and I have created an infinite dimension, an x which for me is the basis for all Contemporary Art" (Lucio Fontana cited in: Exh. Cat., Venice, Peggy Guggenheim Collection,
Lucio Fontana: Venice/New York
, 2006, p. 19).
The three slashes in Concetto Spaziale, Attese have been rendered with absolute clarity and precision. Working on a still-damp canvas, Fontana would execute his iconic tagli with decisive, downward movements, using the blade of a Stanley knife. He would then gently widen the incisions with his fingers and curve them inwards before applying black gauze to the reverse, so as to heighten the appearance of infinite space beyond the picture plane. In rupturing the canvas with his revolutionary artistic gesture, Fontana sought, both physically and metaphorically, to shatter the traditional support of illusionistic art history. Indeed, as if hovering between the realms of painting and sculpture, the tagli dance rhythmically across the pristine surface of the present work, creating a dynamic interplay between light and shadow, white and black, space and depth. In an essay on Fontana's 1977 retrospective at the Solomon R. Guggenheim Museum in New York, art historian Erika Billeter contemplated the artist's pioneering visual syntax, stating: "With one bold stroke he pierces the canvas and tears it to shreds. Through this action he declares before the entire world that the canvas is no longer a pictorial vehicle and asserts that easel painting, a constant in art heretofore, is called into question. Implied in this gesture is both the termination of a five-hundred year evolution in Western painting and a new beginning, for destruction carries innovation in its wake" (Erika Billeter cited in: ibid., p. 21). Through its paradoxical gesture of annihilation, Concetto Spaziale, Attesebecomes a symbol of rebirth and regeneration, at once serene and beautiful, violent and raw.
In the very same year the present work was created, Fontana designed an immersive spatial environment adorned with white tagli for the XXXIII Venice Biennale of 1966 – an installation that won him the grand prize. Positioned around the walls of the cloister-like spaces, Fontana meditatively explored the relationship between destruction and creation through the primacy of the pure white canvas ground and the deep, violent incisions. It is in this striking contrast between the illuminated surface and the darkness of the void that Concetto Spaziale, Attese reaches the height of its potent intensity, as past and present compellingly collide. As the artist himself proclaimed: "My cuts are above all a philosophical statement, an act of faith in the infinite, an affirmation of spirituality. When I sit down to contemplate one of my cuts, I sense all at once an enlargement of the spirit, I feel like a man freed from the shackles of matter; a man at one with the immensity of the present and of the future" (Lucio Fontana cited in: ibid., p. 23).
Sotheby's. Contemporary Art Evening Auction, London, 26 june 2019