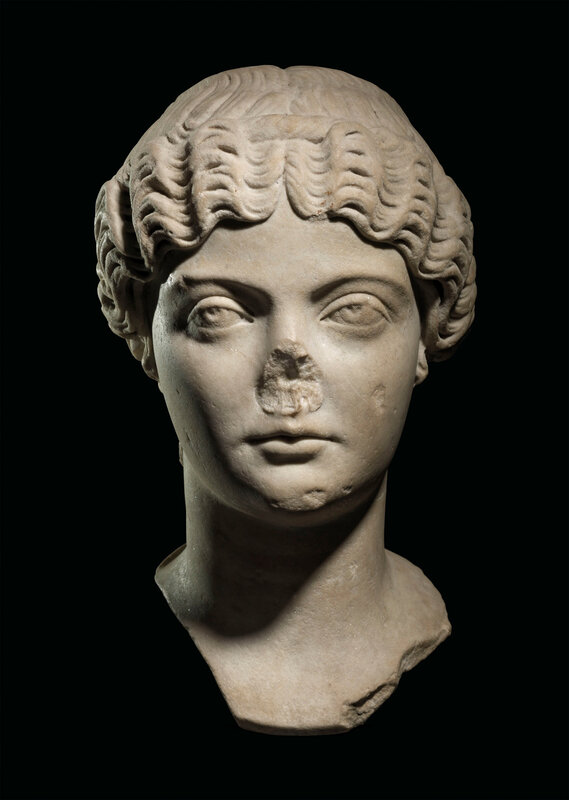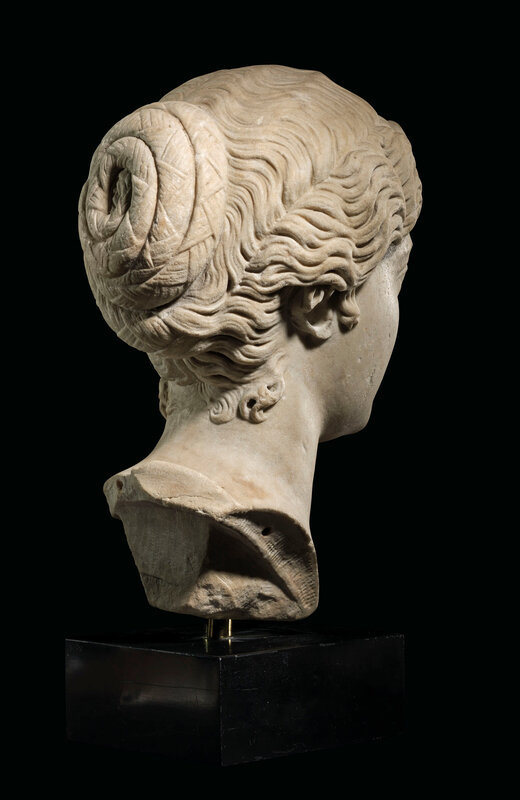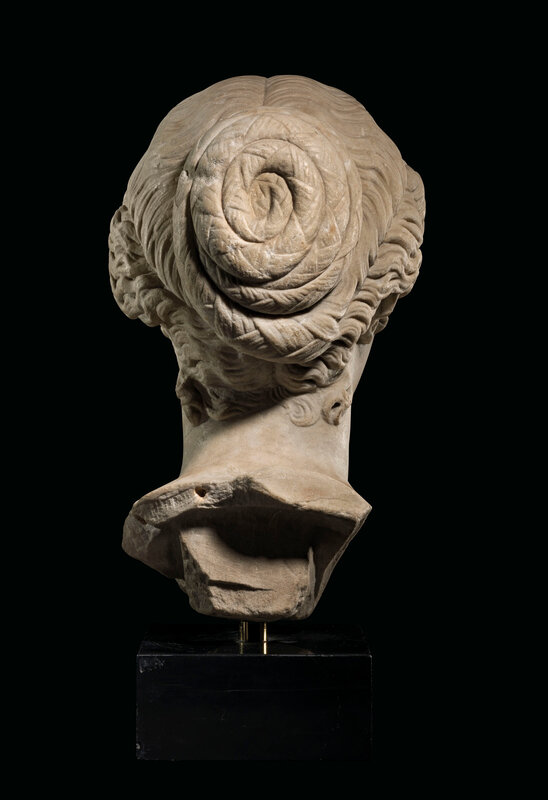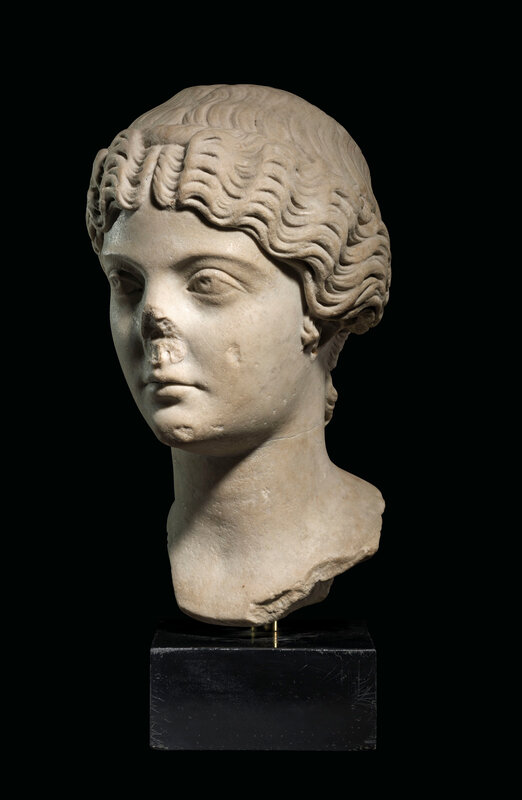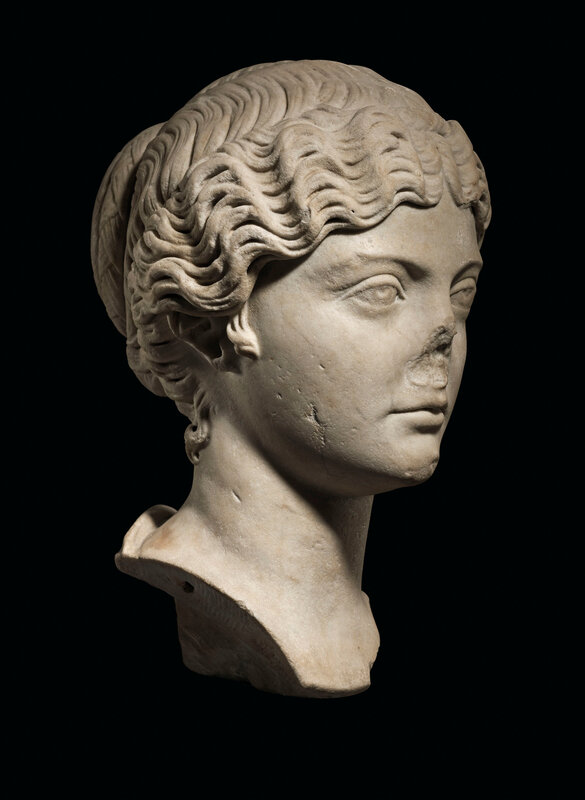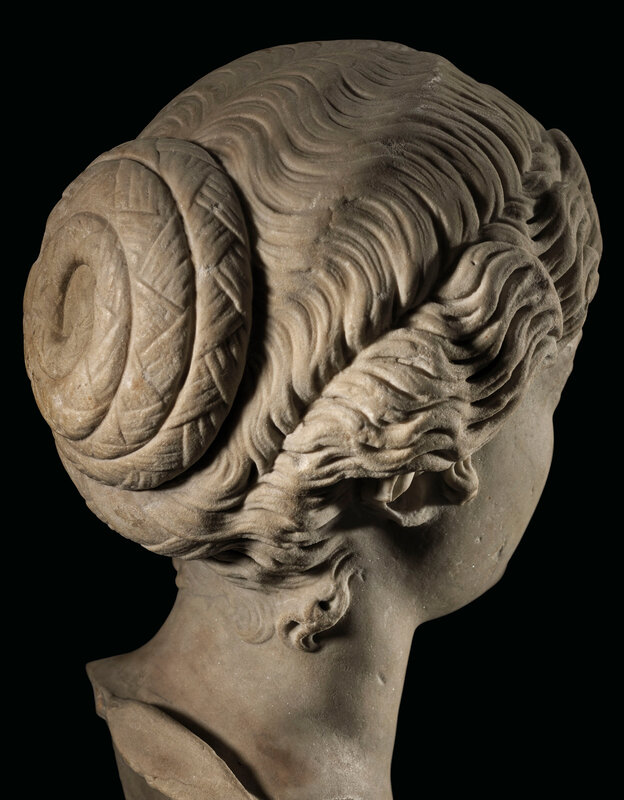 Lot 99. A Roman marble portrait head of the Empress Faustina Minor, circa 161-176 A.D.; 14 1/8 in. (35.9 cm.) high. Estimate GBP 120,000 - GBP 180,000. Price realised GBP 193,750. © Christie's Images Ltd 2019
Provenance: with Chaucer Fine Arts Inc., London, Autumn 1981 (Collecting in the 18th Century, Paintings and Drawings of Art, exhibition cat., no. 66).
Spanish private collection, acquired from the above.
Note: Faustina Minor (the Younger), Annia Galeria Faustina, born circa 125-130 A.D., was the daughter of the Emperor Antoninus Pius and Faustina Major (the Elder). Her great uncle, the Emperor Hadrian, betrothed her to Lucius Verus. However, her father Antoninus favored his wife's nephew, Marcus Aurelius, to whom she was eventually married. Antoninus succeeded Hadrian as Emperor, and eventually Marcus Aurelius inherited the Antonine throne as co-Emperor with Lucius Verus, thereupon Faustina became Augusta or Empress.
Faustina bore at least twelve children for the Emperor, only six of whom survived past youth. Five were girls, with the future Emperor Commodus the only male heir. Their daughter Lucilla was later betrothed to Lucius Verus.

Faustina was beloved by the Roman soldiers, as she accompanied her husband on several military campaigns, and they bestowed her with the title Mater Castrorum or Mother of the Camp. She died in 175 A.D. while abroad at a military camp in Halala in Cappadocia, which was renamed Faustinopolis in her honor. Faustina was buried in the Mausoleum of Hadrian in Rome and was deified by her devoted husband. Contemporary literature was less kind to Faustina. She was recorded as a murderer, schemer and adulterer. However, Marcus Aurelius defended her vigorously against these claims.
Faustina Minor boasts an extraordinarily high number of known portrait types– as many as nine distinct versions. The concept of multiple portrait types for members of the Imperial household is a familiar one, yet Faustina Minor is an exceptionally well represented member of the Antonine Imperial household. Only Septimius Severus has more than Faustina Minor, with ten recognized types. As mirrored in contemporary numismatic evidence, a change in her official portrait corresponded with one of her many births, or another major life event, cf. B.M. Levick, Faustina I and IIImperial Women of the Golden Age, Oxford, 2014, p. 277.
The present example depicts Faustina Minor in her eighth and penultimateportrait type. This type was commissioned to commemorate the accession of Marcus Aurelius in 161 A.D., and the birth of Marcus Annius Verus in 162 A.D (cf. W. Ameling, 'Die Kinder des Marc Aurel und die Bildnistypen der Faustina Minor', in Zeitschrift fur Papyrologie und Epigraphik 90, 1992, p. 161). Portraits of this type share an undulating centre parting, coiled into an elaborate braided bun. The hairstyle covers the top of each ear, and a coil of hair rests on either side of the otherwise bare neck. Although later Faustina Minor portraits are stylistically frozen at around thirty years old, Kleiner notes that later portraits are noticeably "imbued with an air of maturity," cf. D. Kleiner, Roman Sculpture, Yale, 1992, p. 280.
Close surviving examples of this portrait type can be found at the Archaeological Museum of Istanbul (Inv. no. 5130; cf. K. Fittschen, Die Bildnistypen der Faustina Minor und die Fecunditas Augustae, Gottingen, 1982, pl. 41); and Rome's Capitoline Museum (Inv. no. 632; op cit. pl. 43).