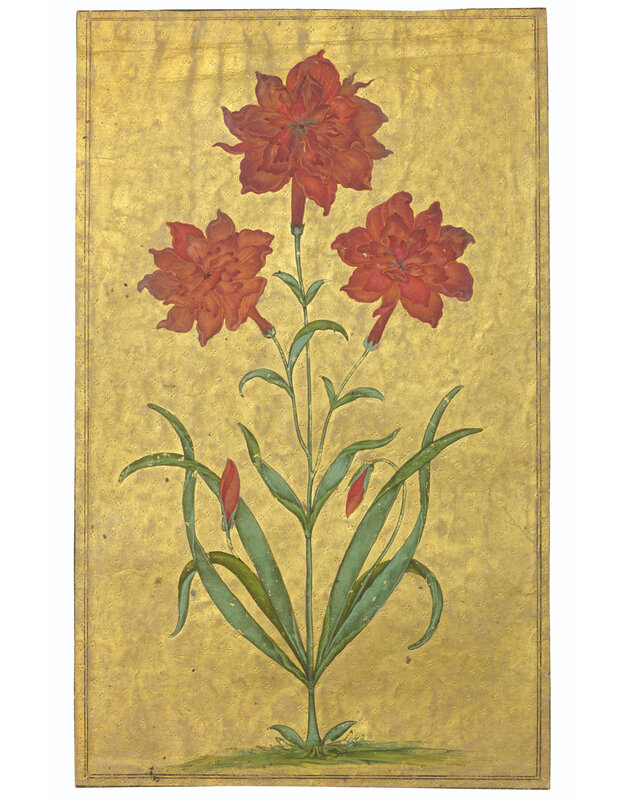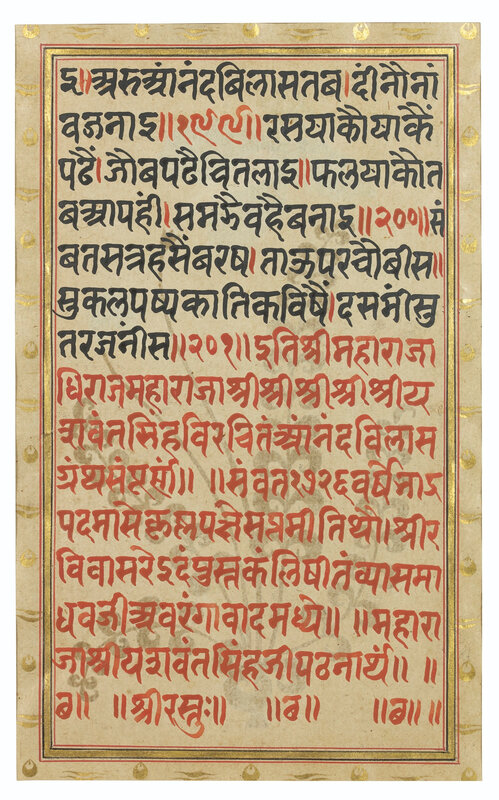 Lot 53. An imaginary carnation , Aurangabad, North Deccan, vs 1726-1669 AD. Folio 7 7/8 x 4 ¾ ins. (20 x 12.1 cm.). Estimate USD 40,000 - USD 60,000. Price realised USD 200,000. © Christie's Images Ltd 2019
From a Siddantha-sara, Siddantha-bodha and Aporaksha-siddantha of Maharaja Jaswant Singh of Jodhpur (r.1629-1678 AD), opaque pigments on a pounced gold ground, the reverse with 15ll. black and red devanagari written by Vyasa Madhava, gold illuminated margins.
Provenance: Probably Shuja' al-Daula, Nawab of Awadh, Lucknow (1731-75, r.1754-75)
Either John Dent or his brother William, Bengal, by 1796; thence by descent to
Sir Robert Annesley Wilkinson Dent, C.B. (1895-1983), sold Sotheby's, London, 11 April 1972, lot 106
Sven Gahlin Collection, sold Sotheby's, London, 6 October 2015, lot 45.
Literature: Zebrowski 1983, p.133, no.10
Exhibited: London, 1976
London, 1982
The Palace Museum, Beijing 2018, pp.45-51, no.174.
Note: This painting was previously attributed to Haidar Ali and Ibrahim Khan, two artists working at the court of Sultan Muhammad Adil Shah of Bijapur (r.1627-56), on grounds of the quality and also the pricking of the gold ground (Zebrowski 1983, p.133, nos.100-101, pp.132-3). The script on the reverse and the decoration on the margin clearly show it to have come from Siddantha-sara, Siddantha-bodha and Aporaksha-siddantha of Maharaja Jaswant Singh of Jodhpur (r.1629-1678 AD).
Further leaves from the same manuscript were exhibited at the Metropolitan Museum of Art (Haidar and Sardar, 2015, no.169, pp.292-3). The text refers to a previous exhibition that published further leaves and, one assumes, the colophon. The text contains three philosophical works by the long-lived maharaja of Jodhpur Jaswant Singh. He started out as a loyal ally of the Mughal emperor Shah Jahan but backed Dara Shikoh over Alamgir (Aurangzeb). Aurangzeb showered honours and titles on him to in his loyalty, and to assist in his military campaign against Shivaji in the Deccan (Bose, 2015, p.174).

This volume shows clearly the mix of influences that were all to be found throughout India at this time. The Hindu text is combined with Mughal-like flowers, but with an Deccani imaginary flavour and the Aurangabad gold ground. These are framed in borders that derive from the Ottoman cintamani design. Attributing the manuscript without the colophon would not be straightforward.
This painting was formerly in the Dent Collection, an exceptional group of approximately 150 paintings and drawings of Persian, Mughal and Deccani paintings, probably assembled in Bengal in the later eighteenth century, by either John Dent, a lieutenant in the Bengal Infantry from 1782 to 1792, or by his brother William, who was at Patna, Buxar and Tamluk from 1776 to 1796. A large number of works in the collection had inscriptions indicating that they had formerly been in the collections of Shuja' al-Daula, Nawab of Oudh (1731-75).
Christie's. Maharajas & Mughal Magnificence, New York, 19 June 2019