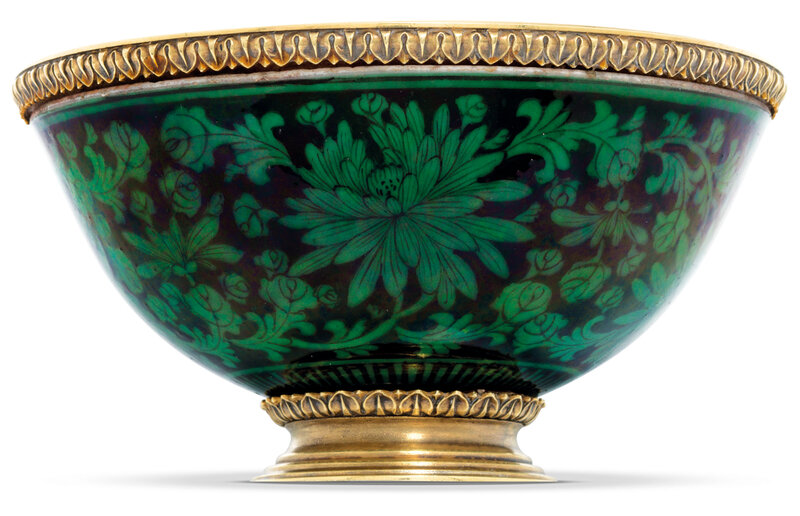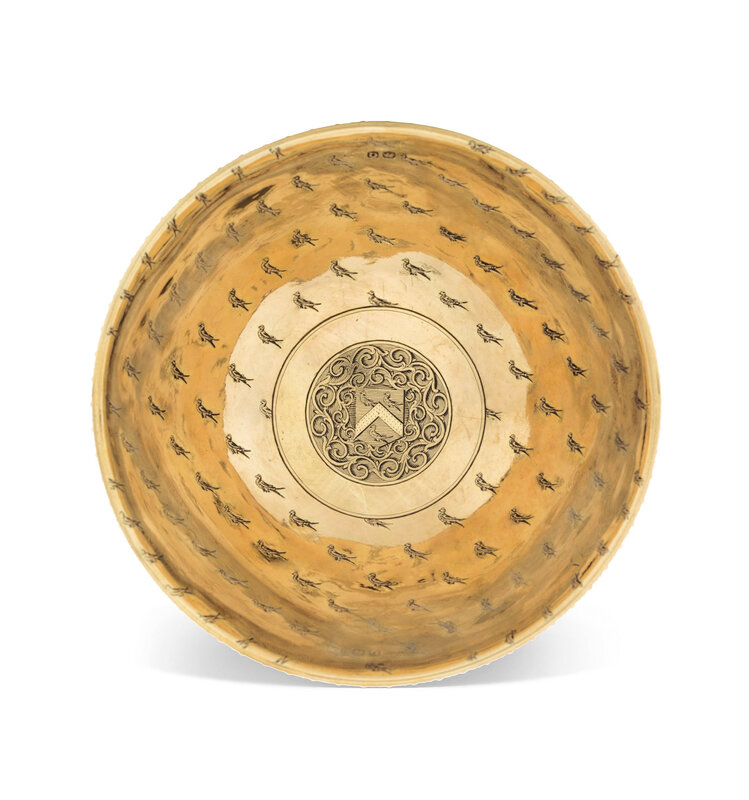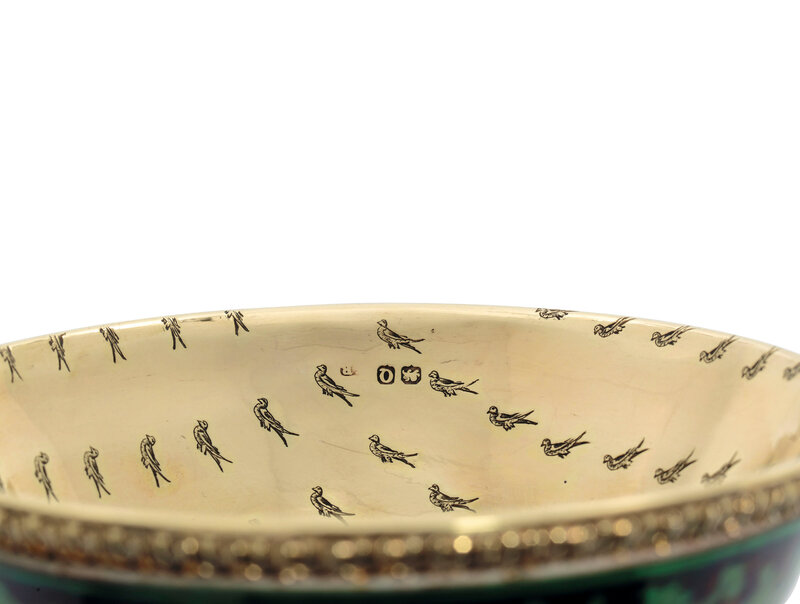 Lot 134. The William Beckford's heraldic green dahlia bowl. A George III silver-gilt mounted Chinese porcelain bowl, the porcelain 18th century; the silver-gilt mounts with mark of John Robins, London, 1811. 4 ½ in. (11.5 cm.) diameter. Estimate 20,000 - GBP 40,000. Price realised GBP 60,000. © Christie's Image Ltd 2019
The bowl on stepped foot and with green dahlia on black background, and with gilt-mounts of stiff leaf foliage, the bowl with silver-gilt lining engraved with heraldic martlets and in the centre with coat-of-arms within a circular cartouche of scrolls, with a paper label on underside partially legible 'VJB', marked inside the foot and in the bowl.
The arms in the centre are those of Beckford for the celebrated collector and author William Beckford (1760-1844).
Provenance: William Beckford (1760-1844), then by descent to his daughter
Susanna Euphemia, Duchess of Hamilton (1786-1858) wife of Alexander Hamilton, 10th Duke of Hamilton (1767-1852), then by descent to their grandson,
William, 12th Duke of Hamilton (1845-1895), Hamilton Palace, Lanarkshire; Christie's, London, 20 June 1882, lot 242 (£66 to Denison),
Christopher Beckett Denison (1825-1884) colonial administrator and M.P. for Yorkshire,
Christopher Beckett Denison, Upper Grosvenor Street, W1; Christie's, London, 11 June 1885, lot 588 (£21) to Kidson on behalf of William James (1854-1912) of West Dean House, then by descent to The Trustees of the Edward James Foundation, West Dean, Chichester.
Literature: D. E. Ostergard, ed., William Beckford 1760-1844: An Eye for the Magnificent, 2001, Yale, p. 323.
M. Snodin and M. Baker, 'William Beckford's Silver, Part I and II, The Burlington Magazine, November 1980, pp. 734-748 and 9 December 1980, pp. 829-830.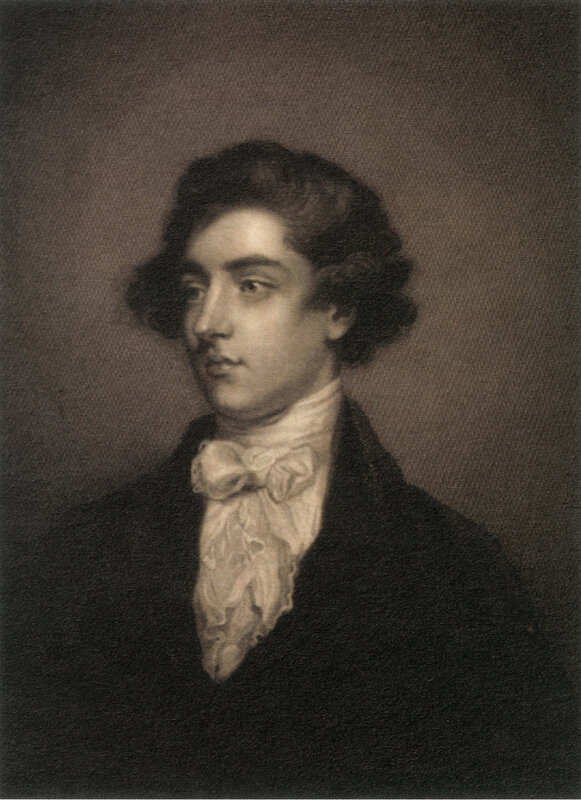 William Beckford (1760-1844).
A PASSION FOR 18TH CENTURY ASIAN CERAMICS

Beckford acquired an extensive collection of ceramics, mostly composed of 18th-century Asian and European porcelain described by his agent Franchi as 'a great quantity of Japan and eggshells saucers - Dresden & Seve (sic) likewise' (Beckford Papers: MS list by Gregorio Franchi of objects removed from Fonthill, case 5). Beckford had many of these porcelain pieces fitted with silver and gilt mounts which he designed with Franchi, mostly between 1811 and 1823. The technique of applying gilt-mounts to modest ceramics had been developed and popularised by the Paris marchand-merciers as Asian porcelain was starting to become available in quantities on the European market. The largest surviving group of such pieces have simple neoclassical mounts, while ten or so porcelain cups and jugs, mounted between 1815 and 1820, the majority by James Aldridge, are clearly historicist in style.

IN THE MEDIEVAL TRADITION

This bowl is one of the earliest known examples of Beckford's silver-mounted Chinese ceramics. The bowl is an unusual example of black and green enamelled decoration perfected in the second quarter of the 18th century, also described as a 'curious small basin' in both the 1882 and 1885 catalogues. However the most unusual feature is undoubtedly the engraved heraldic decoration. It combines martlets, one of Beckford's favourite heraldic devices, used as a continuous decorative pattern whilst the family coat-of-arms are engraved in the centre framed by a scrolling cartouche in the style of Jacques Androuet du Cerceau. Beckford collected extensively 16th century designs to use as iconographic sources for his creations. This bowl illustrates well Beckford's obsession with his lineage whilst keeping with the Medieval tradition for decorative designs, as seen on the Leigh Cup belonging to the Mercers' Company and the Lady Margaret Beaufort Cup at Christ's College Cambridge.

JOHN ROBINS, SILVERSMITH TO WILLIAM BECKFORD

The mounts are by John Robins, a silversmith who worked regularly for Beckford from about 1789, starting with a 'plate' (sold Sotheby's, London, 24 June 1980, lot 280, Silver from Lennoxlove). The inventories of William Beckford's modern plate identifies at least eight other pieces made by John Robins and four at least are mounted ceramic pieces, comprising a pair of Japanese porcelain bowls and covers featuring plants on red ground and with silver-gilt mounts dated 1812, a pair of Chinese porcelain beakers dated 1700-1720 with water-leaf border mounts, a famille rose cream jug with silver-gilt mounts dated 1815 and a famille rose vase mounted as a jug with silver-gilt mounts (see A45, A46, A55 and A130 in Snodin and Baker, op. cit., 1980 p. 825-826).
Christie's. The Exceptional Sale, London, 4 july 2019