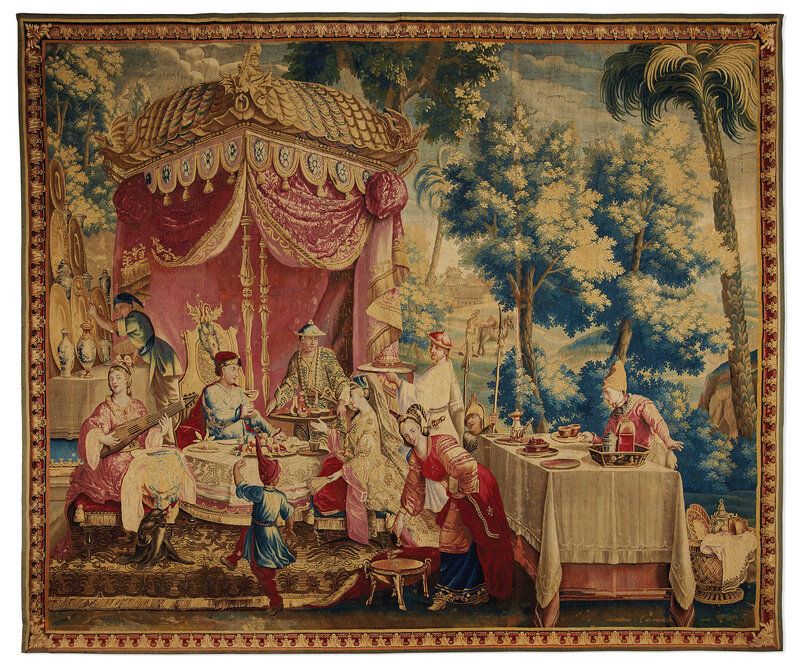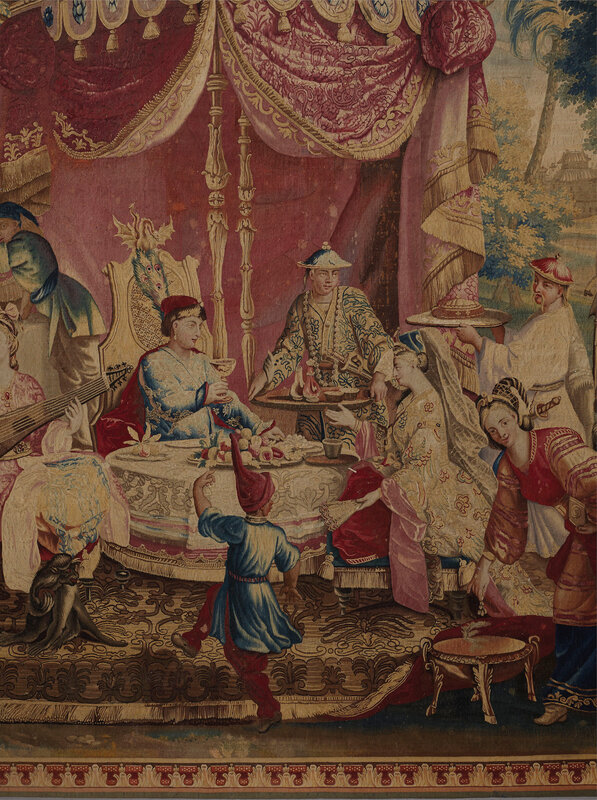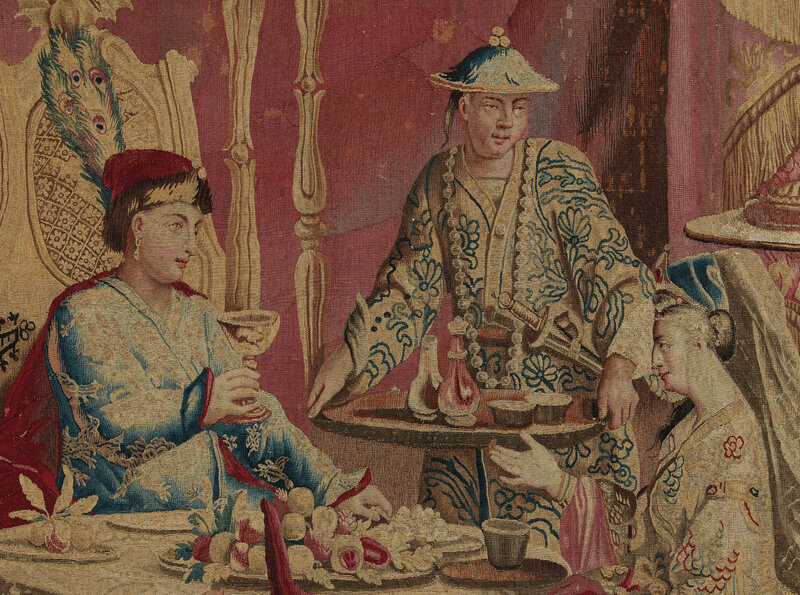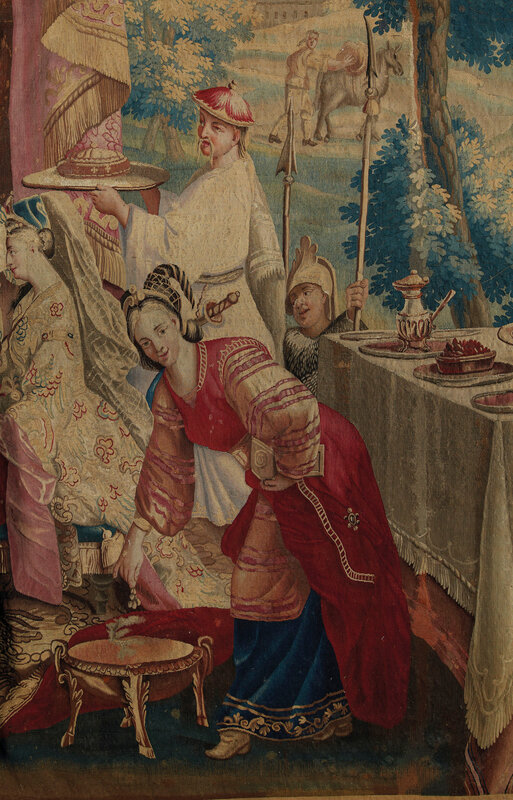 Lot 109. A Louis XIV Beauvais 'Chinoiserie' tapestry depicting 'La collation', after a design by Guy-Louis Vernansal, Jean-Baptiste Monnoyer and Jean-Baptiste Belin du Fontenay, circa 1700-1729; 126 in. (320 cm.) high; 149 ½ in. (380 cm.) wide. Estimate 80,000 - GBP 120,000. Price realised GBP 87,500. © Christie's Image Ltd 2019
Woven in wools and silks, from the ´Histoire de l'Empereur de Chine' series, depicting ´La Collation', with on the left side the Emperor with richly embroidered gown and peacock plumed headdress eared on a throne, the Empress seated on a stool facing him, within a draped pagoda with lambrequins and dragon-shaped gargoyles to the angles, attended by courtly dressed servants, one holding a tray with tea implements, another one carrying a cake, to the left hand side a servant attending the console fitted with ormolu-mounted blue and white porcelain vases and gilt serving dishes, below him a courtly dressed female musician playing music, a dancing dwarf and monkey performing, and to the foreground a lady tending a perfume burner before a serving table with fringed table cloth presenting a teapot, a dish with fruits and other vessels and containers in a lacquered tray, attended by a servant, with trees beyond, a Chinese house to the background and a palm tree to the right hand side with a woven basket with silver and gilt dishes and serving vessels to the lower right corner, within a scrolling foliate simulated picture frame border, ocre and green outer slip, very slightly reduced in size to the right hand side, the upper and lower horizontal borders possibly replaced, some minute restorations, minor areas of reweaving and small patches.
Provenance: From a private French collection, by family tradition acquired at the end of the 19th century.
Literature: E.A. Standen, 'The Story of the Emperor of China: A Beauvais Tapestry Series', Metropolitan Museum Journal, vol. 11, 1976, p. 111.
J. Boccara, Ames de Laine et de Soie, Saint-Rémy-en-l'Eau, 1988, p. 314.
N. de Pazzis-Chevalier, 'Gros Plan sur la Tapisserie Française aux XVIIe et XVIIIe siècles', Métiers d'Art: La Tapisserie, October - December 1992, p. 23.
C. Bremer-David, French Tapestries & Textiles in the J. Paul Getty Museum, Los Angeles, 1997, p. 95.
COMPARATIVE LITERATURE: C. Bremer-David, 'Tapestries in the Wernher Collection', Apollo, May 2002, pp. 29 - 34.
E. Standen, European Post-Medieval Tapestries and Related Hangings in The Metropolitan Museum of Art, New York, 1985, vol. II, pp. 461 - 468.
F. Windt, 'Die Audienz beim Kaiser von China', Jean II Barraband, Bildteppich, Potsdam, 2000.
Note: SUBJECT

This tapestry forming part of the exotic and highly elaborate Histoire de l'Empereur de la Chine set illustrates everyday life of the Chinese Emperor, believed to be Shun Chih (reigned 1644 - 1661) and Kang Hsi (reigned 1661 - 1721) and their Empresses. Many of the images are based on Johan Nieuhof's Legatio batavica ad magnum Tartatiae chamum sungteium, modernum sinae imperatorem of 1665, which derived from the visit of a delegation of the Dutch East India Company to China from 1655 - 1657. For the botanical details Athanasius Kircher's China Monumentis qua Sacris qua Profanis of 1667 seems to have served as inspiration. As its title Roi de Chine implied, the series was meant to illustrate the Chinese Royal Court, but many influences from other Far Eastern countries are discernable. The artists were keen to incorporate as many 'documented' exotic objects as possible in these tapestries.
The series traditionally includes: 'The Audience of the Emperor', 'The Emperor Sailing', 'The Empress Sailing', 'Gathering Pineapples', 'The Astronomers', 'The Return from the Hunt', 'The Empress's Tea', 'The Emperor on a Journey', 'The Gathering of Tea' (as yet unidentified) and 'The Collation'.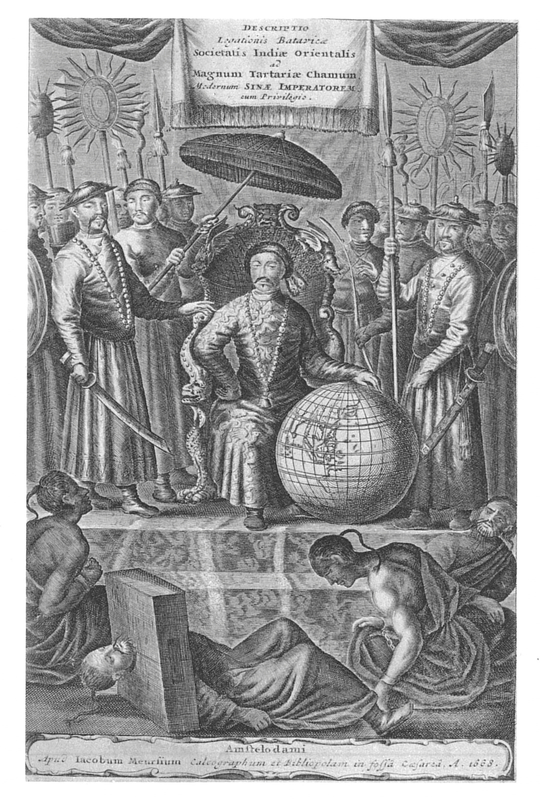 Frontispiece of Johan Nieuhof, Descriptio Legationis Batavicae (Amsterdam, 1668). The Metropolitan Museum of Art Library.
Johan Nieuhof, An embassy from the East-India company of the United Provinces, to the Grand Tartar Cham, emperour of China, delivered by their excellcies Peter de Goyer and Jacob de Keyzer, at his imperial city of Peking, 1669. McGill University Library
THE DESIGNERS AND FIRST WEAVING

The first set of L'Histoire de l'Empereur de la Chine, consisting of nine or ten subjects, was woven when Philippe Behagle (d. 1705) was the director of the Royal Beauvais Tapestry Manufactory. In a memorandum of tapestries made during his directorship Behagle mentions this series: Chinoise faict par quatre illustre peintre. Noël-Antoine Mérou (director 1722 - 1734) further reveals in a document of 1731: Une Tenture du dessin des chinois, par les sieurs Batiste, Fontenay et Vernensal, en six pièces. The painters referred to are: Guy Vernansal (d. 1729), the flower-painter, Jean-Baptiste Belin de Fontenay (d. 1715) and Baptiste (the name used by contemporaries for the flower-painter Jean-Baptiste Monnoyer (d. 1699)) and an unidentified fourth painter. Vernansal's signature on various models implies that he was the main designer of the series while the exact dating of the first woven set is difficult to ascertain with certainty. It is probable that it was after Behagle took over the directorship in 1684 but before Monnoyer left for England in 1690. A further undated memorandum by Behagle states that the first set, woven with gold-thread (rarely used by Beauvais) was vendu par M. d'Isrode à Monseigneur le duc du Maine (Louis-Auguste de Bourbon, d. 1736) for 20,000 livres. M. d'Isrode, who later had two further sets made, acted as an intermediary, while the set was actually manufactured for Louis-Auguste de Bourbon, duc du Maine (1670 - 1736). The popular series was finally abandoned at Beauvais in 1732, when the cartoons were so worn that they could no longer serve their purpose.
ORIGINS

The success of the series was undoubtedly due to the increased interest in China at the end of the 17th Century, which had already manifested itself with the importation of enormous quantities of goods from the Far East to France by the Compagnie des Indes Orientales. The enthusiasm was further heightened when the Mercure Galant published a long description of the travels of father Couplet to China in 1684. The young duc du Maine, the legitimized son of Louis XIV and Madame de Montespan, met the Jesuit Couplet (d. 1693) and his Chinese convert, Michael Alphonusus Shen Fu-Tsung (d. 1691), when they first returned from China and was deeply interested in his adventures. A second event that possibly generated even more interest was Louis XIV's glamorous reception at Versailles on 1 September 1686 for the ambassadors of Siam, who had been sent by the King of Siam Phra Narai (d. 1688). Among the participants at the reception at Versailles was again the duc du Maine, illustrated in an etching in the Almanach Royal of 1687 recording the presenting of the gifts to Louis XIV. The ambassadors of Siam are even recorded visiting the site of the Beauvais Tapestry Workshop in October of 1686. Proof of the duc du Maine's immense fascination with the Far East is further shown in his meeting with the Jesuit Joachim Bouvet (d. 1730), who was being sent by Louis XIV to Siam, and his gift to Bouvet of a scientific instrument that had been made for his own use. In this Sinophile environment, the Beauvais workshop found a ready audience for its new tapestry series.
COMPARABLE EXAMPLES

A set of six tapestries (originally 10) from this series executed for Louis-Alexandre de Bourbon, comte de Toulouse and duc de Penthièvre (d. 1737), which was woven between 1697 and 1705 is in The J. Paul Getty Museum (1). A tapestry depicting the Emperor Sailing from the Akram Ojjeh Collection and originally supplied to François-Louis (d.1732), Count Palatine and Prince Elector, in circa 1710, was sold Christie's Monaco, 12 December 1999, lot 21. Two tapestries with identical borders originally from the collection of the Earl of Cadogan and depicting The Emperor Sailing and Gathering Pineapples, were sold anonymously, Christie's, New York, 21 October 2004, lots 1012 and 1013, respectively. Another, wider panel of La Collation is in the Palazzo Pallavicini Rospigliosi (2). An identical tapestry of the same design sold Christie's, London, 9 November 2006, lot 403 (£176,000 inc. premium); another sold Christie's, Paris, 3-4 May 2016, lot 29, 169,500 Euros inc. premium).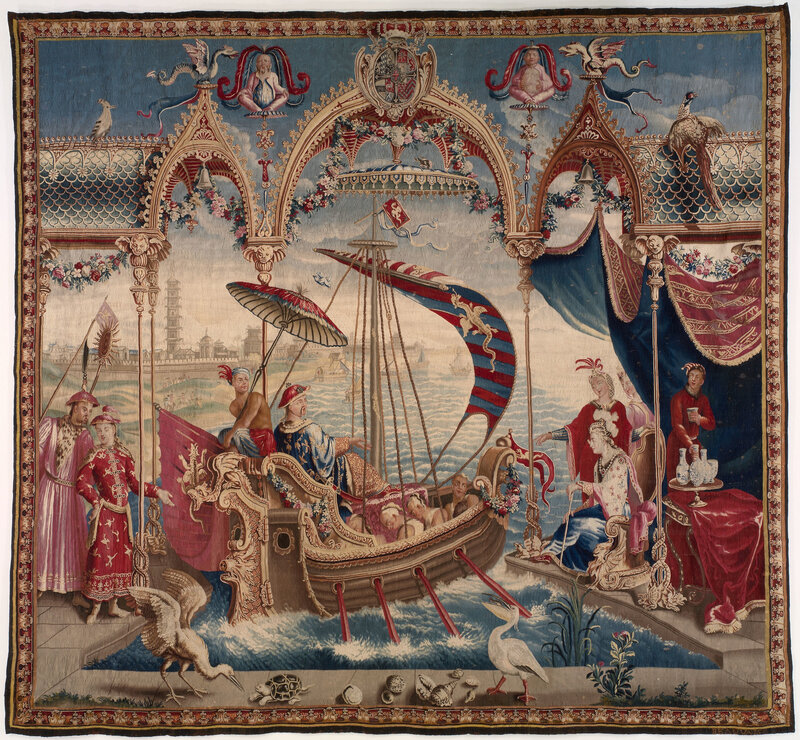 The Emperor Sailing, from The Story of the Emperor of China, 1716/22. After a design by Guy-Louis Vernansal (French, 1648–1729) and othersWoven at the Manufacture Royale de Beauvais under the direction of Pierre and Etienne Filleul (codirectors, 1711–22), France, Beauvais. Wool, silk, and silvered- and-gilt-metal-strip-wrapped silk, slit and double interlocking tapestry weave with some areas of 2:2 plain interlacings of silvered-and-gilt-metal wefts, 385.8 × 355 cm (151 3/4 × 139 3/4 in.). Mr. and Mrs. Charles H. Worcester Fund, 2007.22. © Art Intitute of Chicago.
(1) Bremer-David, op. cit., cat. 9, pp. 80 - 97, the La Collation being 9 a.
(2) D. Di Castro et al, Il Palazzo Pallavicini Rospigliosi e la Galleria Pallavicini, Milan, 1999, p. 104.