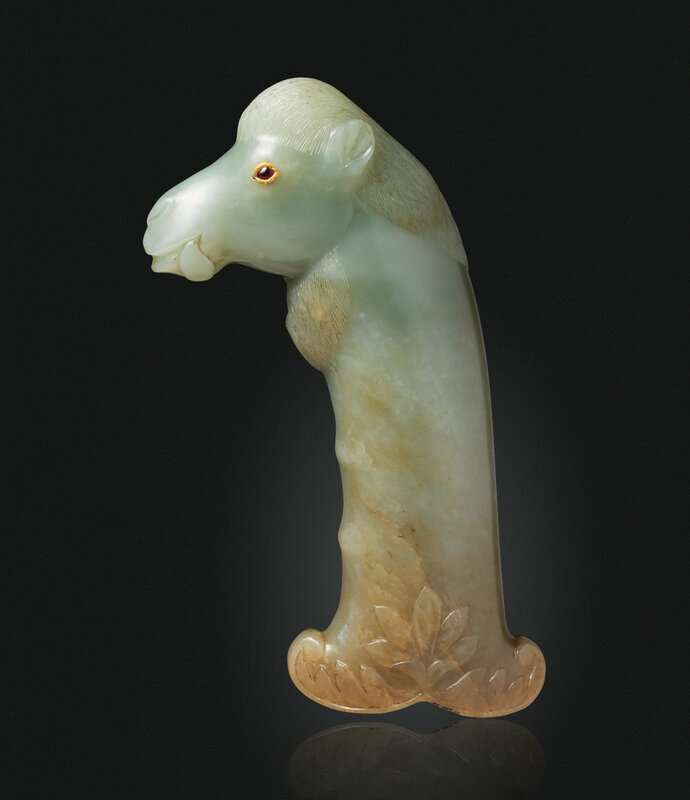 Lot 48. A camel head carved jade dagger hilt, India, 17th century; 5 ¼ ins. (13.2 cm.) long; 3 1/8 ins. (8.1 cm.) wide. Estimate USD 60,000 - USD 80,000. Price realised USD 137,500. © Christie's Images Ltd 2019
In the form of a Bactrian camel, set with ruby eyes.
Provenance: Sven Gahlin Collection, acquired before 1968, sold Sotheby's, London, 6 October 2015, lot 143. (Cf. my post: A Mughal carved jade dagger hilt in the form of a camel head, 17th century)
Exhibited: Victoria and Albert Museum, London 1982, pp.120-21, no.363
Grand Palais, Paris 2017, p.110, no.82
The Doge's Palace, Venice 2017, p.138, no.86
The Palace Museum, Beijing 2018, p.162, no,90.
Note: The appreciation of finely carved jade was another way that the Mughal emperors continued the traditions of their Timurid forebears. They collected earlier carved jades; the famous white jade jug made for Ulugh Beg now in the Gulbenkian collection (inv.no.328) carries an engraved owner's inscription of Jahangir. They also commissioned jades in considerable numbers, as is evidenced both by the examples that survive, and also from contemporary textual references. Dress daggers were among the most treasured objects of a Mughal prince or courtier. Cary Welch's examination of courtly figures in the Windsor Padshanama demonstrated that the small number of daggers with animal hilts were reserved for the use of princes, such as Dara Shikoh and Shah Shuja, as well as a few senior dignitaries (Welch 1985, pp.257-8, esp. f.116b (fig.1) and f.71 (fig.2)). The present head is finely carved and acutely observed, including the curious, tongue-like dulla which identifies this as a male of the species. Jonathan Barrett writes: 'In pursuit of females in season, the male camel inflates a sac (known as a dulla) in his upper palette. This protrudes from one side of his mouth, and is accompanied by a frothy spume of saliva. For some inexplicable reason females find this attractive. The dulla is frequently mistaken for the camel's tongue by those who are ignorant about camelid physiology; female camels however are not susceptible to this error.' (quoted in Hales 2013, p.28, no.69). In the catalogue of the Victoria and Albert exhibition where this hilt was exhibited, Robert Skelton writes, 'Naturalistically carved animal heads, more usually of horses or wild goats, were favorite subjects of weapon hilts at this time.' For a further brief discussion of the importance of naturalistic carved jade handles please see the entries under lots 117 and 313.