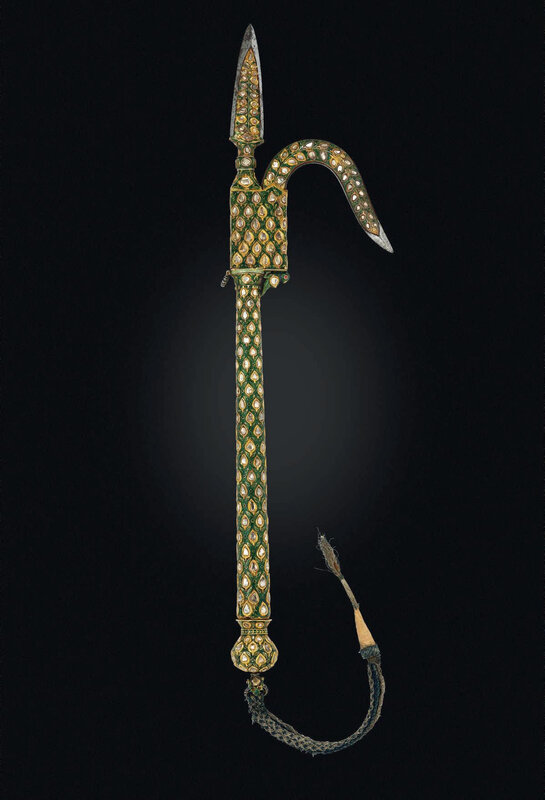 Lot 242. An enamelled and gem set steel elephant goad (ankus), Hyderabad, Deccan, 19th century; 18 1/8 ins. (46 cm.) long without tassle; 4 3/8 ins. (11.2 cm.) wide. Estimate USD 100,000 - USD 200,000. Price realised USD 137,500. © Christie's Images Ltd 2019
Of typical form set with diamonds, main body covered in green enamel with small areas decorated in navy and light blue enamels, a small ruby-eyed parrot at the junction of shaft and plate, silk and metal-thread cord.
Literature: Bala Krishnan and Kumar 1999, p.120, no.171
Jaffer 2013, p.196, no.79.
Exhibited: The Miho Museum, Koka 2016, p.111, no.79
Grand Palais, Paris 2017, p.189, no.143
The Doge's Palace, Venice 2017, p.229, no.156
The Palace Museum, Beijing 2018, pp.250-51, no.160
de Young Legion of Honor, San Francisco 2018, p. 115, no. 52.
Note: This gem set and enamelled goad (ankus) was constructed for use by a mahout to control and direct an elephant. Alongside its practical function, the goad's elaborate jeweled decoration suggests a ceremonial use perhaps in a religious or state procession where richly caparisoned elephants would have played an important role. An ankus was also seen as a symbol of authority. In his 1886 publication, Colonel Hendley notes that gold and enamelled goads formed part of the dress of honor given by the Maharaja of Jaipur to some of his high-ranking nobles (Jaffer 2013, p.196). The ankushas symbolic importance as being an attribute of various Hindu deities, including the elephant-headed Ganesh, and is often found in temple treasuries in India. It is one of eight auspicious objects (ashtamangala) used at ceremonial occasions and is a sacred symbol in Hinduism, as well as Jainism and Buddhism.
There is a comparable gem-encrusted and enamelled elephant goad from Jaipur in the Victoria and Albert Museum, London (inv.no. 02693 (IS); Skelton et al, 1982, cat. 449, p.136); one in the Wallace collection, London (inv.no. OA11382) and another illustrated in Spink 2000, pp.58-59, no. 36 (Jaffer 2013, p.196). All three, like the present lot, can be dated to the 19th century on the basis of their gem settings and enamelling styles.