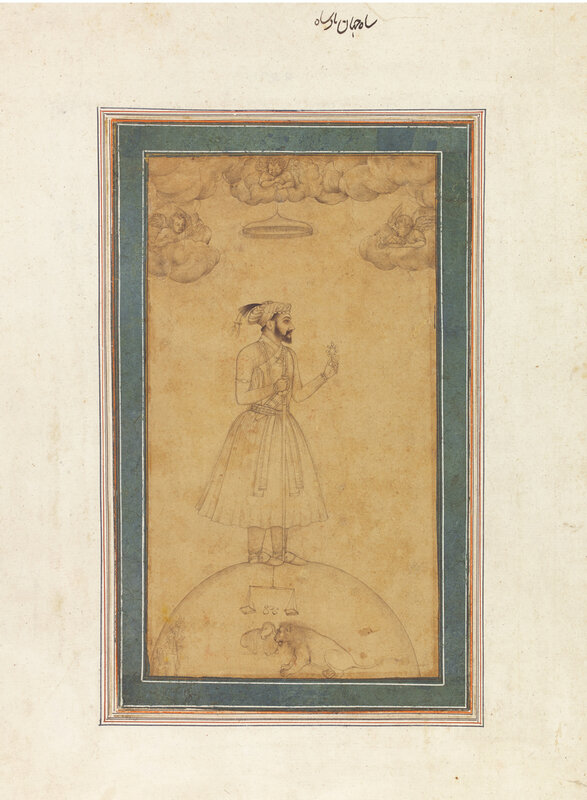 Lot 183. A folio from the de Luynes album, Mughal India, mid-17th century and circa 1590. Recto ink on paper depicting Shah Jahan as king of the world, verso opaque pigments with gold on paper depicting an escape from a palace probably from a copy of aHarivamsa, within colored borders on cream album leaf. Recto drawing 12 ¼ x 8 ¼ ins. (31 x 21 cm.); verso painting 9 7/8 x 5 ½ ins. (25 x 14 cm.); folio 18 ¼ x 12 3/8 ins. (46.5 x 31.5 cm.). Estimate USD 100,000 - USD 150,000. Price realised USD 106,250. © Christie's Images Ltd 2019
Provenance: Christie's, London, 4 October 2012, lot 165.
Literature: Beijing 2018, fig.1, p.97
Château de Fontainebleau, 2018, p. 140, cat. 30.
Note: This portrait of Shah Jahan follows an almost identical depiction inscribed to Hashim dated to the mid-17th Century and in the collection of the Freer Gallery of Art, (inv. 1939.49; Beach, 1981, cat. no.18d). It has been suggested that the quality of the draughtsmanship of our drawing, particularly noticeable in the delicate facial features of Shah Jahan and in the expressive surprisingly strong faces of the putti, are an indication that this is by Hashim, a preparatory or companion work for the Freer Gallery painting. A further depiction of Shah Jahan standing on a globe from the Minto Album is almost identical to both our work and the Freer Gallery painting, (Leach, 1995, vol.I, no. 3.26, p. 401).
The depiction on the verso side of this album folio is an illustration most probably from a copy of the Harivamsa which recounts the life of Krishna. The very distinctive crown worn by the figure on the balcony with its three pointed pinnacles each with two rounded bosses is very similar to crowns depicted in the Harivamsa in the Victoria and Albert Museum dated to circa 1590, (Inv. IS4-1970; Stronge, 2002, pl.63, p. 97).