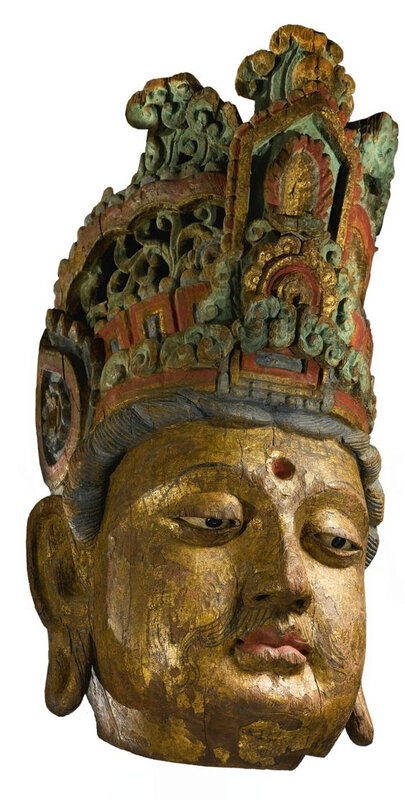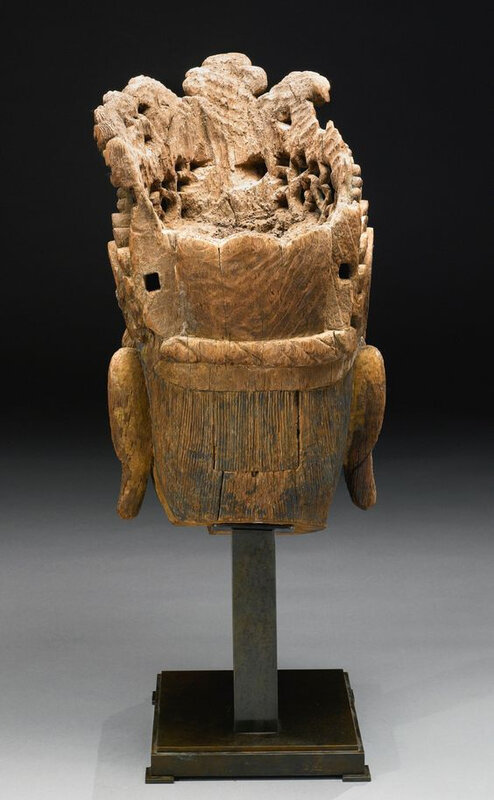 Lot 113. A massive polychromed carved wood head of a boddhisattva, Song-Jin dynasty (960-1234). Height 37 1/2 in., 95 cm. Estimate: 300,000 — 400,000 USD. Lot sold 509,000 USD. © Sotheby's
carved in the round from a single trunk section, the full fleshy face with straight nose flanked by wide arched brows above heavily lidded eyes inset with black glass, the forehead carved with a circular recess to hold the urna, the plump pouty lips accented by a finely-painted moustache, the features all framed by pendulous ears and neatly-dressed hair, pulled up beneath an elaborate tiered crown with a central band of pierced foliate scrolls set between tiers of stylized clouds, centered with a lotus blossom surrounded by clouds beneath a flaming mandorla where the identifying attribute once stood, decorated with polychrome and gold pigments, metal mounts.
Provenance: Pierre Vérité, Paris, the 1920s.
Claude Vérité
Collection Vérité, Encheres Rive Gauche, Paris, 18th October 2009.
Note: This exceptional over life-size head represents the bodhisattva Guanyin, the Chinese god of compassion and mercy. As it was believed that anyone who recited the name of Guanyin during times of distress would be rescued by him, he is the most worshipped deity in Buddhism and has therefore frequently been depicted in sculptural form. The present Guanyin has been depicted in the male form, as indicated by the painted moustache and imperial beard, which is less common than female portrayals. Bodhisattvas are genderless beings, possessing the virtues of both men and women and able to manifest themselves in either form. Compare a related figure of a seated Guanyin with beard and moustache, attributed to the Yuan period (1279-1368), from the Avery Brundage collection in the Asian Art Museum of San Francisco, San Francisco, published in Rene-Yvon Lefebvre d'Argence (ed.), Chinese, Korea and Japanese Sculpture in the Avery Brundage Collection 1974, pl. 145; and two attributed to the Jin (1115-1234) dynasty, one from the Feltham bequest and now in the National Gallery of Victoria, New South Wales, illustrated in Ursula Hoff, The National Gallery of Victoria, London, 1973, p. 111, and the other sold at Christie's New York, 16th September 1999, lot 21.

The attention paid to the carving of the face and the intricately fashioned crown, coupled with the remaining pigment, hint at the sumptuousness and impressive visual effect that it originally would have had on temple visitors. They would have encountered this bodhisattva in an elaborate setting with painted murals covering the walls along with many other sculptures of deities and arhats, all similarly brightly colored and gilded. The present piece captures the warmth and kindness associated with Guanyin, as portrayed in the gentle smile. The deity's ethereal status is emphasized through the adornment of worldly accessories such as a bejeweled headdress and richly ornamented necklaces in contrast to the plain and austere images of the Buddha.

The finest sculptures of this period were carved of wood, covered with gesso before being painted with vibrant pigments, then gilded and inset with jewels to create richly adorned animated figures. Demand for such large images led to the development of construction methods involving multiple blocks of wood, assembled with bamboo or wood pins after carving. Many Buddhist temples of the 11th to 13th centuries remain intact, testament to the glorious integration of architecture, painting and sculpture that characterizes Buddhist temple art.

The dating of this lot is consistent with the results of a Carbon 14 Accelerator Mass Spectrometry test, Centre d'Innovation et de Recherche pour l'Analyse et le Marquage, no. 0309-OA-59B-7.