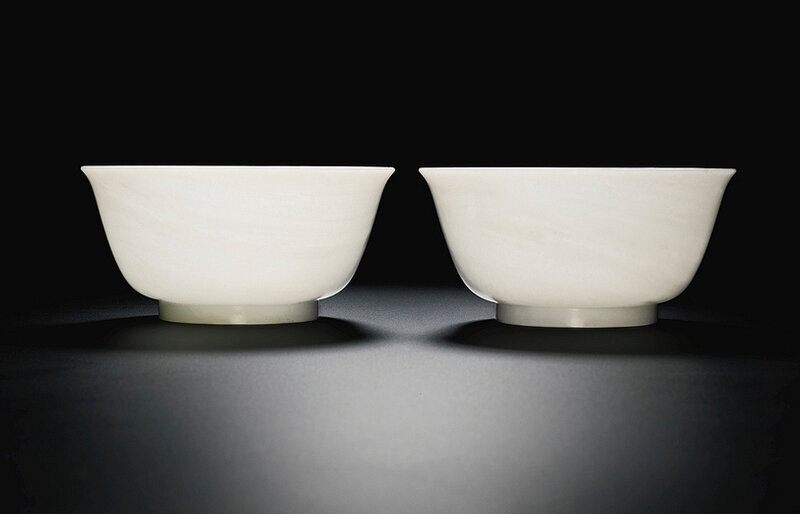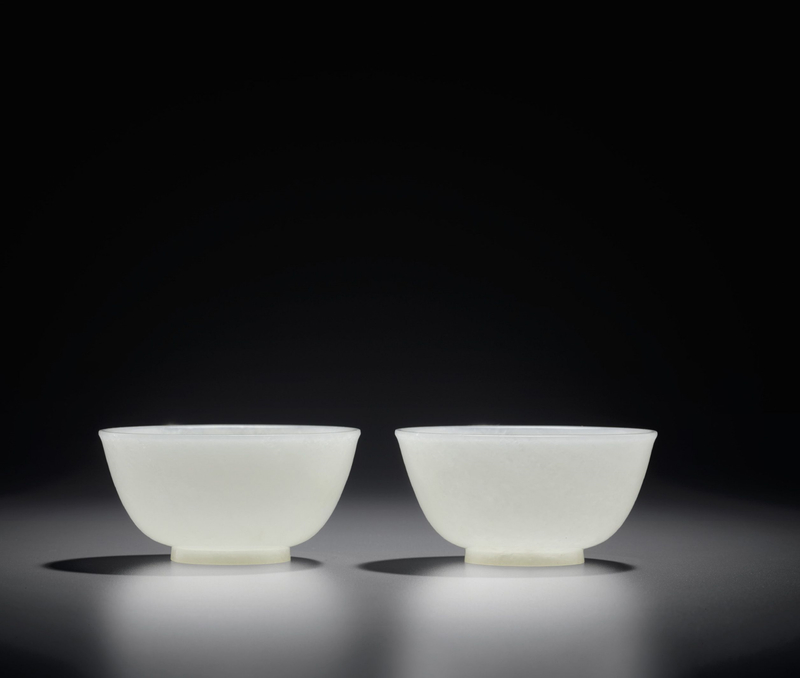 Lot 23. A fine pair of white jade bowls, Qing dynasty, 18th century; 14cm., 5 ½ in. Estimate 150,000 — 200,000 GBP. Lot sold 458,500 GBP. © Sotheby's
each delicately carved with deep rounded sides rising from a slightly spreading foot to a flared rim, the well-polished translucent stone of an attractive white tone suffused with milky-white streaks, gilt wood stands.
Provenance: Collection of Lieutenant Colonel Kenneth Dingwall DSO (1869-1946).
Thence by descent to the present owner.
Note: Born in Caterham, England, Kenneth Dingwall was a highly-decorated officer and collector of East-Asian ceramics. He was made a Lieutenant in the Gordon Highlanders in 1894 before serving in the North West Frontier from 1895 to 1898. Sent to South Africa in 1899 he was in action throughout the Boer War, for which he received the DSO in 1901. After a short retirement from the army in 1904, he re-joined in 1914 and was frequently employed as a Deputy Judge-Advocate during the Great War. An active collector of Chinese ceramics, Dingwall was one of the founding members of the Oriental Ceramic Society which formed in 1921. He belonged to the National Art Collections Fund and was the single largest donor to the Victoria and Albert Museum between 1910 and 1937, leaving a further bequest in 1948, and donating four items to the British Museum. Part of his collection was sold at Sotheby's London on 10thMarch 1933, consisting of 90 lots of mostly Tang to Ming ceramics.
Lieutenant Colonel Kenneth Dingwall DSO (1869-1946)
Perfectly proportioned and smoothly polished to a lustrous sheen, these bowls have been carved from a superior white stone and hence embody the finest of jade carving of the Qianlong period. The sensitive modelling and lack of any embellishment reflects its porcelain-inspired form and a deep respect for the stone itself, which is one of the most highly-valued materials in China. Such large flawless stones, characterised by an evenness of tone, were available from the mid-18th century which saw the production of complete services for the imperial court. A slightly larger bowl was included in the exhibition Jades from China, Museum of East Asian Art, Bath, 1994, cat. no. 340, where it is mentioned that in 1753 '101 pieces of uncarved jade with a recorded weight of 2 1/3 tonnes were selected and orders placed with Suzhou… for 100 bowls and 100 zhuomu' (see p. 389).
Further bowls of this type, and possibly from this special commissioned group, include one included in the exhibition Later Chinese Jades. Ming Dynasty to Early Twentieth Century, Asian Art Museum of San Francisco, San Francisco, 2007, cat. no. 113, where it is noted that the thin walls of the vessel highlight the translucence of the material and purity of its colour, two characteristics shared with its porcelain prototypes. A pair of bowls of similar size, in the British Museum, London, is illustrated in Jessica Rawson, Chinese Jade from the Neolithic to the Qing, London, 1995, pl. 29:13, where Rawson states that such undecorated jade vessels in porcelain shapes probably represented the highest quality eating and drinking utensils. Sumptuary laws, which restricted the use of jade vessels, and passages in novels that mention the utilitarian use of jade cups and bowls, indicate that jade was highly valued and used for eating and drinking (see p. 400). Compare also a bowl included in the exhibition A Romance With Jade, From the De An Tang Collection, Palace Museum, Beijing, 2004, cat. no. 116; a slightly larger pair, from the Cunliffe collection, sold at Bonhams London, 11th November 2002, lot 10, and again in our Hong Kong rooms, 2nd May 2005, lot 555; and another pair sold at Christie's Hong Kong, 1st December 2012, lot 3001.
Qianlong mark and period bowls of this form carved from various coloured jade stones are also known; see a white jade example sold in our New York rooms, 19th March 2007, lot 618; two examples, one of spinach green colour and the other white, were sold at Christie's Hong Kong, 1st December 2010, lot 3248; and a pair of jadeite bowls sold in our Hong Kong rooms, 31st October 1995, lot 754, and again in our New York rooms, 20th March 2012, lot 278.
Sotheby's. Fine Chinese Ceramics & Works of Art, London, 14 May 2014