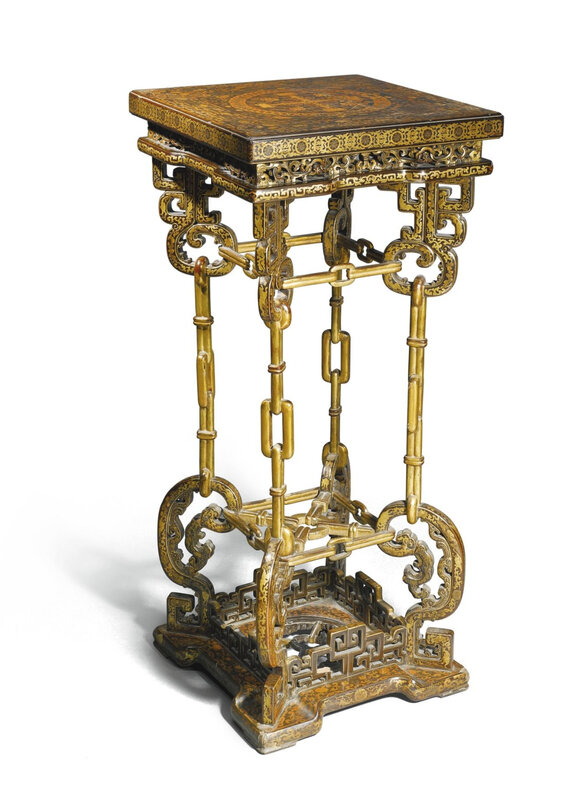 Lot 49. A gilt and painted brown lacquer stand, Qing dynasty, Qianlong period (1736-1795); 45 by 45 by 102.3cm., 17 ¾ by 17 ¾ by 40 ¼ in. Estimate 60,000 - 80,000 GBP. Lot sold 74,500 GBP. © Sotheby's.
the square top raised on a bevelled apron extending to four legs composed of interlocking scrollwork joined by stretchers and terminating to a stepped base, finely painted and gilt to the top with a central medallion enclosing radiating floral sprays, all encircled by interlocking floral strapwork and bats, the sides and base similarly decorated with meandering floral scrolls and bat and ruyi cloud bands, all reserved on a rich dark brown ground.
Provenance: Acquired in Europe in the early 20th century.
In its complex form and decoration, this elegant stand is a fine example of the superb workmanship and freedom of experimentation exercised by craftsmen working during the Qianlong period. Tables of this type are extremely rare, and the only known closely related example is its pair, sold at Christie's London, 9thNovember 2010, lot 277.
The most striking feature of this stand is the ornately fashioned legs which are reminiscent of ropes interlocking with huangor bi disc rings, a decorative motif that was standardised during the Qianlong reign. The concept is derived from archaic bronze decoration; for example see a bronze ling of the Spring and Autumn period (770-476BC) included in the exhibition The Imperial Packing Art of the Qing Dynasty, Palace Museum, Beijing, 2000, cat. no. 4, and a bronze hu of the Warring States period (475-221 BC), cat. no. 7. Compare a hongmu bench, the apron also carved to imitate ropes and discs, included in the exhibition Chinese Hardwood Furniture in Hawaiian Collections, Honolulu Academy of Arts, Honolulu, 1982, cat. no. 83; and a zitan table, but the discs inlaid with cloisonné enamel medallions, in the Palace Museum, Beijing, published in The 200 Objects You Should Know. Red Sandalwood Furniture, Beijing, 2008, pl. 159.
This stand is also notable for its amalgamation of intricate decorative motifs from different artistic traditions; the floral vajra and wheels on the top, which derive from Buddhist iconography, also cleverly echo Western feathery motifs to create an ornate contemporary design. Unlike qianjin and tianqi lacquer, which had to follow a clearly-outlined pattern, painted lacquer allowed for more freedom in designs. A related gilt-decorated stand depicting a combination of Buddhist and Western-inspired motifs is illustrated in The Complete Collection of Treasures of the Palace Museum. Furniture of the Ming and Qing Dynasties, vol. 1, Hong Kong, 2002, pl. 168. Is it interesting to note that the underside of the table top has also been decorated, but with a contrasting design of ball flowers, which appear to have been inspired by Japanese motifs; a similar design is found on a pair of 18th/19th century lacquer cabinets, sold in our New York rooms, 29th November 1994, lot 420.
Sotheby's. Fine Chinese Ceramics & Works of Art, London, 14 May 2014