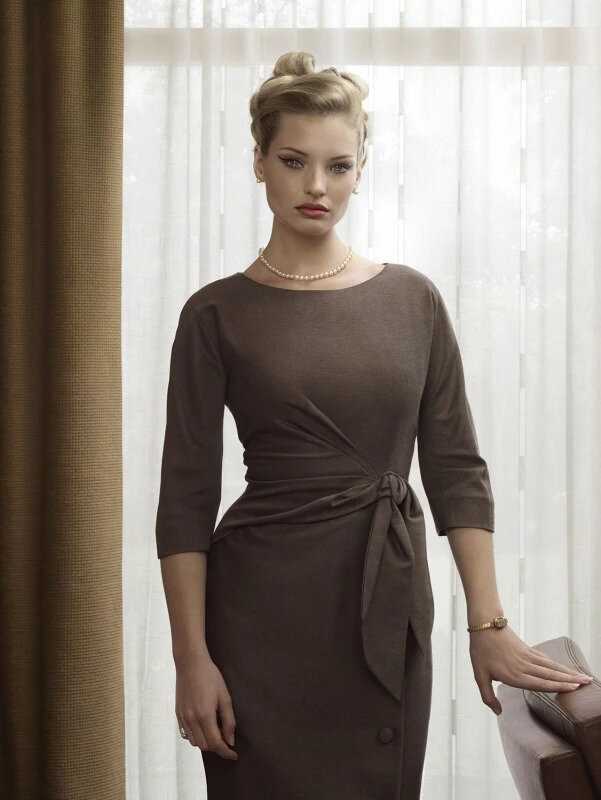 Erwin Olaf, Grief series - Irene Portrait, 2007. Chromogenic print, 52 3/8 x 39 3/8 in. (133 x 100 cm.) Edition of 10.
LONDON.- In celebration of Erwin Olaf's 60th year and long collaboration with the gallery, Hamiltons is presenting photographs of women from across Olaf's career. Hamiltons Gallery owner Tim Jefferies has selected these works from Olaf's oeuvre of 40 years, comprising photographs from Chessmen (1987-88), Squares (1983-2018), Blacks (1990), Mature (1999), Fashion Victims (2000), Royal Blood (2000), Hope (2005), Grief (2007), Hotel (2010), Keyhole (2011-13), Vogue (2012), Berlin (2012), Jewish (2013), Waiting (2014), Catwalk (2015), Skin Deep (2015), Shanghai (2017) and Palm Springs (2018), and so encompassing women of all ages, skin tones, body shapes and attitudes. Olaf believes that he can photograph women with more clarity than men, as without distractions he can be more precise in expressing his feelings. "With female talents I can be fairly critical and say exactly what I want them to do, whereas beautiful boys can throw stardust in my eyes… It is very inspiring to work with the sensitivity of women – I love the emotion that is layered under the skin and in the eyes and it is one of my joys to work with women in this way... They are my muses in my work." (Erwin Olaf, 2019).
Erwin Olaf, Squares series - Sisters, 1984. Gelatine silver bromide print on Baryta paper, 14 3/4 x 14 3/4 in. (37.5 x 37.5 cm.). Edition of 15.
A selection of the works in the exhibition are vintage prints and have never been shown in a gallery setting before now, others are journalistic images, and early pictures comprising some of the first photographs Olaf took in his studio. Beyond this, the exhibition reveals turning points in Olaf's work when he begins to shoot in colour, adopts carbon printing and explores new themes. Olaf emerged on to the international art scene in 1988 when he was awarded first prize in the Young European Photographer competition, closely followed by an award at the Ludwig Museum in Cologne, Germany. In his early work, Olaf addressed subjects such as race, class, sexuality and beliefs, defining his own subjects and exploring these in black and white (Chessmen, Squares and Blacks) and in colour (Rain, Hope Grief, Dusk and Dawn). In more recent years he has been creating images that resemble paintings or cinematic scenes, adopting the role of director as well as photographer. Berlin, Shanghai and Palm Springs, a three-part project, looks at renowned cities undergoing seismic change in the modern world.
Erwin Olaf, Squares series - Desirée, 1987. Vintage gelatin silver bromide print on Baryta paper, 14 3/4 x 14 3/4 in. (37.5 x 37.5 cm.). Edition of 15.
Olaf's elaborately constructed tableaux explore issues that arise out of contemporary life through his highly-polished and atmospheric style, without at the same time offering simple interpretation. Impeccably dressed women are set against staged, theatrical backgrounds with painterly lighting, resulting in highly composed images of formal perfection. However, Olaf instils a sense of quiet drama into his scenes resulting in an air of ambiguity and narrative uncertainty. As noted in an article on Olaf in The New York Times earlier this year, it is a photograph of a woman that so wholly captures this aspect of his photography. "If there's a single work that encapsulates the artistry of Erwin Olaf…it might be his 2005 portrait of a young woman in a yellow dress from the Hope series. The brunette with a yellow ribbon in her hair seems to have just halted in the doorway of her hotel room. She touches her neck with one hand and there is a profound expression on her face… The photograph contains all of Mr. Olaf's signature technical elements: painterly lighting, formalist composition, styling that we associate with fashion photography — that seductive, perfectionistic polish. Then there's the final touch that elevates Mr. Olaf's images into the realm of high art, an unsettling feeling. As viewers, we are always compelled to ask: What has happened here?" In Waiting Olaf captures women of all origins, each waiting for someone who never arrives. In that still moment, their sinking hope is palpable, and we wonder who they are waiting for and why. On his most recent series Palm Springs, Francis Hodgson writes that over the years Olaf has "developed his curious and brilliant trick of making pictures in which the stillness is not merely the immediacy of a shutter timed in hundredths of a second, but the deep quiet of the reflective pause… Olaf years ago had learned that to resist the terrible throwaway immediacy of photography, he had to slow us down when looking at his pictures. And we can only do that when they offer rich echoes of the things we've seen and read".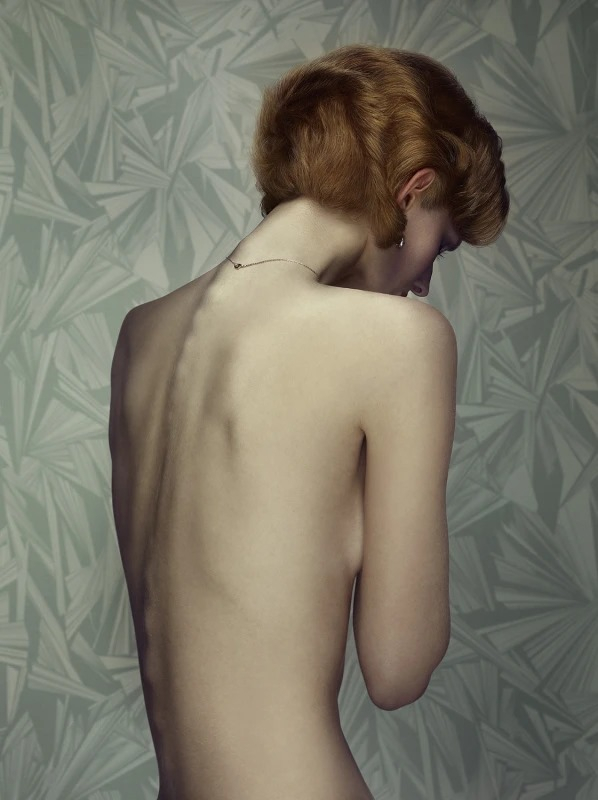 Erwin Olaf, Keyhole series - Keyhole 5, 2012. Chromogenic print, 23 5/8 x 17 3/4 in. (60 x 45 cm.). Edition of 10.
Olaf explores, across his photographic series, women exhibiting confidence regardless of whether they conform to ideals of beauty. In his earlier work such as Mature, Olaf features older women in provocative poses mirroring famous supermodels. On Squares, Peter Weiermar, Director of The Frankfurt Art Association from 1980-1998, writes; "Once again no fashionable ideal beauty is preached. Olaf's sensuality brings together women of Rubensian proportions with gnome-like figures… though here too the women emerge the strongest..." A decade later, in 2008 Olaf said; "I'm less afraid of beauty and fashion now. I never dared to touch it before, because I thought that was the "big world". Because of that fear I was a little aggressive and wanted to produce pictures that undermined it – different-size women, older women. But in the past five or six years I've played much more with beauty." The nude body is a classical and traditional theme that has been a cornerstone of art history and Olaf wishes us to appreciate skin and sensation, beauty and the body, without prejudice. More recently in Skin Deep, Olaf does not shy away from "beauty", but again takes a critical stance towards the notion of the ideal inherent in our society. He believes that pornography has exploited the human body by turning it into a commercial product, which Olaf rejects.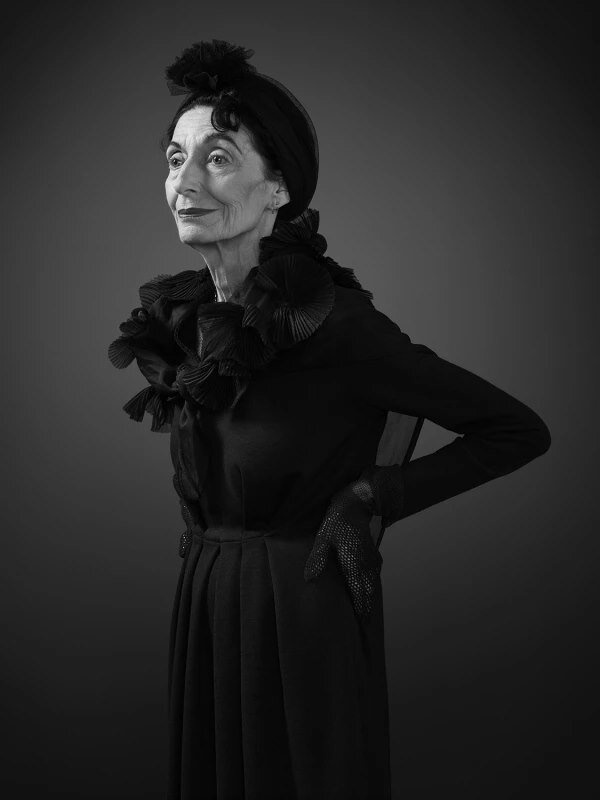 Erwin Olaf, Jewish series - Sephardic Jewish, Ellen, 2013. Carbon print, 15 3/4 x 11 3/4 in. (40 x 30 cm.). Edition of 3.
In 2018, the Rijksmuseum acquired five hundred key artworks from Olaf's forty-year oeuvre for their collection. In July 2019, to mark the transfer of his core collection to the museum, The Rijksmuseum opened the exhibition 12x Erwin Olaf, in which Olaf places eleven of his photographs, and one video installation, in dialogue with Dutch paintings from the museum's collection.

Olaf has won numerous commissions from clients such including Louis Vuitton, Vogue, the Stedelijk Museum Amsterdam and the Rijksmuseum Amsterdam. He has been awarded Photographer of the Year in the International Colour Awards 2006 and Kunstbeeld magazine's Dutch Artist of the Year 2014, as well as the Netherlands' prestigious Johannes Vermeer Award in 2011. In 2013 he designed the new Dutch euro coinage and in 2017-18 he produced new official portraits of the Dutch royal family.
Erwin Olaf, Palm Springs series - After the Bushfire, 2018. Chromogenic print. Large format, edition of 10: 39 3/8 x 70 in. (100 x 177.8 cm.). Small format, edition of 12: 23 5/8 x 42 in. (60 x 106.7 cm.)
Most recently in 2019, Olaf has released his new 400-page monograph with Aperture, Erwin Olaf – I Am, featuring his images starting in the early 1980s. The Gemeentemuseum Den Haag and Fotomuseum Den Haag, the Netherlands, hosted joint solo exhibitions for Erwin Olaf to commemorate his sixtieth birthday and celebrate his forty years of photography. The Shanghai Center of Photography also hosted a solo exhibition. Olaf has had numerous important group and solo exhibitions around the world, including George Eastman House, Rochester, USA; Maison Européenne de la Photographie, Paris; Chelsea Art Museum, New York; Kunsthalle, Winterthur, Switzerland and the Museum of the City of New York. Solo exhibitions include the Stedelijk Museum, Amsterdam, Bilbao Art Centre, Bilbao, Spain; Groninger Museum, the Netherlands; MonteVideo, Amsterdam; Modern Art Gallery of Bologna, Bologna, Italy; Museum of Modern Art, Moscow, Russia; The Hague Museum of Photography, The Hague; Photo Museum Antwerp; and the Rijksmuseum, Amsterdam.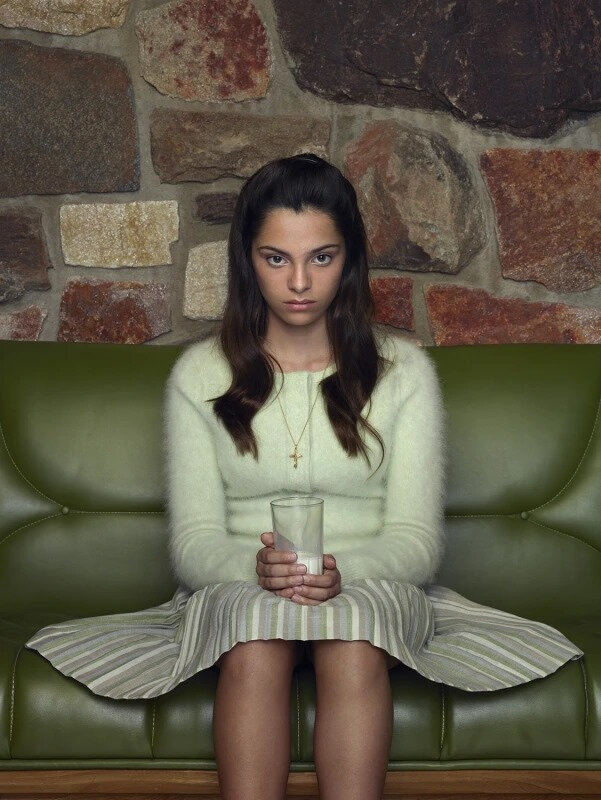 Erwin Olaf, Palm Springs series - The Family Visit , The Niece, 2018. Chromogenic print. Large format, edition of 12: 46 7/8 x 35 1/4 in. (119 x 89.4 cm.). Small format, edition of 15: 29 1/2 x 22 1/4 in. (75 x 56.4 cm.)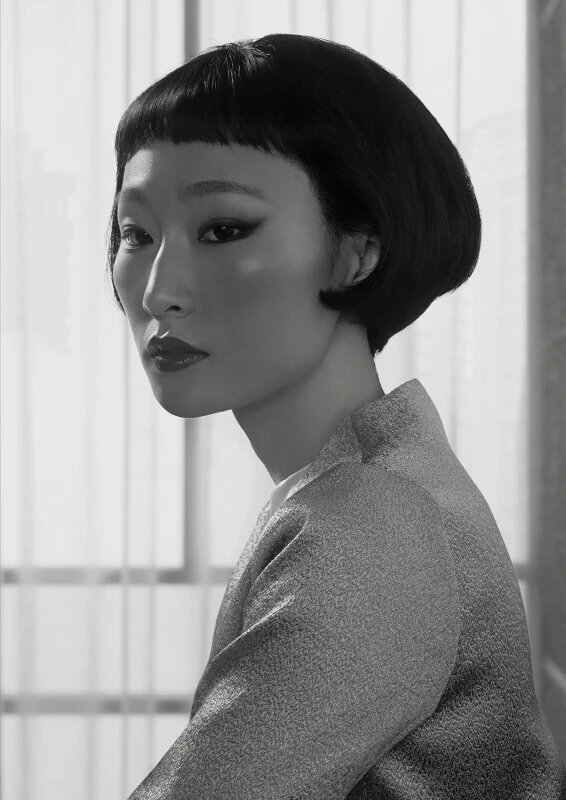 Erwin Olaf, Waiting series - Portrait 2, Shenzhen, 2014. Gelatin silver bromide print on Baryta paper, 18 3/4 x 13 3/8 in. (47.5 x 34 cm.). Edition of 7.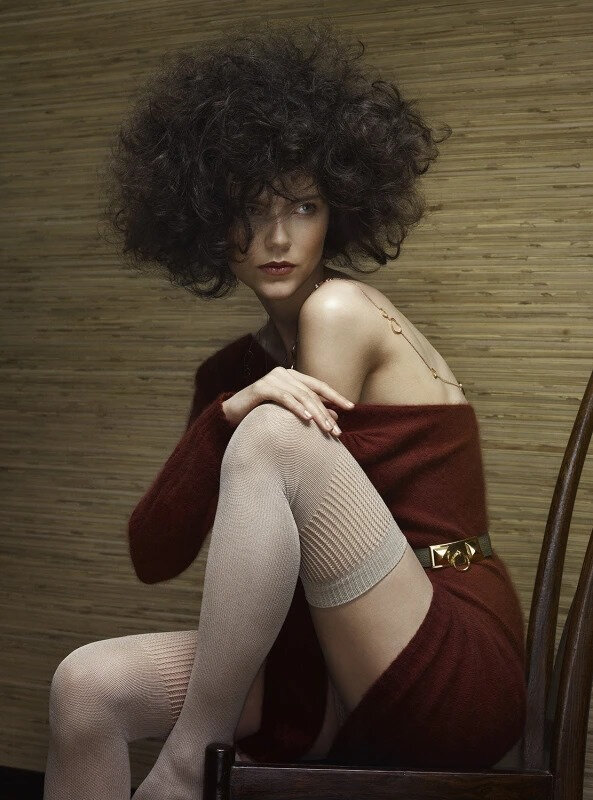 Erwin Olaf, Vogue NL series - Vogue NL 10, 2012. Chromogenic print, 31 1/2 x 23 1/4 in. (80 x 59 cm.). Edition of 10.
Erwin Olaf, Shanghai series - Du Mansion, Portrait 01, 2017. Archival pigment print, 29 1/2 x 22 in. (75 x 56 cm.). Edition of 12.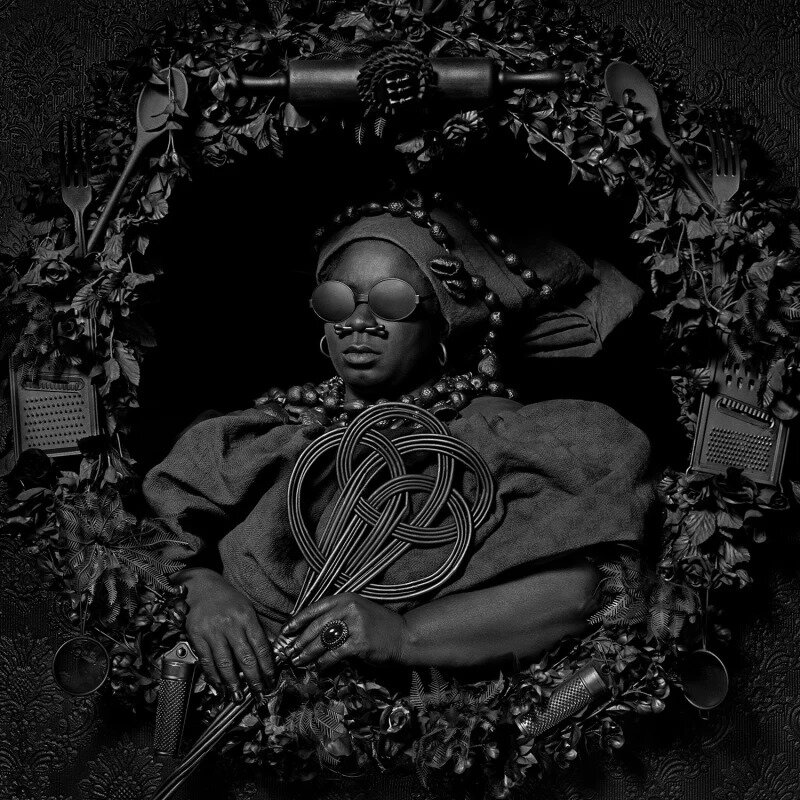 Erwin Olaf, Blacks series - Helga, 1990. Vintage gelatin silver bromide print on Baryta paper, 14 3/4 x 14 7/8 in. (37.5 x 37.9 cm.). Edition of 18.