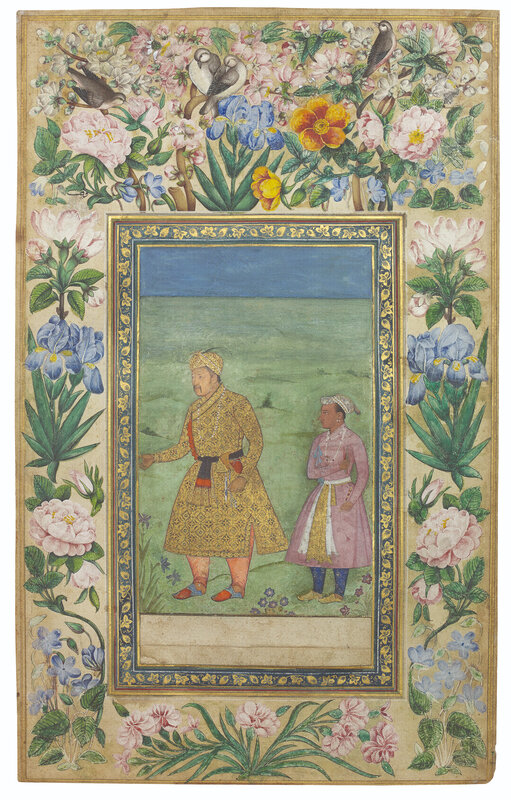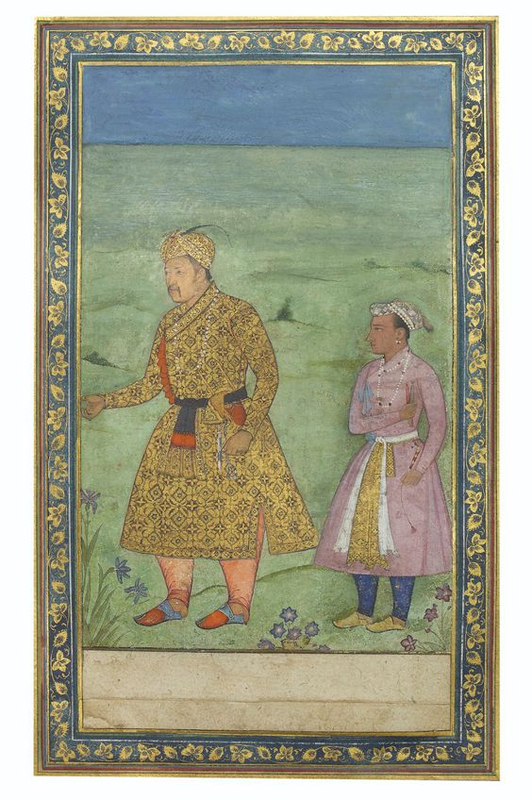 Lot 343. Akbar with Prince Khurram, Mughal India, 17th century. Opaque pigments and gold on paper, mounted on an album leaf, backed on cream card. Painting 7 x 3 7/8 ins. (17.9 x 9.7 cm.); folio 13 x 8 ins. (33 x 20.3 cm.). Estimate USD 50,000 - USD 70,000. Price realised USD 57,500 © Christie's Images Ltd 2019
Provenance: Sotheby's, London, 1 July 1969, lot 102.
Note: The style of the present painting shows influences from Manohar, considered the inventor of the group portrait during the reign of Emperor Akbar (Forge and Lynch, 2015, no. 3, pp.6-8). The well-known works by Manohar include two portraits of Emperor Akbar now in Cincinnati and Dublin c. 1602-04 (McInerney, 1991, pp.53-68, figs. 9-10, see also Okada, 1992, no.169, p.145). Works by Manohar were sources of inspiration for a number of works by other artists including a portrait of Emperor Akbar in the Kevorkian Album c. 1630 in the Metropolitan Museum of Art (acc. no. 55.121.10.22, see Welch et al., 1987, no. 9, p.96, Forge and Lynch, 2015, p.6). The style of both the Cincinnati example and the Kevorkian album share similar facial features to this work, all shown in a three-quarter view. The emperor Akbar is depicted here with his grandson prince Khurram, later Shah Jahan. This sensitively drawn portrait, probably completed during the reign of Shah Jahan, emphasises the link between the ruler and his beloved grandfather, reinforcing the legitimacy of his reign (Forge and Lynch, 2015, no. 3, pp.6-8).
This painting is believed to have come from an album composed for Fath 'Ali Shah in 1764 AD, many folios from which were sold at auction by Laurin-Guilloux-Bufetaud, Hôtel Drôuot, Paris, 23 June 1982. Many borders in this album were signed by artists such as Muhammad Baqir, and the borders of our album page also follow his style of painting.
Christie's. Maharajas & Mughal Magnificence, New York, 19 June 2019