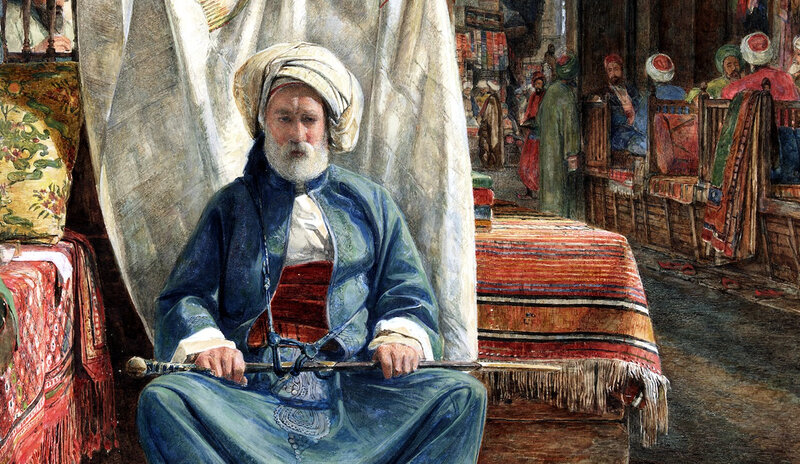 John Frederick Lewis, In the Bezestein, El Khan Khalil, Cairo, detail, 1860, Blackburn Museum & Art Gallery.
GUILDFORD .- John Frederick Lewis: Facing Fame - on view at Watts Gallery – is the first exhibition in more than 40 years to explore the life, art and travels of this leading British Orientalist painter. Including many self-portraits and hidden likenesses, this exhibition explores Lewis's sustained and complex relationship with his own success over a long and distinguished career.

John Frederick Lewis RWS RA (1804 – 1876) became a leading figure in the British art establishment, famed for his detailed depictions of the Mediterranean and Middle East. John Frederick Lewis: Facing Fame examines the ways in which Lewis's life and travels informed how he chose to present himself at different points in his career: from the young Regency dandy to the 'languid Lotus-eater' living in Cairo; a leader of the London art establishment to an eccentric recluse living in semi-rural Walton-on-Thames, Surrey.

A friend and artistic rival of Sir Edwin Landseer, Lewis began his career as an animal and sporting painter. A protégé of the leading portraitist Sir Thomas Lawrence PRA FRS, Lewis gained permission to work in Windsor Great Park, the setting for paintings such as Foresters stalking Deer (1826). As Simon Jacques Rochard's Portrait of John Frederick Lewis (c.1826) conveys, at this point in his early twenties Lewis deliberately strove to present himself as a self-assured, sophisticated artist-gentleman.
Despite his early successes in Britain, Lewis's artistic focus turned towards Europe. A journey through Germany, Switzerland and northern Italy was followed in 1832 by a tour of Spain - a country that, unlike Italy, had received relatively little attention from British artists in the early nineteenth century. Over nearly two years, Lewis travelled extensively, studying both the Spanish masters in Madrid and the colourful scenes of Catholic ritual in Seville. His studies of the Moorish architecture of the Alhambra, Granada - Casa de Sanchez (1832) and Torre de las Infantas (1833) - convey his developing expertise as a meticulous draughtsman. His Spanish scenes were highly celebrated upon his return to London, earning him the nickname 'Spanish Lewis'.
After a prolonged stay in Italy, 1838-40, Lewis ventured further afield across Greece and Albania, and on to Constantinople (modern Istanbul) and Bursa in Turkey. Studies made during this period, such as The Circassian Girl (1841) and The Turkish Surogee (1840-1), convey his growing artistic interest in the traditional dress and diverse cultures that he encountered.
In 1841, Lewis continued on to Egypt and settled in one of the Coptic quarters of Cairo where he remained, detached from the London art scene, for a decade. Unlike other European artist-travellers, Lewis is unusual in staying in one place for such a prolonged period. He lived in a historic Ottoman house, which would provide the backdrop for many compositions. During this period, Lewis made many detailed studies of the people, architecture and landscapes in Cairo, the Sinai desert and along the Nile.
When Lewis returned to London in 1851, he brought a substantial body of work with him, which would provide a wealth of inspiration for the rest of his career. Bab Sikkat al-Qabwa, Khan al-Khalili, Cairo (c.1843) is one of the many studies that would later be used to inform works produced back in London such as The Bezestein Bazaar of El Khan Khalil, Cairo (1872).