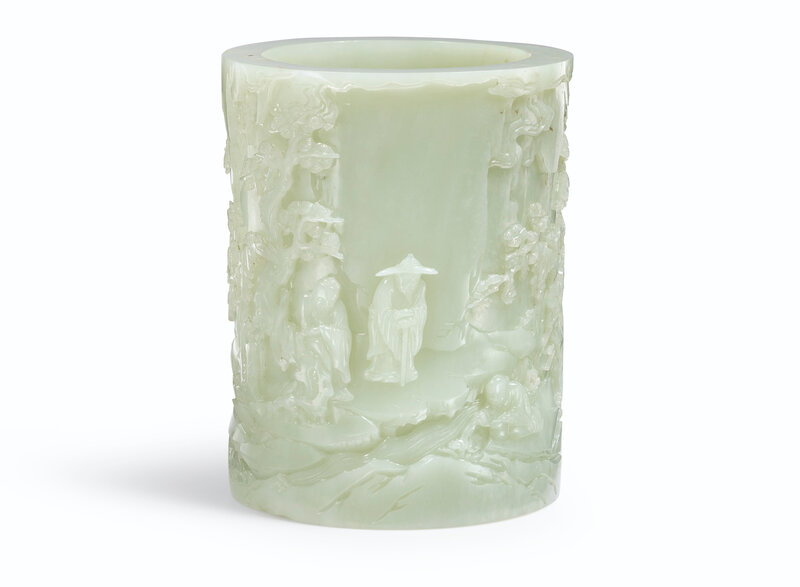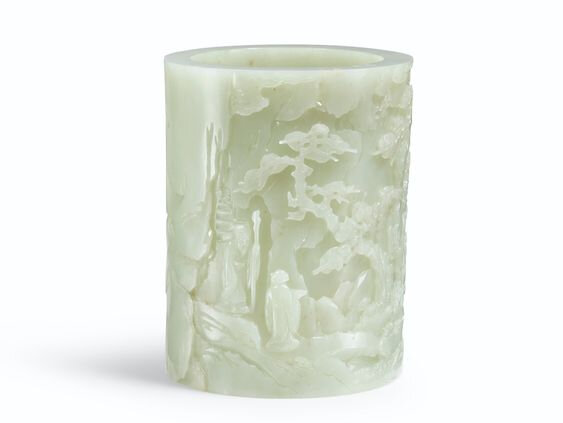 Lot 3643. An exceptional and rare white jade 'Figures' brushpot, Qing dynasty, 18th century; 14.5 cm., 5 5/8 in. Estimate 4,000,000 — 6,000,000 HKD. Lot sold 4,880,000 HKD. © Sotheby's
of cylindrical form with thick sides resting on a flat base, the exterior carved in varying levels of relief with a continuous scene depicting a sage holding a staff whilst conversing with an acolyte at the foot of a staircase, another sage reclining against the trunk of a gnarled pine tree with another sagely figure standing nearby, another figure depicted picking a ruyi fungus from the other side of a swift-flowing stream, the scene divided by further jagged rocks and overhanging pine trees, the stone of an even celadon-white colour, wood stand.
Provenance: Sotheby's Parke Bernet Los Angeles, 20th-22nd October 1974, lot 711.
Sotheby's Hong Kong, 22nd May 1985, lot 307.
Sotheby's New York, 28th/29th September 1989, lot 487.
Literature: Yang Boda, Essence of Qing Jades, Chicago, 1995, p. 198.
Note: This brushpot is striking for the varying depth of its meticulous carving, from the pine and prunus trees modelled in the round to the delicately rendered facial features of the immortals. The craftsman has captured a sense of naturalism through carefully observed details, as seen in the different textures of rocks, trees and flowing water, which were expertly balanced to create a harmonious composition. Brushpots carved with mountainous landscapes inhabited by immortals were suitable accoutrements for scholars' desks, where they served not only as utilitarian vessels, but also as vehicles of spiritual escape from the regulated life of the court and a source of inspiration for reflection.
Brushpots of this type were fashioned from carefully chosen stones to enhance the different depths of the carved pictorial scene and create dramatic and mysterious contrasts when light passed through. The jade employed for this brushpot probably came from the jade-rich territories of Khotan and Yarkand, an area opened after the Qing army's conquest of the north-western territories. Jade imported from this Central Asian region was of the highest quality, thus allowing carvers in the Palace to work with raw material of the purest and brightest white colouration.
A brushpot similarly carved with immortals in an enchanting mountainous setting, but raised on three feet, in the Tianjin Museum, Tianjin, is illustrated in Tianjin bowuguan cang. Yu [Jade collected by the Tianjin Museum], Beijing, 2012, pl. 188; one raised on four feet, from the collection of Ernest James Wythes, was sold in our London rooms, 16th May 2012, lot 29; another from the collection of Stephen Junkunc III was sold at Christie's New York, 17th September 2008, lot 591, and again at Christie's Hong Kong, 31st May 2010, lot 1899; and a fourth, with a Qianlong mark and of the period, from the De An Tang collection, was included in the exhibition A Romance with Jade, Palace Museum, Beijing, 2004, cat. no. 13.
Sotheby's. Important Chinese Works of Art, Hong Kong, 07 april. 2015